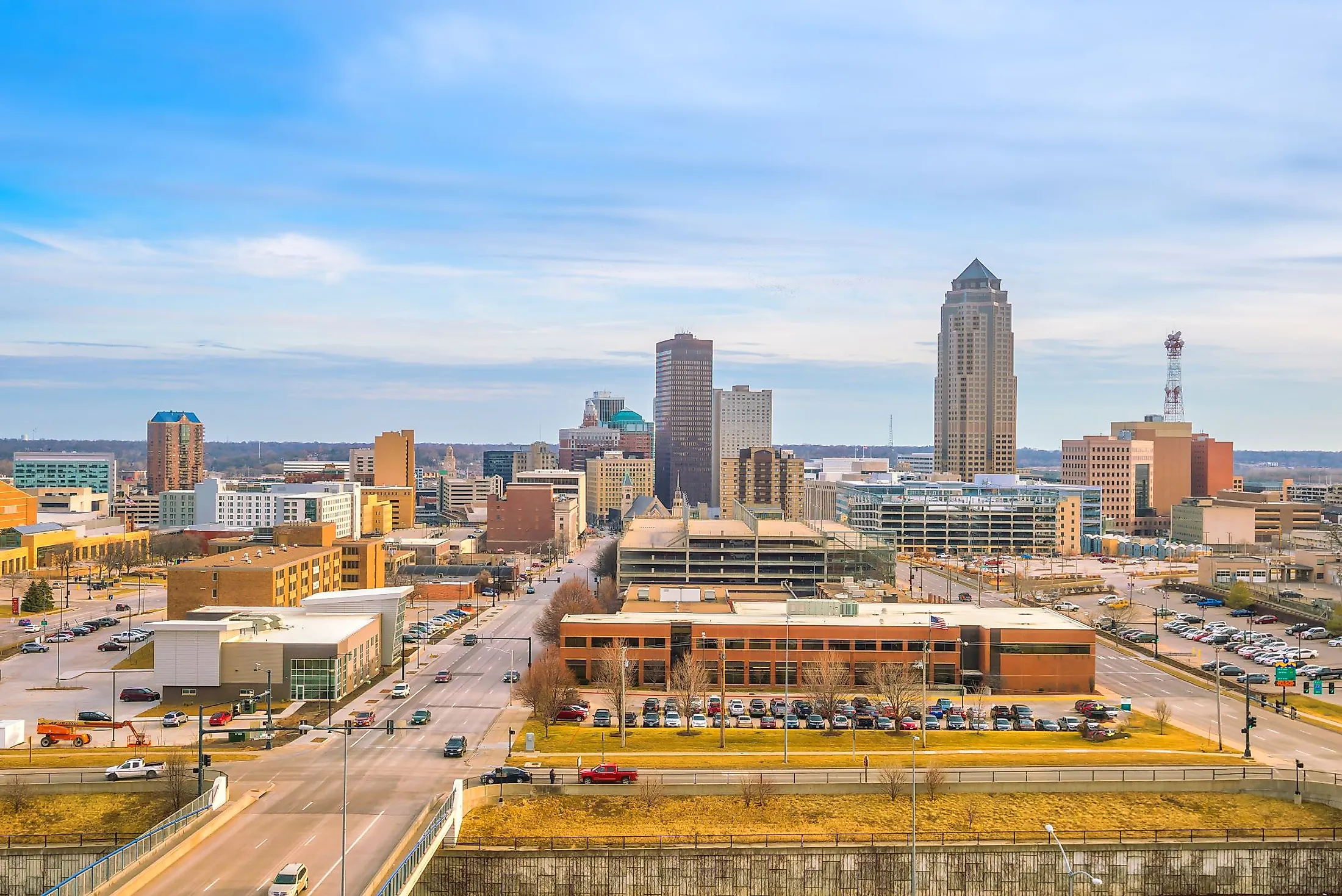 Des Moines, Capital Of Iowa
Des Moines, which serves as the capital of the US State of Iowa, is a big city situated in the state's Polk and Warren counties. In the previous few decades, Des Moines has made a lot of progress toward becoming the Midwest's thriving cultural center. Des Moines is home to prominent political and insurance institutions, as well as sculpture parks, botanical gardens, and a vibrant retail and food sector. Des Moines is the Midwest's metro area with the fastest growth rate. A short distance from the vibrant downtown, where lofts and condos attract the younger generation, are tranquil districts where stately colonial and Tudor-style mansions from the early 1900s are hidden. The city is situated along the Des Moines River, after which it gets its name. The City of Des Moines strives to promote an engaged community in a welcoming environment while providing great city services. Rivière Des Moines, which translates to "River of the Monks" in early French, is probably where the name originated. 
Geography And Climate Of Des Moines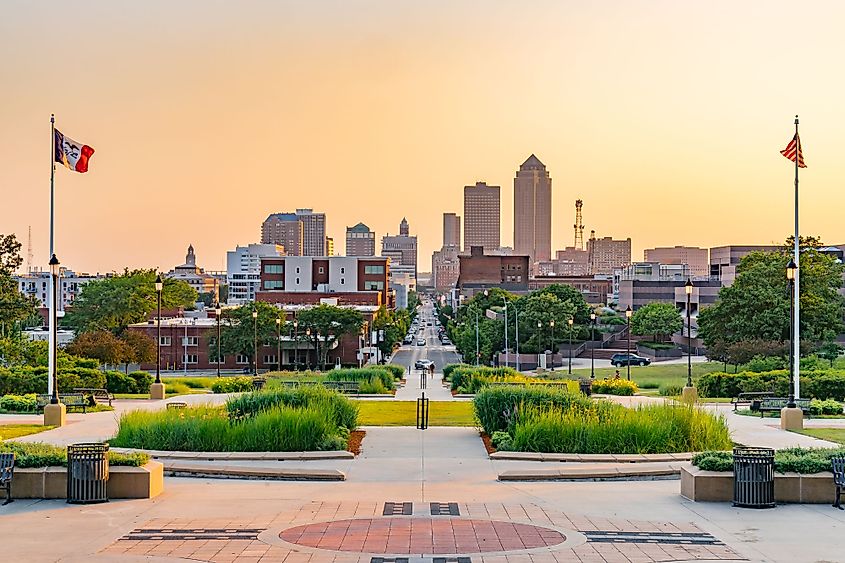 In the south-central region of Iowa, the city of Des Moines is situated where the Des Moines River, the state's largest river and a significant tributary of the Mississippi River, meets the Raccoon River. Des Moines is situated amid the Corn Belt and serves as the hub of Iowa's most populated metropolitan area, which also includes West Des Moines, Urbandale, and Pleasant Hill. Des Moines covers a total area of 234.92 sq.km, of which 228.38 sq.km is occupied by land and 6.54 sq.km is covered by water. 
Des Moines has a continental climate with cold, snowy, and windy winters and warm, humid, and rainy summers with a fair amount of thunderstorm activity. Throughout the year, the average temperature ranges from 17°F to 86°F, and it is infrequently either below -3°F or over 95°F. The year's hottest month is July, with an average daily high temperature of more than 76°F. Having an average daily temperature of less than 43°F, January is the year's coldest month. On average, Des Moines receives 33 inches of snow annually and 36 inches of rain. 
Brief History Of Des Moines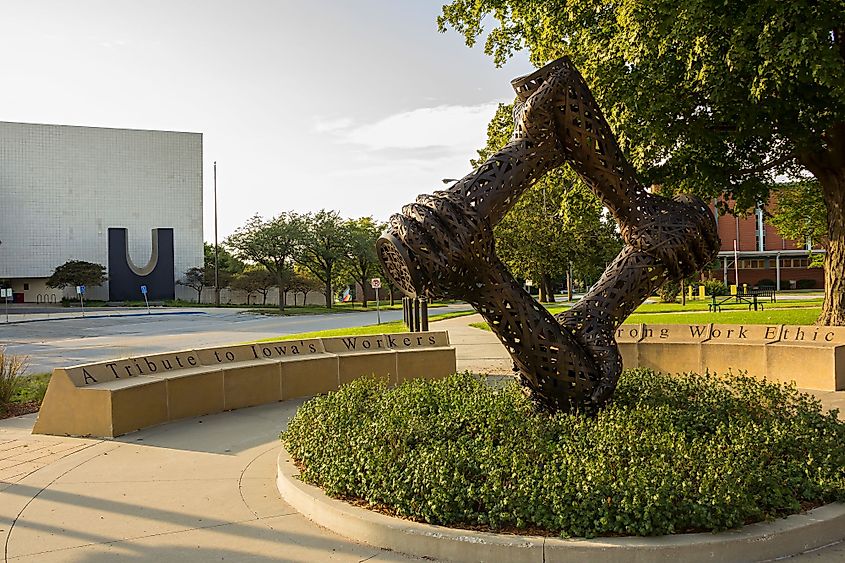 As a military stronghold to defend the rights of the Sak and Fox tribes, Fort Des Moines was constructed in 1843 near the junction of the Raccoon and Des Moines rivers, giving rise to the city of Des Moines. In 1845, the Iowa River Valley was made accessible to new settlers; a year later, when Iowa became a state, Fort Des Moines gained 127 people. The word "Fort" was removed from the name once the municipal charter was approved in 1857. Des Moines officially became the state capital in January 1858, and its future growth was ensured when two oxen-drawn bobsleds moved the state's archives into the city from Iowa City. President Ulysses S. Grant delivered a speech to a reunion of the Army of Tennessee at Des Moines, Iowa, after the Civil War, in which he reaffirmed his commitment to achieving equality for all people. In 1893, West Des Moines became a legal entity. Since its founding, the City of West Des Moines has worked to give its residents the best services available.
The Population And Economy Of Des Moines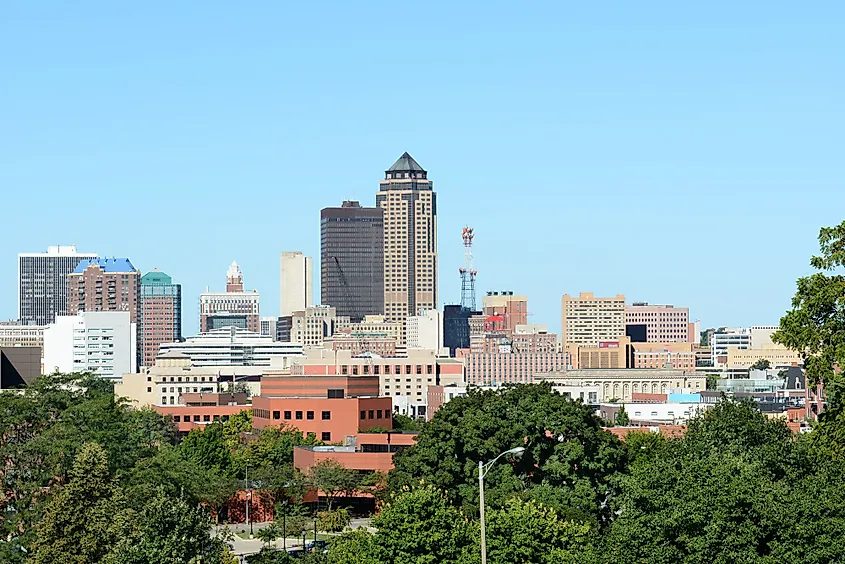 Des Moines, one of the 1,022 cities in Iowa, has 216,273 residents, making it the state's most populous and 111th most populous city. Des Moines' population is currently growing at a rate of 0.50% annually. White (Non-Hispanic) (64.6%), Black or African American (Non-Hispanic) (11%), White (Hispanic) (8.68%), Asian (Non-Hispanic) (6.45%), and Two+ (Non-Hispanic) (3.53%) make up the top five ethnic groups in Des Moines. Des Moines has a 16.02% poverty rate and a $69,074 average household income. The median monthly rental cost in the last few years has been $881, and the median value of a home is $141,300. In Des Moines, the median age is 34.2 years, 33.4 years for men, and 35.2 years for women.
Agriculture biotechnology innovation is fueled by the presence of numerous international financial services and insurance corporations in the dynamic city of Des Moines. The capital of Iowa consistently ranks as one of the greatest places to live and conduct business on a number of significant national lists. It is the largest insurance business hub in the nation and is home to major corporations, including Wells Fargo, Principal Financial, and EMC Insurance. The state of Iowa is appealing to the insurance industry because it has one of the lowest insurance premium taxes in the country (1%), and it doesn't impose any premium taxes on eligible life insurance products. Because of this, Des Moines has earned the nicknames "Insurance Capital" and "Hartford of the West."
Top Attractions In Des Moines
State Capitol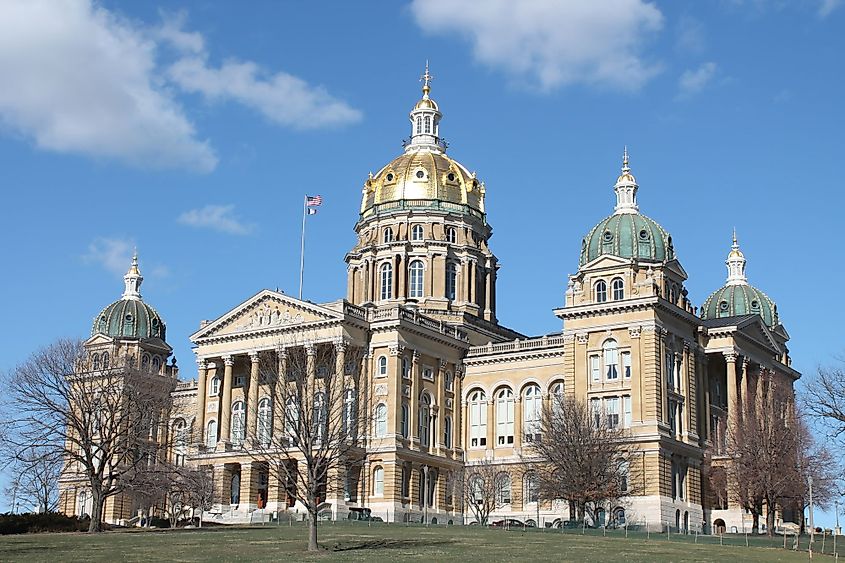 Many locations in Des Moines offer an excellent view of the State Capitol's gold dome. The Capitol has a picture-perfect exterior, while its interior is ornamented with significant works of art and a hand-carved design that emanates the prestige of the history produced within its walls. Guided tours are freely offered every day of the week for groups of ten or more. 
Des Moines Art Center
One of Iowa's top tourist destinations is the Des Moines Art Center, which opened its doors in 1948. Modern and contemporary art of many mediums is displayed at the Des Moines Art Center. The center has collections of prints, photos, paintings, sculptures, decorative arts, manuscripts, books, movies, textiles, and more, so there are many interesting things to check out here. The Des Moines Painting Center has not only fantastic artwork on exhibit but also fantastic amenities, including a beautiful gift store, a café called Tangerine that serves sandwiches, small meals, and beverages, as well as art programs for people of all ability levels.
Pappajohn Sculpture Park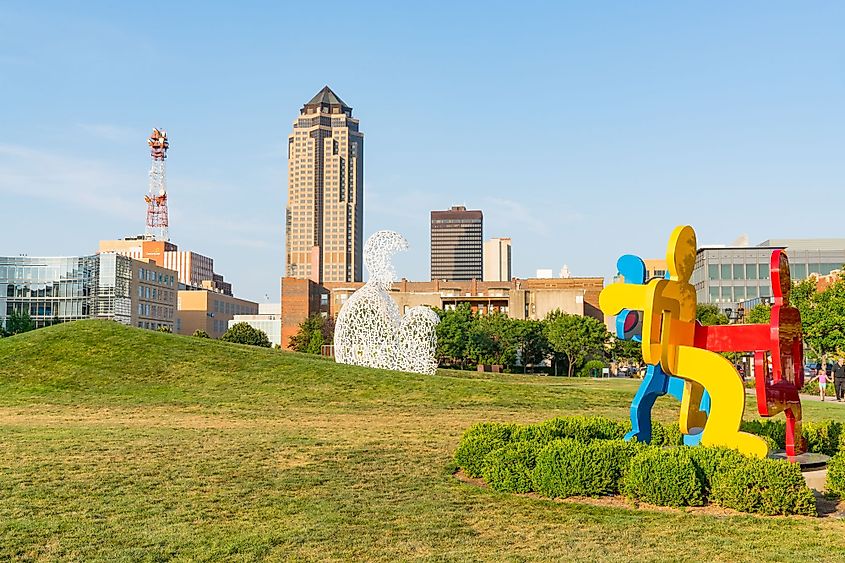 The Pappajohn Sculpture Park, which spans more than 4 acres of land, was established in 2009 by John and Mary Pappajohn. The park is a fascinating city attraction where one can find more than 20 sculptures created by well-known regional artists. The Des Moines Art Center is in charge of these sculptures, which were all donated from the Pappajohn's personal collection.
Greater Des Moines Botanical Garden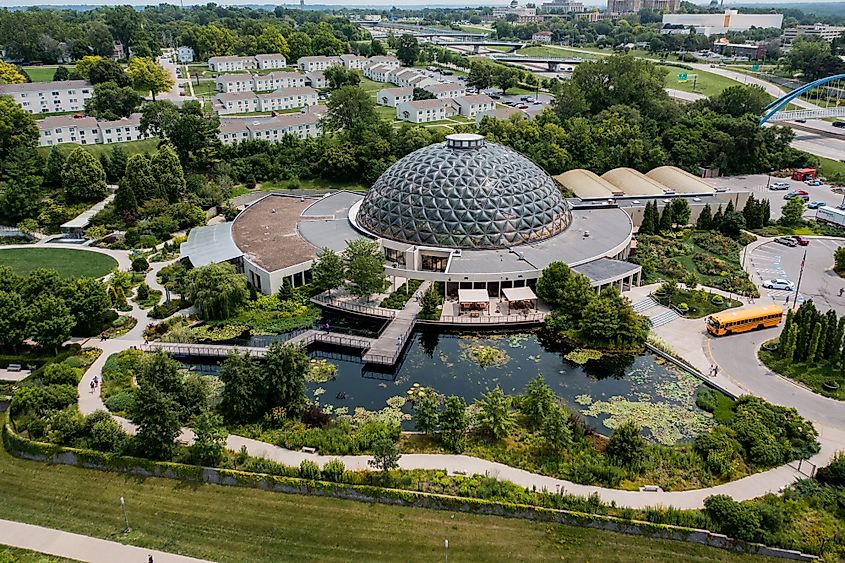 On the Des Moines River's eastern side is where one can find the Greater Des Moines Botanical Garden. It is a treat to stroll around with magnificent artworks and greenhouses dotted here and there. The garden is home to colorful plants, flowers, trees, and shrubs. The lovely gardens have expanded significantly since they opened in 1939. Cactus and succulent sections that are scenic can now be found next to stunning bonsais, orchids, and water features. One of the garden's main attractions, besides visiting its domed conservatory, which has exotic plants, palm palms, and a waterfall, is strolling along the shady Ruan Allee promenade.
Salisbury House And Gardens
The Salisbury House & Gardens, built by businessmen Carl Weeks and his wife Edith, is a peaceful landmark in the areas south of Grand Avenue. This 42-room estate has been vacant for more than 60 years, but there is still much life and culture to discover. One can take a self-guided tour of the conserved areas of the house and gardens for a nominal entrance fee that benefits the Salisbury House Foundation.
Des Moines Civic Center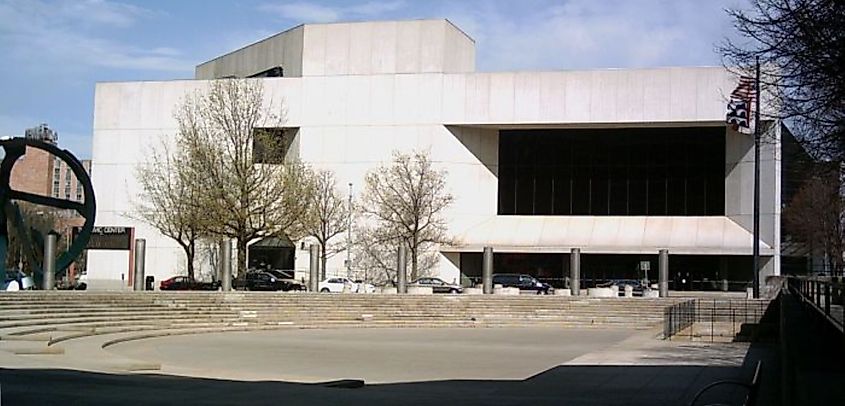 Des Moines Civic Center, which opened its doors for the first time in 1979, is proof of the strength of a community's desire to host local performers and performances. Since 1979, the facility has developed into Iowa's premier entertainment hub. However, the center also offers incredible performance art education options for performers of all ages and abilities and hosts outstanding shows throughout the year.
Terrace Hill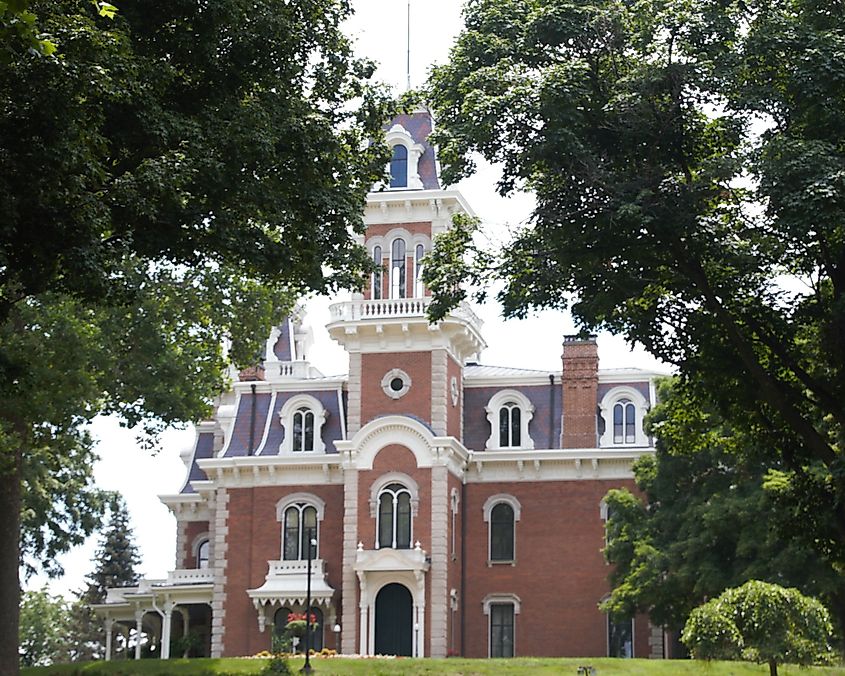 The official residence of Iowa's Governor is Terrace Hill, located in the picturesque city of Des Moines. This 18,000-square-foot home is a stunning example of Second Empire architecture and a pleasure to behold. This architectural wonder was constructed in 1869 as a private residence. Terrace Hill, a National Historic Landmark with a French rural aesthetic built of marble mantels, elegant gates, handcrafted furnishings, and other delicate senses, is a beloved emblem of Iowan heritage. The mansion's dormer windows, lush, open verandas, steeply pitched roofs with colorful shingles, and intricate cornices are all evidence of its luxury and beauty.
Des Moines, one of Iowa's many attractive vacation spots, blends big-city culture with sensibilities from the Midwest. The capital of Iowa, one of the most stunning and culturally diverse cities in the United States, is an underappreciated and frequently overlooked tourism destination. Although it's a sizable city for the Midwest, it exudes a cozy warmth uncharacteristic of a city environment.