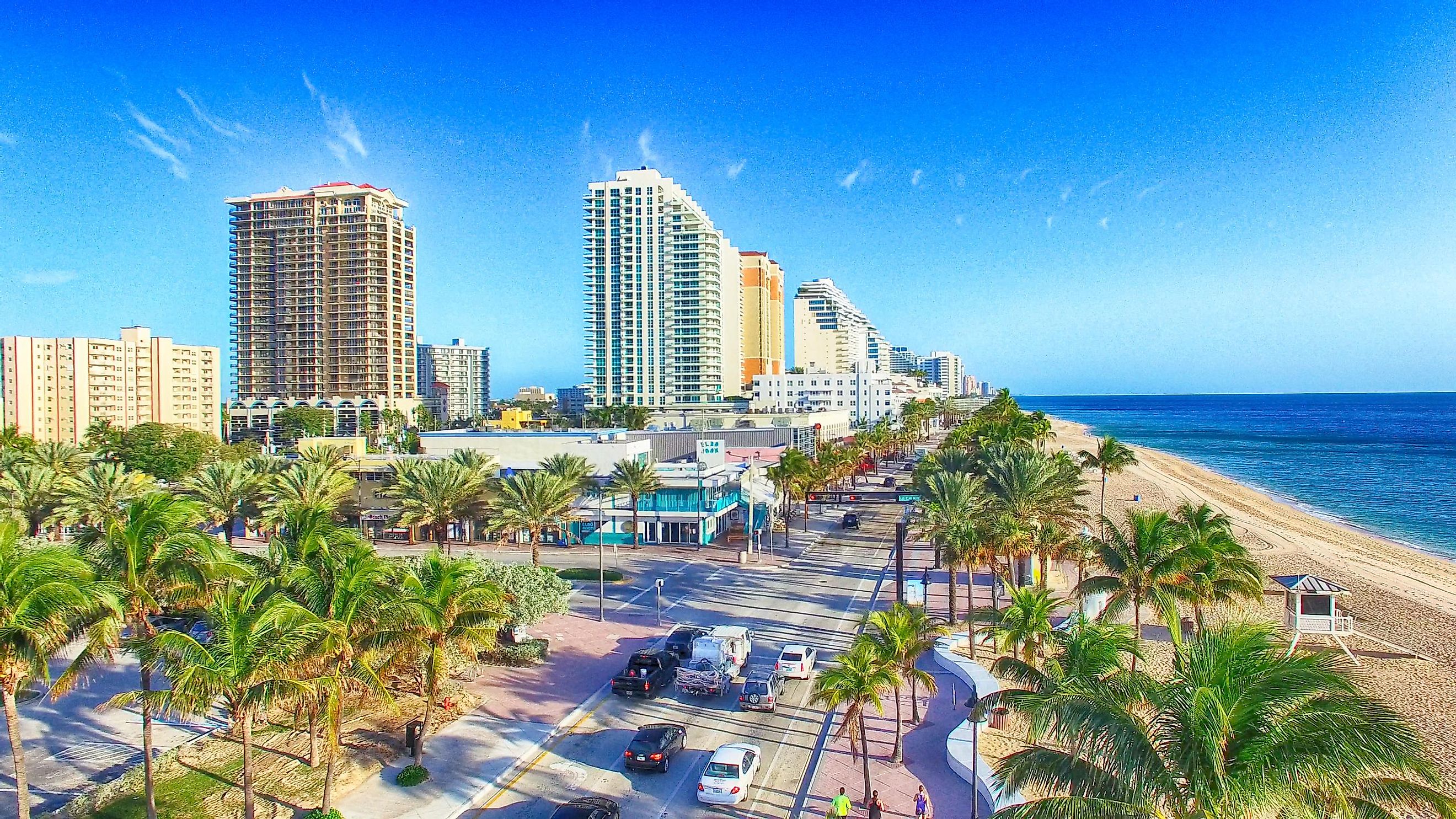 Best Day Trips From Miami To Take This Summer
Located in South Florida, Miami is a bustling, cosmopolitan city on the Atlantic Ocean. Known for its tropical climate, vibrant Art Deco architecture, and Hispanic influence, Miami offers miles of pristine white beaches by day and non-stop nightlife after the sun goes down. Although it's an exciting vacation destination in its own right, there are also many places worthy of day trips right outside the city. So, if you're spending a few days or even weeks in Miami and want to explore the surrounding areas, you won't be disappointed. Following are a few nearby options to put on your "must-visit" list. 
Everglades National Park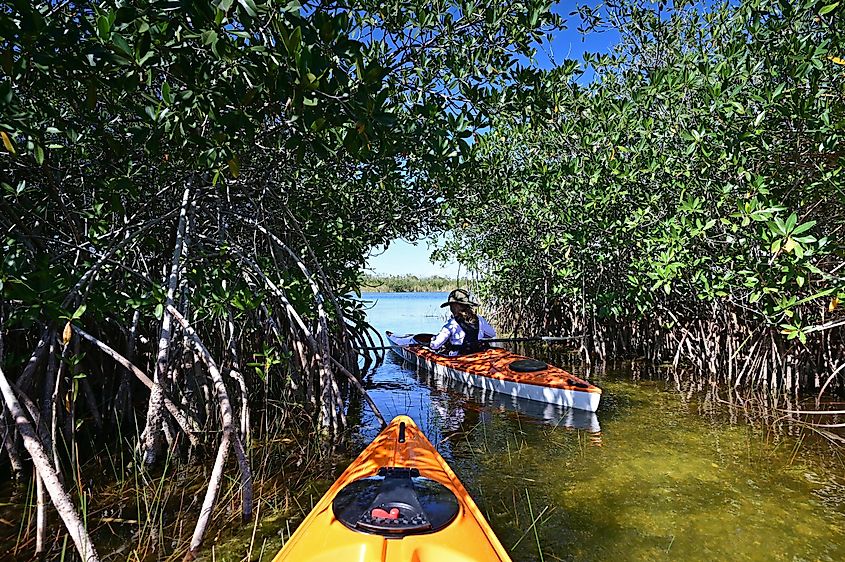 Located a little less than an hour outside of Miami, the Everglades National Park feels like a world way. This park welcomes visitors to explore the Everglades, the largest subtropical wilderness in the United States. Filled with wildlife such as manatees, alligators, American crocodiles, Florida panthers, and a variety of birds, the Everglades is a safe space for a variety of rare and endangered creatures. 
The Everglades National Park encompasses 1.5 million acres of wetland, with three entrances into it throughout South Florida. The Ernest F. Coe Visitor Center, which is located in Homestead, is the closest entrance to Miami. Spend a day checking out the visitor center, including a bookstore filled with books, films, bug spray, other outdoor essentials, and gifts. The center also offers educational displays to educate visitors about the Everglades, orientation films, and literature and brochures. Take a walk out into the Everglades National Park via one of the center's paved walking trails.  
Key Largo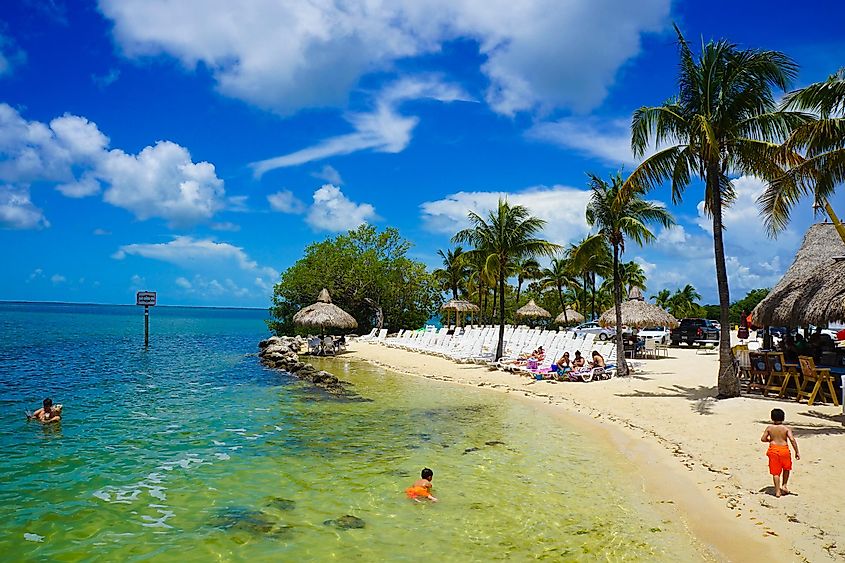 Key Largo is a tropical paradise just waiting to be explored. The first and northernmost island in the Florida Keys chain, Key Largo, lies at the start of the state's Overseas Highway, just an hour from Miami. The island town beckons day visitors to snorkel, scuba dive, go sport fishing or take an eco-tour, among many other outdoor activities. 
Start your trip at the Dagny Johnson Key Largo Hammock Botanical State Park, which features miles of trails that traverse through the wild Florida landscape. Explore the tropics on one of the shady trails, keeping an eye out for 84 protected species of plants and animals that call the park home. Take a glass bottom boat ride or go scuba diving at Key Largo's John Pennekamp Coral Reef State Park. Anglers will delight in a fishing trip on Key Largo, which is bordered by the diverse Florida Bay and the Atlantic Ocean. The area is home to over 600 indigenous fish species, including grouper, tarpon, and yellowtail snapper. Bring your own boat or rent one from one of the island's several watercraft rental shops. 
Biscayne National Park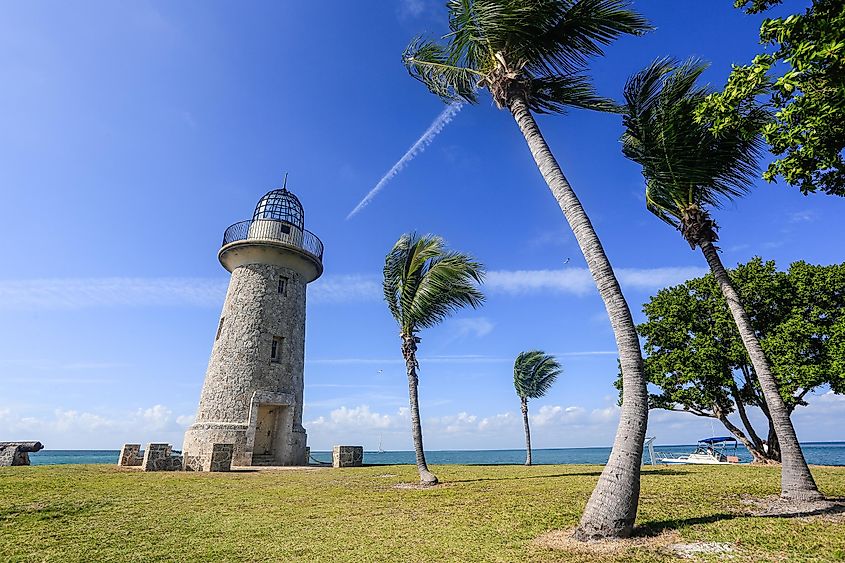 Biscayne National Park is an ocean lover's paradise with its aquamarine waters, miles of pristine coastline, and coral reefs teeming with vibrantly colored tropical fish. Since this national park is made up of 95 percent water, it is best explored by watercraft such as a canoe, kayak, fishing boat, pontoon boat, or ranger-led tour boat. Start your trip at the Dante Fascell Visitor Center in Homestead, where you can learn about the park and explore art exhibits. The center's museum explores the park's four diverse ecosystems and offers hands-on learning opportunities for kids. You can also watch films highlighting all that the park has to offer. 
Outdoor adventurers can go fishing or lobstering, as the park is home to spiny lobsters and many different species of fish, including grouper, tarpon, snapper, and bonefish. Watch birds and other native wildlife on the Biscayne Birding Trail, go snorkeling or scuba diving on the Maritime Heritage Trail, or go on a self-guided hike on the Convoy Point Jetty Walk. 
Fort Lauderdale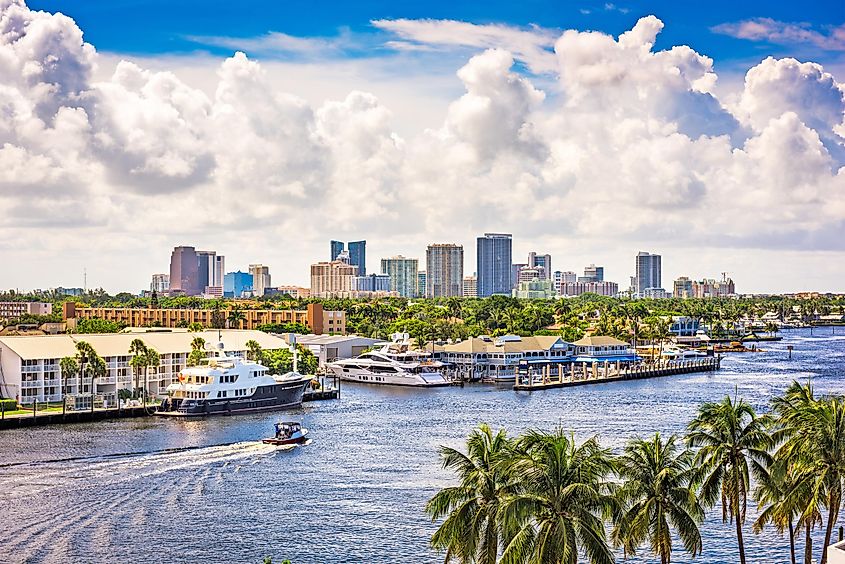 When you think of South Florida, Fort Lauderdale most likely immediately comes to mind. Once known as a rowdy spring break destination for college kids, Fort Lauderdale, 30 miles north of Miami, is now considered a world-class city ideal for family vacations, girls' trips, and romantic getaways. During your day trip, explore one of Fort Lauderdale's 31 neighborhoods, each offering a unique aspect of the city. The city also offers 31 miles of golden sand beaches, where you can sunbathe, swim, surf, or fish, depending on what type of outdoor experience you want. Relax and take in the ocean view from an ocean taxi, yacht, or gondola, just to name a few options. 
If you love to paddleboard, don't miss a trip to Hugh Taylor Birch State Park, which is home to scenic coastal dunes. Spend some time at the city's Museum of Discovery & Science, which features the high-tech AutoNation IMAX Theater. Fort Lauderdale is also a shopping lover's delight, with its local boutiques, unique gift shops, and art galleries. Although it's tempting to just stay in the exciting city of Miami during your South Florida vacation, jump in the car one day to take advantage of all of the interesting destinations within easy-diving distance. Whether you seek an outdoor recreational or indoor cultural experience, you'll find it close by. When staying in Miami, you'll have fast access to destinations you can't find anywhere else in the world, such as the Everglades. 
Hollywood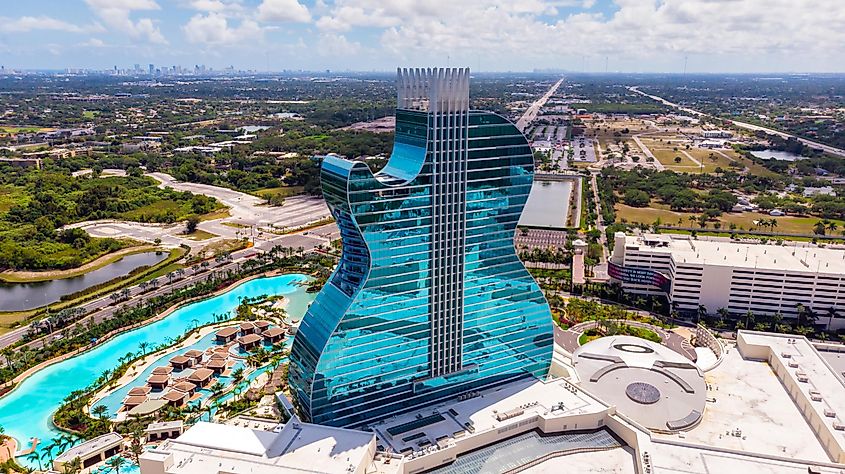 Situated between Miami and Fort Lauderdale, Hollywood is a day trip-worthy destination whenever you want to enjoy a day at the beach. The coastal city is also known for its many cultural offerings and recreational opportunities. Start your visit along the Hollywood Beach Boardwalk, which meanders over two miles along the Atlantic Ocean. Explore the scenic path while walking, jogging, bicycling or rollerblading. If you don't own your own sporting equipment, you can rent it from a local shop. Be sure to stop and enjoy the numerous shops and cafes along the way. Another place to check out while in town is the Anne Kolb Nature Center, which features 1,501 acres of mangrove wetlands teeming with native plants and wildlife, including some endangered species. 
Delray Beach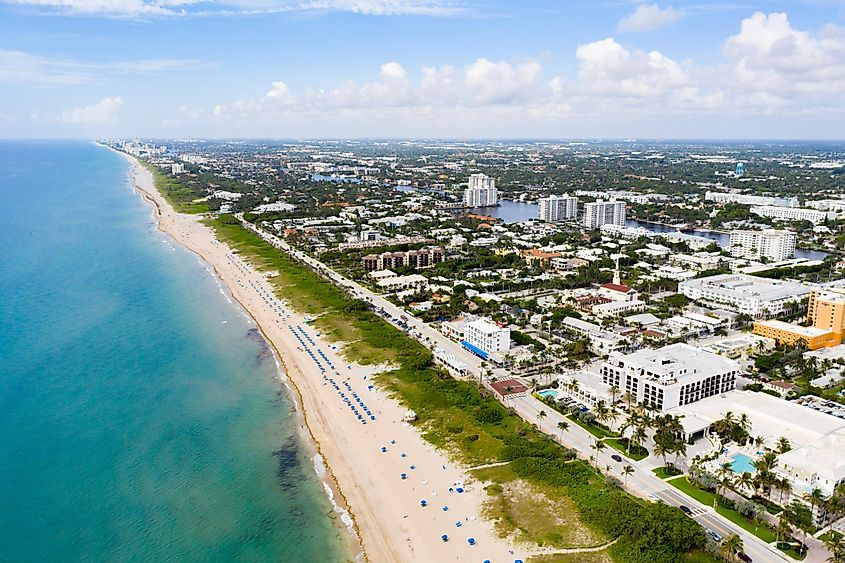 A sophisticated yet laid-back city, Delray Beach still maintains an idyllic seaside village feel, making it an ideal relaxing day trip destination. Delray Beach is brimming with recreational and cultural opportunities and is just 50 miles north of Miami. Take some time to explore downtown Delray Beach's many eclectic boutiques, coffee shops, art galleries, and gourmet restaurants. Stroll down scenic Atlantic Avenue, fully immersing yourself in all the oceanfront city offers for the day. If you have kids, make a trip to the Delray Beach Children's Garden, where youngsters can experience a vegetable garden labyrinth, a banana forest, and a turtle pond, among other natural features. The garden also offers classes and is available for birthday parties. 
Boca Raton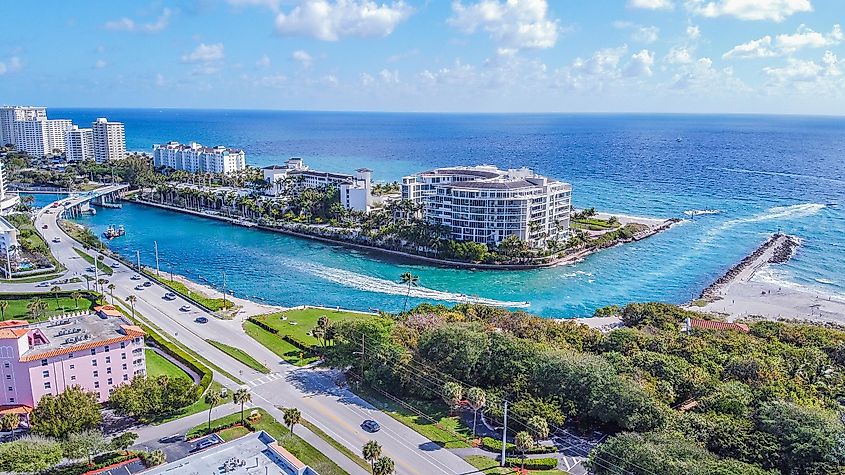 The coastal city of Boca Raton offers more stunning Atlantic Ocean beaches and oceanfront views. During your summertime visit, check out the city's five miles of sandy beaches, where you can catch a salty breeze or one or two of its 47 diverse parks. Shoppers won't want to miss luxurious Mizner Park, known for its high-end, open-air shopping district and dining plaza. The Town Center Mall is also available for those who want to spend the day exploring local boutiques and other retail shops. The Boca Raton Museum of Art pleases arts and culture lovers of all ages with its eclectic and varied exhibitions, which rotate seasonally. The museum also offers art workshops, classes, and special events. 
Pompano Beach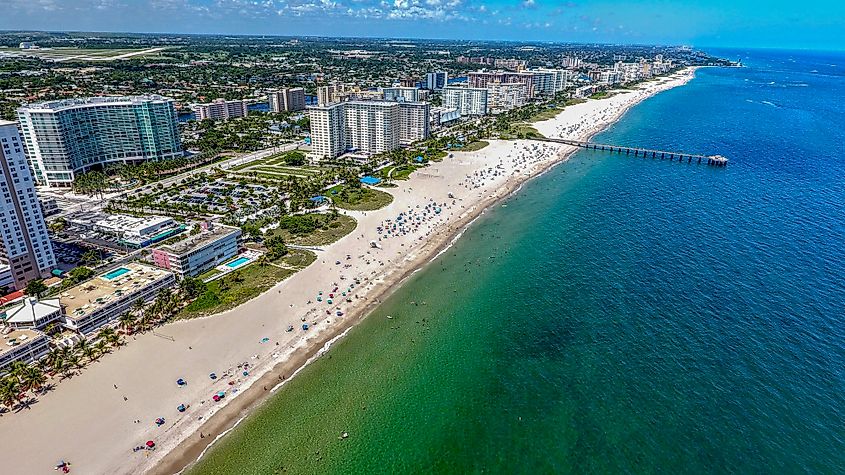 Oceanside Pompano Beach delights day trippers with its warm, clear waters and golden sand beaches. Nestled between Miami and West Palm Beach, Pompano Beach features a convenient central location with more of a small-town feel than the larger South Florida cities. Take a walk along the 1,000-foot municipal fishing pier, which offers a unique view of the Atlantic Ocean. The city also offers 50 parks worthy of exploring, whether you're visiting alone or with your family. Try out your luck at Harrah's Pompano Beach, a casino featuring more than 1000 slot machines and electronic games tables. The casino is also home to over 40 live-action poker tables, a simulcast, and multiple dining options. 
Whether you're craving a beach escape, a nature adventure, a romantic getaway, or a shopping excursion, you'll find it within a short drive of Miami. The South Florida region offers so much within easy driving distance of its largest city that your only dilemma will be deciding where to go for the day. No matter what you do, bring plenty of sunscreen, as you're sure to experience some of the famous Florida sunshine during your travels.