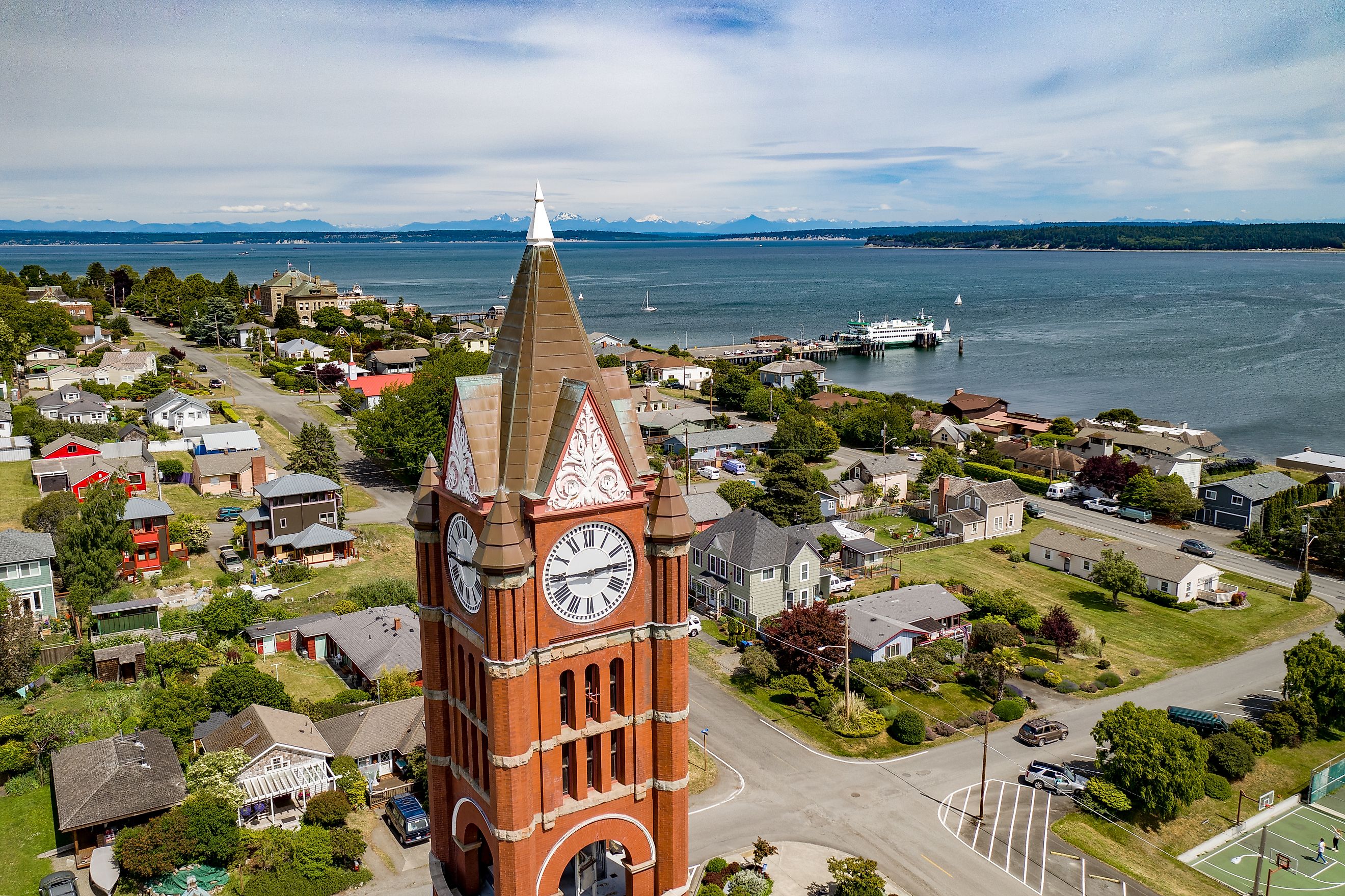 9 Unforgettable Small Towns to Visit in Pacific Coast
There are dozens of small towns to visit on the Pacific Coast that are often ignored by bigger cities and theme parks. Small towns provide respite, calm, and alternative natural adventures. Pick one town for a three-day getaway, or choose them all for a slow travel family vacation. This list compiles some of the best small towns that will delight enthusiasts of nature, adventure, animals, beaches, nightlife, historic downtowns, fall foliage, and so much more. Travelers can immerse themselves in art walks, get their hearts pumping on a thrilling tour of sand dunes, sample clam chowder up the coast, and take in some of the best sky-high views at Olympic National Park.
Long Beach, Washington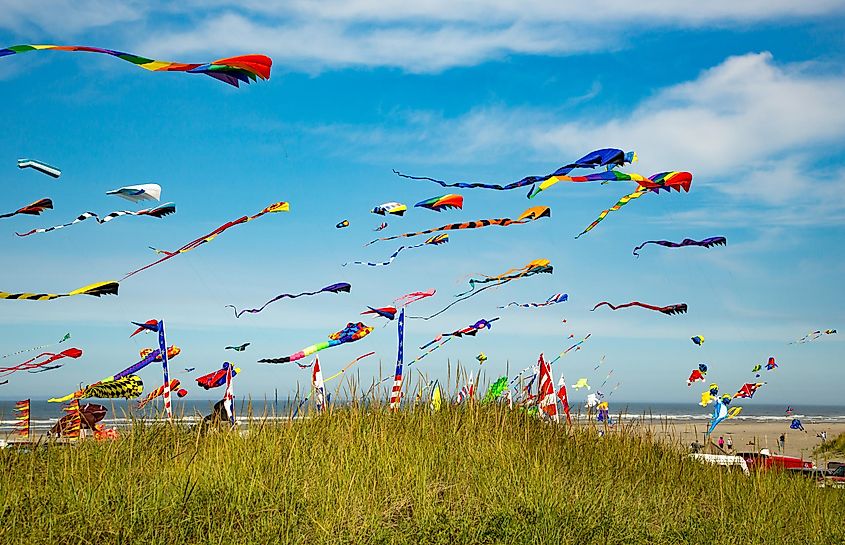 Not to be confused with the bustling Long Beach, California, this Long Beach is a coastal town of around 1700 residents. Long Beach is located on a peninsula surrounded by hiking trails, state parks, renowned beaches, and a passionate arts community.
Collectors and toy enthusiasts will be delighted to visit the World Kite Museum, especially if they match up their visit to the Washington State International Kite Festival. This festival is conveniently placed at one of the other biggest attractions in Long Beach, the Long Beach Boardwalk. Unlike some of the more popular boardwalks on the Pacific Coast with bustling theme parks, this boardwalk offers mostly exquisite views of the ocean, sand dunes, and the North Head Lighthouse. Tourists will also come across a sign that says "World's Longest Beach." Local promoters have been known to boast how it is the world's longest drivable beach or longest peninsula beach. However, such claims are debatable.
Half Moon Bay, California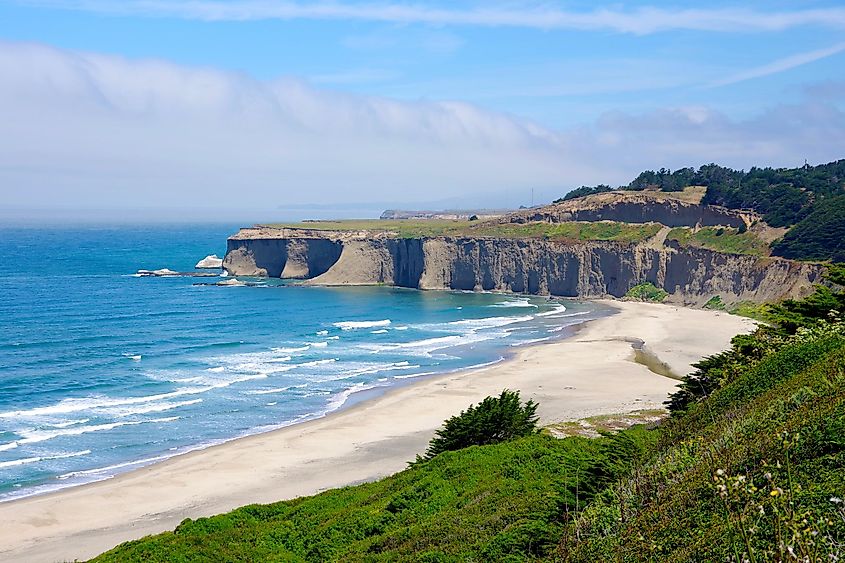 Half Moon Bay is one of the crown jewels of the Bay Area, acting as both a throughway to the local forests and beach towns and the main event for luxury travelers who stay at the Ritz-Carlton. Half Moon Bay's coast is shaped like a crescent—hence its name—and provides stunning views of the Pacific year-round. During October, visitors will not want to miss the Art and Pumpkin Festival as they can witness a weighing competition; the festival in 2023 hosted the world-record-breaking 2,749lb pumpkin! During the summer, travelers can also enjoy U-pick berries and fruit orchards.
Half Moon Bay is home to around 1100 residents and attracts ecotourists, hikers, big-wave surfers, and nature lovers. Just around 35 minutes south, travelers can visit Año Nuevo State Park and watch the mating, birthing, and molting seasons of elephant seals. In town, tourists can experience cuisines from around the world, including Himalayan, Italian, Mexican, Thai, Japanese, and dozens of other cafes and bistros.
Cannon Beach, Oregon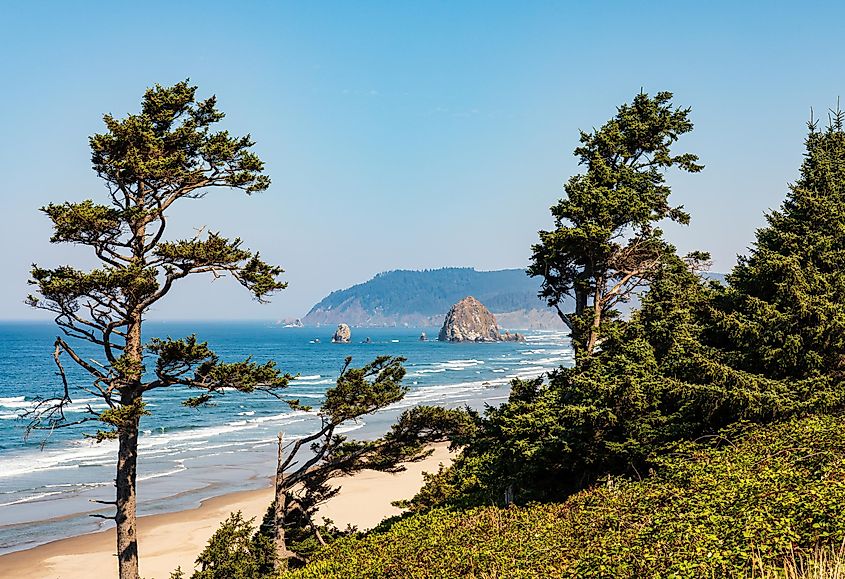 Cannon Beach is one of the most popular coastal towns on the West Coast because of the iconic Haystack Rock. The tidepools around Haystack Rock are home to intertidal animals, including crabs, sea stars, anemones, nudibranchs, and many other creatures that can be seen most easily at low tide. Animal lovers will not want to miss visiting Ecola State Park to view Roosevelt Elk among the forests or gray whales in the ocean—both from a respectful distance.
For excursions in the town, check out Cannon Beach Chocolate Cafe for a selection of vegan-friendly chocolate goodies, hot chocolate drinks, and coffee drinks. Art lovers will not want to miss glass-blowing demonstrations at Icefire Glassworks or the Cannon Beach Sandcastle Contest every June. While it's only a small town of just about 1,500 residents, this town has been the inspiration for many novels and has been featured in multiple TV shows and films, including The Goonies and Kindergarten Cop. 
Port Townsend, Washington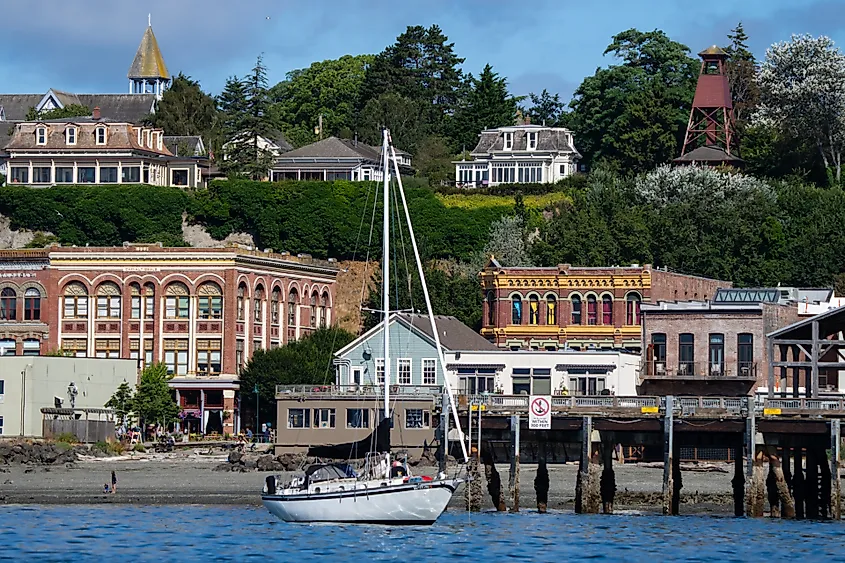 Only 90 minutes northwest of the I-5 in Tacoma is a small town chock full of PNW charm. Solo travelers will love the peaceful hiking opportunities through Fort Worden State Park, only 1.5 miles from the core of downtown. This state park is a former army base surrounded by beaches and miles of trails that are made even more stunning, with the Olympic and Cascade mountain ranges as a natural backdrop. Another great option is to walk or bike the Chetzemoka Trail, which showcases many points of tribal and geographical importance.
Those interested in marine life will want to visit the Port Townsend Marine Science Center to learn about local fish and to take a cruise to see puffins, sea lions, and bald eagles. Visitors can also book a whale-watching cruise in hopes of seeing orcas, humpbacks, gray whales, and minke whales. One of the biggest draws of this small town of nearly 10,000 residents is the stunning Victorian architecture and its local art scene, specifically the Art Wave festival that runs all May to showcase 400-plus pieces of children's artwork all over town. 
Eureka, California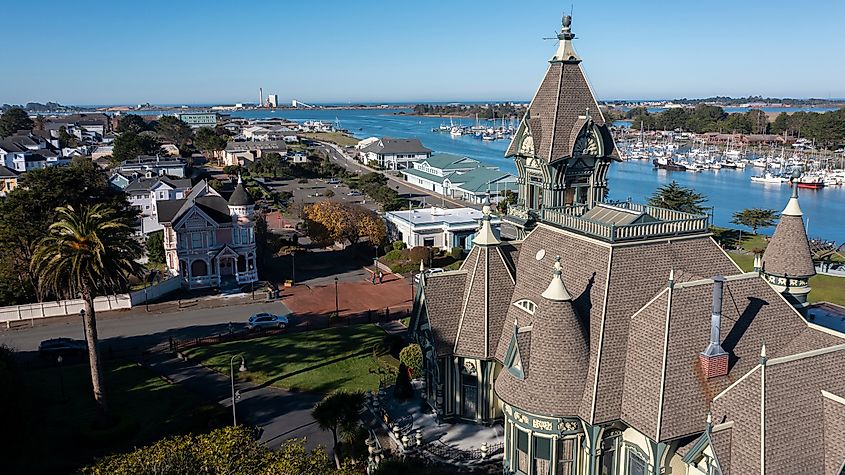 This coastal West Coast town is nestled between Redwood trees and the Pacific Ocean. Eureka is the largest coastal town between San Francisco and Portland and is home to a very vibrant and active arts community. Every Memorial Day weekend, travelers can come to watch the Kinetic Sculpture Race, where visitors can see moveable sculptures, or they can visit in August to see the Eureka Street Art Festival in action. Past exhibits are still on display, including the tiny doors and murals people can see around Eureka's downtown. The Old Town is part of the United States National Register of Historic Places, as the town is home to 150-plus Victorian structures. Two of the most popular structures are the Carson Mansion and the Pink Lady, both in the style of Queen Anne Victorian.
On the south end of Eureka is the Redwood Sky Walk, a big draw for adventure travelers who want to walk 100 feet above the forest floor. Conveniently, this excursion's entrance is through the Sequoia Park Zoo. This zoo is the oldest zoo in California, one of the smallest accredited zoos in the country, and houses 52 animal exhibits. 
Florence, Oregon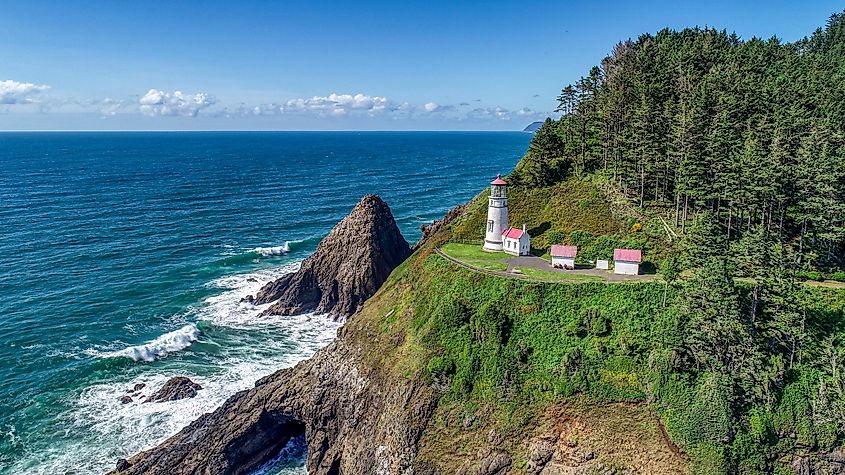 Florence, Oregon, is home to the largest coastal sand dunes in North America, with 40 miles of sand dunes along the coast. Travelers can explore the sand dunes by air, foot, off-highway vehicle, or a dune buggy ride with a professional guide. Not only is this an excellent option for adventure travelers but also for nature enthusiasts, as they can come for beachcombing, fishing, camping, and birding.
In town, tourists can enjoy the Siuslaw Pioneer Museum to learn about the origin of the town as a fishing village. After this educational experience, they can walk door-to-door and explore the Victorian-style boutiques along Main Street to view antiques, taste saltwater taffy, or curate their own claw chowder tasting tour. A local favorite recipe can be found at LoveJoy's Restaurant. After a long day of exploring the town, visitors can also enjoy a romantic horseback riding session on the beach or watch the sunset behind Siuslaw River Bridge.
Port Angeles, Washington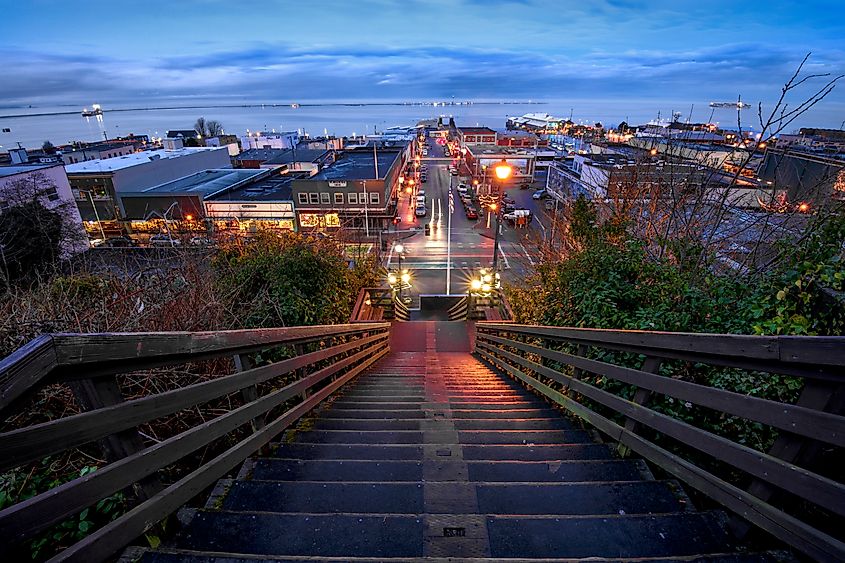 Port Angeles is most often used as the starting destination for travelers visiting Olympic National Park; however, this destination also offers activities for nature enthusiasts, Twilight franchise fans, whale watchers, and music lovers. The most notable attraction is the world-renowned Olympic National Park. Six hundred miles of hiking trails lead to tidepools, beaches, lakes, and rainforests. Whether it's autumn colors, snow-capped mountains, or hills decorated in wildflowers, there is always something seasonal and fantastic to view in the park. 
In town, visitors can enjoy a self-guided mural trail around downtown. Twilight fans can visit Bella Italia to dine at the restaurant and order the same dish, mushroom ravioli, that Bella ordered on her date with Edward. After a day of dining, antiquing, and hiking, tourists can enjoy a calm evening listening to the Port Angeles Symphony, Jazz in the Olympics, or the Forest Storytelling Festival (in the month of October).
Laguna Beach, California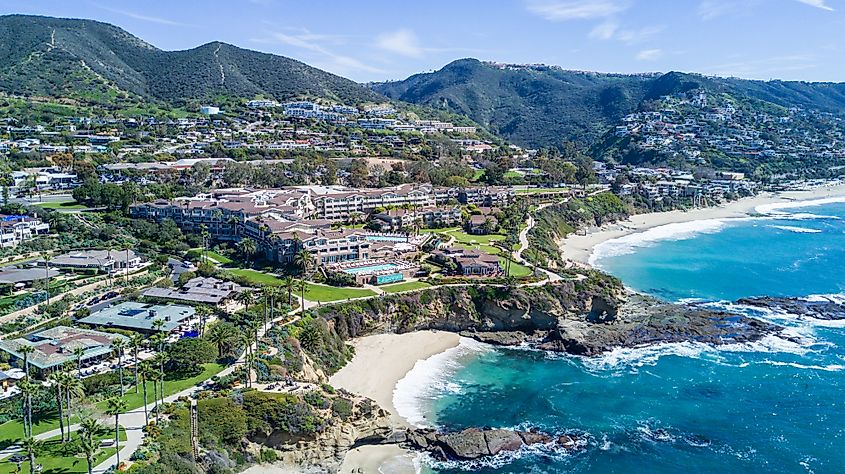 Laguna Beach, California, may have been made popular in the 2000s for its MTV show of the same name that launched stars like Lauren Conrad, but it is also a thriving arts community, culinary destination, and the home to some of the best luxury beach resorts in the state of California. Laguna Beach is home to more than 100 art galleries, many of which participate in the First Thursdays Art Walk—a monthly art event where 40+ galleries participate in artist receptions, demonstrations, and live performances, all accessible by foot or trolley.
Beachcombers will want to visit the local sea caves, sea arches, and tide pools at low tide. To bring out their inner child, it is encouraged to visit the Pirate Tower on Victoria Beach, which looks like a medieval tower randomly placed on a Californian beach. In its origin, it was simply an enclosed staircase to the beach built by the resident, California senator William E. Brown, who lived just above the tower.
Newport, Oregon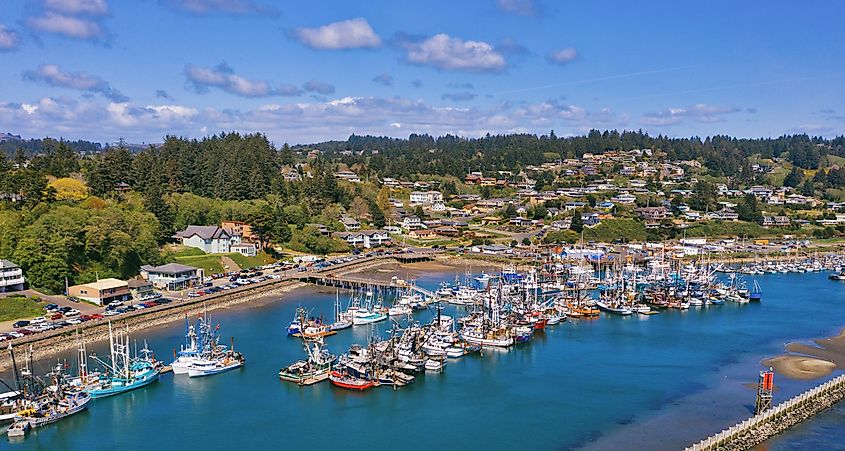 Newport, Oregon, is a beautiful destination for those who are looking for less of a bustling beach town and more of a quieter coastal experience. With only a population of around 10,500 residents, Newport is best known for the Agate Beach State Recreation Site and the Yaquina Head Outstanding Natural Area. There, travelers can see lighthouses, try surfing, go clam digging, or plan a family picnic. Travelers are recommended not to miss the Yaquina Bay Bridge, a steel and concrete bridge with Art Deco and Gothic influences, which is also a passageway to the beloved local Oregon Coast Aquarium. Visitors can admire the animals as they walk through their dozens of exhibits or book a private encounter with a sea jelly or octopus.
The Pacific Coast and driving up Highway 1 is considered one of the most coveted bucket list trips in the U.S. for its breathtaking views and outstanding exciting destinations, including Los Angeles, Seattle, and San Francisco. When booking a trip along this route, travelers should not leave out the small towns to visit on the Pacific Coast, for they are where people can enjoy more calming moments, local gems, and one-of-a-kind nature experiences.