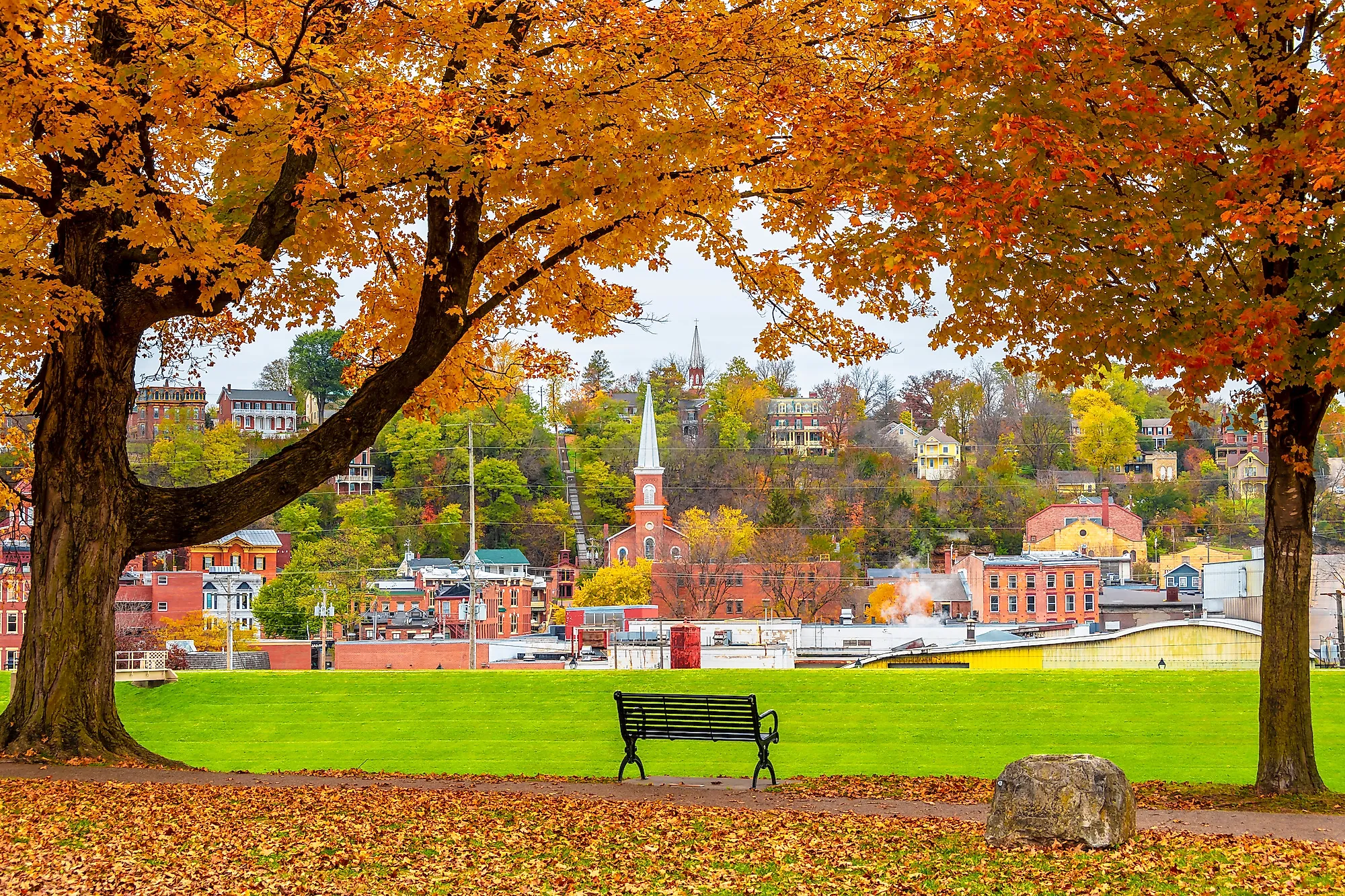 9 Small Towns In Illinois That Come Alive In The Fall
The midwest state of Illinois is known for many things. It was the location of the first McDonald's east of the Mississippi River. It is the heart of the automotive industry in America and the state with the world's largest ketchup (catsup) bottle. What you will rarely hear, however, is that Illinois plays host to some of the best small-town fall and harvest festivities across the entire country, which include the Morton Pumpkin Festival, the Grafton Apple Festival, and Galena Oktoberfest. While the fall season is rung in and celebrated by small towns across the state, nature is doing its work, turning an already beautiful landscape into a kaleidoscope of autumnal color and warmth.
For those looking for the best days for leaf-peeping in Illinois, the general standard is that in Northern Illinois, the best leaf-peeping days are during the second week of October, in Central Illinois, the best leaf-peeping days are during the middle of October, and in Southern Illinois, the best leaf-peeping days are during the last week of October. But, in the end, no matter where you visit Illinois during the fall, it will be gorgeous, nor will any of these Illinois towns let you down.
Morton (Village of Morton)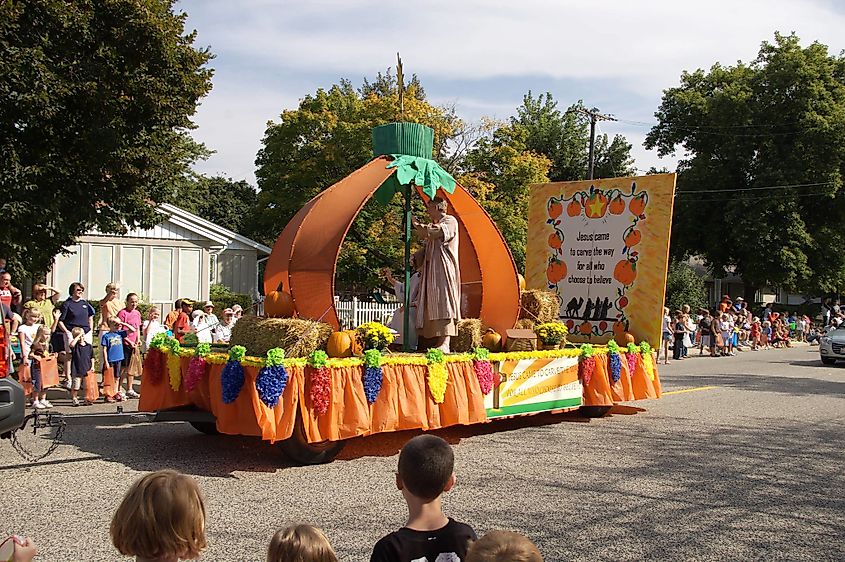 Starting in the center of Illinois, the town of Morton has many exciting autumn events and is just a short distance from some gorgeous natural features made spectacular by the changing color leaves in the surrounding trees. Morton has played host to the Morton Pumpkin Festival for over half a century. During this four-day festival, there is a range of events, including a parade, a pumpkin-themed recipe contest, a largest/heaviest pumpkin contest (pumpkin weigh-off), a pumpkin pie eating contest, live music, carnival rides, and a midway, and so much more. Once you are all fall festival-ed out, spend some time at Everett Dirksen Park, just 8.0 miles due west of town, or Farmdale Reservoir, which is 6.0 miles northwest of town. Both parks offer the opportunity to experience the beautiful fall foliage of Illinois while spending a relaxing day recuperating from the festivities of the Morton Pumpkin Festival.
Grafton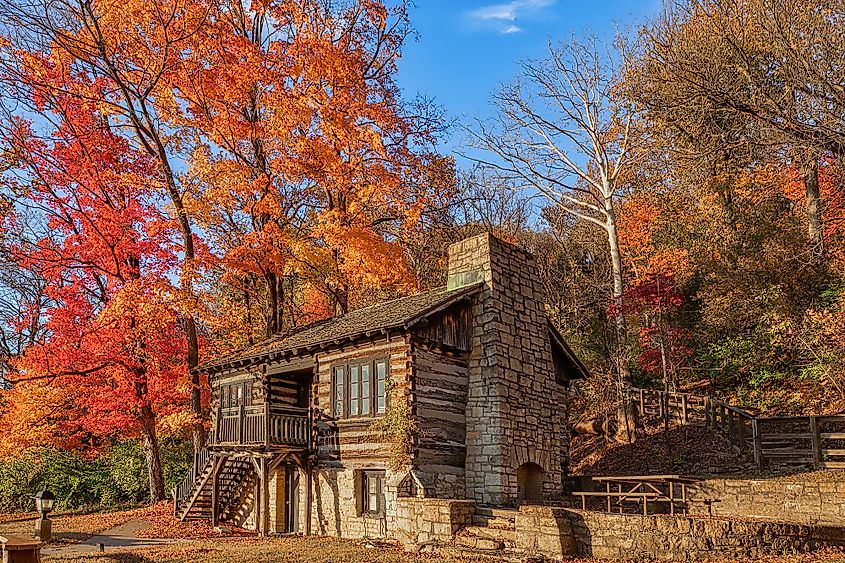 The opening of Grafton, Illinois's fall festivity season, is in mid-September, with the season being rung in by the Grafton Apple Festival. This event is held 6.4 miles west of town at the Pere Marquette Lodge and Conference Center, inside Pere Marquette State Park. The Apple Festival brings out locals and visitors from across the state. At this festival, you will have the chance to sample apple wine and other apple recipes, compete in an apple pie walk (think cake walk with an apple pie twist), listen to live music, peruse handicrafts at the many vendor booths, and, participate in the most popular event, the pumpkin roll. Beyond being the location of the Grafton Apple Festival, Pere Marquette State Park offers a range of lovely activities. From hiking, bird watching, boating and fishing, and horseback riding, Pere Marquette State Park is a great place to visit, even if you miss the Apple Festival.
Morris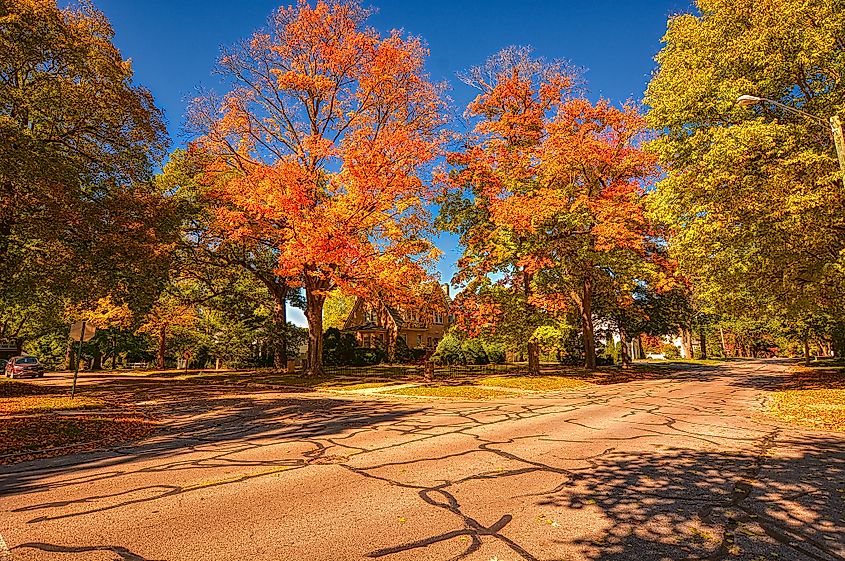 Just one year shy of its 75th anniversary, the five-day Grundy County Corn Festival, held in Morris, Illinois, is the apex of small-town charm mixed with classic fall harvest festivities. During this festival, there are innumerable entertainments, including a parade, a Scarecrow Stroll, a craft show, a flea market, live music, a fishing tournament, the Corn Fest scavenger hunt, musical bingo, and so on. For children specifically, there are pony rides and even a petting zoo. If you want to get out of town during the Corn Fest and take in the local fall landscape, Gebhard Woods State Park is a great option and is only 1.5 miles from town. This park is a pickup point for the historic 61 mile Illinois and Michigan Canal State Trail. If you are looking for something more relaxing, there are multiple picnic areas in this park, these being great places to sit and admire the local fall foliage. 
South Jacksonville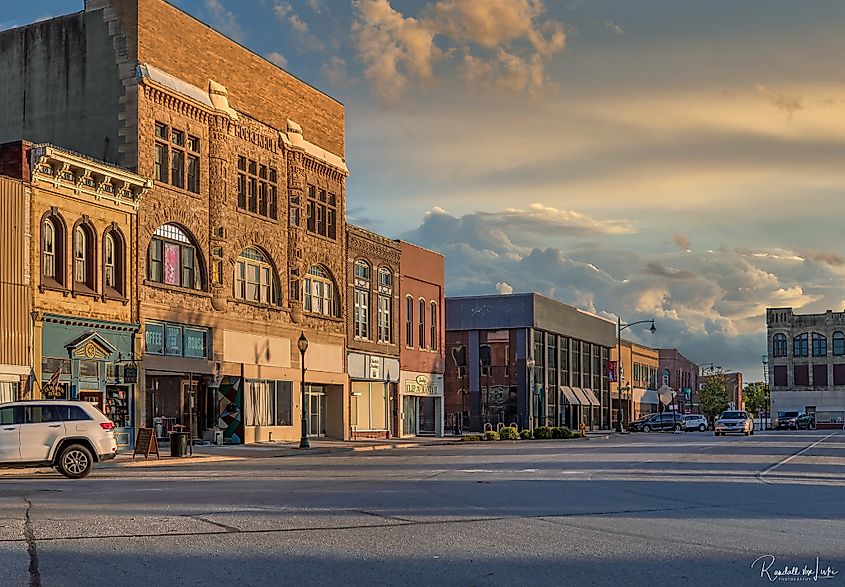 Although South Jacksonville is now technically part of Jacksonville, it was its own town for nearly two centuries until 1932. As such, and because of this area's distinct cultural events, we will consider it its own town.
While it might be a mouthful to say, it is worth all the words, as the Prairie Land Heritage Museum Steam Show and Fall Festival Days is one of the best fall events across Illinois. Just as the name suggests, this three-day festival, in part, focuses on agriculture in Illinois, both historically and in the modern day. This event gives locals and visitors alike a chance to see how historical farm equipment worked, from the days of horse-powered equipment through the advent of the tractor (both steam engines and gas engines), and even has demonstrations of hay bailing and blacksmithing. On top of this, there are the classic fall festival entertainments, such as live music, a range of unique food trucks and booths, including the famous steam engine cooked ham and beans, a petting zoo, face painting, a paint a pumpkin event, and so much more. 
Around South Jacksonville, there are some lovely parks where you can revel in the fall ambiance and crisp Illinois autumn air. The Crimson and Rocket Recreational Areas are located 5.9 miles southeast of town. At Crimson and Rocket Recreational Trails, there are two large loop paths, these being Crimson Trail Loop and Rocket Trail. Each of these hikes is perfect for those looking to do some leaf-peeping or those who want to relax in nature.
Galena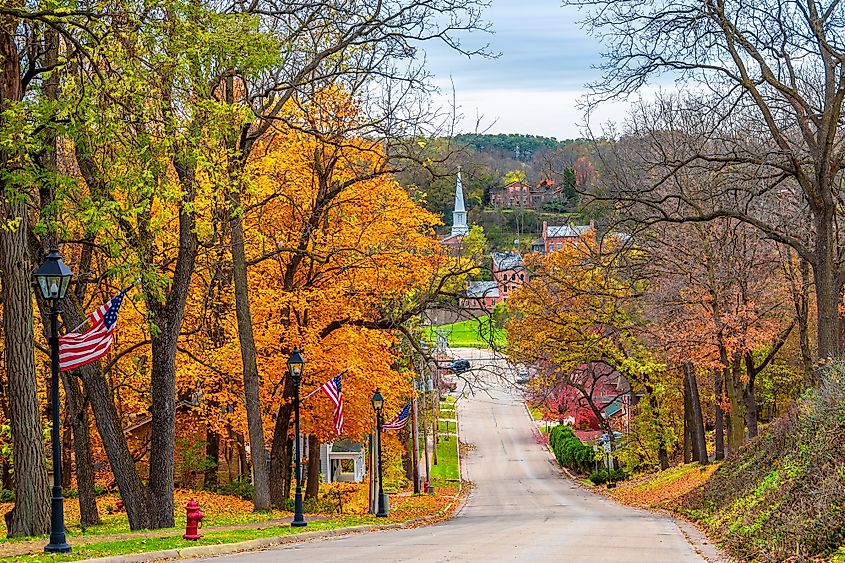 Although Oktoberfest originates from the German celebration of the marriage of the Crown Prince of Bavaria and Princess Therese von Sachsen-Hildburghausen, today it has become a staple fall celebration across the Western world, including in Galena, Illinois. Incorporating German food, dress, and music, communities worldwide put their spin on Oktoberfest, just as the town of Galena does during Galena Oktoberfest, a celebration that would give any Oktoberfest a run for its money. Held at Depot Park in the south-central part of town, Galena Oktoberfest includes a range of German activities with an Illinois twist. These events and entertainments include live polka music, polka dancing lessons, a wiener dog racing (the word wiener is derived from the German word Wienerwurst, which is a Vienna sausage), a beer stein endurance contest, and an abundance of options of German-style food and ice-cold beer.
If you need a place to recuperate from Galena Oktoberfest, visiting Apple River Canyon State Park is just the ticket. While it is 23.6 miles west of town, Apple River Canyon State Park is worth the trip. The park encompasses 297 acres of land and has many hiking opportunities. Popular trails in this park include Pine Ridge Nature Trail, River Route Nature Trail, and Sunset Nature Trail. Each of these trails provides leaf-peepers the opportunity to experience the local fall foliage and to view the fall iterations of 13 different plants on the rare and/or endangered species list. For something in town, there is Grant Park, a lovely space for picnics and family events. 
Sycamore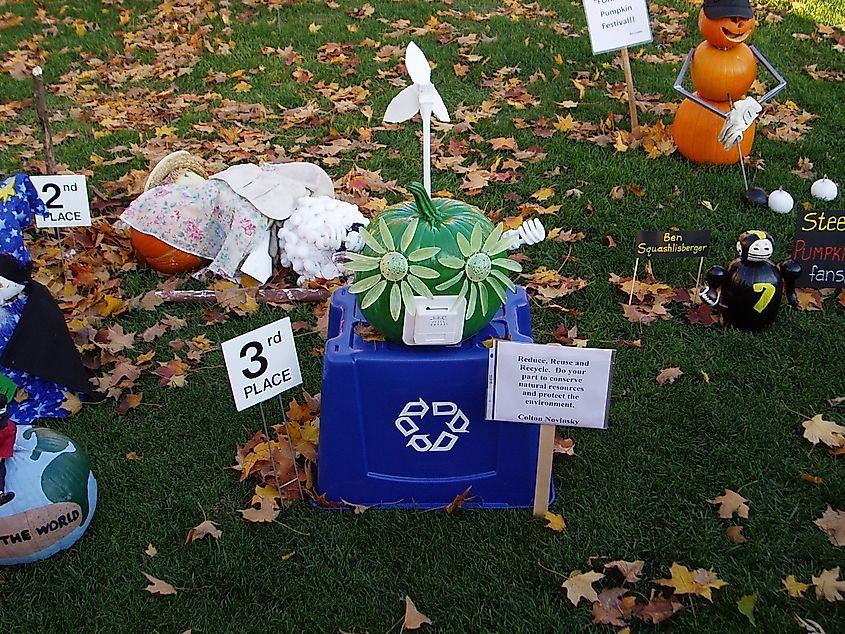 Welcome to Sycamore, Illinois, home to the Sycamore Pumpkin Festival. This event is over 60 years old and combines different aspects of the local fall season. The Sycamore Pumpkin Festival opens with a giant cake-cutting ceremony and then proceeds with the five day festival. Throughout these days, there will be a range of events and activities, from a pumpkin 4-person golf scramble, a pie eating contest, face painting for children, a teen carnival, a kiddie carnival, and on the last day, the Pumpkin Festival Parade.
For kids between kindergarten and grade 5, there is a children's pumpkin celebration, which has games, storytelling, and, in honor of Halloween, treats for the kids. Beyond the fall festivities, Sycamore has many parks within a short drive of town, and around mid-to-late October, this the annual date range of the Pumpkin Festival, the fall foliage will be in its last hurrah before winter's first snow. A popular destination is Sycamore Forest Preserve, it being only 1.1 miles east of town. This 60-acre preserve includes 30 acres of floodplain prairie habitat and 30 acres of publicly used lands, which include picnic shelters, easy access parking spaces, a groomed recreation area, and a range of trails that take you through the serene wooded areas of this park, where the leaves overhead create a canopy in autumnal colors.
Okawville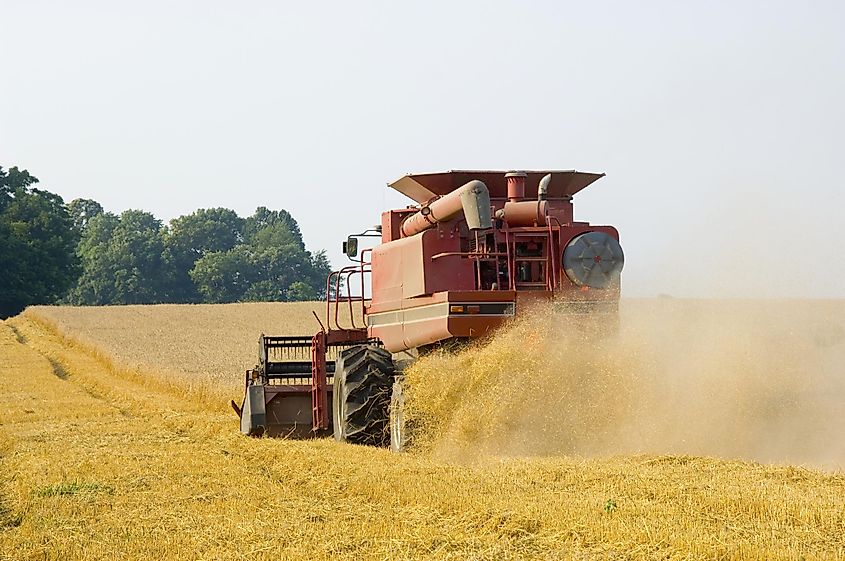 While Okawville, Illinois, may only have a population of just over 1,300 residents, its annual Wheat Festival rivals any other fall festival in Illinois. This three day event attracts visitors from across the country looking to get a taste of a Midwest autumn in terms of both the festivities and the landscape. The Wheat Festival is jam-packed with events for children and adults, and, with its abundance of live music, this festival finishes each night at or after midnight with an outdoor music performance. Held at a range of local sites, most of the Wheat Festival is in Community Club Park. During this festival, there is the annual Wheat Streak 5K run, a talent show, a classic car show, and even a fair with rides and a fairway. 
If you have some time between all of the events of the Wheat Festival, consider visiting Washington County State Recreation Area, which is 20 miles southeast of Okawville. While this park is around a half-hour drive, once you see the park for yourself, the drive will become completely worth it. This site has a single loop trail that goes all the way around the central lake of this park, as well as the shoreline being open to explore. 
Dwight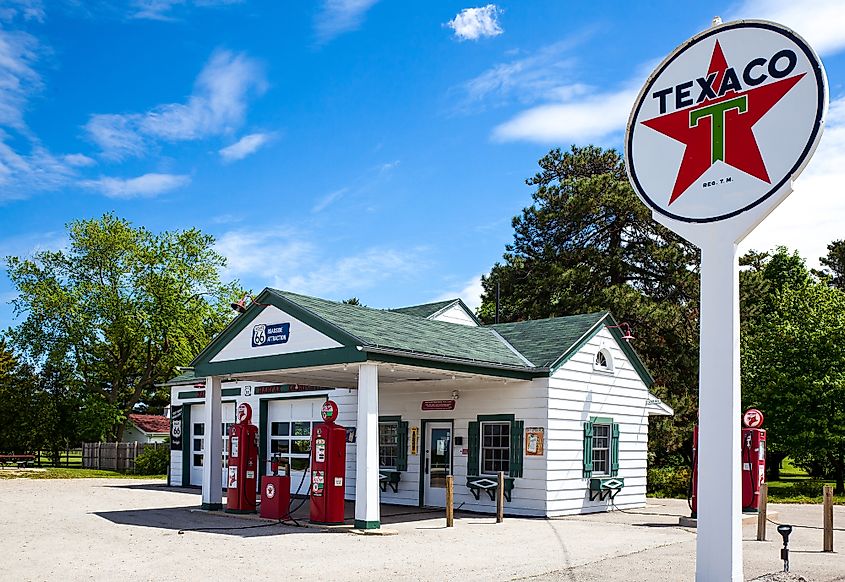 By the time the Dwight Harvest Days festivities roll around, the fall season has made itself known in Dwight, Illinois. The leaves have begun to change color, and the evenings finally cooled down, making it the perfect time to hold this four-day event. During this event, there are entertainments a-galore, including a bags tournament, a carnival for small children as well as older teens, a cutest baby contest, face painting, team trivia, live music, and food trucks and booths with delicious delights. By the end of these four jam-packed days, you will need a chance to wind down, and where better to do that than in one of Illinois's many parks and preserves?
If you are looking for open green space and a one-in-a-million experience, a great option is to visit the Braidwood Dunes and Savanna Nature Preserve. Located 18 miles northeast of Dwight, it will take around half an hour in good traffic to get to this park. However, this unique park, which is part of the Kankakee Sands preservation system and covers 315 acres, is well worth it. Collectively, this park has three ecosystems: a grass prairie ecosystem, a savanna ecosystem (the dunes), and a wetland ecosystem. Each ecosystem is beautiful in its own way, but if you are looking for fall foliage, hiking in the grass prairie and wetland regions will serve you better. 
Oglesby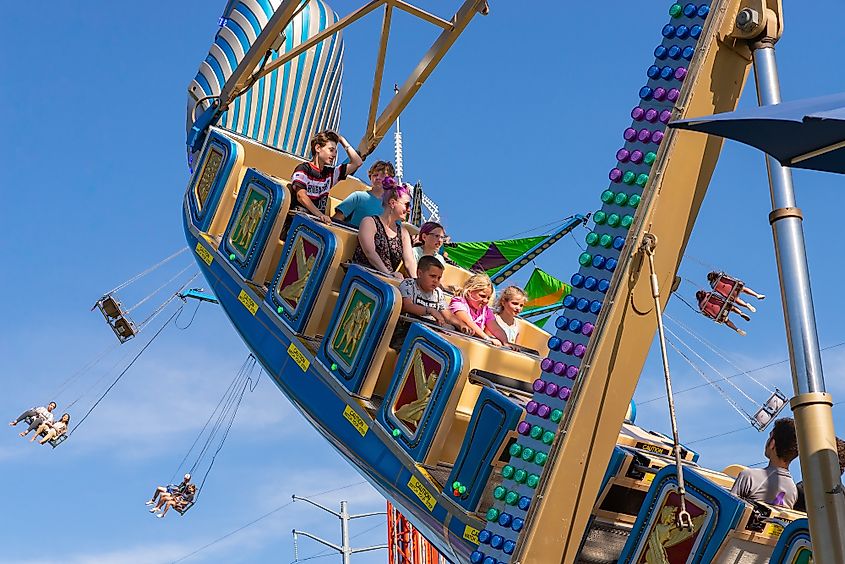 For those looking for a great fall experience for children, the Harvest Fest in Senica Square in Oglesby, Illinois, is a uniquely child-oriented harvest festival held annually in the middle of October. Children are invited to attend in their Halloween costumes, while the festival includes child-oriented fun, including pony rides, a petting zoo, face painting, a magician, pumpkin carving and decorating, great food and drink booths, a balloon artist, early Halloween trick or treating, and even a guest appearance from the three 'Hags' from the film Hocus Pocas.  
If you are near Oglesby for the harvest festival or just passing through during the fall season, make sure to check out Starved Rock State Park. This park sits 5.6 miles east of town along the Illinois River and is the perfect place to take in the autumnal landscape of LaSalle County. There are 13 miles of trails in the park that take hikers through areas of sandstone bluffs, a collective of 18 canyons, and dense forests, with many ending at striking waterfalls made majestic by their fall-colored framing by the surrounding trees. Of the 13 miles of trails, one of the most popular hikes is the Starved Rock and Sandstone Point overlook trail, which is considered moderately difficult, and the Saint Louis Canyon Trail, which is considered an easy hike and is great for young children.
During the fall season in Illinois, there are so many notable towns and parks to visit and events to attend that it would take a lifetime to explore them all. But no matter where you visit in Illinois in the fall, whether that be one of these towns or not, you can expect in every location a joyous fall ambiance, fantastic events that center around community, and beautiful parks and recreation areas just a short drive from the local fall festivities.