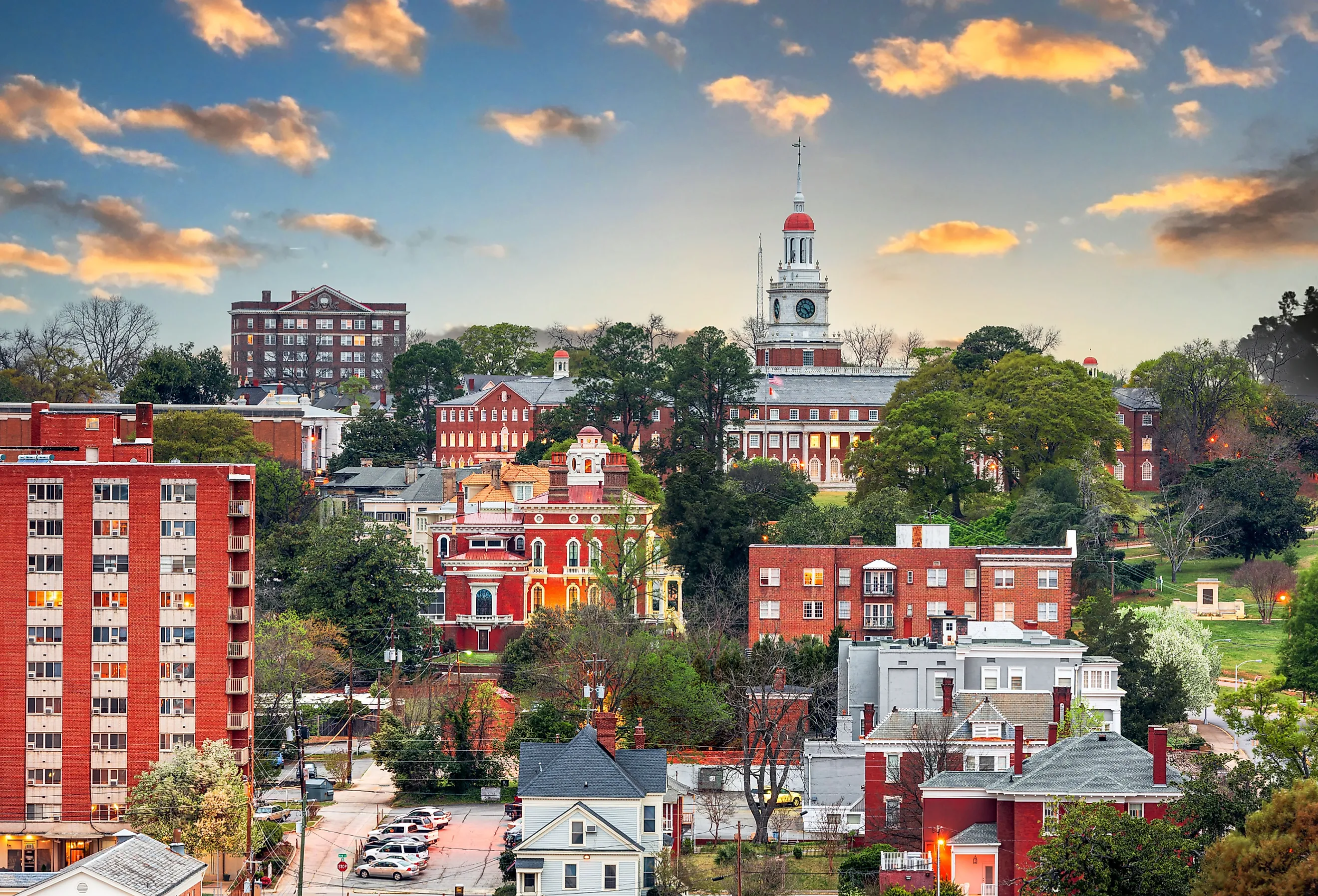 8 Most Charming Cities in Georgia
Although known more times than often as the Peach State, Georgia is also known as the Empire State of the South, being an economic and cultural hub of the South for large portions of the colonial history of the Americas as well as indigenous peoples for tens of thousands of years. Georgia is the 24th-largest state in the area and 8th most populous of the 50 United States, being very substantial not just for the South but for the entire country carrying many industries on its back. Its 2020 population was 10,711,908, up 1,024,255 residents in 2010, which is an amazing 10.57% over the 2010 figure of 9,687,653 residents, and Georgia shows no interest in slowing down its growth! Here are some booming yet charming Georgia cities with a charm which remains unmatched!
1. Savannah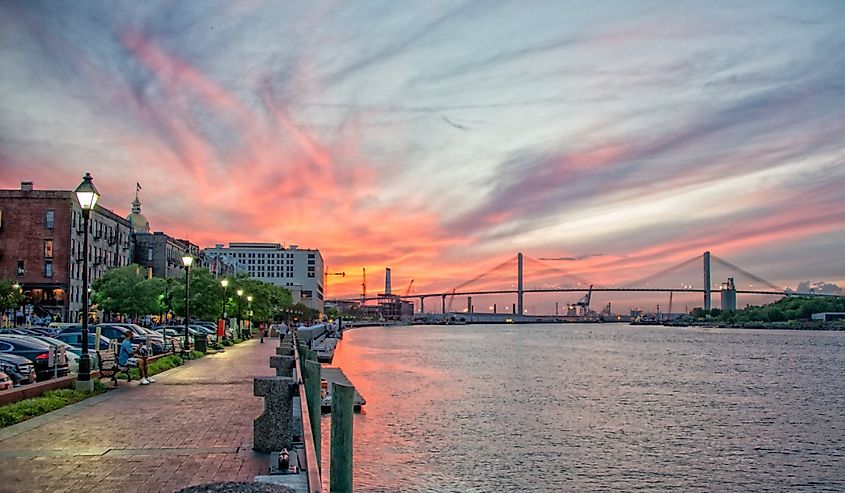 Separated from South Carolina by the Savannah River, the lovely city of Savannah in the southern state of Georgia on the Atlantic coast is an absolutely breathtaking city adorned with polished green parks, historic antebellum architecture, and a warm climate. Walk amongst the vibrant, majestic trees and graceful, skillfully crafted water fountain, which is a beacon for visitors who will admire the natural beauty of Forsythe Park in the beautiful city of Savannah. The dangling foliage of Spanish Moss trees will transport all those who visit to their own paradise, giving them a feeling akin to watching a fantasy movie. A kind of ethereal beauty visitors never expect to find in a Georgia city with a metro population of 404,798 residents.
2. Athens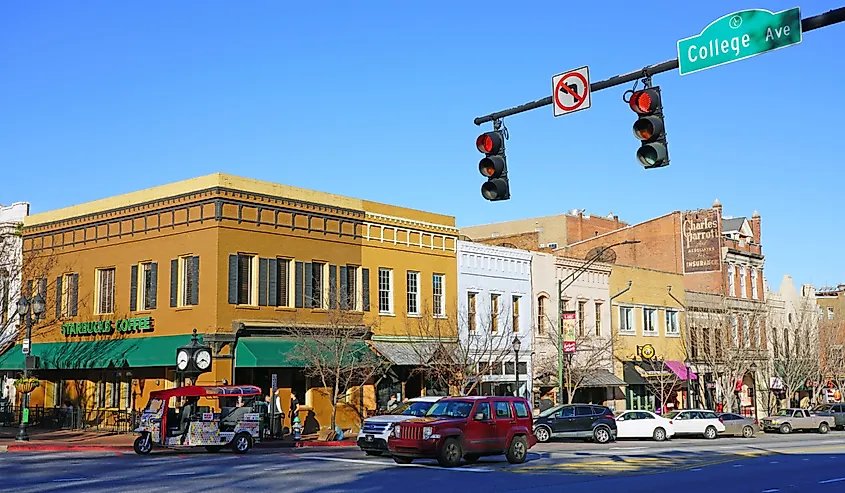 Renowned for its carefully preserved Antebellum architecture, the high-quality University of Georgia, and stunning Greek revival mansions, Athens is interesting and worth visiting. While this city may not be the size of the mighty Atlanta, it has just as many redeeming qualities, all of which make it nearly impossible not to visit this amazing town of 127,358 residents! Settled by Europeans 222 years ago, Athens has seen a long history encompassing indigenous history, European colonization, slavery, the civil war, a renaissance of growth in the early 1900s, and more. Needless to say, this has provided the city with plenty of avenues to teach its colorful past. Featuring museums, historic buildings, sculptures, gardens, and more, this city is especially aligned with history buffs agendas! Some sites to visit include visiting one of the remaining two double-barreled cannons produced during the American Civil War, the 'Three That Owns Itself", the Georgia Museum of Art, the State Botanical Garden of Georgia, The Georgia Theatre, Downtown Athens, and more.
3. Atlanta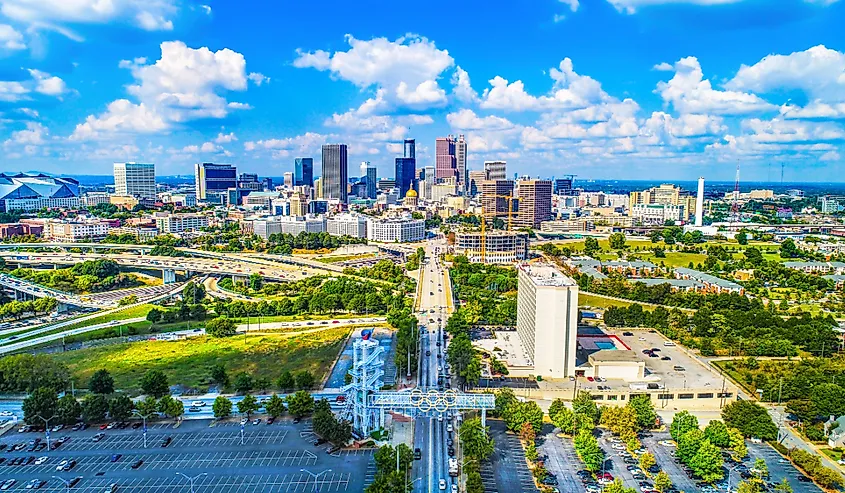 Atlanta is unmistakably the largest and most popular city in Georgia. With so much history, many attractions, and nature to admire, Atlanta is a beacon for visitors. Traverse the aquarium-lined halls of the Georgia Aquarium, which exhibits hundreds of marine species and thousands of animals across its seven major galleries, providing the opportunity to be educated about the beauty of ocean life. Perfectly located about four to five hours from the Atlantic coast, Atlanta is one of the most booming cities on the East Coast. For art lovers, the High Museum of Art is an absolute gem in this stunning city. Want to step outside and enjoy nature in the city? Atlanta Botanical Garden is full to the brim with an abundance of flora, unique statues, and vibrant green scenery. The Garden is open Tuesday through Sunday, 9 am to 9 pm.
4. Macon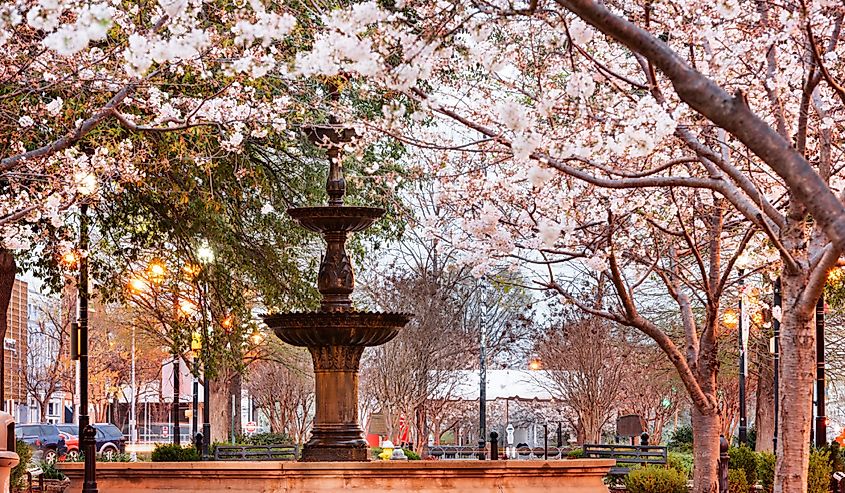 For tens of thousands of years, maybe even more, Indigenous peoples have lived where Macon, Georgia, was established. In the 18th Century, the Indigenous Peoples of the Muscogee Nation, or the European name, Creek Nation, lived on the Ocmulgee Old Fields built by the Creek's predecessors, the Mississippian Culture. The people of the Mississippian culture constructed intricate and skillfully crafted earthwork mounds used for religious, ceremonial, and burial purposes. They were a powerful agriculture-based chiefdom that influenced many civilizations that occupied the land. While their footsteps may have disappeared from Georgia soil, their constructions and agricultural practices have been admired and studied by generations to come. Visitors may visit these iconic mounds, at Ocmulgee Mounds National Historical Park, which people of the Muscogee Nation still visit and live in nearby areas to this day. After a progressive, fun day of learning about Paleo-Indigenous and Modern Indigenous civilization and culture, head over to The Tubman Museum to examine exhibits showing African-American art and learn about the African-American history behind them. 
5. Marietta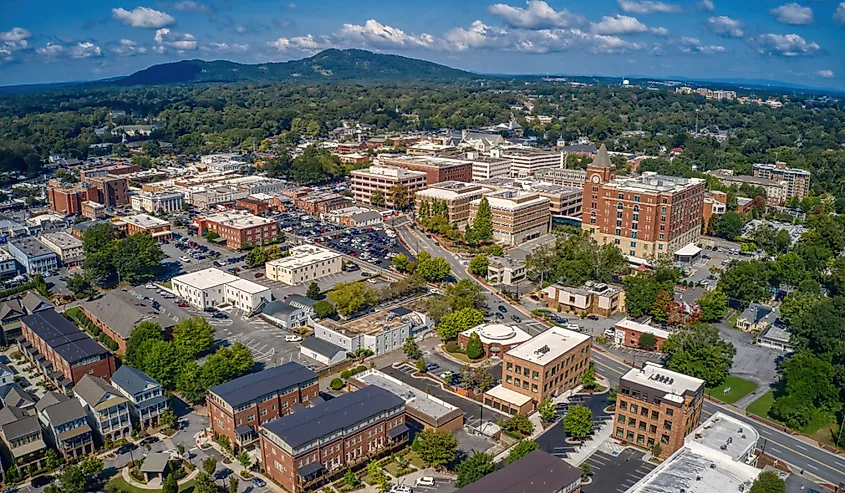 With natural parks such as Kennesaw Mountain National Battlefield Park, the site of an 1864 Civil War battle, Marietta is another historical hub within Georgia. Sad remnants of said battle are scattered across the beautiful landscape, while more history reveals itself along relaxing strolls through trails, such as the Cherokee Cemetary. The majestic Kennesaw Mountain is a mountain between Marietta and Kennesaw, Georgia. Kennesaw Mountain is graced with a summit elevation of a whopping 1,808 feet! It is the steepest point in the core metro Atlanta area! Although a small city of 61,497 people, Marietta has a variety of attractions to offer, one of the less-historical ones being Six Flags White Water, perfect for families!
6. Roswell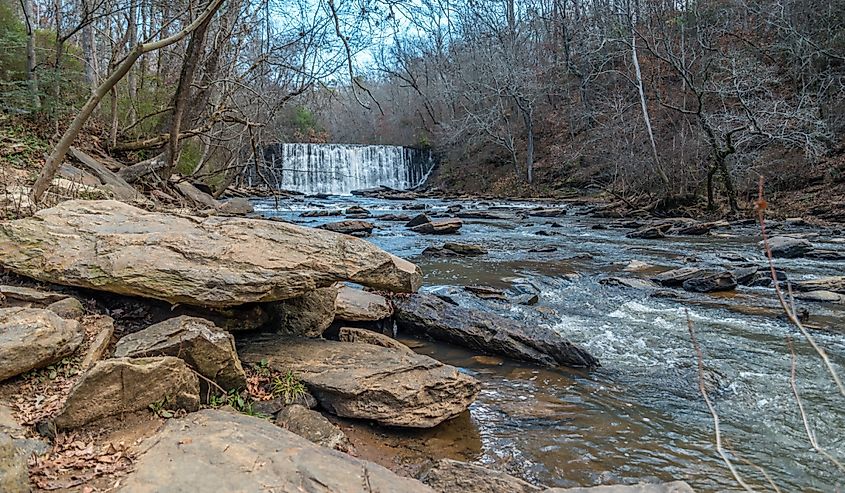 Nature lovers will fall deeply in love with Roswell, Georgia. This one-of-a-kind, laid-back suburban city of Atlanta, is close to natural wonders such as the Chattahoochee River National Recreational Area and the Chattahoochee Nature Centre. The iconic Chattahoochee River is a beacon for visitors desiring a day of fun, indulging in summertime activities such as tubing, swimming, fishing, and water sports. Refreshing, clean waters surrounded by colorful trees whose branches sway with the caress of a gentle breeze are just a sample of what is offered by this magnificent body of water. There is more to do in Roswell than just outdoor activities as well! Some outstanding indoor activities include historic attractions such as wine tastings, historic plantation tours, The Computer Museum of America, and much more in this splendid city of 92,530.
7. Columbus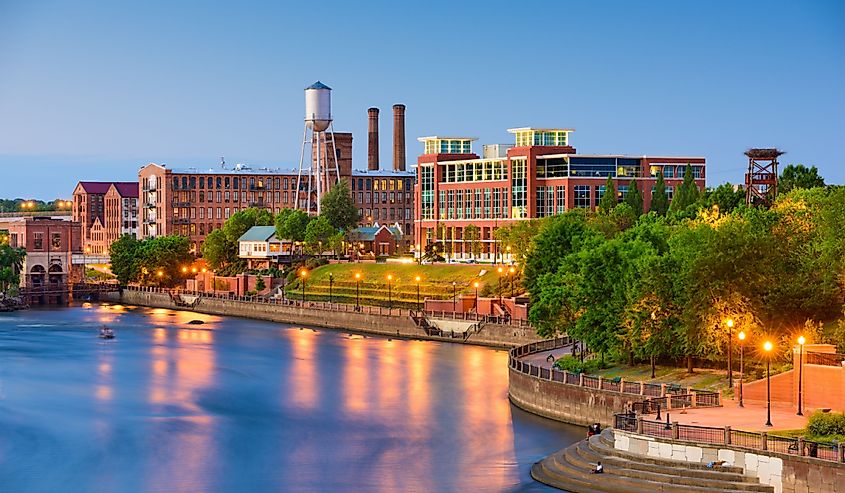 For those with a piqued interest in history, military, and even Botanical Gardens or Art Museums, Columbus in the great state of Georgia has more to offer than one can imagine! Start the day off at the National Infantry Museum, located in a beautifully crafted 190,000 sqft building that utilizes architectural elements of the past as well as the future. This impeccable museum introduces visitors to more than 70,000 artifacts, and the museum campus is also home to World War II Company Street, Vietnam Memorial Plaza – featuring the Dignity Memorial Vietnam Wall – and the Global War on Terrorism Memorial. The astounding Chattahoochee Riverwalk is a lengthy promenade for taking a refreshing bike or walks along the iconic River. Overlooking the Chattahoochee River, the National Civil War Naval Museum displays the remains of breathtaking 19th-century warships. 
8. Augusta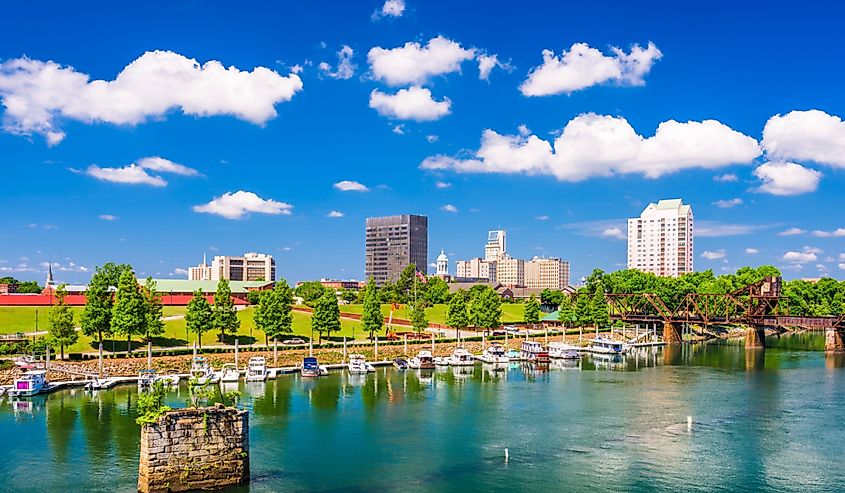 With a booming population of 201,196 residents, Augusta holds its bronze medal as the third-largest city in Georgia with pride. Built along the spectacular Augusta River, Augusta is graced with natural beauty, history, and modern activity and attraction. Featuring classic brick architecture, vibrant green parks adorned by sparkling ponds and statues, riverwalks, and breathtaking chapels, Augusta brims with activities to pursue. Visit one of the cultural centers, an excellent way to describe Augusta. Stroll on the boardwalk along the Augusta River with its picture-perfect landscape no visitors will want to miss out on. Give Augusta a chance and check out attractions and parks such as the alluring Augusta Museum of History, the gorgeous Phinizy Swamp Nature Park, the Morris Museum of Art for creative tourists, and the Sacred Heart Cultural Center or the Imperial Theatre! 
9. Valdosta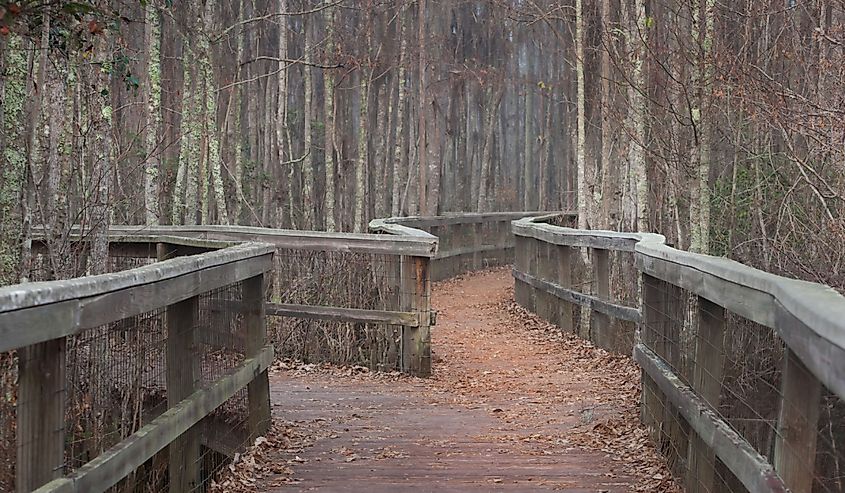 Valdosta is home to Wild Adventures, Natural beauty, historic tours, and much more! This town is definitely unique and a hidden gem, offering one-of-a-kind attractions and a bright, welcoming atmosphere that could charm anyone! Families who are stopping by for a visit in Valdosta will be beyond pleased to discover the beloved Wild Adventures, which is a zoological theme park with rollercoasters and more! Bright yellow carts will send tourists soaring along secure tracks, which allow riders to get a quick view of the Valdosta city skyline, home to 55,567 people. Not into theme parks? No problem. Nature is not seldom in this one-of-a-kind city, with parks such as Grand Bay Wildlife Management Area possibly taking the cake as one of the most gorgeous and intriguing natural parks on this list. Here, visitors can walk along a safe and sturdy boardwalk amid swampland where tourists account seeing baby alligators, lizards, snakes, birds, and beyond! An animal lover's dream paradise.
Conclusion
Georgia may not always be number one on everyone's bucket list for an American road trip, but it just may be now with so many underrated cities brought to the spotlight. Whether it is the unmatched nightlife and big-city allure of Atlanta or the quaint, laid-back, history-focused cities like Roswell or Marietta, Georgia has so much to draw tourists in, and maybe even relocate for a fresh start or retirement! Give Georgia a chance, and you are guaranteed never to be disappointed by the lovely Peach State.