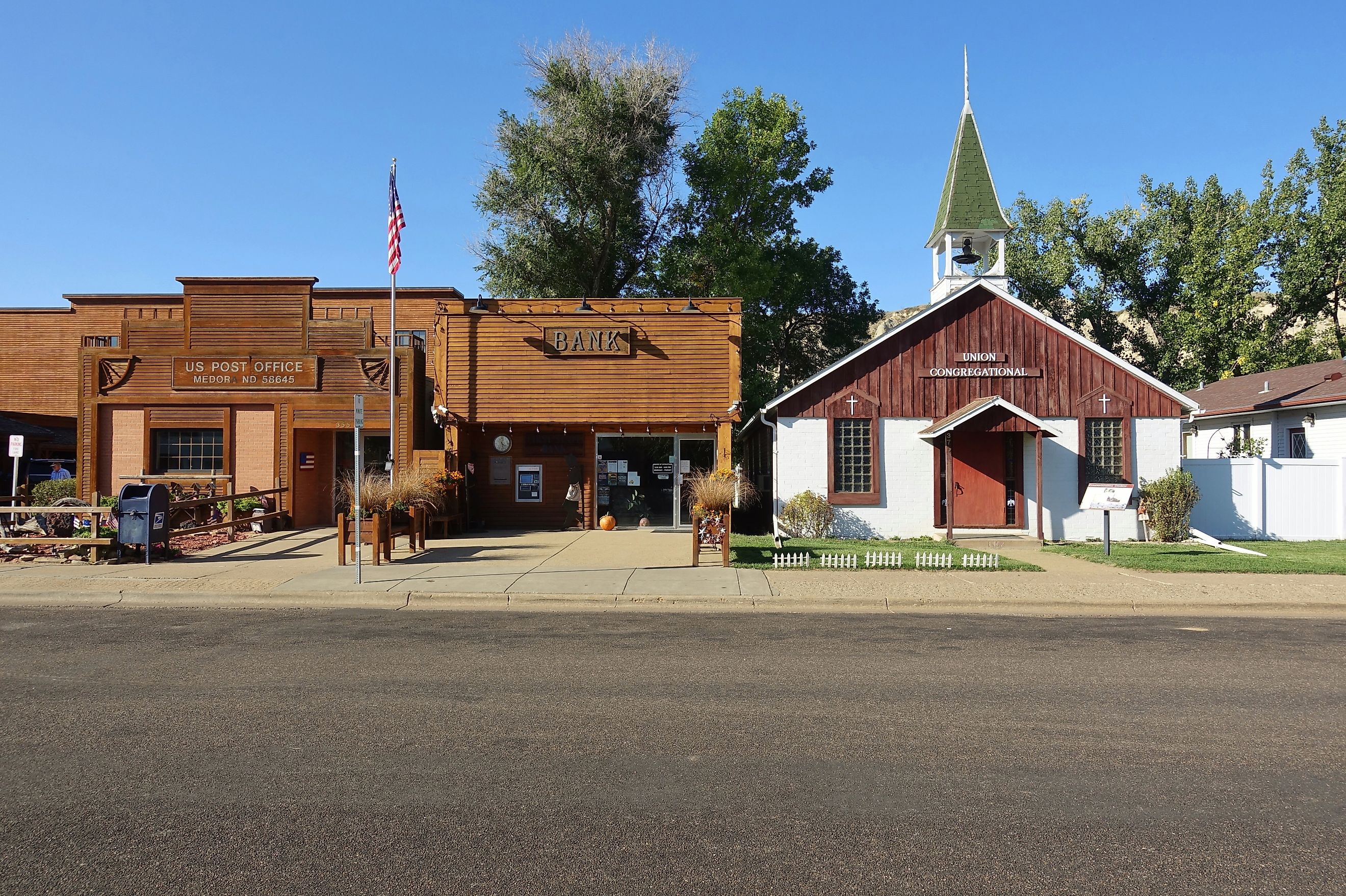 8 cutest small towns in North Dakota
Boasting wide-open spaces where wild animals such as bison, bighorn sheep, and pronghorns roam free, it is easy to understand why Theodore Roosevelt was once a cattle rancher in North Dakota. It does not come also as a complete surprise that nearly 90% of the land in this frontier state is devoted to agriculture. North Dakota boasts many nicknames: Flickertail State, Roughrider State, Peace Garden State, even Heaven on Earth. The last nickname makes North Dakota a high-priority travel destination.
Fortunately, the 39th state to enter the Union is home to many small towns that compete on equal footing with the country's finest. Read on to discover the eight cutest small towns in North Dakota.
Medora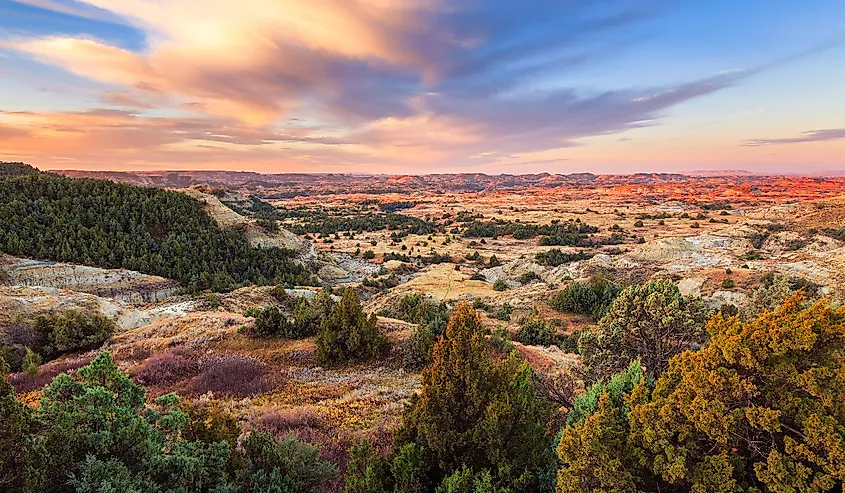 If fed up with the shoulder-to-shoulder crowds that suffocate big cities such as Chicago and New York, it may be time to seek something different; something quieter. Medora boasts an estimated population of 121. Any city with such a tiny population is almost always going to be slow-paced, charming, and peaceful. The star attraction in Medora is without a doubt the Theodore Roosevelt National Park, the only American national park named directly after a single person. It is in North Dakota, probably in Medora, where Teddy Roosevelt traces the beginning of his romance with life. This historic park has three sections all linked by the winding Missouri River -- the South Unit is the closest to Medora — and its entrance is right in town. The park's rolling badlands will make a drive here one of life's most treasured memories.
McClusky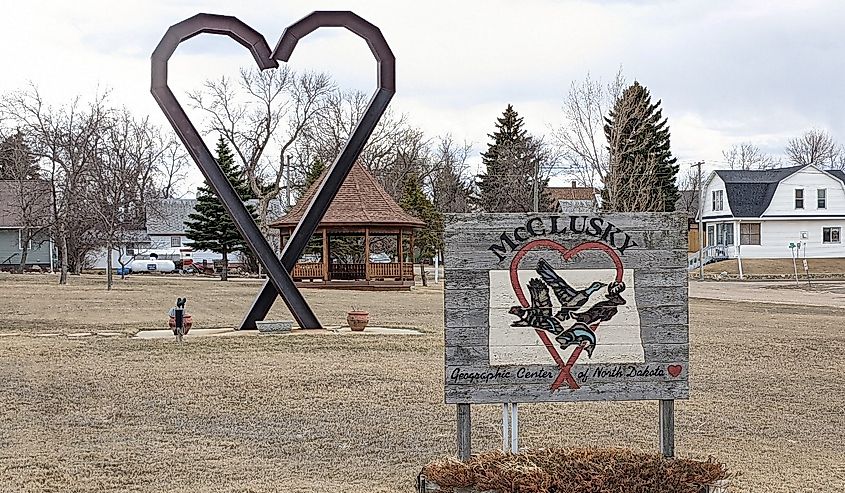 To many people, a town in the middle of nowhere is bound to be cute, regardless of any other attractions. That is the reason celebrity jet setters seek out secluded islands, remote towns, or a lost-in-the-wild experience. Well, McClusky may not be located in the middle of nowhere, but it is close. What is certain is that McClusky is located in the middle of North Dakota and is the nearest town to the geographic center of the state. In a beautiful small park, located right in town, first-time visitors will find a heart-shaped monument that celebrates the geographic centrality of the town. Since water is part of what makes life here so serene, visitors craving some blue-space experience should check out Hoffer Lake, located about 2 miles north of the city. Anglers, swimmers, and campers will not regret making the short dash.
Jud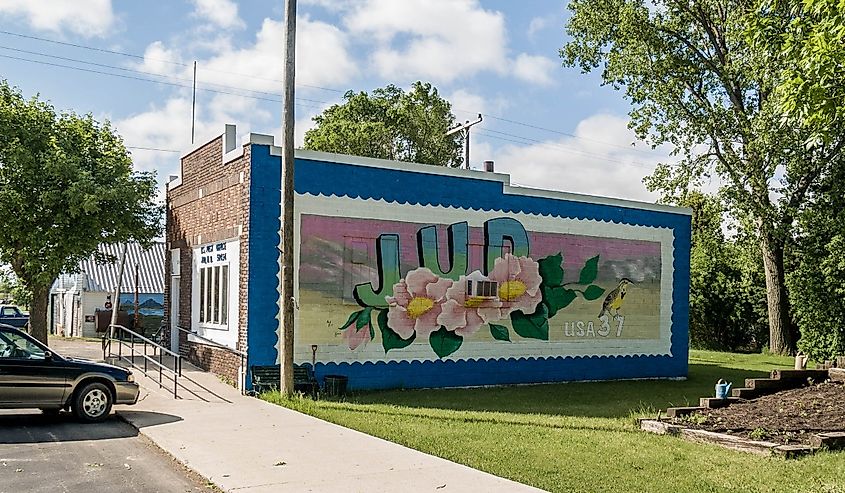 "Art," Pablo Picasso reportedly observed, "washes away from the soul the dust of everyday life." Those who agree with this quote, even half-heartedly, should find an excuse to check out Jud. Boasting a population of only 68, the tiny town of Jud features numerous murals that will pique the interest of art lovers. Part town, part village, Jud has more than 20 murals and paintings that grace the exterior walls of several buildings in the town—giving the houses character and personality. These murals depict different scenes an onlooker will want to figure out. Besides, each mural hides a letter "J" for those thaf love a good scavenger hunt! For a first-time visitor, these eye-catching depictions make this cute, little town every bit unique. But it is not just murals. The historic Dagen's Grocery, which is almost as old as the town, is another Jud highlight worth checking out.
Rugby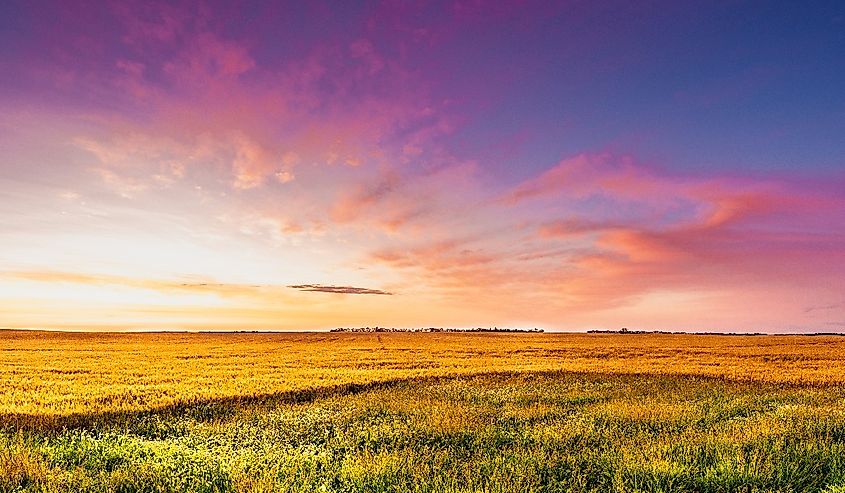 Contrary to a game whose first balls were made from the bladders of pigs, Rugby is actually a cute North Dakotan town that is interesting in more ways than one. For starters, the town claims to be the geographic center of North America. Many signboards in the town welcome visitors who are excited to set foot in what is billed as the center of the continent. However, according to the U.S. Geological Survey, "There is no generally accepted definition of geographic center, and no completely satisfactory method for determining it." However, that should not steal away the town's appeal. A detour to the Prairie Village Museum, for instance, features an encounter with a more than 8-foot man who, at various times, was the "World's Tallest Salesman," "World's Tallest Lawyer," and "Tallest Man to Ever Appear in Movies." He was also widely regarded as the tallest man in the world!
Edinburg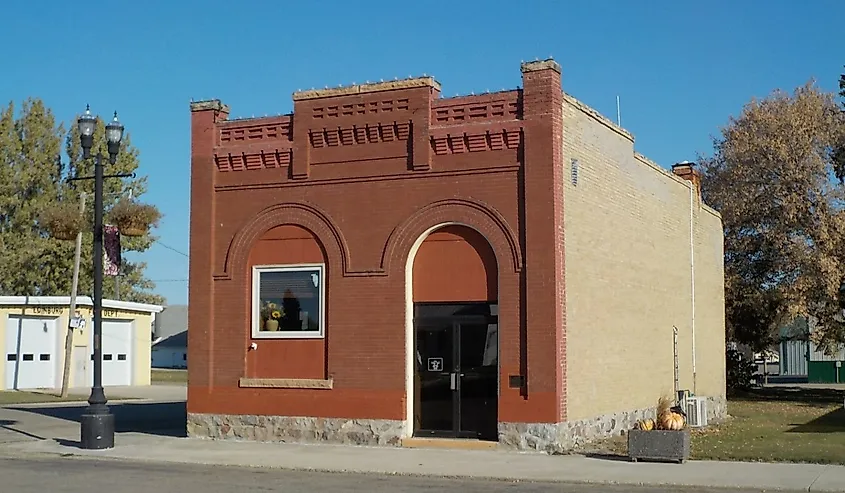 Many are familiar with the European namesake of this quaint, little town, famous for its literary heritage. But Edinburg in North Dakota also boasts many attractions that should make it almost as famous as her counterpart across the Atlantic. With a population of less than 200, the town's motto alone —"the kind of small town every other small town would like to be" — is enough to pique one's interest. Nestled in the northeast region of North Dakota's Walsh County, Edinburg features wide-open spaces and streets that are almost always uncrowded. Visitors will feel like they are stepping back to a time when life was simple and unhurried, and when skylines of towns were not defined by glassy skyscrapers. As with many towns the size of Edinburg, avid shoppers should have modest expectations.
Grafton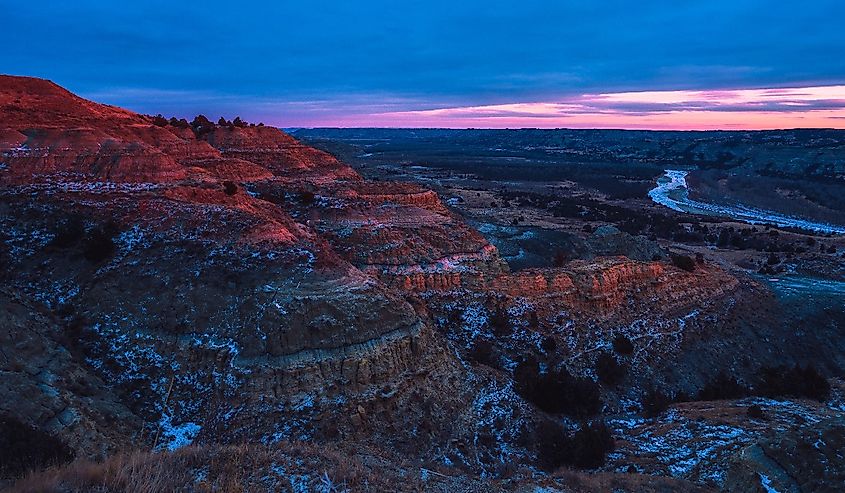 Nestled in the northwestern corner of Red River Valley, Grafton boasts a population of about 4,000. Cute in every way, Grafton is curled up about 12 miles from the 545-mile-long Red River of the North and close to Park River, a tributary of the Red River of the North. Also known as the Red River, due to its curves, is often regarded as the "crookedest river in the world." Grafton is in many ways the center of the Red River Valley. Boasting swathes of land that hitherto had not been disturbed by the plow, Grafton's rise can be attributed to her fertile farms and hard-working farmers. Outdoor lovers will have many options in Grafton, including the Leistikow Park Campground. This park has an outdoor swimming pool, tennis courts, and basketball courts. Besides, it has picturesque trails where visitors will enjoy hiking, biking, or birding.
Walhalla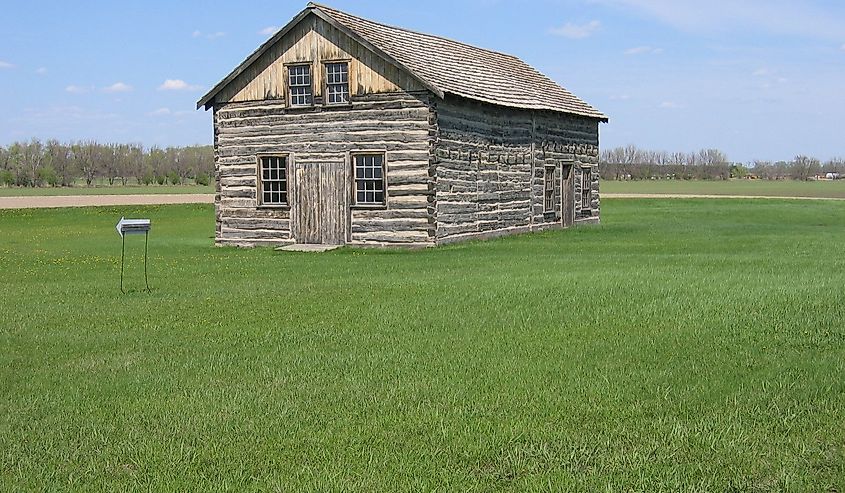 Walhalla, a sweet little town of less than 1,000 people, is located in North Dakota's Pembina County. It is one of the oldest settlements in the state! For a sumptuous meal in a great atmosphere, a visitor's first stop should be at Waters Family Restaurant and Bakery, located at 1108 Central Avenue.  After grabbing a bite, one may want to lace up for Gingras Trading Post State Historic Site for a better feel of the culture and history of Walhalla. After an hour or two at the well-resourced site, it may be time to fill up the lungs with fresh air and step out for some amazing views. Fortunately, Pembina Gorge State Recreation Area is not even a mile from downtown Walhalla. This park, often a town highlight, is framed by the largest continuous and undisturbed forest in North Dakota, boasting more than 30 miles of picturesque trails.
Garrison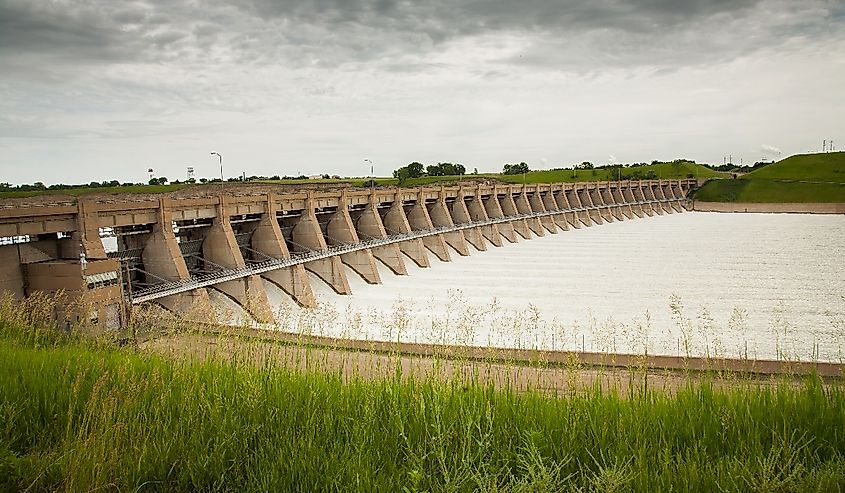 Garrison is one of North Dakota's hidden secrets every visitor will want to uncover. For some blue-space fun, the town lies close to the shimmering waters of Lake Sakakawea, the third-largest reservoir by volume in the United States after Lake Mead and Lake Powell. Visitors to Lake Sakakawea will enjoy the ample amounts of water-based activities in a lake whose shoreline is longer than California's Pacific Coast. Offering visitors an enjoyable countryside experience, visitors to Garrison have other outdoor lodging options including Fort Stevenson State Park. This park sprawls out along the north shore of Lake Sakakawea and boasts such amenities as two marinas, camping cabins, and a museum. Draped in Sylvan splendor, with amazing views to boot, no one goes to Garrison without savoring this slice of paradise.
The Takeaway
While North Dakota may not be a popular small-town destination, its range of cute, charming towns is nothing less than impressive. Exploring many of these towns will feel like stepping back into a past that only lives in the imagination. Most of North Dakota's small towns are framed by rolling hills and breathtaking landscapes. It is not just simply wind and wheat. From Medora, where a one-of-a-kind state park sprawls, to Garrison, a hidden secret whose shoreline is longer than California's Pacific Coast, North Dakota has a town to suit every taste.