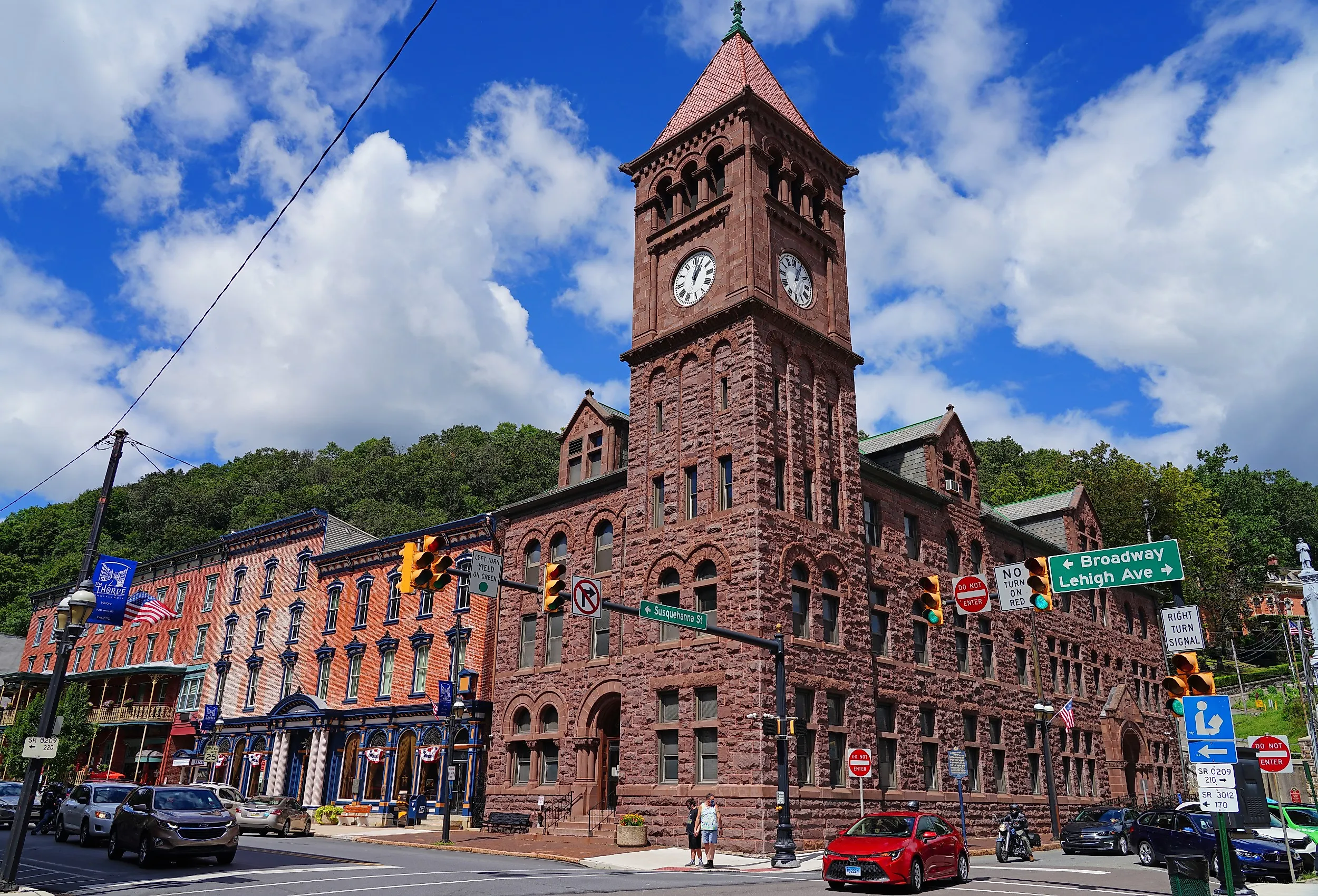 8 Coolest Small Towns in the Poconos for a Summer Vacation
Luxurious resorts, watersports, and delicious food are topics that come to mind when someone mentions the Poconos. The Pocono Mountains, commonly referred to as the Poconos is a geological, geographical, and unique cultural region in Northeastern Pennsylvania. These majestic mountains overlook the beautiful Delaware River and Delaware Water Gap to the east. With the enchanting Lake Wallenpaupack to the north of the mountains, the Wyoming Valley and the Coal Region are to the west, and the gorgeous Lehigh Valley to the south.
The fascinating name; Pocono is derived from the local indigenous Munsee word Pokawachne, which means "Creek Between Two Hills." The Munsee peoples originally occupied the beautiful headwaters of the Delaware River in present-day New Jersey, New York, as well as the Pennsylvania region. This extended all the way south to the substantial Lehigh River, as well as holding the west bank of the Hudson River from the famous Catskill Mountains close to the New Jersey line. Today, the Poconos is a popular region for tourism, especially among New Yorkers searching for a weekend getaway or a summer vacation in the beauty of nature.
Stroudsburg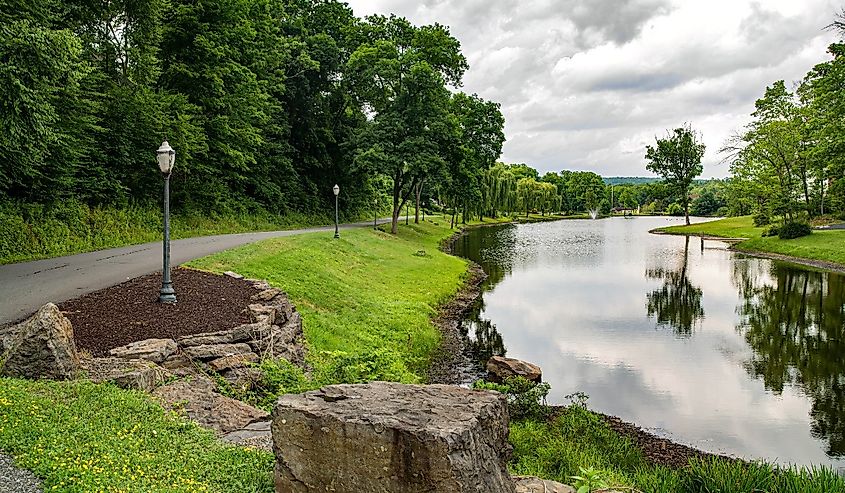 With an alluring modern appeal, balanced and complimented by the stunning natural wonders of the luscious green Poconos Mountains, this small yet vibrant Pennsylvania town of 5,950 residents is a Poconos epicenter. Stop in for entertaining shows and a bustling yet safe and walkable historic downtown, home to a plethora of local shops and delicious small restaurants. When strolling down the picturesque streets of Stroudsburg, visitors will have the delightful experience of exploring Strousburg's locally beloved farmers market, lined with friendly vendors exhibiting vibrant greens and handmade items. After exploring the charming downtown of the beautiful small town of Stroudsburg, the Quiet Valley Living Historical Farm is a must-see destination for admiring the jaw-dropping scenery of the Poconos Mountains. Luscious vegetation cradles historic farm buildings carefully and skillfully constructed to stand since their assembly in the 1700s. 
Scranton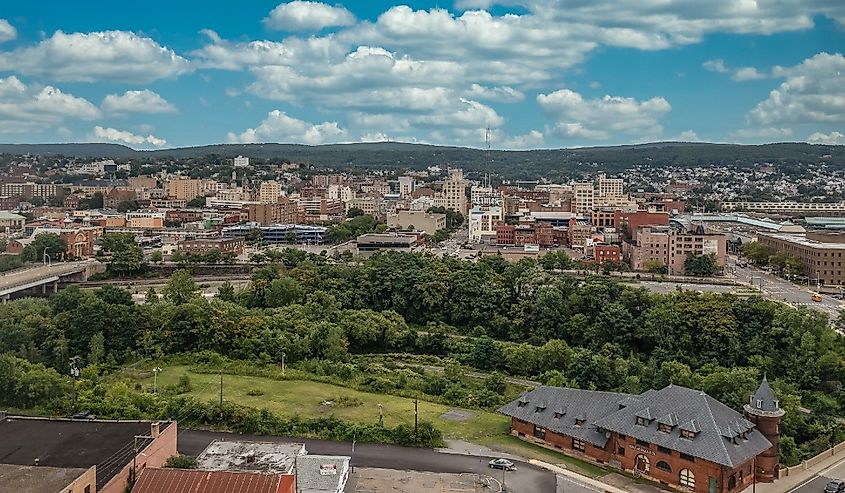 With antique trains, classic architecture, and picturesque mountains, Scranton is a picture-perfect destination for visitors seeking a weekend of endless fun. In the heart of the scenic Lackawanna River Valley, Scranton is perfectly burrowed in the cusp of the Poconos Mountains and the underrated, jaw-droppingly stunning Endless Mountains of the delightful state of Pennsylvania. If itching for a road trip, tourists are in luck as not even 10 miles outside of Scranton; newcomers will discover the splendid Lackawanna State Park. This is an awe-inspiring natural area comprised of sparkling blue lakes and friendly campgrounds perfect for gooey marshmallows by a crackling campfire with friends or family as twinkling stars and an enchanting moon illuminate the calming ebony night sky. But, there is no requirement to leave the city as Scranton is host to a zoo, aquarium, museums, and more.
Bangor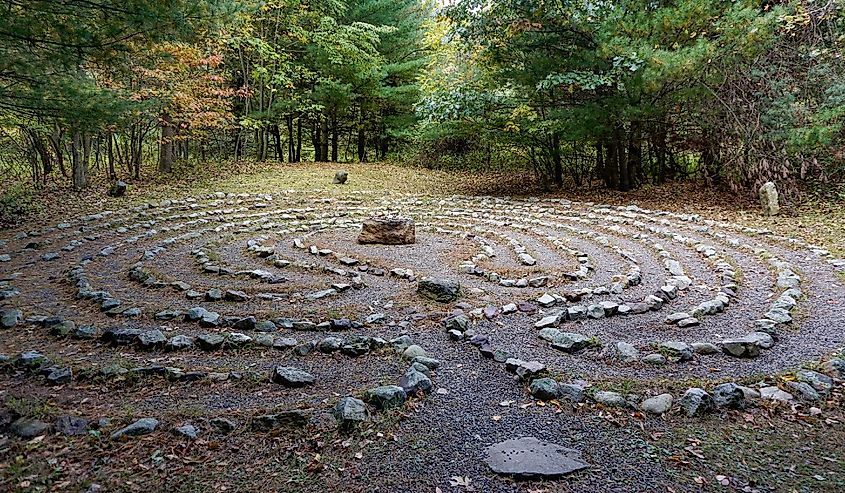 Bangor, Pennsylvania, may take the cake as one of the most aesthetically wonderful small towns on this list. With just 5,172 residents, Bangor is quaint yet excels in the field of stunning visuals. There are parks of sprawling green flora and bright stone structures cut and constructed from a variety of minerals carefully placed among the natural features of the town's landscape. Visitors may find these beautiful structures in the Columcille Megalith Park, which cradles over 19 breathtaking paths and provides tourists with a tour of over 90 megalith structures. These include menhir standing stones, trilithons which are structures consisting of two large vertical stones (posts) supporting a third stone set horizontally across the top (lintel), dolmens, a marvelous bell tower carved of uncut stone, and a picture-perfect chapel. Visitors can admire its ethereal feeling cobblestone walls, transporting visitors to a fairytale-like environment.
Jim Thorpe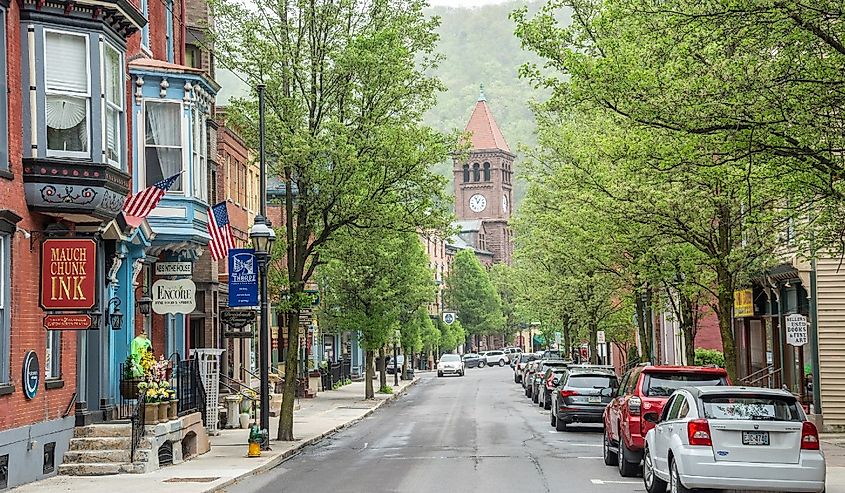 Named to commemorate the iconic indigenous athlete, a member of the Sac and Fox Nations, Jim Thorpe, Pennsylvania, is a captivating mountainside town. The surrounding area is rendered by the colorful paintbrush of mother nature, coated in colors of emerald green, ochre, and blue to create the majestic masterpiece of the Poconos Mountains. Jim Thorpe has many historic museums, capturing the heritage of the area within exhibits for all to examine the alluring history of this charming community. Some of these museums include the Asa Packer Mansion Museum, Old Jail Museum, The Mauch Chunk Opera House, and the historical church of The Episcopal Parish of St. Mark and St. John, which is home to the 2nd oldest enclosed elevator in the United States of America! Another fan-favorite destination in Jim Thorpe is the enchanting Beat Mountain Butterfly Sanctuary. This is a beautiful space of refuge and protection for local butterflies, exotic frogs, lizards, axolotls, and turtles. Entry is affordable, ensuring education and fun are accessible for families.
Lake Harmony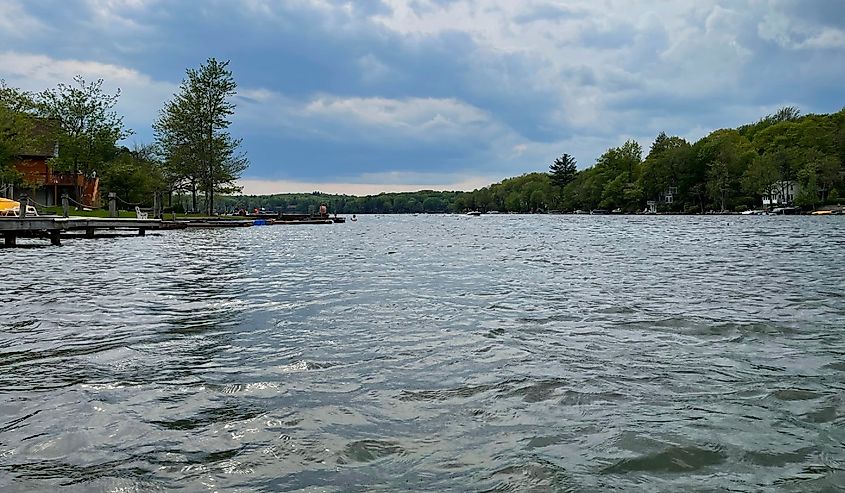 Walking along tranquil trails and admiring the white, sprinkling waters of the splendid Hawks Falls is just one of the many wonderful activities offered by the exquisite area of Lake Harmony. Home to only 718 residents, this marvelous town retains the raw scenery of the Poconos. It draws in visitors from all over who are all searching for the immaculate outdoor experiences offered by this alluring small town. Another geological wonder to cherish in Lake Harmony is the fascinating Boulder Field, nestled within a ravishing forested state park, dated at over 20,000 years old. For fun in all seasons, Big Boulder Park is a superb ski resort. When blanketed in fluffy alabaster snow in the winter, it attracts a plethora of ski-seeking visitors. In the warm summer months, Big Boulder is a popular destination for those seeking lakeside tranquillity or, on the other hand, exhilarating water activities.
Tannersville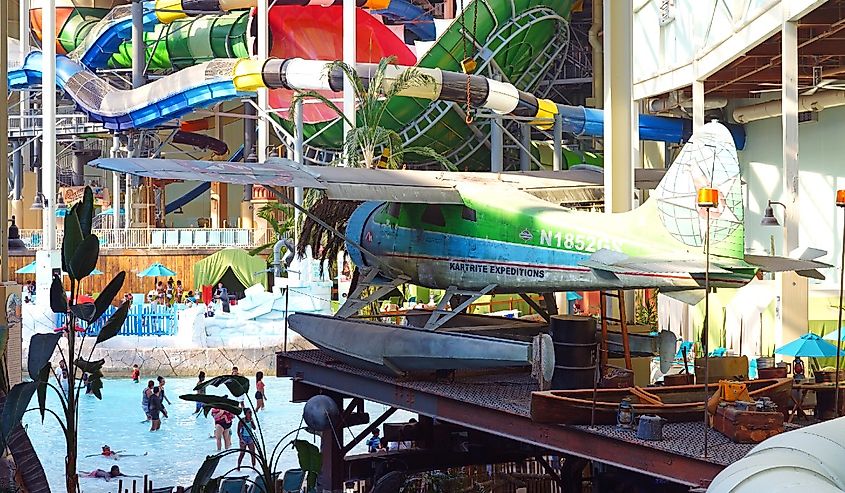 Having a perfect mix of wilderness and tourist attractions, Tannersville is a small community of around 3,000 lovely residents. It is one of the most popular destinations for tourists and newcomers in The Poconos Mountains region. Whether skiing upon slopes blanketed by ivory snow, taking a tranquil stroll through Camelback Mountain Adventures Park during the golden autumn months to admire a rainbow of warm-toned leaves tenderly falling from mature red maples, or splashing around in the bustling Camelbeach Mountain Waterpark with your kids under the blazing summer sun, Tannersville can accommodate for a variety of activities across all seasons.
Tobyhanna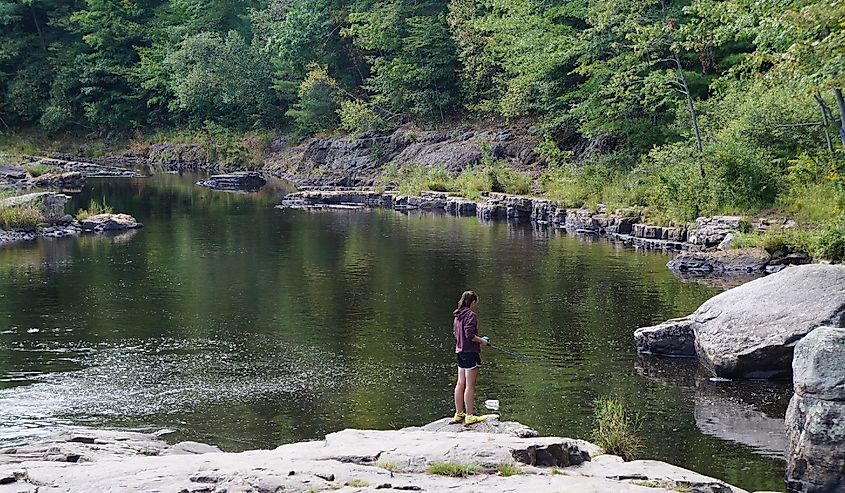 Imagine soaring over a landscape blanketed by red maples, aspens, and eastern hemlocks, growing along sparkling rivers and majestic mountains while on a once-in-a-lifetime aviation tour over the famously beautiful Poconos Mountains. Well, the community of Tobyhanna, home to around 8,000 souls, offers tourists this opportunity through companies such as Hop on Air and Moyer Aviation. Sitting in the gorgeous Coolbaugh Township in Monroe County, Pennsylvania, there are many options for thrill-seekers. However, if flying is not your idea of a summer vacation, do not fret. The natural beauty of Tobyhanna is just as enjoyable by foot in euphoria-inducing parks such as the vibrant and popular Tobyhanna State Park.
Hawley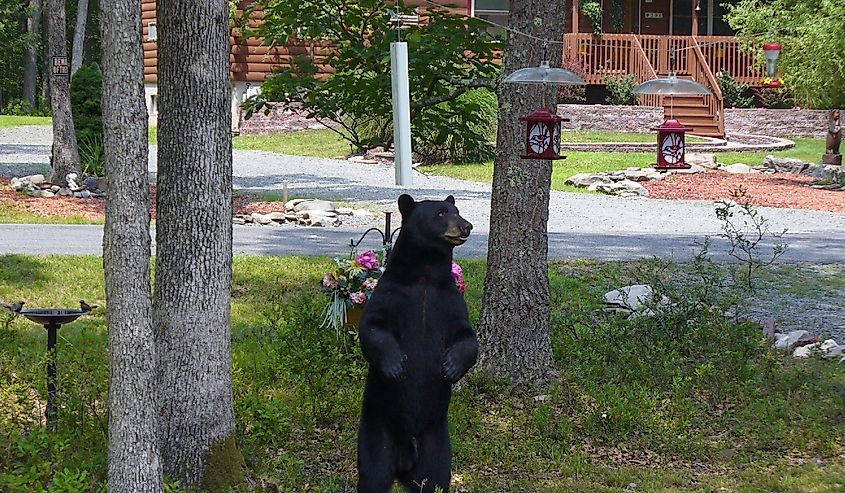 Purple sunsets draped over calm, still waters enclosed by a dense forest full of diverse plant species and frolicking wildlife is just one of the must-visit features of the one-of-a-kind town of Hawley. Hawley is home to the third largest lake in the beautiful state of Pennsylvania, Lake Wallenpaupack. This gorgeous lake is home to a plethora of activities, restaurants, and more which visitors may indulge in whether visiting Lake Wallenpaupack via boat rental, enjoying a tranquil wine tour with Three Hammers Winery, or watching a unique theatre performance at Harmony in The Woods, Hawley has more to offer than you can imagine. After a relaxing day of nature, theatre, and fun, stop by a local restaurant such as TREE Restaurant & Bar, The Settlers Inn, or The Boat House Restaurant for a delicious bite to eat before ending a marvelous day to remember in Hawley.
The Poconos is popular for the density of lakes, rivers, natural parks, tourist attractions, and resorts scattered among the mountainous region and is like a beacon for city folk itching for an escape into mother nature's welcoming embrace. These small towns boast tourism attractions that do overpower the original reason why the region is so popular; The Pocono Mountains. These geological wonders have formed one-of-a-kind communities full of welcoming residents who nurture what the earth provides so visitors from all over may enjoy what the mountains have to offer. Don't wait; the Pocono Mountains are eager to leave every tourist driving away with a delightful smile after an adventurous getaway.