Named after two of the nearby towns, Glen Lake sits in the northernmost area of Michigan in Leelanau County, right on the border of Lake Michigan itself. Glen Lake has a 150-year relationship with the American settlers in these towns as well as the natives living in the area before the arrival of those early Americans. The lake is unique for the quality and clarity of its water, considering northern freshwater lakes tend to contain more sediment and are very murky. Local wildlife also thrives in the area, although there is an ongoing struggle with invasive species. Over time, the population has remained small. Still, visitors from all over Michigan and the United States are common, granted the assortment of activities and iconic vistas that Glen Lake presents.
Location Of Glen Lake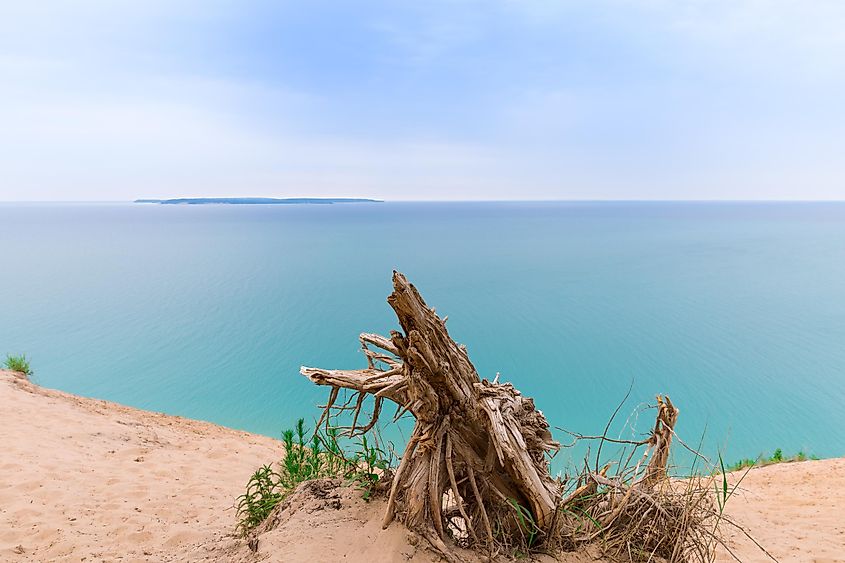 Sitting on the North Western coast of Michigan's mitt, with Canada to the North and Wisconsin across Lake Michigan's horizon, Glen Lake is remote enough to retain a sense of outdoorsmanship while still being within driving range of developed urban areas like Traverse City and Grand Rapids. To the North East of Glenn Lake, Palmer Woods Forest Reserve covers an area of 4.3 square kilometers, and the lake itself covers nearly 26 square kilometers. Glen Arbor and Glen Haven sit north and northeast, respectively, with Burdickville to the southeast. More notably are Sleeping Bear Dunes directly to the west, separating the lake from Lake Michigan. It is essential to understand that Glen Lake is comprised of two connected but different bodies of water, "Big" and "Little" Glen. Big Glen, on the eastern side of the sandbar bridge, covers about 19.7 square kilometers as opposed to Little Glen's 5.7 square kilometers. The location itself for the lake is remarkably situated between endless dunes to the west and an expanse of heavy forest coating the southeastern moraines left by long-since-departed glaciers.
Geography Of Glen Lake
Although Big and Little Glen possessed the same depth at one point, sand from the dunes migrated into Little Glen and caused the current discrepancy. To clarify, Big Glen has a maximum depth of 40 meters compared to Little Glen's 4 meters. However, both bodies of water are clear and turquoise in nature because the water is not sourced from runoff. Thanks to Sleeping Bear Dunes, the heavy sands filter the sediments that cause typical murky brown fog for inland lakes. DoInterestingly, Big Glen is described as being almost perfectly round, which commonly raises the question of whether or not it is artificial- but do not let yourself sound like a tourist should you visit; the lake is natural. Little Glen is elongated, however. Glen Lake sits at a surface elevation of 181 meters. An old outlet from Fisher lake, just north of Big Glen, possesses a maintained dam in order to control the overall depth in Glen Lake. Before the year 2000, the dam was essentially made up of large old boards. It received a more modern overhaul in terms of sophisticated design and technology, which is meant to maintain balance with Crystal River and prevent ice damage on surrounding properties. Of course, like most dams in the United States, Kayakers and boaters keep a close eye on activity to enjoy the best experience possible.
Brief History
It is important to remember that the Lake itself and the area surrounding Lake Glen originally had Indigenous Americans settled and living off the land prior to the expansion of French, British, and eventually United States pilgrims. These indigenous people, specifically in the Lake Glen vicinity, were typically of the Ottawa and Chippewa people groups. One of the early settlers, Mrs. John Fisher (of whom Fisher Lake is also named), had a positive disposition toward grape vine-covered trees, and thus the town names "Glen Arbor" and "Glen Haven" were born. In the mid-1800s, David Henry Day visited the area as a representative of the Northern Transportation Company and purchased roughly 5000 acres in 1886. As the de facto leader, part of his policy included permanently retaining all the property deeds despite several hundred people, many employees, living and working there. There were, and still, a few remain, 11 buildings off the shore of Lake Glen, including a blacksmith, schoolhouse, inn, store, and a 400-acre farm called Oswagotchie with 5000 cherry and apple trees alongside 200 dairy cattle and 400 hogs. The blacksmith lasted until the 1940s and has been a historical site around the lakefront.
Activities And Attractions In Glen Lake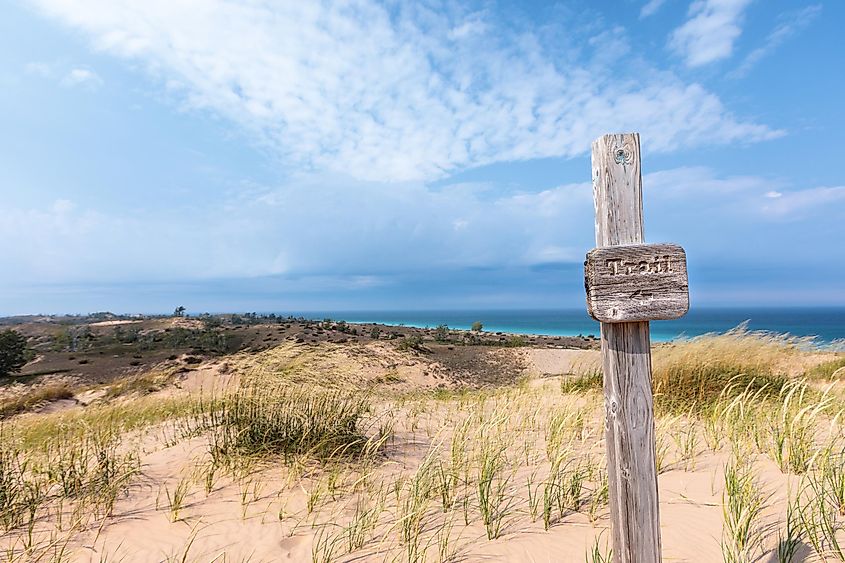 When it comes to turquoise waters and scenic vistas- the more, the merrier! Albeit the population in the immediate region continues to hover around only a few hundred (a 2010 census claims 229 total population, and some claim today it is as many as 600), visitors are often more common than residents in many picturesque parts of the world. Part of the reason travelers from across the United States flock to Lake Glen is the larger than normal waves, providing exciting opportunities for boating and swimming. Lake Glen hosts ample fishing enthusiasts and hiking opportunities in the form of nearby trails. Challenging elevation in the surrounding pedestrian routes encourages cross country and other forms of running training, so a common sight is teams from local high schools and the University of Michigan and Virginia working up a sweat. Kayaking and canoeing are available for enthusiasts at Crystal River Outfitters, alongside sailing, waterskiing, and tubing (the boat and tube are available at Glen Craft Marina).
Even in the far most nooks and crannies of the world, there are always enrapturing locations like Lake Glen to be discovered. Lake Glen makes summer planning an absolute breeze when one considers the opportunities it offers in terms of sporting and outdoor fun. The history is compelling, with still-standing structures waiting to be remembered. The surrounding terrain echoes the carvings of ancient glaciers, leaving verdant woodland and dune stretches between Glen lake and Lake Michigan. In that way, Lake Glen invites all visitors to experience the simple joys and pastimes of all her current and historical occupants.