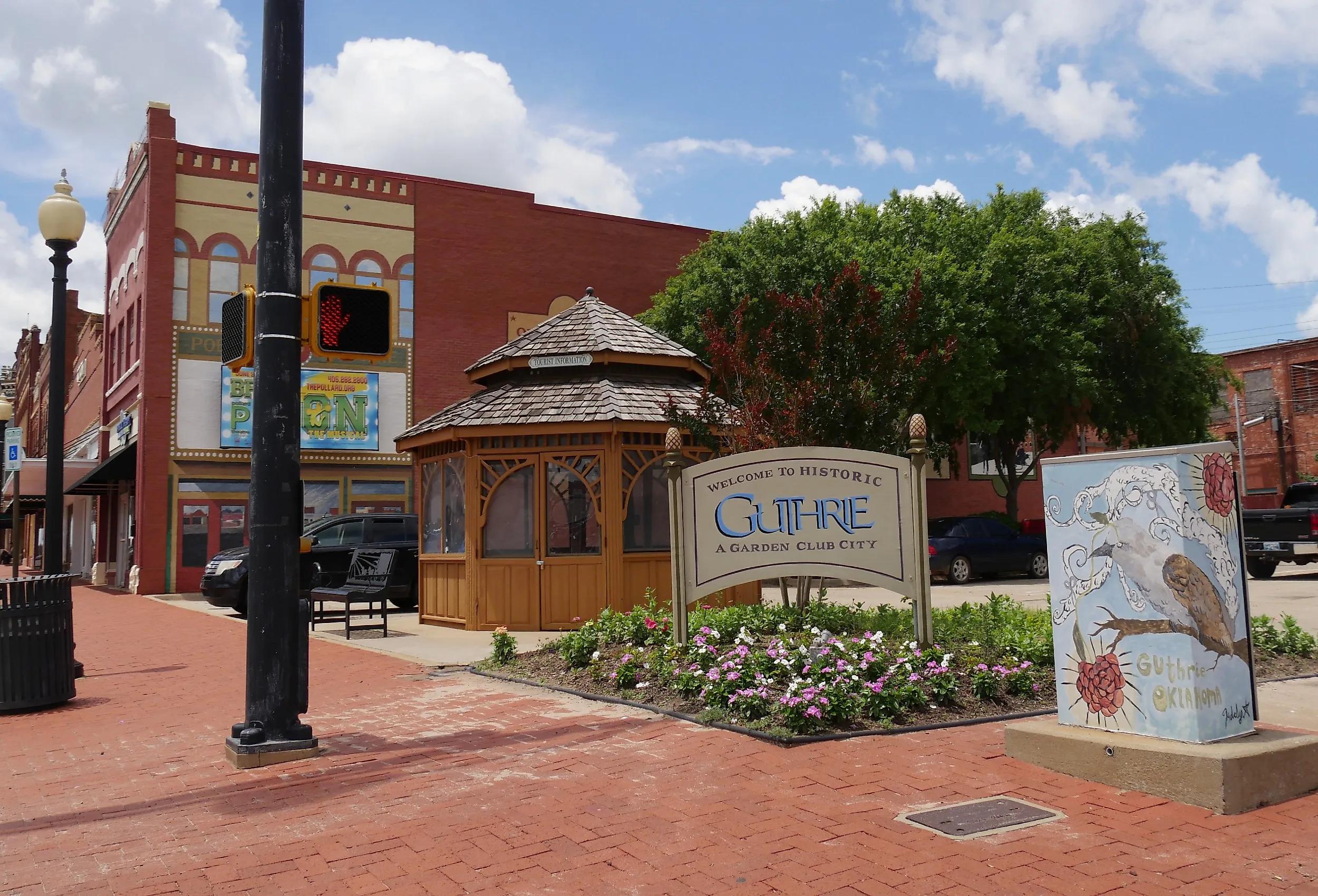 8 Best Small Towns in Oklahoma to Chill Out
Flee the commotion of urban existence and immerse yourself in the scenic loveliness of Oklahoma's best small towns. Whether you are hunting for a tranquil haven or an escapade in the middle of nature's marvels, these towns call out with their extraordinary fascinations. Situated in the core of the Sooner State, each of these towns flaunts beautiful geographic elements that make them shine. From peaceful ponds and meandering streams to noble mountains and captivating state parks, these secluded jewels present a wealth of possibilities for repose and investigation. Immerse yourself in the magnificence of Guthrie's traditional allure or uncover Pawhuska's natural wonders. Take a virtual voyage through these bewitching small towns in Oklahoma and uncover what renders them the ideal havens to chill out and regenerate.
Guthrie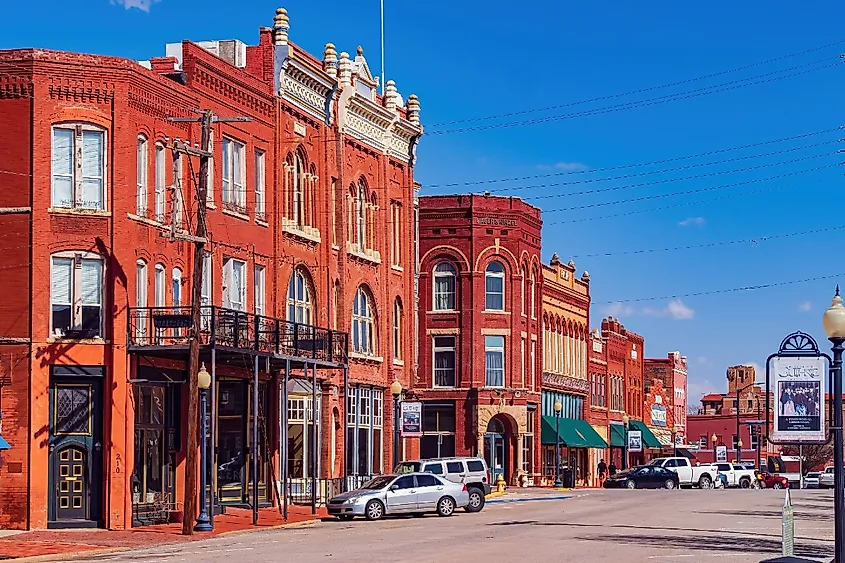 Nestled in the core of Oklahoma, Guthrie is a small town abounding in antique and allure. This National Historic Milestone flaunts fascinating architecture and well-preserved edifices that transport voyagers to a bygone epoch. As you meander through the town, you will stumble upon Victorian-style buildings, energetic art expositions, and vintage boutiques. A swift tour away abides the beguiling Lake Guthrie, where sightseers can indulge in angling, sailing, and picnicking. For nature aficionados, the adjacent Mineral Wells Park has tranquil walkways and the chance to spot indigenous fauna. Do not overlook the famed Lazy E Arena, where stirring rodeos and equestrian extravaganzas take place throughout the year. Guthrie is a traditional haven that amalgamates the days of yore with unmatched beauty, making it an absolute necessity to visit in Oklahoma. 
Pawhuska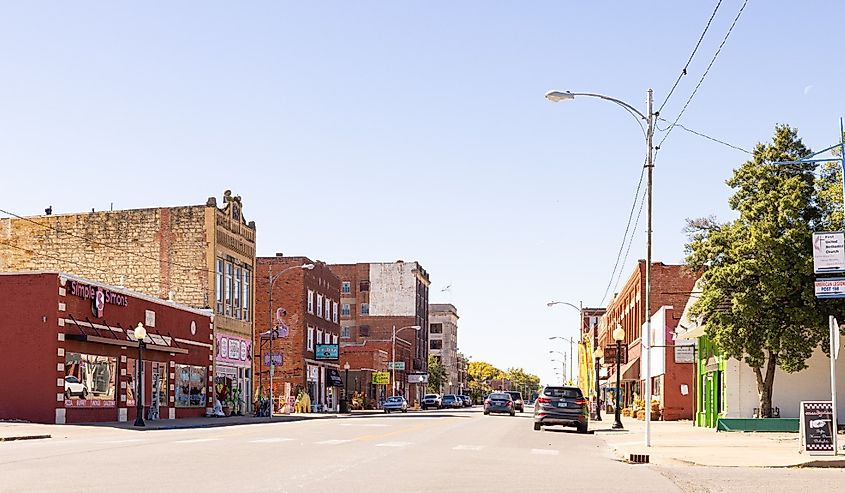 Tucked away in northeastern Oklahoma, Pawhuska is the gateway to spectacular natural beauty. This quaint settlement stands at the heart of Osage County, renowned for its bucolic hills, crystalline lakes, and lush woodlands. Nature aficionados can embark on an exploration of the adjacent Tallgrass Prairie Preserve, a magnificent stretch of untouched grasslands populated by American bison herds and various fauna. For a restful escape, pay a visit to Pawhuska Lake, offering ample opportunities for angling, boating, and camping. Don't forget to savor the flavors of the West at The Pioneer Woman Mercantile, a prominent location featuring tasty grub and one-of-a-kind shopping adventures. With its alluring scenery and amiable hospitality, Pawhuska guarantees a remarkable retreat to chill out among Oklahoma's natural wonders. 
Turley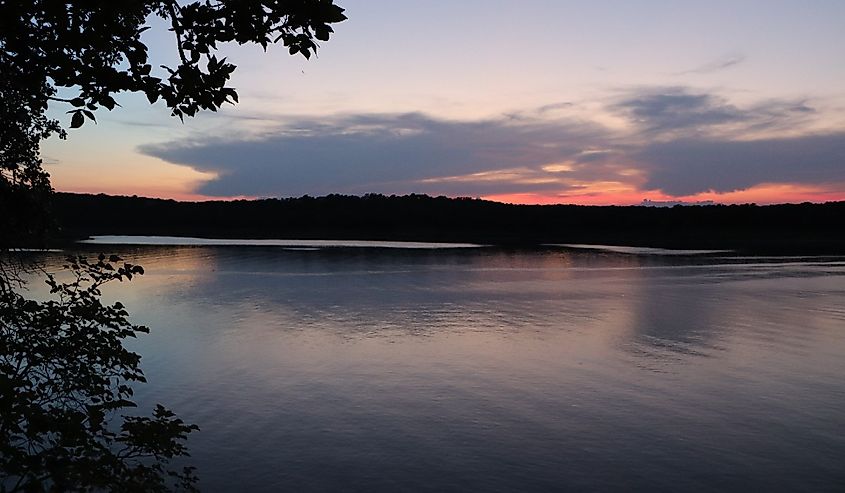 Nestled on the banks of the Arkansas River, Turley is a quiet town beckoning travelers to relax in its tranquil atmosphere. Bordered by luscious woodlands and pleasant scenes, this cozy refuge provides a reprieve from the commotion and confusion of daily existence. Immerse yourself in the gorgeousness of the region by venturing to nearby Keystone Lake, a paradise for fishing and boating fans. For a quiet amble, take a trip to the River Parks West Trail, where captivating sights await you around every corner. Turley's closeness to the energetic city of Tulsa guarantees effortless access to cultural attractions and dining opportunities. Treat yourself to the best of both worlds by delighting in the quietness of Turley while still being within reach of metropolitan facilities.
Sulphur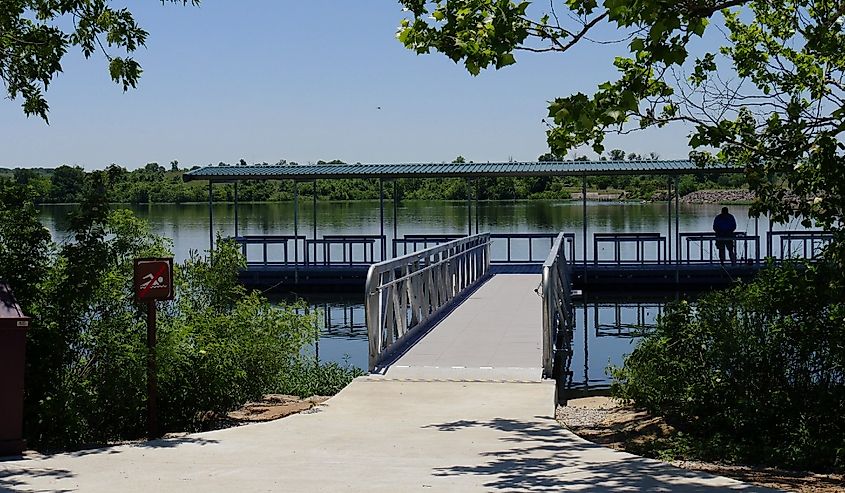 Sulphur is an admirable town distinguished for its fantastic beauty and invigorating thermal springs. Tourists can submerge themselves in calmness by investigating the Chickasaw National Recreation Area, a haven of sparkling streams, peaceful lakes, and lush woods. Feel the restoring energy of nature at the park's Platt Historic District, where mineral-rich waters construct relaxing pools. Assume a beautiful hike through the Bromide Hill Trail or savor a tranquil picnic amidst the park's magnificent scenery. Be sure to observe the enthralling Travertine Creek, a natural swimming pool with resplendent waterfalls which afford a reviving intermission on sultry days. If you search for placidity or venture, Sulphur's felicitous mixture of natural spectacles and curative springs forms a blissful atmosphere for everyone.
Davis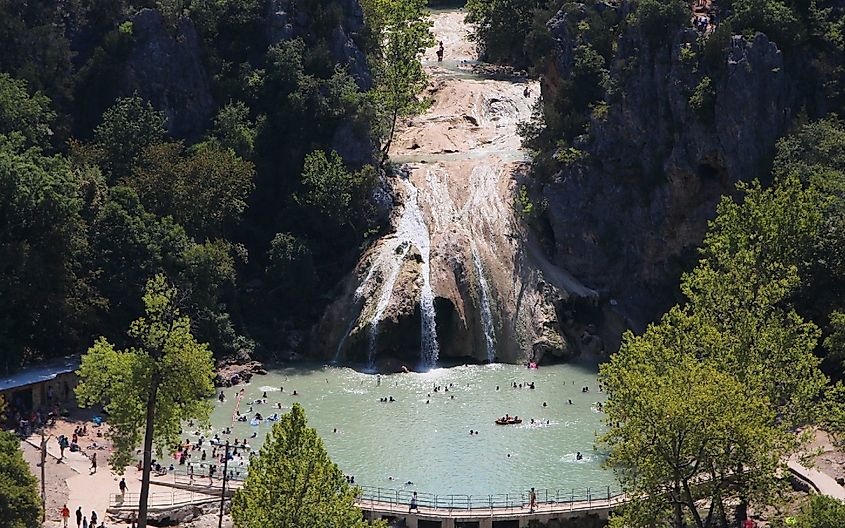 Cuddled amongst the Arbuckle Mountains in south-central Oklahoma, Davis is a utopia. Surrounded by rocky terrains and breathtaking vistas, this miniature town furnishes a variety of pastimes for nature admirers. Journey to Turner Falls Park, the site of Oklahoma's uppermost cascade, crashing into a revitalizing swimming hole. Embark on trekking paths that meander through the Arbuckle Mountains, supplying panoramic visions of the proximate wilderness. Thrillseekers can participate in camping, angling, or canoeing in the close by Lake of the Arbuckles, a picturesque reservoir abounding with animal life. For a distinctive encounter, pay a visit to the Arbuckle Wilderness Park, where you can encounter peculiar animals on a captivating safari venture. With its exciting natural allure and diverse selection of recreational prospects, Davis is an ideal destination for those in search of an unforgettable outdoor venture. 
Eufaula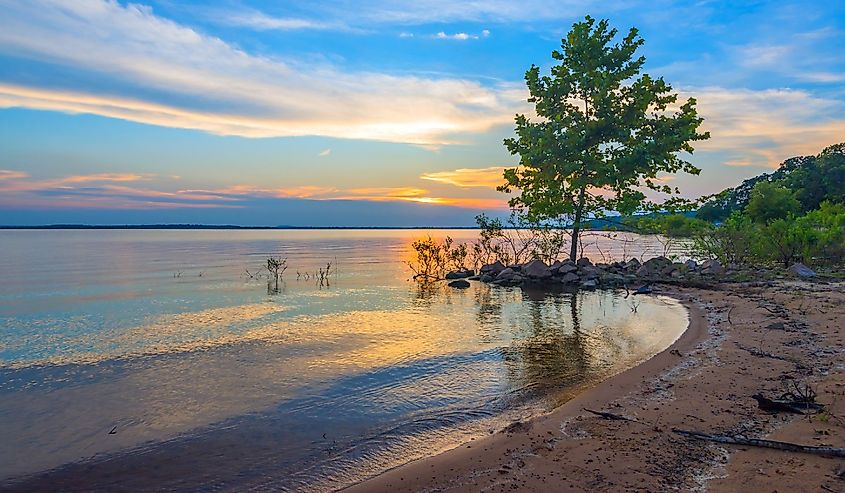 Nestled along the banks of Lake Eufaula, the most extensive reservoir in Oklahoma, the town of Eufaula offers a singular amalgamation of past, civilization, and picturesque landscapes. History buffs can inspect the Eufaula Historic District, which displays many traditional edifices, such as the picturesque Eufaula Dam. The pool itself presents manifold chances for water sports, fishing, and cruising. Indulge in a saunter along Main Street, lined with attractive stores, eateries, and art galleries. For a tranquil escape, visit the proximate Fountainhead State Park, where serene pathways meander through woods and along the lake's shoreline. Eufaula combines the fascination of its past with the recreational prospects granted by its arresting natural ambiance.
Wagoner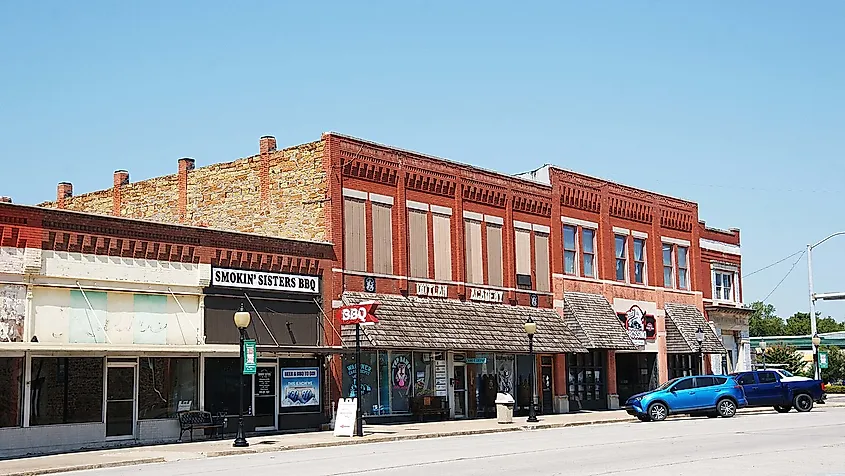 Tucked away on the banks of picturesque Fort Gibson Lake, Wagoner provides a plethora of recreational activities for holidaymakers craving outdoor activities. The lake is an ideal spot for fishing, boating, and swimming, with many harbors and boat launches available. Nature fans can traverse Sequoyah Bay State Park, where walking trails traverse woodlands and offer commanding views of the lake. Historians can inspect the reconstructed 19th-century log cabins and the Three Rivers Museum, displaying the region's abundant history. Wagoner also stages various festivities and events over the course of the year, including the yearly Cow Chip Day, a unique festivity celebrating the town's cowpuncher culture. With its plentiful recreational possibilities and exuberant community atmosphere, Wagoner is an undiscovered gem for those looking to chill out and take pleasure in the fresh air.
Alva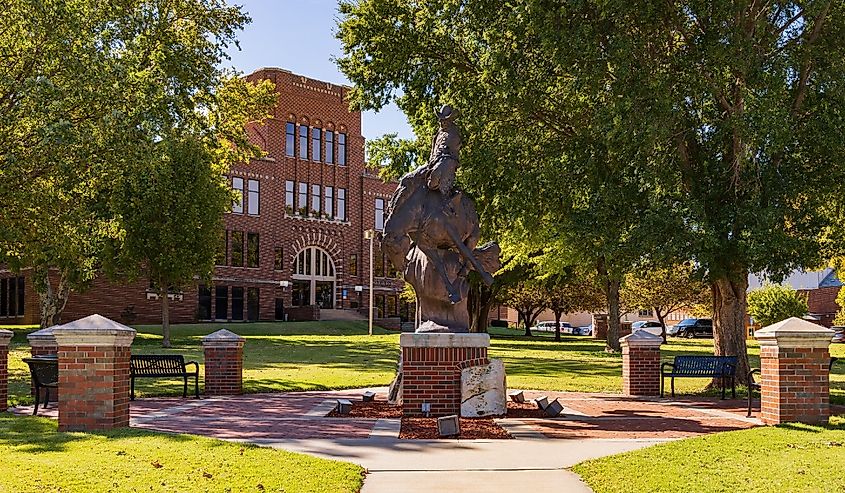 Hidden in the Northwestern Plains of Oklahoma is the town of Alva, boasting rural appeals and hospitality. This tight-knit community provides a tranquil refuge amongst the broad plains and rolling hills. Amble along the downtown area, filled with delightful stores, coffee shops, and art galleries. Discover the area's past at the Cherokee Strip Museum, which features symbols and demonstrations illustrating the municipality's history. Nature fanatics can explore the Alabaster Caverns State Park, residence to the most enormous gypsum cave open to the public. The park also includes paths and picnic spots, allowing travelers to immerse themselves in the loveliness of their environment. Alva's inviting atmosphere and mix of cultural roots and natural wonders make it an ideal place for those in search of a peaceful and genuine small-town experience.
Oklahoma presents an alluring vacation for those looking for a calming escape. From the old-fashioned allure of Guthrie and Pawhuska to the natural grandeur of Turley and Sulphur, each community offers its own exclusive fascination. Davis draws in outdoorsy types with its rugged peaks, while Eufaula and Wagoner provide opportunities for aquatic activities and fun-filled attractions. Finally, Alva embodies the heart of small-town life, tucked away amidst immense plains. Whether you are inspecting historic areas, taking on exploratory ventures, or lulling in picturesque views, these towns deliver something extraordinary to every explorer. Step into a voyage across Oklahoma's best small towns and observe the serenity and magnificence that wait in these chill locales.