One of the southeastern United States' most beautiful and historically famous places, Georgia, was initially one of the original Thirteen Colonies that would eventually break from the British Empire. Admitted to the Union in 1788, Georgia is a stunning locale full of natural wonder, history, and cultural Southern charm. From the stunning Blue Ridge Mountains to the Coastal Plains and cities like Atlanta and Savannah, the following article looks at the Seven Most Beautiful Cities in Georgia.
Savannah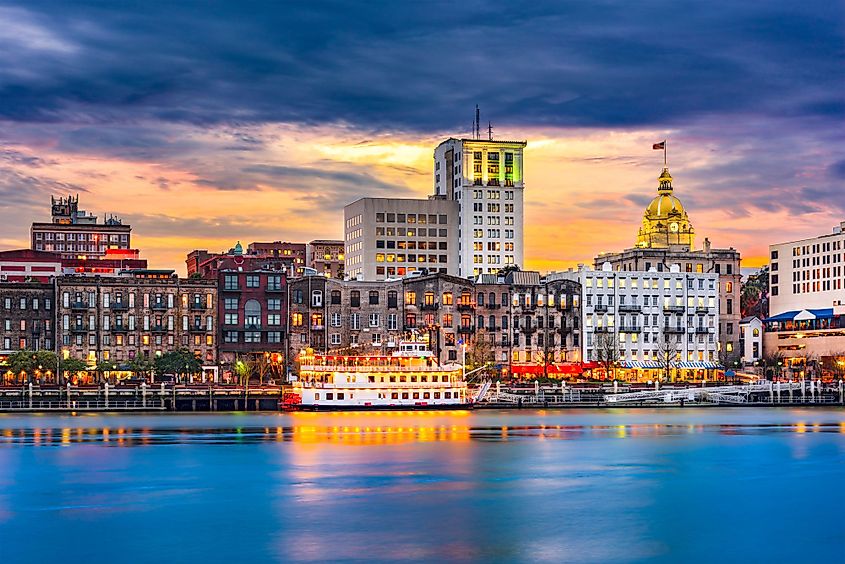 Founded in 1733 on the banks of the Savannah River, the city of Savannah is the oldest in the entire State of Georgia. An important port city during both the American Revolutionary and Civil Wars, modern-day Savannah remains a bustling urban center and crucial Atlantic seaport. With a relatively modest population of 147,780 inhabitants, visiting Savannah is a must for anyone wanting to know Georgia better. 
Indeed millions of tourists visit the city every year, attracted to its old-world charm where cobblestone streets, historic buildings, and public parks are a welcome sight. Take a horse-drawn carriage and stop at the Davenport House Museum, the Jepson Center Museum of Art, River Street, or the Savannah Victorian Historic District, and see why this Southern city is one of America's best. And with hot summer temperatures, Savannah surely can remind some of an African climate.
Kennesaw
Located in Cobb County, Kennesaw is a delightful place to visit year-round, with hot summers and mild winters. Conveniently located just 30 minutes from Atlanta, nature lovers will surely love the time spent in the Kennesaw area. One can explore the 1,808 ft high Kennesaw Mountain or gaze at the stunning Blue Ridge Mountains in the backdrop. Meanwhile, for history aficionados, encounters with Civil War history are plentiful in this town of just over 33,000 inhabitants. One can also tour numerous museums dedicated to the conflict, which include battle sites and walking trails, bringing together beautiful nature and a fascinating glimpse into America's past.
Dahlonega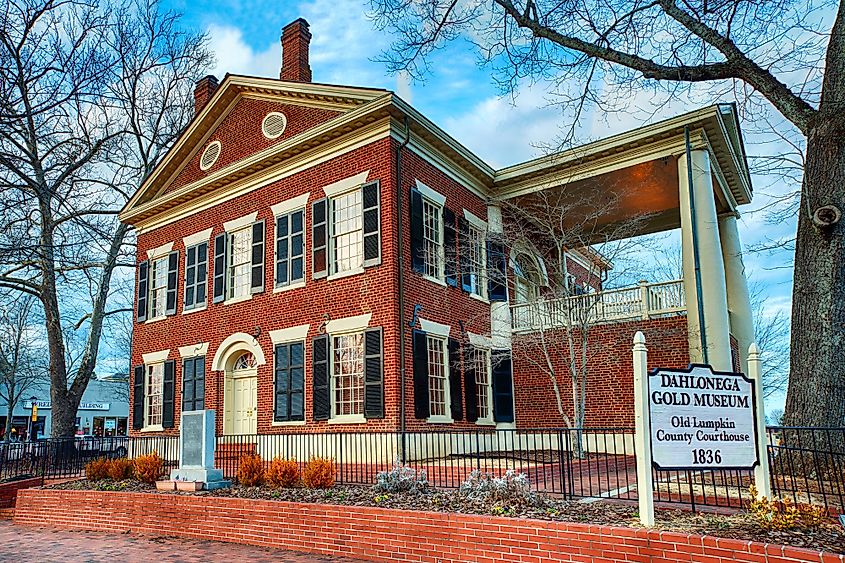 Dahlonega is the seat of Lumpkin County and is where the modern Gold Rush began in America in 1829. Some 105 km from Atlanta, this town is home to a population of under 8,000 inhabitants and is indeed a most interesting and charming Georgia locale. Stop by the historic Dahlonega Gold Museum and learn all about the history of the burgeoning American Gold Rush and the growth of the city as a mining town.
 At the museum, you can even buy a golden nugget from the gift shop and try panning for your own! And for a real sample of what 19th-century accommodations resembled, why not spend a few evenings at the Historic Dahlonega Square Hotel? Here, in addition to the 1880s ambiance, majestic window views of the surrounding Blue Ridge Mountains make for a most wonderful stay.
Athens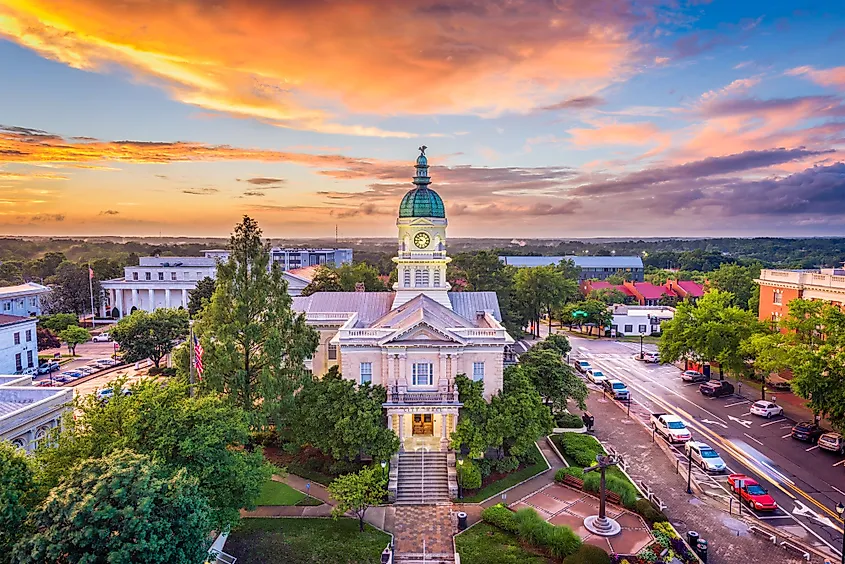 The college town of Athens may not be as famous as its Greek counterpart, but it is still the most beautiful and unique place to visit in the State of Georgia. Home to the University of Georgia (founded in 1785), nearly 128,000 residents live in this town, some 100 km north of Atlanta. Known for its college culture and diverse music scene, visitors to Athens can enjoy excellent local galleries, tasty restaurants, cafes, and live music venues in a quiet and charming Southern atmosphere. 
In addition, several Civil War relics and architecture can be viewed across town as a reminder of Georgia's important role in the conflict and in shaping modern America. Visitors can also spend an afternoon at the Bear Hollow Zoo, the Georgia Museum of Art, and the university's beautiful campus. And with the Blue Ridge Mountains framing the area, some picturesque backdrops make a visit to Athens truly one of the most special excursions in the State.
Fayetteville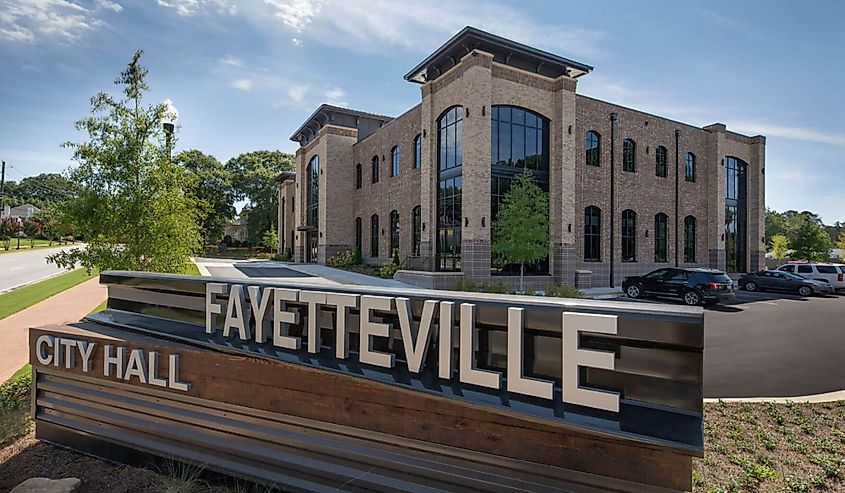 Founded in 1822, Fayetteville is just 35 km from Atlanta and is home to a population of just under 19,000 residents. The seat of Fayette County, this historic town houses many buildings and landmarks of national importance. These include the County Courthouse (1825) and the antebellum-style Holliday Dorsey Fife House constructed in 1847. For fans of the beloved novel "Gone With the Wind," adapted into a famous film in 1939, a visit to the Margaret Mitchell Library delves not only into the history of Georgia and the Civil War but of the author's inspirations for her famous work. In addition, there is plenty of beautiful green spaces and nature to enjoy in Fayetteville, including Starr Mill's Waterfalls. This and other truly magical and charming places like Lake Horton make a visit to this Georgia city one of the best experiences in the "Peach State."
Helen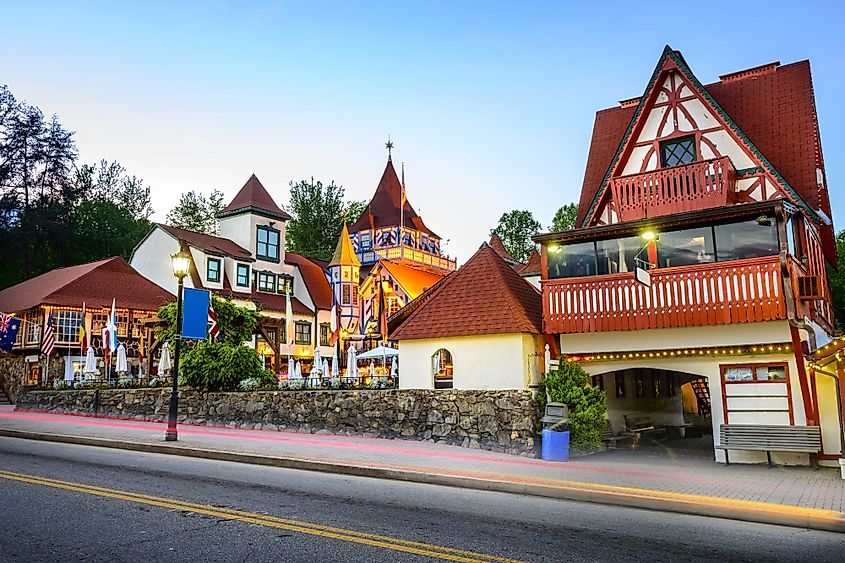 This small town may be easy to overlook, but it is a definite treasure to discover. Located on the Chattahoochee River banks, only 531 inhabitants live in this splendid mountain town. Some 145 km from Atlanta, Helen is also affectionately known as Georgia's Alpine Village for its resemblance to a Bavarian resort. Indeed all the buildings are designed in a distinctive southern German style, which makes for quite unique photo opportunities.  Amongst the most popular tourist events in town include the annual Oktoberfest and a summer hot air balloon race, with some truly breathtaking views of the mountains and rooftops to be had. And, of course, a stop at the nearby Anna Ruby Falls is a must, making sure that visiting Helen is not just a one-time thing. 
Atlanta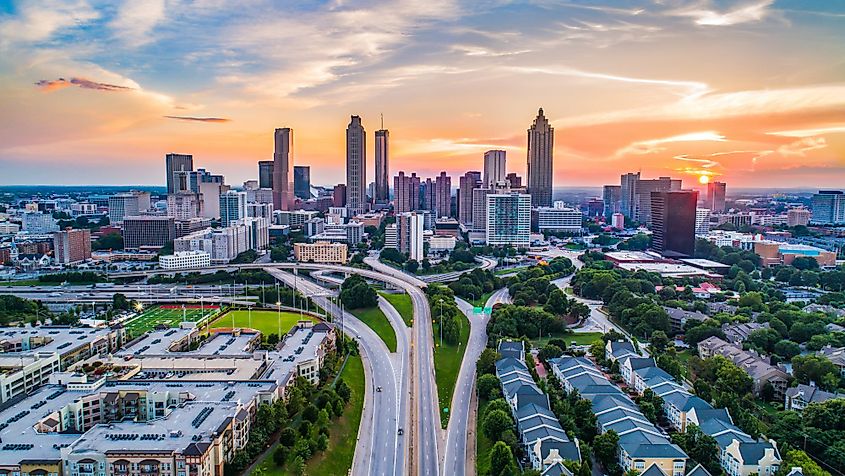 Georgia's capital, largest metropolis, and by far its most famous city, Atlanta, was one of the most important sites during the American Civil War. Infamously burned by Union Forces during General Sherman's March to the Sea, Atlanta was rebuilt to become a true industrial hub in the 20th century. One must visit the Martin Luther King Jr. National Historical Park, the Center for Civil and Human Rights, etc. Home of the 1996 Summer Olympics and the headquarters of the news agency CNN, Atlanta is a diverse and exciting city that is an absolute must-visit for anyone in the State of Georgia.
The "Peach State" of Georgia is one of America's most historically and naturally beautiful, and is a cornerstone of the famed Southeastern United States and its culture. Within this State, beautiful towns reveal a most fascinating history, stunning natural surroundings, and most splendid dose of Southern charm. From the port city of Savannah, to the college town of Athens, and the bustling and industrial Atlanta, Georgia's cities are great examples of the very best of American wonder.