Alaska is known for its rugged wilderness and vast expanses of unspoiled natural beauty. Snow-peaked mountains, dense boreal forests and stunning glaciers have drawn adventurers since far back in history. Beyond its untamed landscapes lies a network of small towns with a unique character and charm. Whether you are looking for a weekend getaway or a longer vacation, these Alaskan small towns offer a chance to experience the state's unique culture and natural wonders in a more intimate setting.
Homer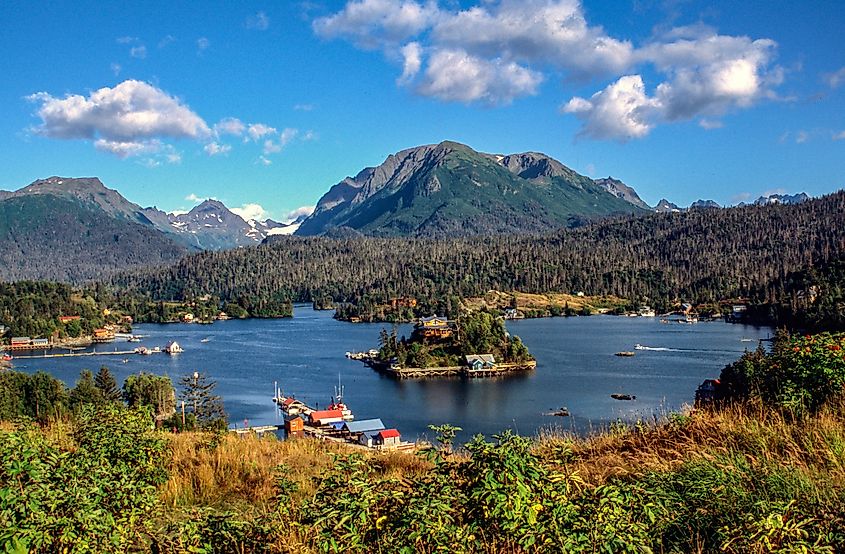 Homer, located on the stunning Kenai Peninsula, is a true gem of the Last Frontier. Surrounded by snow-capped mountains and glistening waters of Kachemak Bay, Homer's natural beauty is unparalleled. With a vibrant arts community, bustling harbor, and stunning views of glaciers, it is no wonder the town is a popular destination for artists and nature lovers alike. Visitors can take a scenic drive along the coast, go hiking in the nearby wilderness, or simply relax and soak up the breathtaking scenery. A special part of this scenery is the Homer Spit, a 4.5-mile long spit stretching halfway across Kachemak Bay, which has on it not only a collection of charming shops and restaurants, but a number of fishing spots which contribute to the town's reputation as the "Halibut Fishing Capital of the World". Homer's unique beauty is truly a feast for the senses, offering a glimpse into the raw and rugged beauty of Alaska.
Talkeetna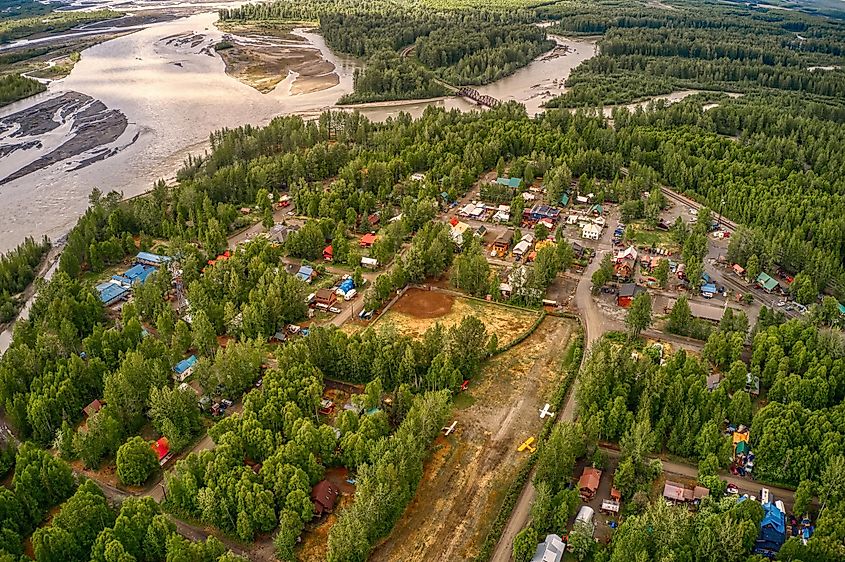 Located at the base of Denali, the highest mountain peak in North America, Talkeetna offers a sublime, and truly unique experience of one of the wonders of the natural world. Little more than a tiny hamlet, the town provides visitors with the opportunity to live and understand a life totally outside of that offered by the bigger cities or tourist centers. The Main Street is perfect for a leisurely stroll where visitors and residents can rub elbows sipping coffee or exploring historic buildings and art shops. For the more adventurous, Talkeetna's best-known offerings are the flightseeing tours of the Denali, granting truly one-of-a-kind experiences with one of the world's tallest monuments. 
Seward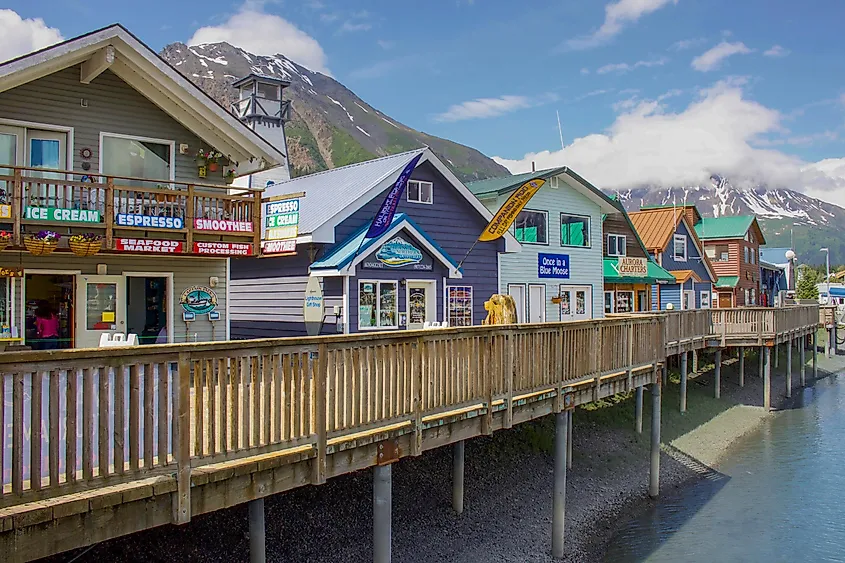 A charming coastal town tucked in between the Resurrection Bay and the mountains of the Kenai Peninsula, Seward is a nature lover's paradise. Getting there is an adventure in itself, with the scenic Seward Highway offering stunning views of the rugged Alaskan wilderness. Once you arrive, you can explore the charming downtown area, with its colorful storefronts and historic buildings, or take a boat tour of the bay to spot wildlife like whales, sea otters, and seals. Outdoor enthusiasts will also love the nearby Kenai Fjords National Park, where you can hike through the pristine wilderness, paddle through icy waters, and witness the awe-inspiring beauty of glaciers up close. Seward is truly a hidden gem in Alaska, offering a perfect blend of adventure and small-town charm.
Sitka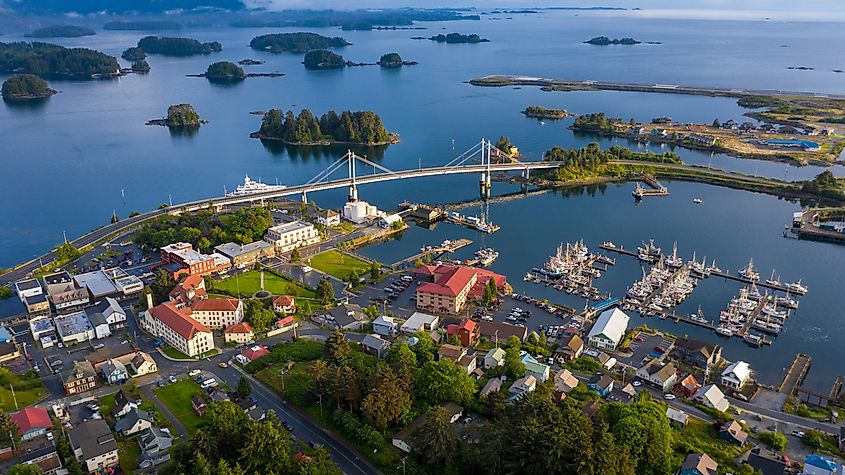 Located on Baranof Island on the outer coast of Alaska's Inner Passage, Sitka is a picturesque coastal town surrounded by stunning mountains, verdant forests, and sparkling waters. The town is a destination that offers a unique blend of natural beauty, fascinating history, and cultural experiences. Visitors can explore the town's rich Russian and Native American heritage, with landmarks such as the Russian Bishop's House and the Sitka National Historical Park showcasing the area's diverse cultural history. The town hosts one of the most historically significant sites in Alaska: the Baranof Castle State Historic Site, originally a stronghold of the Tlingit people. Additionally, outdoor enthusiasts can enjoy hiking, fishing, kayaking, and wildlife viewing in the surrounding wilderness. With its blend of history and natural beauty, Sitka is a must-visit destination for anyone looking to experience the best of Alaska.
Ketchikan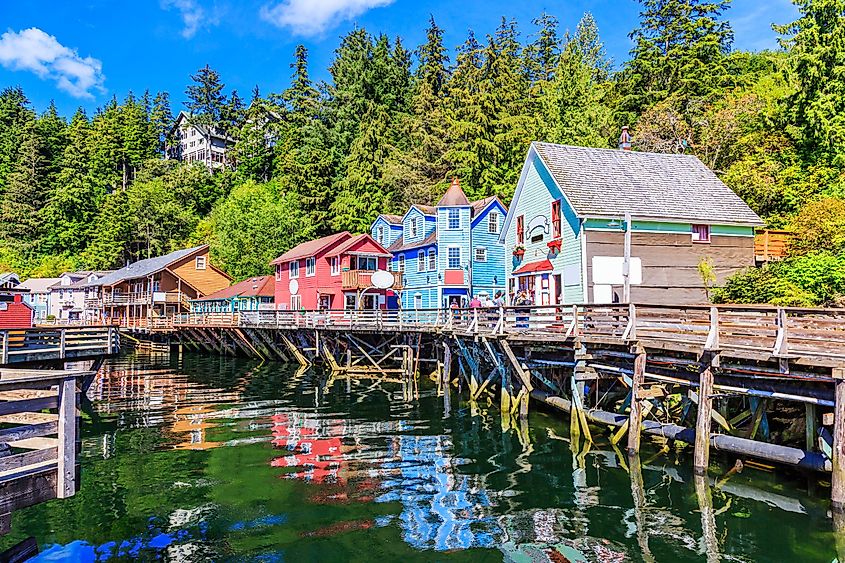 Ketchikan, located in the southeast of Alaska, is often referred to as the "Salmon Capital of the World" and is a popular destination for fishing enthusiasts. The town is also known for its vibrant First Nations culture and rich history as a former Native American fishing village. Visitors can explore the totem poles at the Totem Heritage Center, witness the intricate carvings of the Tlingit tribe at the Saxman Native Village, or visit the Southeast Alaska Discovery Center to learn more about the natural and cultural history of the region. For those seeking outdoor adventure, Ketchikan offers opportunities for kayaking, hiking, and wildlife viewing, with the Tongass National Forest and Misty Fjords National Monument located nearby. Whether you are exploring the town's historic Creek Street boardwalk or embarking on an outdoor adventure, Ketchikan is a must-visit destination for anyone seeking natural beauty and authentic Alaskan experiences.
Skagway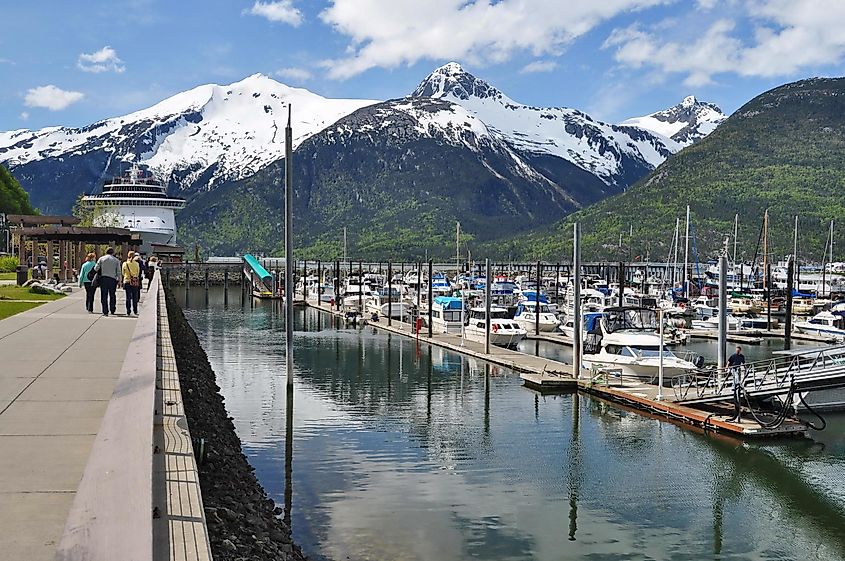 Nestled between towering mountains and the blue waters of the Lynn Canal, Skagway is an enchanting town that takes visitors back to the gold rush era of the late 1800s. Visitors can experience the thrill of riding the White Pass & Yukon Route Railroad, which offers stunning views of the rugged Alaskan wilderness. Wildlife such as bald eagles, humpback whales, and sea lions can often be spotted in the area. In addition to its historic sites and museums, Skagway is also a great jumping off point for outdoor adventures such as hiking, fishing, and kayaking. With its picturesque setting between mountains and sea, Skagway is a must-visit destination for those seeking an authentic Alaskan experience.
Traveling to the small towns of Alaska can offer a truly unique experience. From remote fishing communities to quaint frontier towns, these destinations offer visitors a chance to experience the natural beauty and rugged charm that give Alaska the moniker of Last Frontier. With so many small towns to choose from, each with their own distinct character and history, there is something for everyone. Whether you are interested in hiking through stunning wilderness, exploring Alaska's rich indigenous cultures, or simply relaxing and taking in the breathtaking scenery, the small towns of Alaska are the perfect destination for a one-of-a-kind adventure.