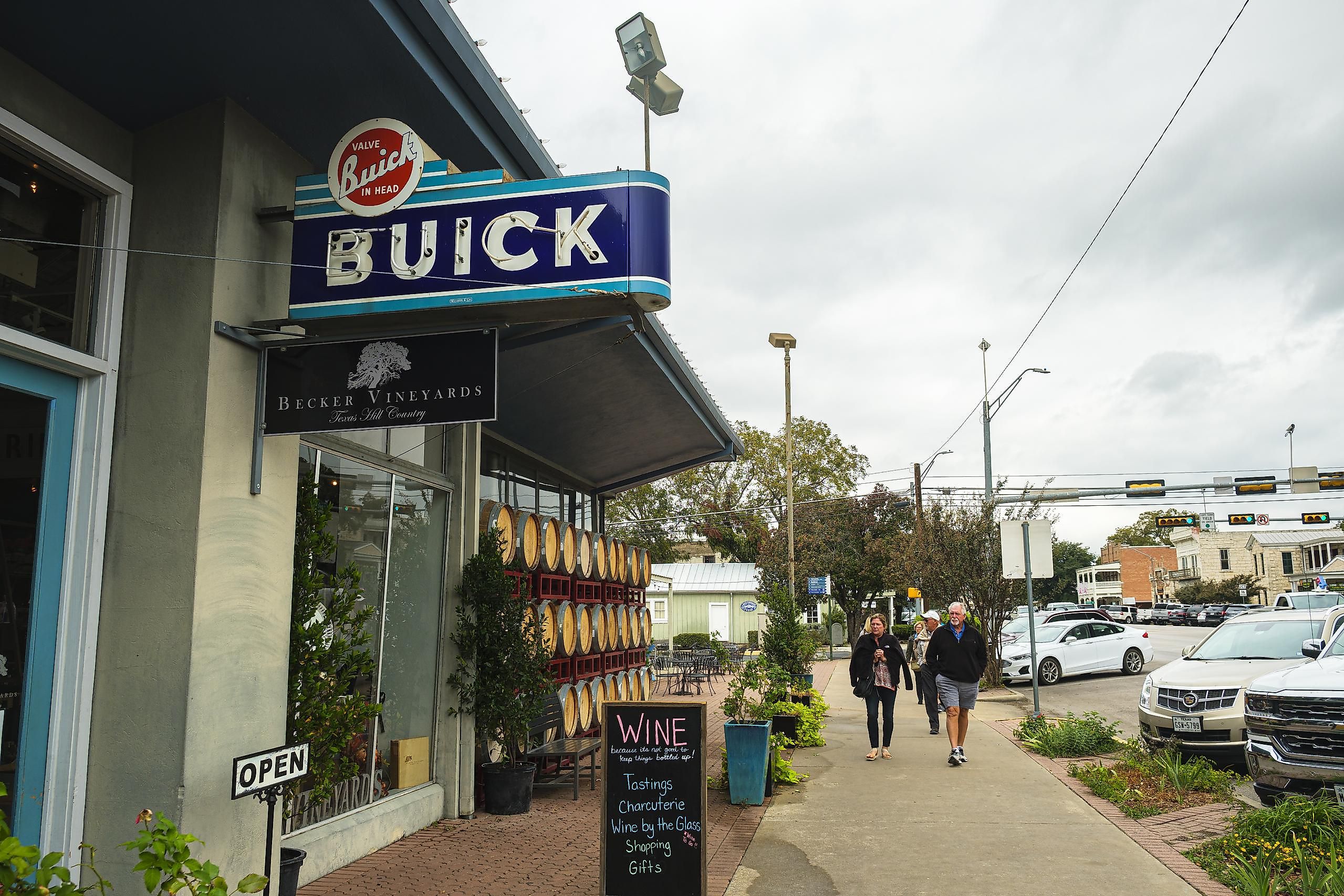 14 Small Town Getaways In Texas Perfect For Families
Everybody knows about big Texan cities like Dallas and Houston but not as much about the quaint small towns that genuinely embody the spirit of the Lone Star State. Bustling with natural beauty, charming history, and unique cultural experiences, these overlooked locations are a worthy reprieve from the chaos in the big cities. Their Southern charm allows visiting families to feel right at home. 
There are endless fun activities and adventures in small-town Texas to keep everyone in the family entertained throughout the stay. From exploring the quiet streets of cozy and historic downtowns and discovering serenely isolated swimming holes to indulging in unique local traditions, these beautiful locations promise unforgettable fun experiences that will help strengthen the bond between family members. Whether visiting for the weekend or spending a month-long vacation, these small town getaways in Texas are perfect for families. 
Fredericksburg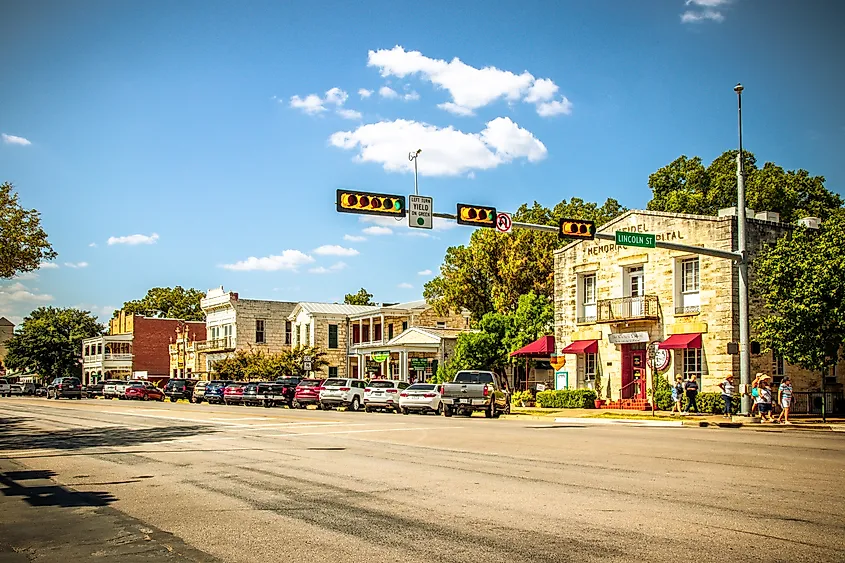 This little town is a picturesque Texas Hill Country area punctuated by natural beauty and serene outdoor spaces. The Enchanted Rock State Natural Area offers dozens of recreational opportunities, such as camping, rock climbing, and hiking. Meanwhile, the Lady Bird Johnson Municipal Park is a delightful meeting point near downtown, where locals and tourists can enjoy BBQs as kids play around in its five outdoor pavilions. 
Fredericksburg stands out from other small Texas towns for its rich German Heritage. Founded in 1846 by German immigrants, the region's German roots can be discovered at the Pioneer Museum, which displays unique historical structures offering a look into pioneer life in the town. Fredericksburg is also home to numerous wineries, and a tour of the Grape Creek Vineyards makes for a delightful family day out. The best time to visit is in October, when the Oktoberfest festivities bring the town to a standstill. 
Granbury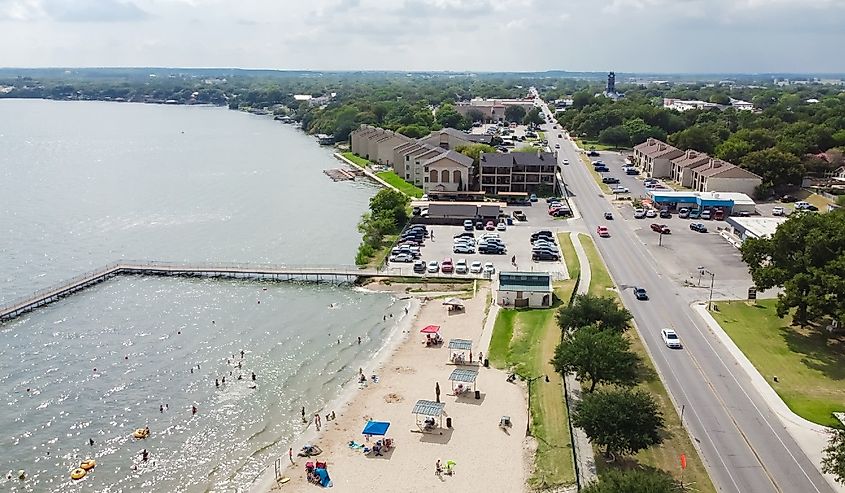 Granbury, located just under an hour from Fort Worth, draws with fun recreation opportunities revolving around Lake Granbury. Visiting Granbury City Beach is a fun way to join locals and other tourists in taking advantage of entertaining water-based adventures like swimming, kayaking, and paddle boarding. The town is also steeped in rich Texas history that can be uncovered in the Historic Granbury Square. This cozy downtown locale houses numerous family-friendly attractions, including the Granbury Opera House, perfect for watching a riveting live performance. 
Kids will also have an unforgettable experience at the Granbury Doll House, which displays various famous dolls and invites guests to watch intricate doll-making demonstrations. Alternatively, they will love the exciting games at Narrow Escape Granbury, which are ideal for a wholesome family experience. When it's time to rest after a long day, the kid-friendly atmosphere at The Granbury Cabins at Windy Ridge offers a peaceful night's sleep. 
Dripping Springs
This scenic locality truly embodies the unparalleled beauty of the Texas Hill Country, thanks to unique natural spots like the gorgeous Hamilton Pool Preserve, a swimming hole surrounded by a 50-foot waterfall and cave. The town's nickname, "The Wedding Capital of Texas," is a true testament to the idyllic surroundings, resulting in 35 world-class wedding venues within a 15-mile radius. But if no wedding bells are on the horizon, Dripping Springs offers more remarkable attractions for the whole family. 
A good example is Milton Reimers Ranch Park. This charming natural area, devoid of rowdy crowds, boasts lovely trails and scenic views of the Pedernales River. Families can enjoy thrilling adventures like mountain biking and rock climbing here. For the best experience, you can visit between March and May, when the weather is delightfully warm without the stifling humidity, and the blooming plants offer the perfect setting for an adventure. 
Marble Falls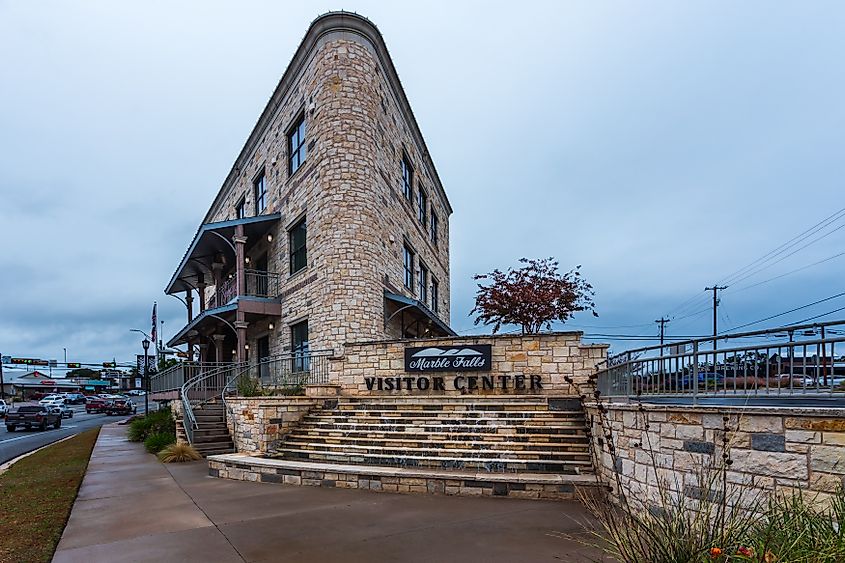 Marble Falls is easily overlooked by most visitors on their Texas Hill Country itinerary, but this pretty little destination is worth a stop. An excellent destination for nature lovers, the town has delightful outdoor spaces, highlighted by Lake Marble Falls, where families can spend a fun day swimming, picnicking, or relaxing at Lakeside Park. Another fine spot to be one with nature is the Balcones Canyonlands National Wildlife Refuge, home to numerous native Texas plants and wildlife species. 
When not exploring the open spaces, searching through historic downtown Marble Falls is a perfect alternative. The charming neighborhood offers lovely shopping venues, sculpture shops, and candy stores worth popping into. Kids will especially love the iconic Blue Bonnet Cafe, which serves tasty pies from their all-day breakfast menu. Tours are available at Sweet Berry Farm, best visited in October during the fall festival, where families converge for fun activities like scarecrow stuffing, berry picking, and pony rides. 
Wimberley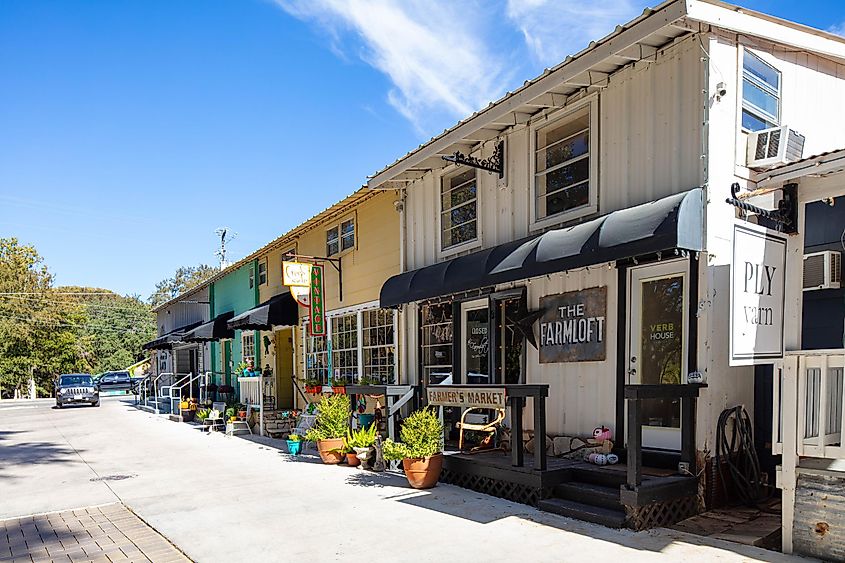 Wimberley offers an unforgettable small town getaway in Texas thanks to an eclectic mix of adventures, featuring natural swimming holes, delightful wineries, and a small-town vibe. Nevertheless, it has gorgeous spring-fed swimming spots, such as Blue Hole Regional Park, Jacob's Well Natural Area, and Cypress Falls Swimming Hole, to put the destination on the map. These all ensure family-friendly water fun to cool off in the hot Texas sun. Wimberley is also a nice place to get your thrill on, with Wimberley Zipline Adventures delivering high-flying fun that spoils participants with jaw-dropping vistas of the Wimberley Valley. 
At the EmilyAnn Theatre, you can revel in family-friendly entertainment, with adults enjoying outdoor theater performances as children play around in the gardens. One of the best places to stay in the town is Creekhaven Inn & Spa, equipped with generous amenities and within a short distance of several top attractions. 
Salado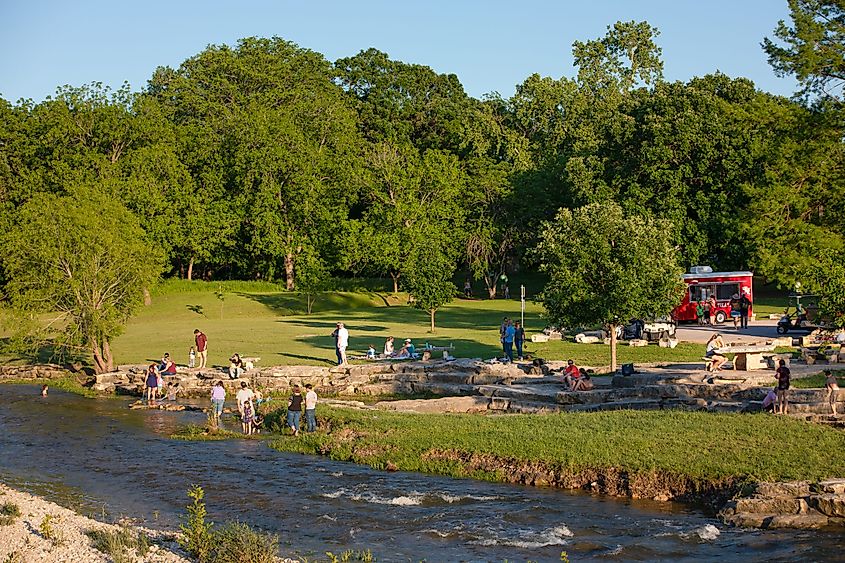 This small town of over 2,000 residents was founded to construct a bridge across Salado Creek. Years later, the town had outgrown its initial purpose, evolving into a bustling art community that prides itself on the numerous artistic attractions spread throughout the area. Highlights include Salado Glassworks, where families can visit to marvel at unique glass-blowing skills, and the Salado Sculpture Garden, the perfect place to witness intricate outdoor art surrounded by a serene, green environment. 
Salado's Royal Street District offers an upbeat vibe thanks to a diverse collection of chic restaurants, galleries, and watering holes, including the Barrow Brewing Company. For a more family-appropriate experience, you can take the kids to the Salado Museum and College Park, which gives a glimpse into the region's history. For accommodation, travelers can check into the Inn at the Creek, which impresses with lush natural surroundings and delights guests with a globally-inspired menu served at The Hunter Gatherer.
Port Isabel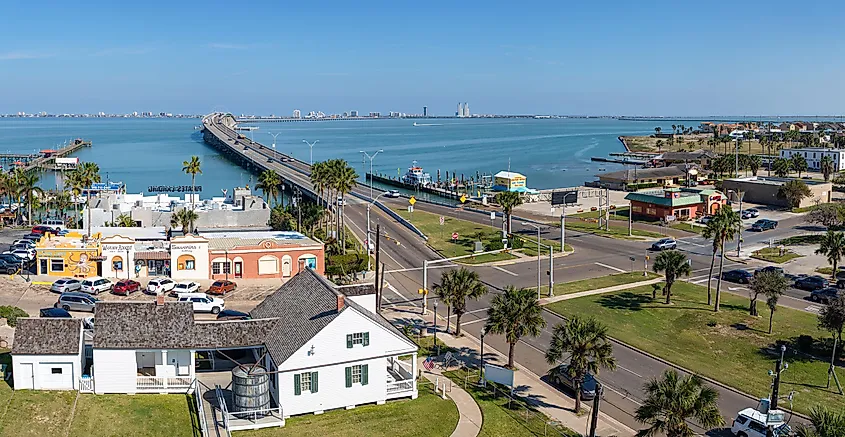 A fun coastal getaway at the southern tip of the Texas Gulf Coast, Port Isabel offers sweeping water views and fun sea adventures. However, the town is more famous for being one of the oldest port towns in Texas, having been established in the early 1900s. This means a treasure trove of historical landmarks to be discovered around the town, led by the Port Isabel Lighthouse. You can delve deeper into the region's past at the Port Isabel Historical Museum, which displays artifacts and relics from the Mexican-American War. 
One of the best ways to explore this tiny port city is from the water; multiple cruise agencies ensure ready access to this. You can venture into the sea with Dolphin Docks for an exciting dolphin-watching tour, perfect for the whole family. Afterwards, treating the family to sumptuous seafood at Joe's Oyster Bar is an excellent way of rejuvenating after an eventful day. 
Johnson City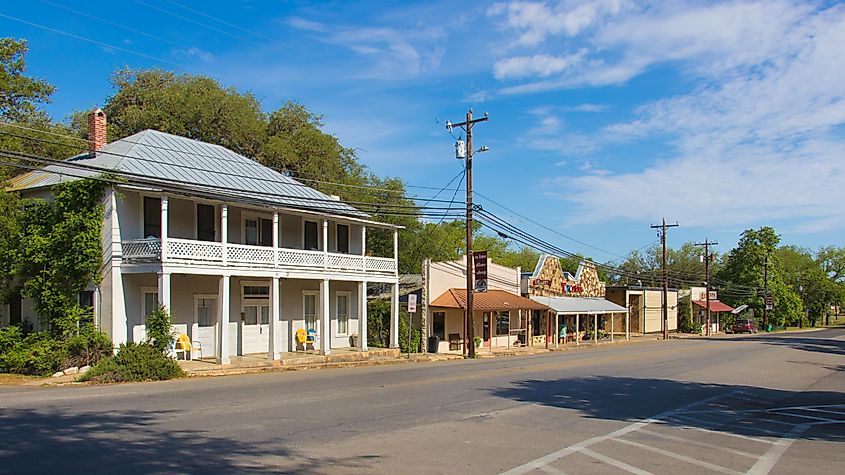 Johnson City is a charming destination with unprecedented natural scenery, sprawling open spaces, and beautiful wineries. One such place is the over 5,000-acre Pedernales Falls State Park, which lies along the shores of Pedernales River. Families can wade in the river's cool waters and stroll along isolated nature trails. But what's unique about Johnson City is that it's steeped in American history and hosts President Lyndon B. Johnson's "Texas White House." Here, you can look into the early life of the 36th president of America. 
Johnson City's quaint town square is a great place to experience the area's historical vibe and houses diverse antique shops, old restaurants, and distilleries. A quick lunch at Fat Boy Burgers will come in handy if you want to replenish. The Exotic Resort Zoo offers an ideal family-friendly experience in the town, where kids can interact with more than 600 animals and splash in an outdoor pool. 
Jefferson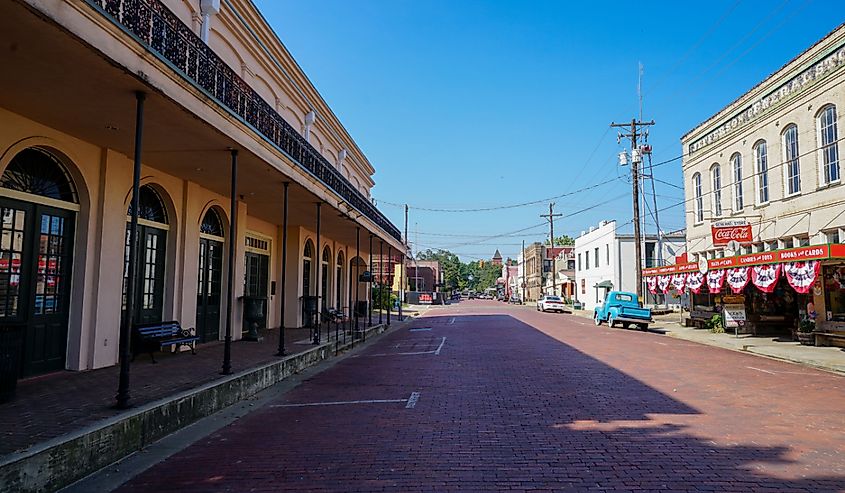 Jefferson is a modest northern Texas gem hosting a population of about 2,000 residents. While many people visit the town for diverse reasons, its historical significance makes it a prominent destination. Housing countless restored historic homes from the 19th century and other iconic landmarks, Jefferson is perfect for those seeking an immersive historical experience. Several family-friendly spots, including the Jefferson Historical Museum and Museum of Measurement and Time, house unique antiquities and relics from the bygone eras. 
Jefferson is famous for being among the most haunted places in the country, and Jefferson Ghost Walk is an excellent way of giving the young ones a classic scare, immersing them in local legend and haunted locations around the city. For a delightful stay in the town, the Excelsior House Hotel in downtown offers cozy, family-friendly accommodation. 
Round Top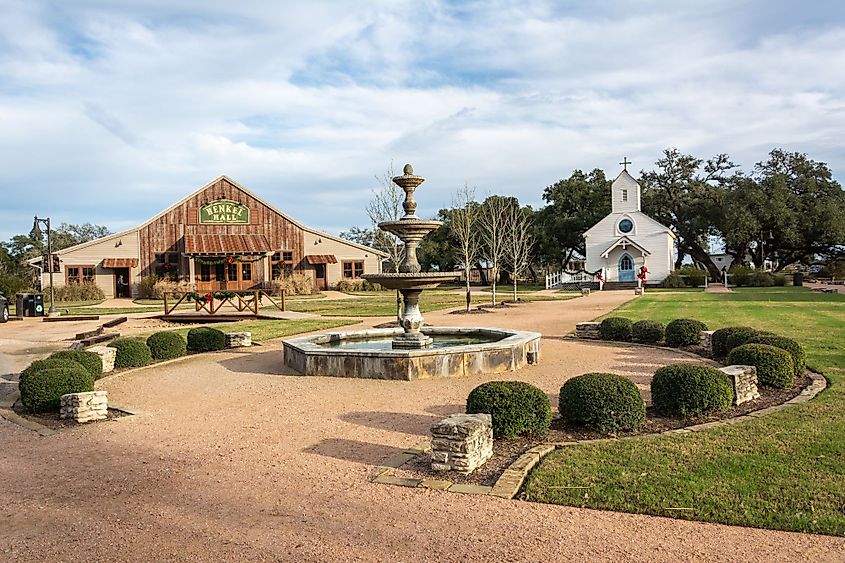 Round Top is a quiet town between Houston and Austin renowned for its iconic antique shows held bi-annually. Despite a small population of about 100, the town's historic district delights with a vibrant atmosphere, and exploring the Henkel Square Market exposes you to historic buildings from the 19th century, currently housing different kinds of stores. Round Top also boasts a bustling arts culture, with several venues where families can catch an exciting live music show. 
One unique feature of the town is St. Martin's Catholic Church, the smallest active Catholic Church in the world. When the kids ask for something to eat, they can enjoy Royers Pie Haven, which serves some of the most delicious pies in Texas, including the epic Texas Trash pie. To experience the rich spirit of the Round Top community, it's best to visit around the antique fair season. 
Dublin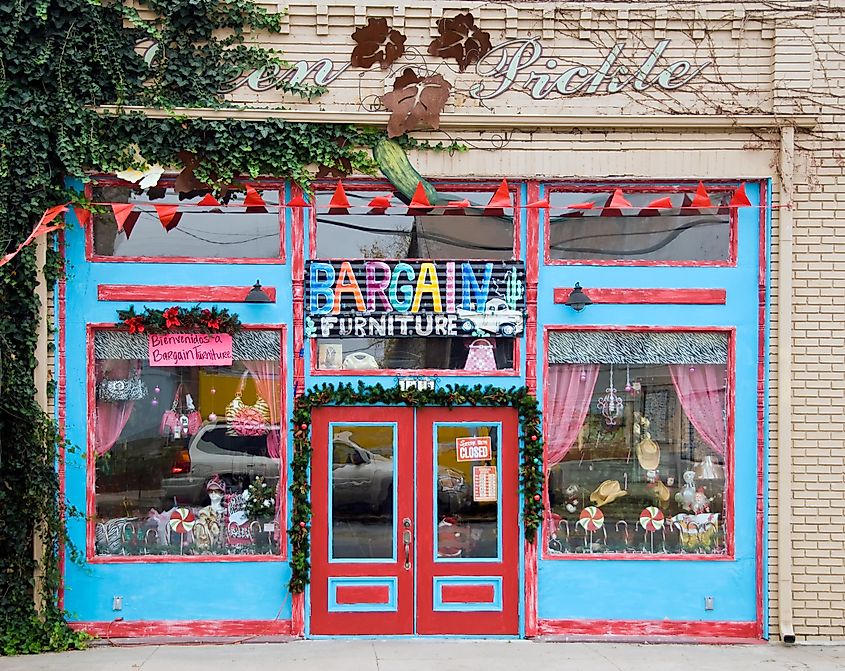 Not to be confused with the Irish capital, Dublin, Texas, is a small town steeped in rich Irish roots. Popularly known as the "Irish Capital of Texas," the town is home to various Irish-themed attractions, including Things Celtic, a goods store where you can hunt for chic souvenirs like Celtic kilts and clothing. Meanwhile, touring the W.M. Wright Historical Park is a family-friendly way to delve into the region's past, where you can browse a 19th-century log cabin and steam-powered mill. 
Just across the street, you'll find the Dublin Historical Museum, another great spot to glimpse local history and learn interesting facts about this tiny Texan town. While wandering downtown, visitors are welcomed by the Veldhuizen Cheese Shop to treat the family to some delicious cheese. One of the best times to experience Dublin is during the St. Patrick's Day celebrations. 
Gruene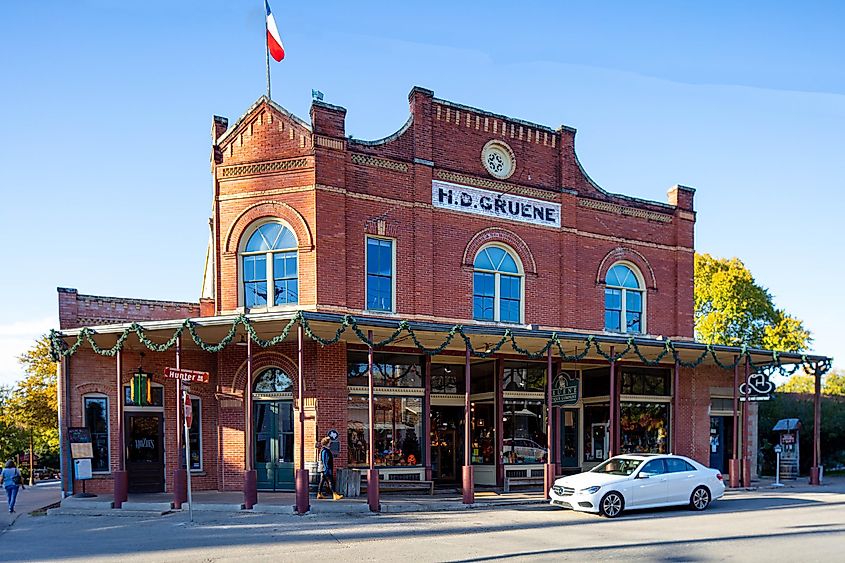 Another Texas Hill Country town, Gruene, offers an excellent escape from the hustle and bustle of Austin. This historic town charms with unique German heritage and features graceful natural areas like the Guadalupe River, where activities like river tubing offer a reprieve from the scorching Texas sun. Gruene is also famous for housing the oldest operating dance hall in the state. Gruene Hall was constructed in the late 1800s and welcomes families to witness traditional dance performances and learn two-stepping to country music beats.
When it's time to eat, the family will enjoy the delicious American menu at the Gruene River Grill. Meanwhile, the Old Gruene Market Days presents a unique cultural experience fit for the family, with the opportunity to interact with the local vendors and shop for unique artisanal wares. 
Canyon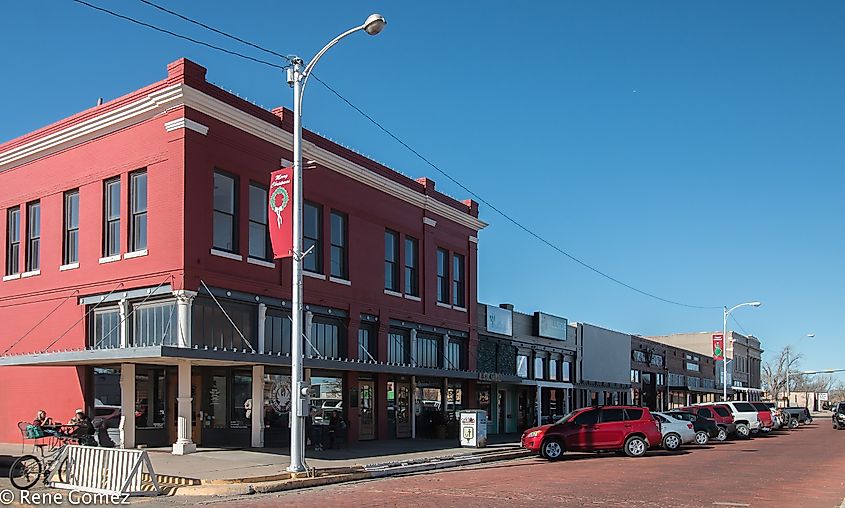 This unique small town boasts scenic natural landscapes, featuring the second-largest canyon in America. Nicknamed the "Grand Canyon of Texas," the Palo Duro Canyon State Park is a gorgeous natural wonder and one of the top tourist draws in the state. The park has various kid-friendly recreational activities, from hiking and camping to picnicking and horseback riding. More fun can be found at the exciting family-focused Canyon Aqua Park, where several water slides ensure unending fun for the young ones. 
You might also fancy exploring the historic downtown Canyon area, lined with quaint antique shops, historic buildings, and delightful restaurants. Stepping into the Big Texan Steak Ranch & Brewery allows you to try the famous 72-ounce steak-eating challenge. 
Port Aransas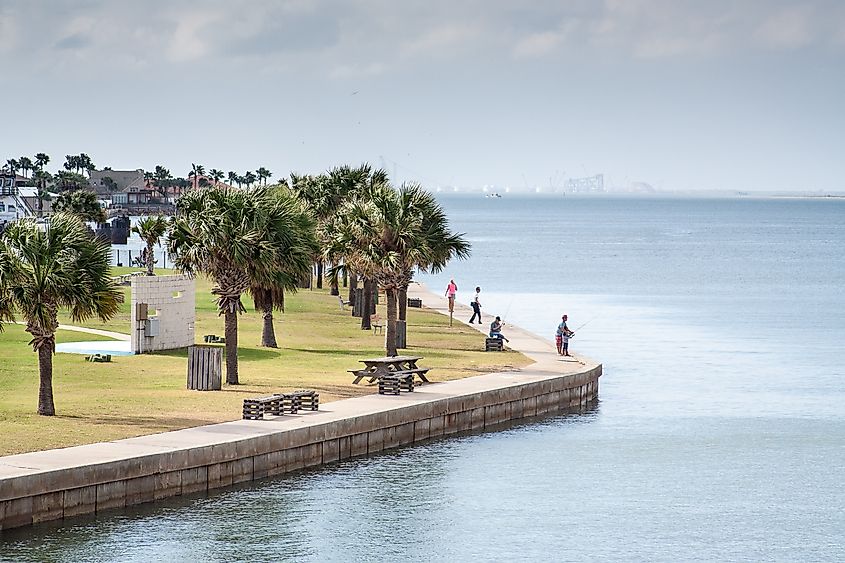 Port Aransas is an idyllic coastal destination on the Gulf of Mexico and the only established town on Mustang Island. The small community of 3,500 residents welcomes visitors for a laid-back escape at the beach. It is home to picturesque waterfront properties, such as the 50-acre Roberts Point Park, which offers family-friendly amenities like a picnic pavilion, a music venue, and an observation tower with sweeping gulf vistas. 
One of the best ways to discover Port Aransas is to go for a relaxed cruise on its surrounding waters. The Red Dragon Pirate Cruises offers the perfect adventure at sea for the kids, with professional actors to keep everyone entertained throughout the journey. If you have a soft spot for the arts, there is the Port Aransas Art Center to inspect a fantastic collection of art pieces by local artists. 
The Takeaway
While there are numerous sights and endless adventures to partake in the almost 270,000 square miles of the Lone Star State, these small town getaways in Texas are an excellent prospect for vacationing families. Thanks to their unique culture, rich history, scenic outdoors, and small-town charm, visitors can look forward to a satisfying experience.