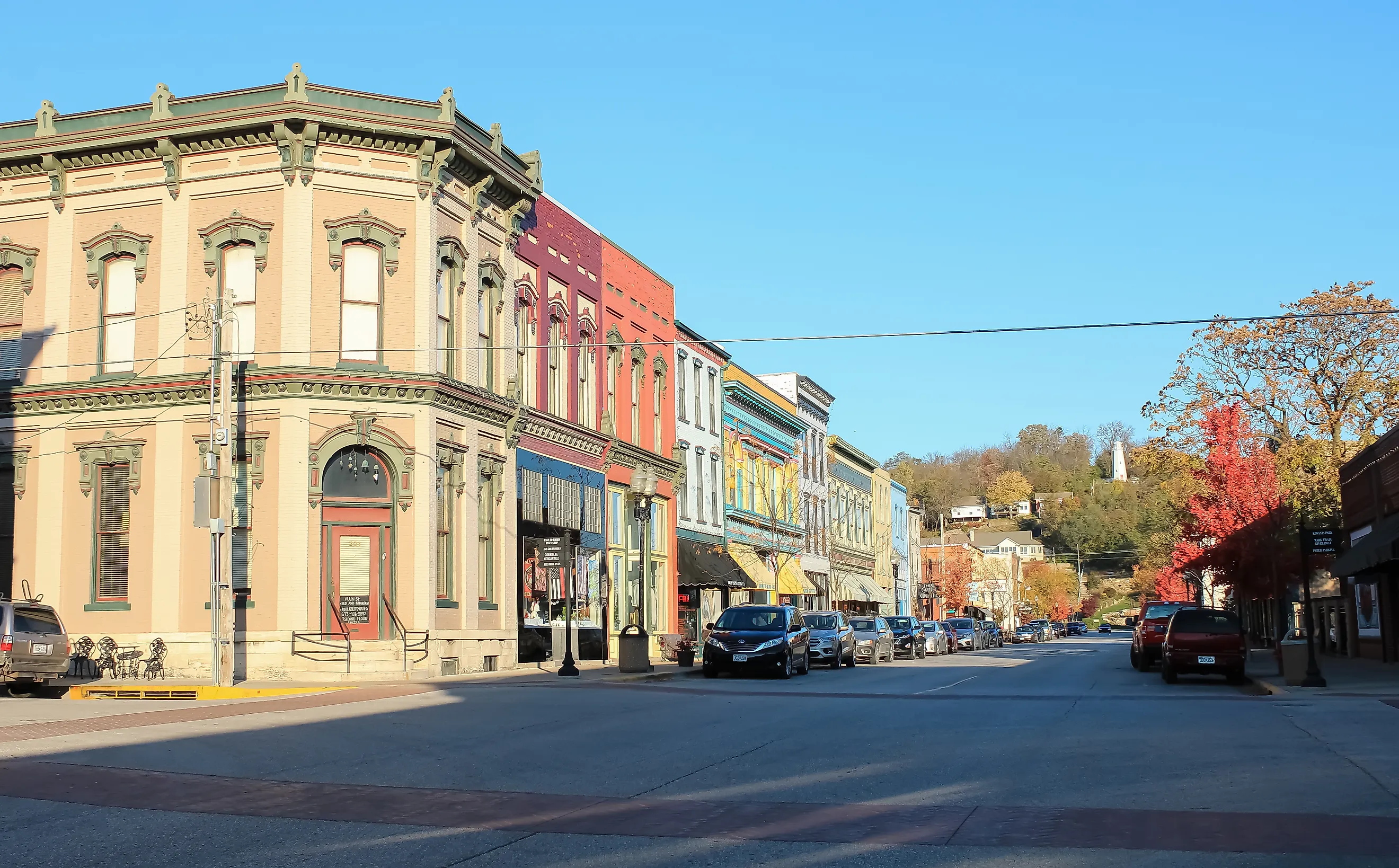 14 Most Beautiful Small Towns In Missouri You Should Visit
The great state of Missouri is known for many things. The monumental Gateway Arch in St. Louis is probably one of the first things that leaps to mind, as is the mighty Mississippi River, which flows through the entire length of the state, providing its natural eastern border with Illinois, Kentucky, and Tennessee. However, beyond these world-famous landmarks, the Show Me State also boasts a wellspring of lovely little towns, picturesque villages, and hidden hamlets that have served to delight visitors for decades. The following is a concise look at 14 of the most beautiful small towns in Missouri, each of which are captivating, quaint, and just plain well worth a visit in their own unique way.
Lamar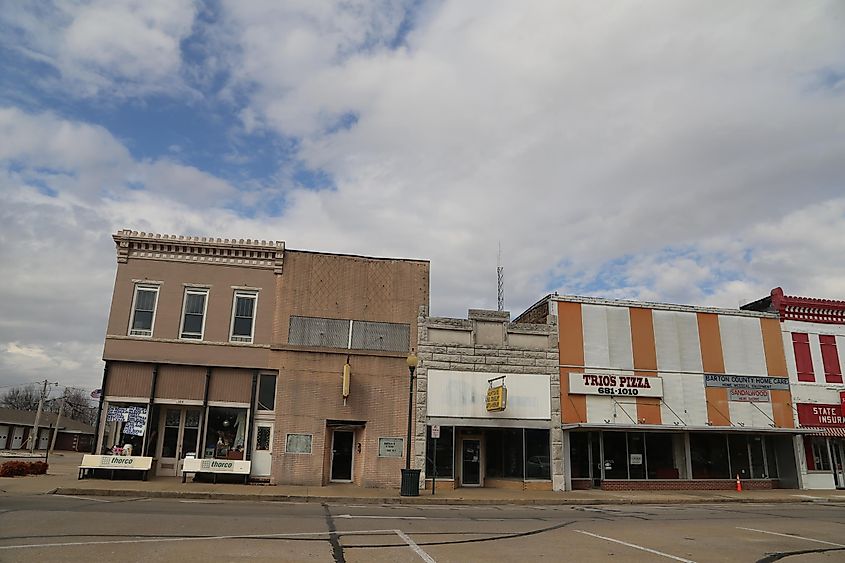 It's a common misconception that Independence, Missouri was the birthplace of Harry S. Truman, 33rd President of the United States. While Truman did make his home in Independence later in life, as well as locating his presidential library there after leaving office, the distinction of his birthplace properly belongs to Lamar, Missouri. With a population of only 4,366 as of the 2020 census, Lamar is the county seat of Barton County, Missouri.
A village with a rich history virtually from its inception, Lamar played a small role in the Civil War, withstanding multiple attacks from Rebel armed forces between the years 1861-1865. These days, out-of-state tourists and local residents alike pass the time by enjoying the town's amenities and attractions, including the renowned Plaza theater, the Barco Drive-In Theater, the Stompin' Grounds (an outdoor venue known for hosting monster truck rallies, rodeos, and concerts), and of course, the childhood home of Harry S. Truman, which is now a museum and an official State Historic Site.
Clarksville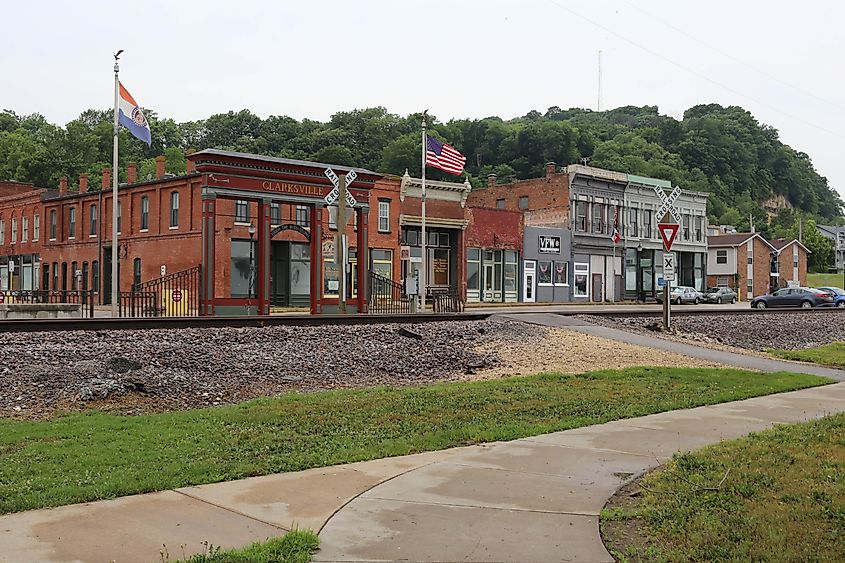 The town of Clarksville, Missouri is acclaimed for its quaint charm and natural beauty. With a population of only 442 people, Clarksville is a scant eight city blocks in length but features an impressive array of antique shops, bed-and-breakfasts, cafés, and specialty stores.
Clarksville also plays host to Eagle Days Weekend every January. The annual event is sponsored by the Missouri Department of Conservation and the U.S. Army Corps of Engineers and revolves around the observation of American Bald Eagles from the town's vantage point on the western bank of the Mississippi River which offers a fantastic view of the surrounding countryside.
Ste. Genevieve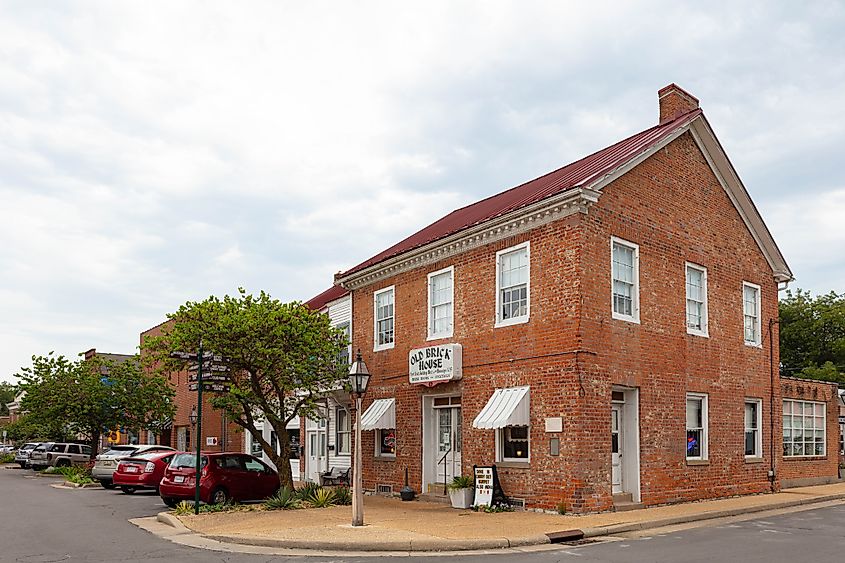 Founded in 1735 by French Canadian migrants, Ste. Genevieve (population 4,657) is Missouri's oldest European settlement. The town's French heritage in unmistakable, revealing itself through the architecture of its oldest buildings. Among these landmarks, Louis Bolduc House, La Maison de Guibourd, Beauvais-Amoureux House, Felix Valle House, Bequette-Ribault House, and Old Louisiana Academy are perhaps the best known. Ste. Genevieve is also heralded for its wineries and vineyards. 
Parkville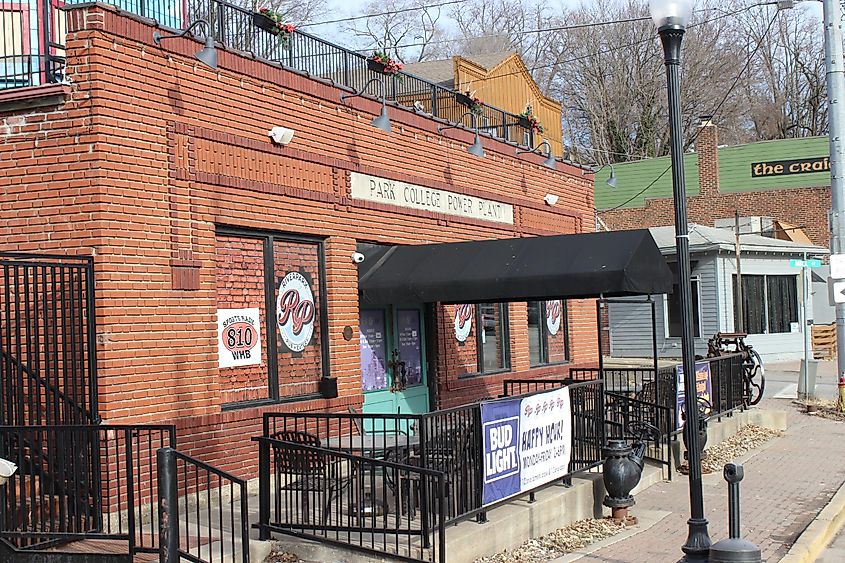 The aptly named township of Parkville is home to one of Missouri's legendary recreational public spaces. The pride of the quiet town, which is home to some 7,810 residents, is English Landing Park, an expansive park set alongside the Missouri River that contains a soccer field, a baseball diamond, a volleyball court, two children's playgrounds, a nine-hole frisbee golf course, and a hiking/biking trail that extends for three miles.This incredible park, when taken into consideration with the town's wealth of restaurants, art galleries, and boutiques, makes Parkville a perfect spot for those seeking a family-friendly day trip.
Fulton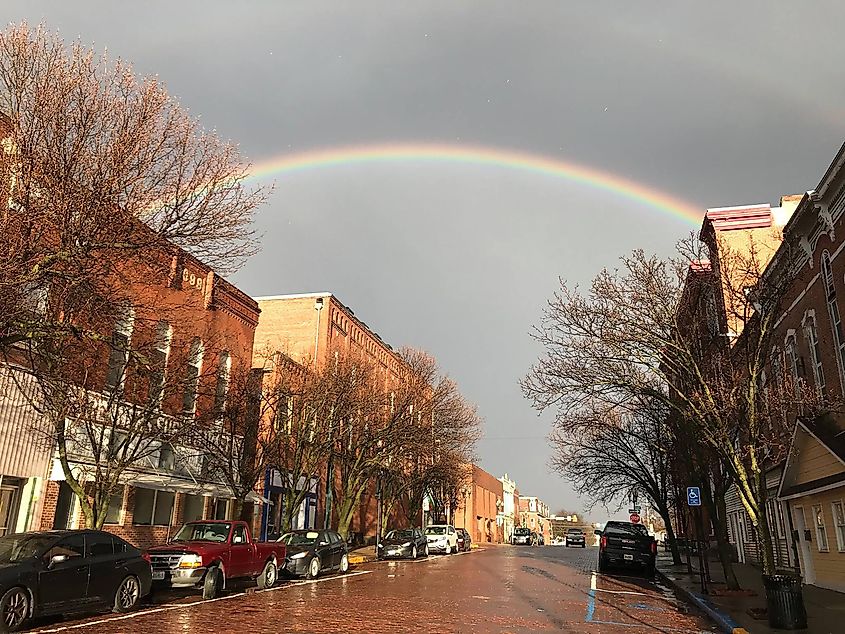 There are many reasons why Fulton, Missouri is notable. For starters, even though it contains only 12,721 people, it is the largest city in Callaway County, as well as the county seat. It is also home to two accredited institutions of higher learning, Westminster College and William Woods University. But perhaps the most special part of Fulton are its 69 historically registered buildings, most within walking distance of the town center.
Additionally, in 1946, Winston Churchill visited Fulton and delivered his epoch-defining "Sinews of Peace" speech wherein he coined the term 'Iron Curtain' to describe the Soviet sphere of influence in Eastern Europe in the aftermath of World War Two. Among those listening to him deliver that speech was then-President Harry S. Truman, proud son of Missouri.
Hannibal
Hannibal, Missouri has an important cultural claim to fame. The town of 17,067 souls is best known as the birthplace of one Samuel Clemens, a quintessential American humorist, novelist, and playwright otherwise known by his nom de plume, Mark Twain. Naturally, Hannibal has embraced this auspicious identity, and evidence of Twain's influence can be felt throughout its streets. Visitors can walk through Mark Twain's boyhood home, spelunk at Mark Twain cave, take a cruise on the Mark Twain Riverboat, or treat the family to an outing at Sawyer's Creek Family Fun Park, an amusement park named after one of Twain's iconic protagonists. On a more historically significant note, there is also Jim's Journey at The Huck Finn Freedom Center, which is the town's newest museum and is dedicated to highlighting the struggles the African American experience in this part of Missouri in much the same way Mark Twain did in his writings.
But even though he is to this day the town's most notable denizen, there is more to Hannibal, Missouri than homages to Mark Twain. Other notable attractions include The Big River Train Town & Museum, The Hannibal History Museum, Rockcliffe Mansion, and The Molly Brown Birthplace Museum. The town also features Haunted Hannibal, which is a series of ghost tours around the downtown area sure to pique the interest anyone interested in the paranormal.
Rocheport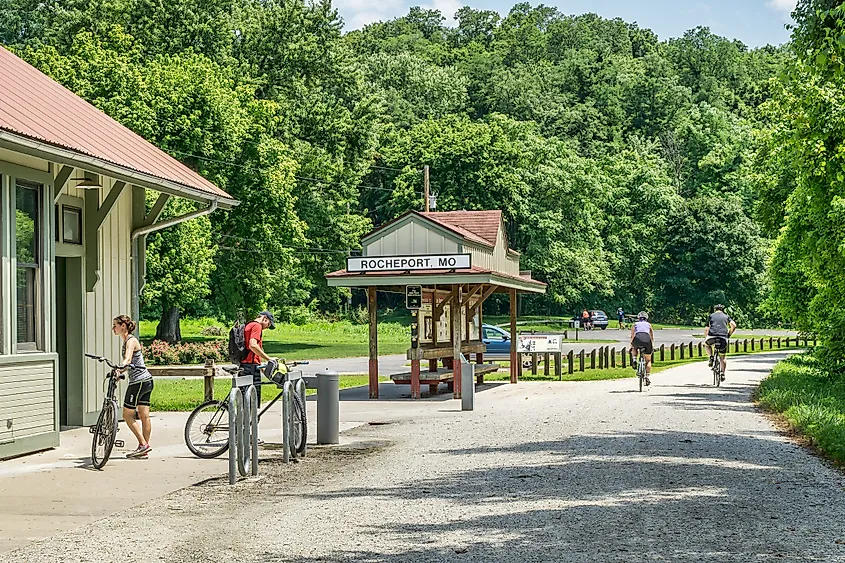 Initially established as a trading post between Native Americans and white settlers, the tiny hamlet of Rocheport, Missouri (population 239) currently enjoys a reputation as a hotspot for those interested in relaxation and self-care. Rocheport is known for its health spas and vineyards, as well as is its adjacency to the Katy Trail, which is a bicycle path stretching over 225 miles that follows a former railroad right-of-way, much of which is located directly beside the Missouri River.
Weston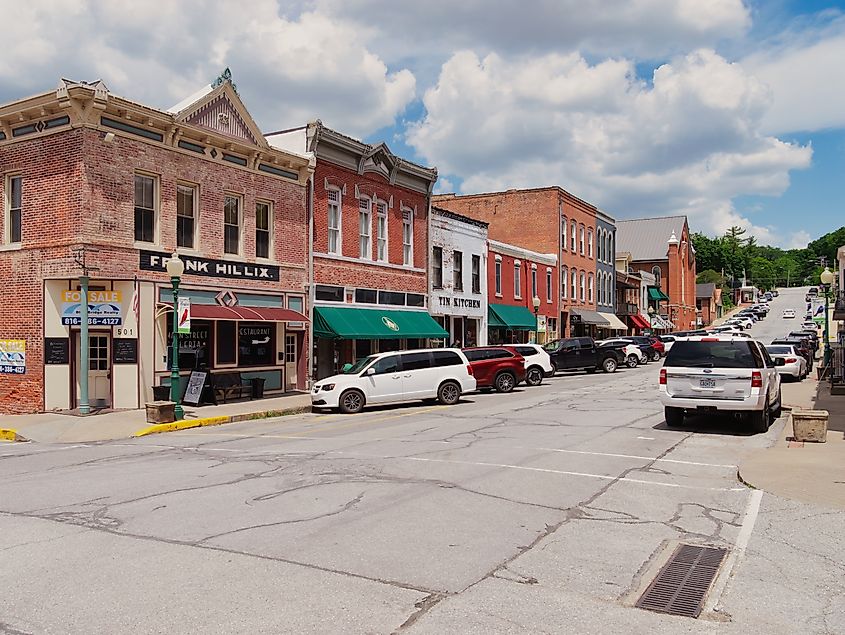 The town of Weston, Missouri is ideal for anyone with a taste for refreshing beverages. The distillery around which much of the town of 1,765 is built is the oldest west of the Mississippi River. Weston's wineries and breweries are also highly regarded and offer tours and tastings. The town is also noteworthy for its close proximity to the Missouri River, and consequently is perfectly situated for visitors looking for a great place to hike, camp, or simply enjoy a picnic. 
Carthage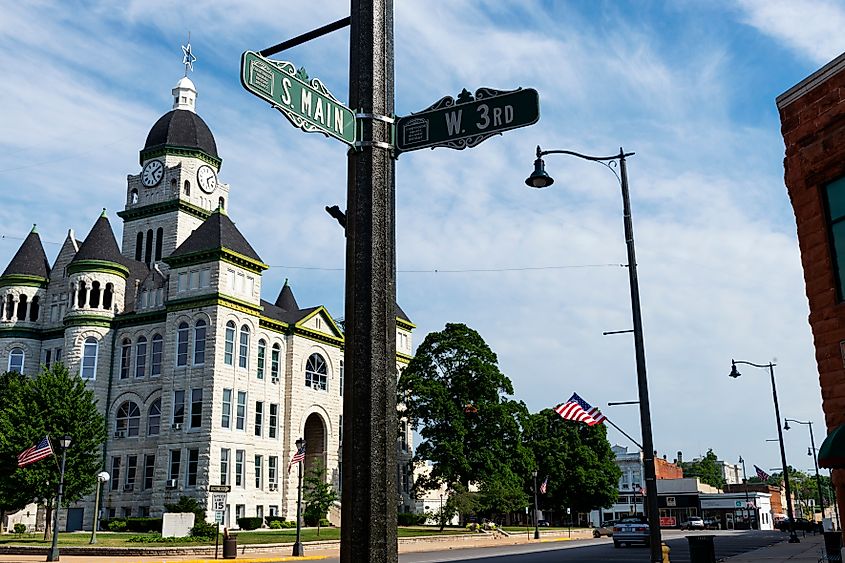 Carthage, Missouri is located in Jasper County and is widely acknowledged as the region's premiere place to view colorful fall foliage. Nicknamed 'America's Maple Leaf City', the town of 15,538 comes alive in October, as it welcomes visitors to take part in its famed Maple Leaf Festival and witness the breathtaking display of red, orange, and yellow autumn leaves adorning the town's plethora of deciduous trees.
Lexington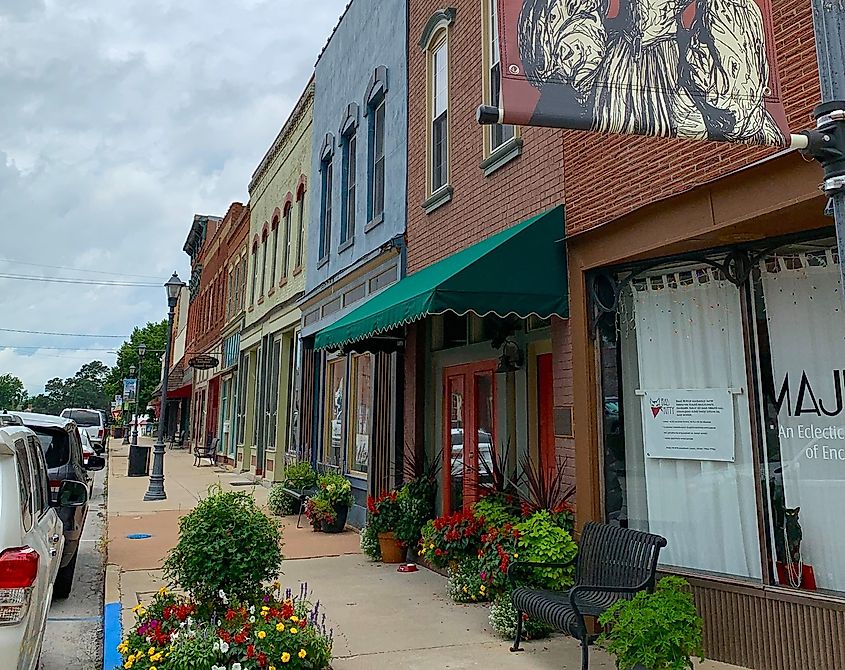 Another small Missouri town (population 4,564) whose identity was forged by its role in the Civil War, Lexington, Missouri was the location of an important battle late in the summer of in 1861 known as the Siege of Lexington, or alternately, the Battle of the Hemp Bales. Commemorating this three-day clash is the Battle of Lexington Civil War State Historic Site. The centerpiece of this site is Anderson House, which is an estate that served as a battlefield hospital for Union soldiers until it was captured, relinquished, and finally recaptured for the duration of the war by Missouri State Guards fighting on the Confederate side.
Also of note in the town is the Lexington Historical Museum, the Riverfront Park Marina, and the historic Lafayette County Courthouse, which was built in 1849 and signifies Lexington's status as a the county seat of Lafayette County.
Washington
With a population of 14,916, Washington, Missouri is the largest township in Franklin County. It is also the self-described "corn cob pipe capital of the world", having adopted this moniker in large part due to the presence of Missouri Meerschaum, a large manufacturer of corn cob pipes meant for smoking tobacco. Replete with folksy amenities and home to a thriving tourism industry, Washington is known for its farmer's markets, festivals, theaters, and historic homesteads. The town is also home to two museums of considerable notoriety, the Washington Historical Society Museum and the Firehouse Museum.
Arrow Rock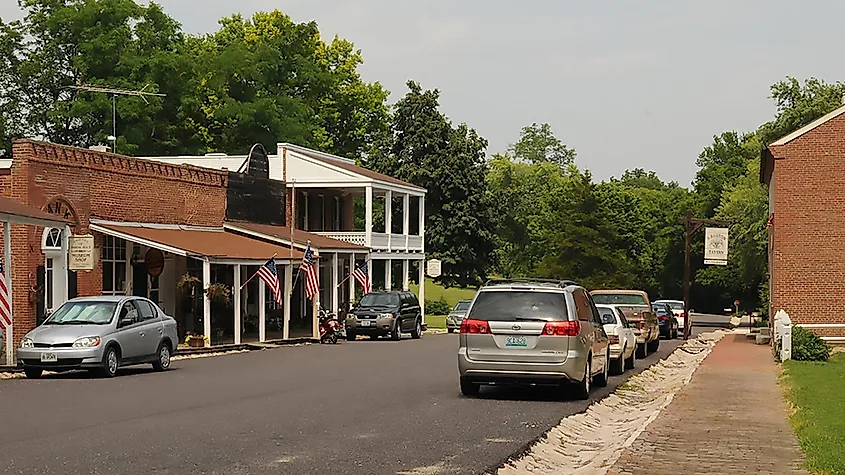 A tiny hamlet consisting of only 62 permanent residents, Arrow Rock, Missouri is located in Saline County and mostly known for the pivotal role it played as a hub of the Santa Fe Trail during westward expansion. Arrow Rock is home to several sites of historical significance, such as the Arrow Rock Lycern Theater--which is the oldest theater in Missouri--and the J. Huston Tavern--which opened in 1834 and is still in business today, making it the oldest continuously operating restaurant west of the Mississippi River. In fact, the entirety of Arrow Rock has been designated as a National historic Landmark.
Centerville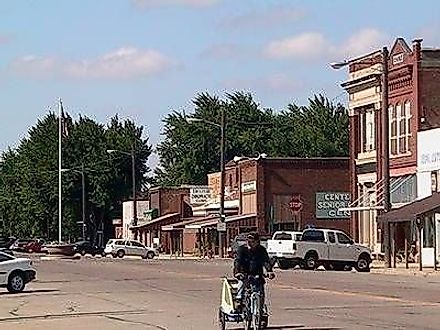 Despite its status as a settlement based around a working mine that still produces significant amounts of zinc, copper, silver, and lead to this day, Centerville is one of Missouri's most beautiful communities.
Located on the west fork of the Black River, Centerville captures the charm of a bygone era; one that embraces the old-time pleasures of visiting the Reed Spring Mill, the old Reynolds County Courthouse, or the Black River Ice Cream Parlor and Café. With only 167 permanent inhabitants, Centerville is an ideal destination for anyone deliberately seeking out a taste of the simple life.
Branson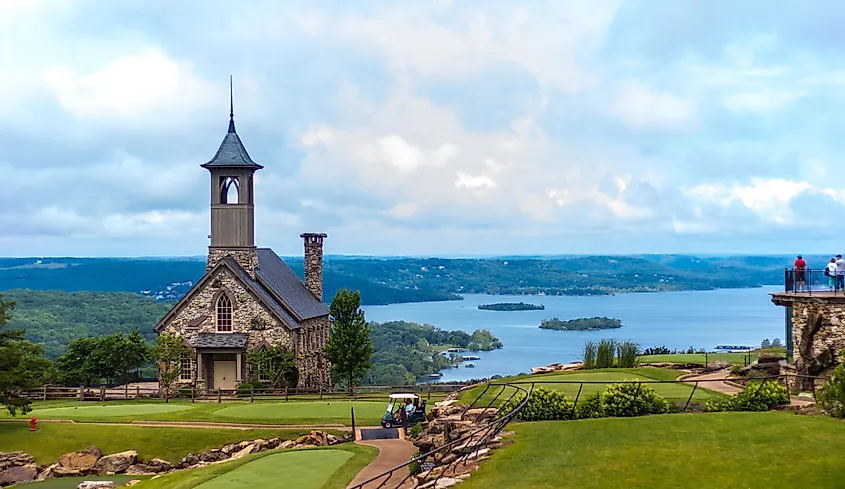 Likely the most famous of any town on mentioned in this article, Branson, Missouri (population 12,638) has long been regarded as the entertainment capital of the Midwestern United States. Branson boasts many family-friendly attractions, including museums, rock climbing parks, and outdoor zip lines, as well White Water Waterpark, and Silver Dollar City, an 1800's-themed amusement park.
Paramount, though, is the town's live entertainment. Investments in local theatres and residency performances by the likes of Boxcar Willie, Andy Williams, Glen Campbell, and Dolly Parton beginning in the mid-1980s put Branson on the cultural map and helped attract other lauded entertainers such as Tony Orlando, Yakov Smirnoff, and Ray Stevens to put down roots in the town.
The Appeal of Small-Town Missouri
Whether it's satisfying the curiosity of amateur historians or catering to families looking for a wholesome vacation away from life in the suburbs or the big cities, the appeal of small-town Missouri is easy to understand. From the celebrated stage shows in Branson to to the scenic foliage of Carthage to the Civil War memorials in Lexington, these 14 beautiful small towns in the Show Me State offer something memorable for anyone who cares to visit.