Millions of tourists visit the US State of Florida every year, and with an abundance of activities and its world-famous sun, it is not hard to see why. Indeed the cities of "The Sunshine State" boast stunning beach areas, lively nightlife, rich cultural attractions, and outstanding eateries for a holiday haven like no other. This article looks at 13 of the Best Cities to Visit in Florida.
Sarasota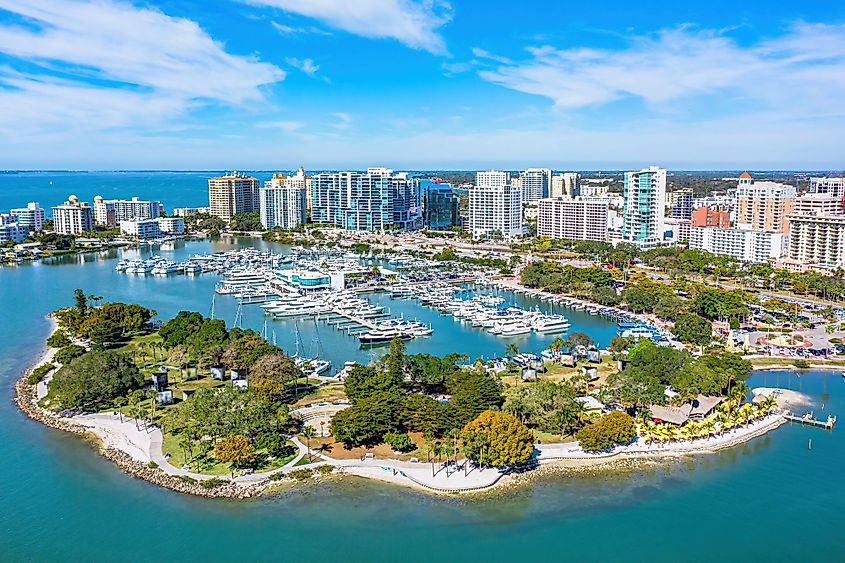 The City of Sarasota is located on Florida's southwest coast and is full of great arts and culture spots and events. From the Sarasota Film Festival to the Chalk Festival, this city of 54,000 inhabitants also has an abundance of galleries, museums, shopping centers, and fine dining options for the solo tourist or the whole family. Sarasota also has great beaches, including the always popular Siesta Key Beach, just outside city boundaries.
Tampa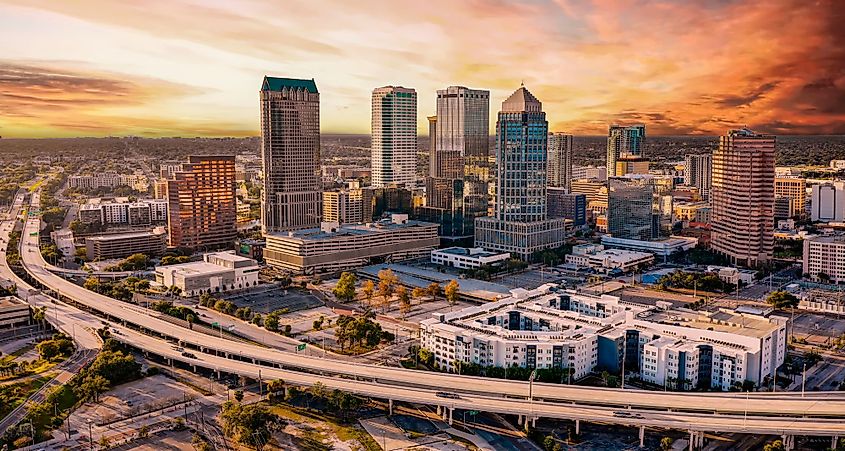 The state's third most populated city, Tampa, is often overlooked, but its 384,000 inhabitants would certainly say their city should not be dismissed. A sprawling metropolis, Tampa is a scenic town with beautiful views of the Tampa Bay and Hillsborough River and stunning rows of trees and plant life. Full of great museums (the Tampa Museum of Art and the Tampa Bay History Center, to name a few), the Florida Aquarium, Zoo Tampa, and numerous park and beach areas, tourists in Tampa will never encounter a dull moment. At day's end, why not head over to Ybor City historic neighborhood for exciting nightlife restaurants, bars, and trolley rides!
Orlando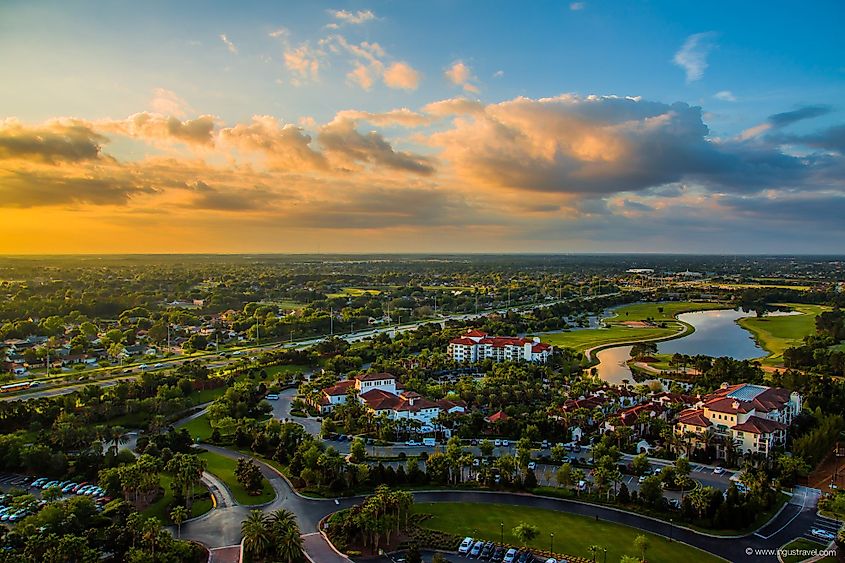 Home of the Universal Studios Resort as well as the Walt Disney World, Orlando is by far the most well-known tourist destination in all of Florida, with millions of tourists arriving every year. Yet outside these major attractions, Orlando has plenty of other great reasons to want to visit. A bustling arts scene, numerous galleries, museums, and of course, an assortment of restaurants for a variety of tastes can all be found in this city of 307,000 inhabitants. If one is looking for some quiet time after a day at a theme park, several lovely garden and park spaces are also great places to seek out in Orlando, where the hot sun, beautiful palm trees, and Florida sky can all be enjoyed.
Kissimmee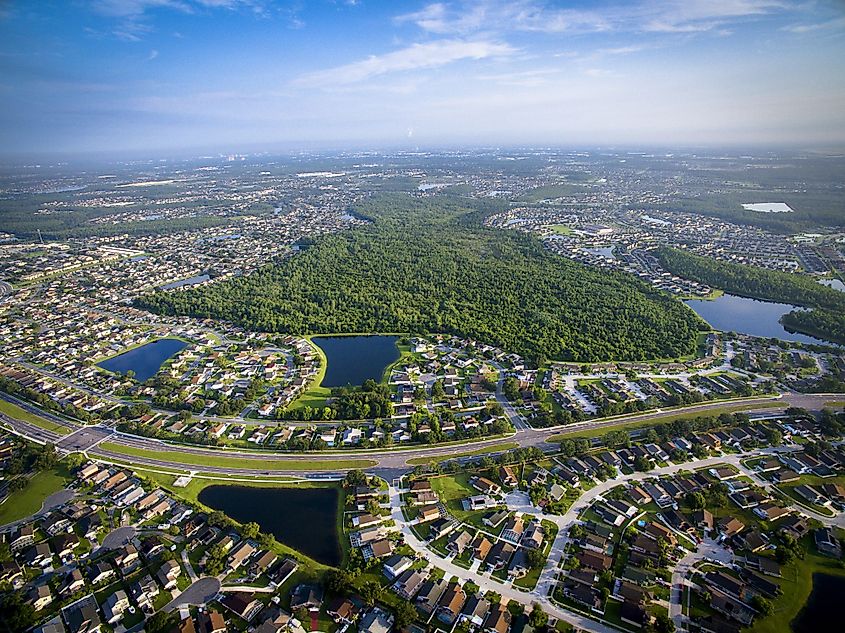 Just a 30-minute drive south of Orlando, Kissimmee is primarily a stopover for those on their way to Orlando and its theme parks. But even on its own, this city of just under 80,000 inhabitants has plenty of reasons for visitors to want to stay. Some lovely nature parks in the area, golf courses, and the Loop outdoor shopping and entertainment complex offer some reprieve from the very busy atmosphere of Orlando. For the outdoors enthusiast, a stop at Twin Oaks Conservation Area is a great place to enjoy hiking, biking, and stunning sunsets.
St. Petersburg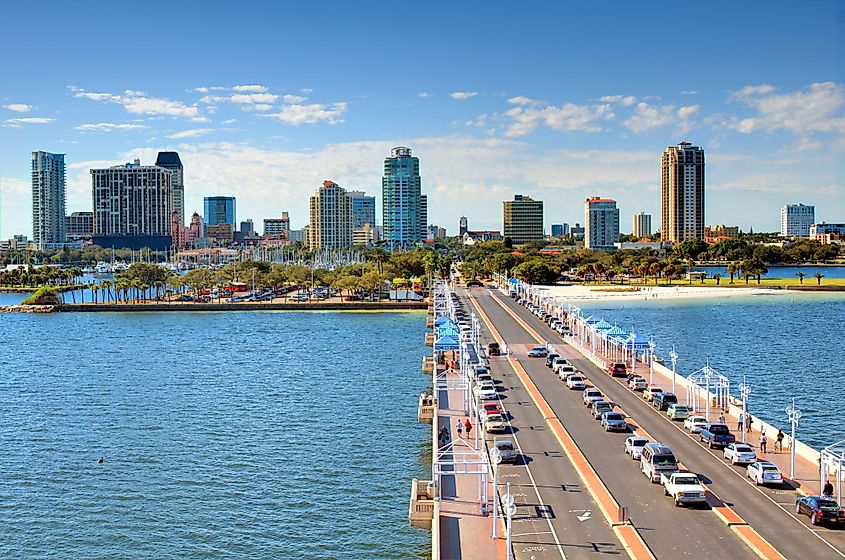 Named after the Russian city of the same name, St. Petersburg is located in Pinellas County at the edge of the Tampa Bay peninsula. Nicknamed "Florida's Sunshine City," St. Pete, as it is colloquially known, averages 360 days of sunshine every year. Visitors and locals enjoy its moderate temperatures in the high 20s and its proximity to the Gulf of Mexico. In town, tourists will find an assortment of charming boutiques, galleries, restaurants, and opportunities for sailing and swimming. For the real art connoisseurs, a stroll through the main historic center will charm with its street art murals, while a visit to the Salvador Dali Museum is sure to impress.
Pensacola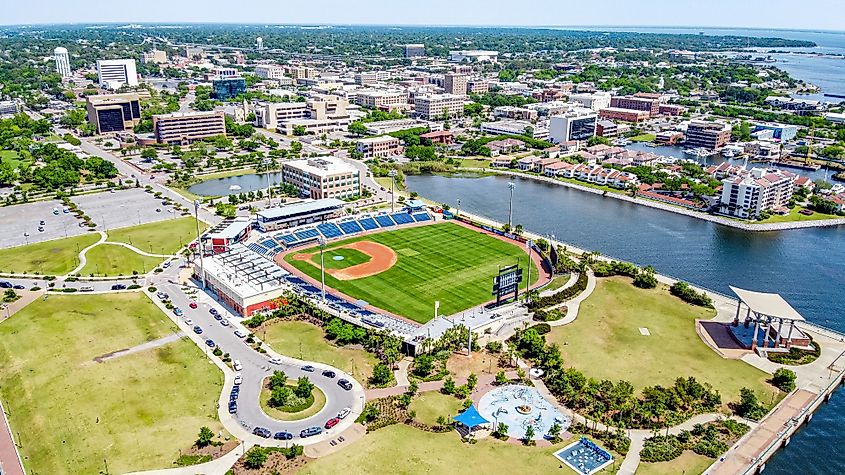 A popular spring break destination, Pensacola is the westernmost city in the Florida Panhandle. Close to the border with the US State of Alabama, this city, with a population of 54,000 inhabitants, has a unique Southern charm to it and was the first Spanish settlement in the area in the 16th century. Located right in Pensacola Bay, visitors can enjoy great beaches, hot summers, and an assortment of seafood restaurants specializing in a variety of cooking techniques. For art and history lovers, a trip to the Pensacola Museum of Art, the historic Saenger Theatre (built in 1925 in a Spanish baroque style), or the National Naval Aviation Museum will surely enrich any vacation.
Fort Lauderdale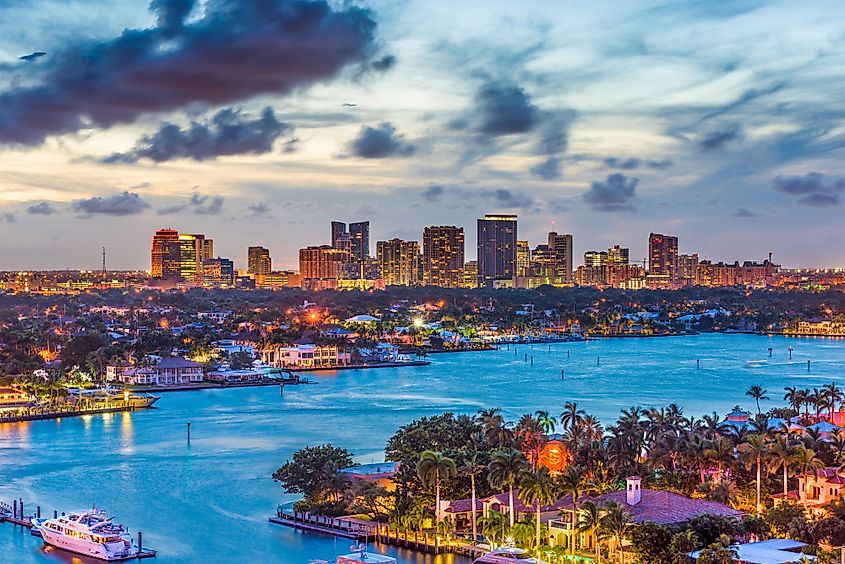 Situated on Florida's Atlantic coast and some 40 km north of Miami, Fort Lauderdale is the county seat of Broward County. With beautiful beaches and peaceful waterways, Fort Lauderdale has been called the "Venice of America" and has nearly 265 km of inland waterways that span the entire city! Home of the Port Everglades seaport (the third largest cruise port on the globe), an estimated 4 million tourists pass through every year. Visitors can enjoy plenty of sailing in town, too, with over 100 marinas, while a stroll on Las Olas Boulevard is filled to the brim with galleries, restaurants, bars, boutique shops, and even bridal stores.
Miami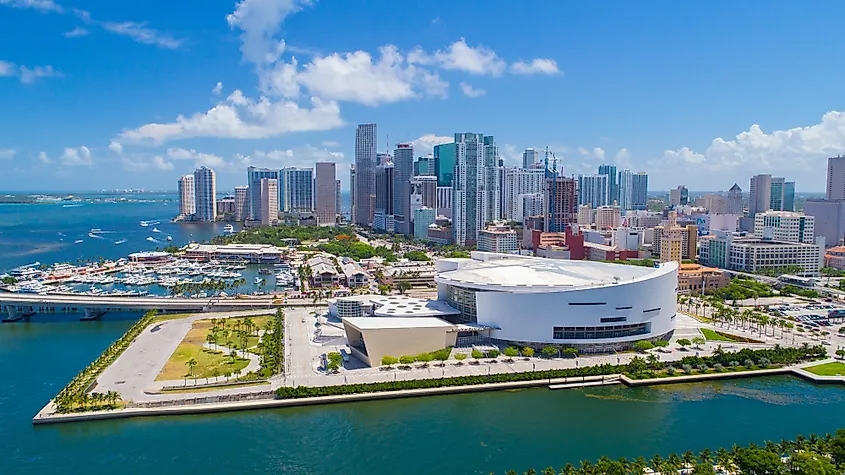 A significant center of culture, finance, arts, and international trade, Miami is a hot, attractive, and fun city that is a must-see for any Florida visitor. Home of the largest Hispanic population in the United States and the Port of Miami (the busiest cruise port in the world), Miami has a rich cultural scene, rivaled only by its splendid beaches and sunshine. With a landscape filled with palm trees, iconic historic buildings, modern high-rise skyscrapers, and many museums, fine restaurants, and shops, the city of Miami is a true hub for the past and present. Or, for an outdoors-oriented vacation only, visitors can just lounge on the beaches or stop over at Oleta River National Park. 
Tallahassee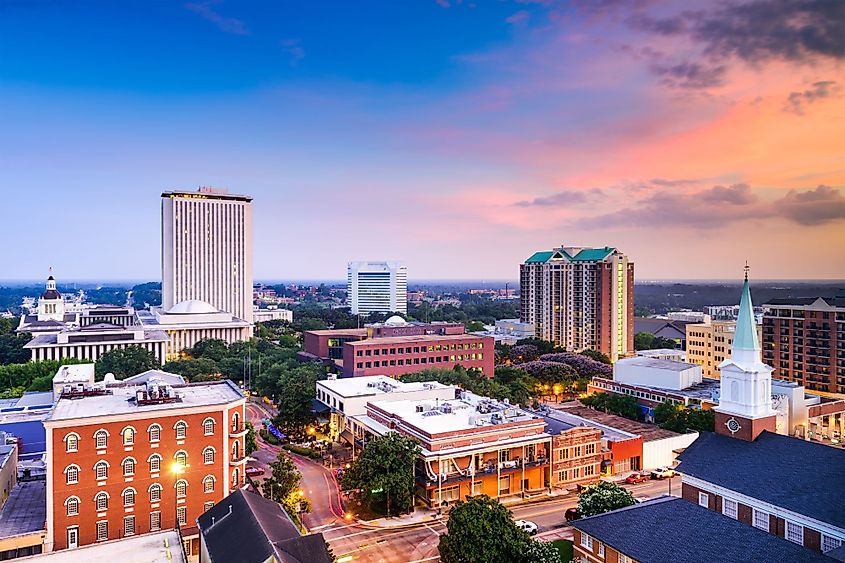 Although it is the State capital, Tallahassee is often overlooked in assessments of Florida's major cities. Considered a college and government town that houses Florida A&M University, Florida State University, and other important government buildings, Tallahassee may not have all the glitz of places like Miami or Orlando but is a charming city, nonetheless. Near the border with the US State of Georgia, there is a laid back and Deep South feeling to the city; with a diverse range of museums, galleries, restaurants, and year-round festivals, visitors who are not students or government employees will still have much to enjoy in Florida's beautiful capital city.
Jacksonville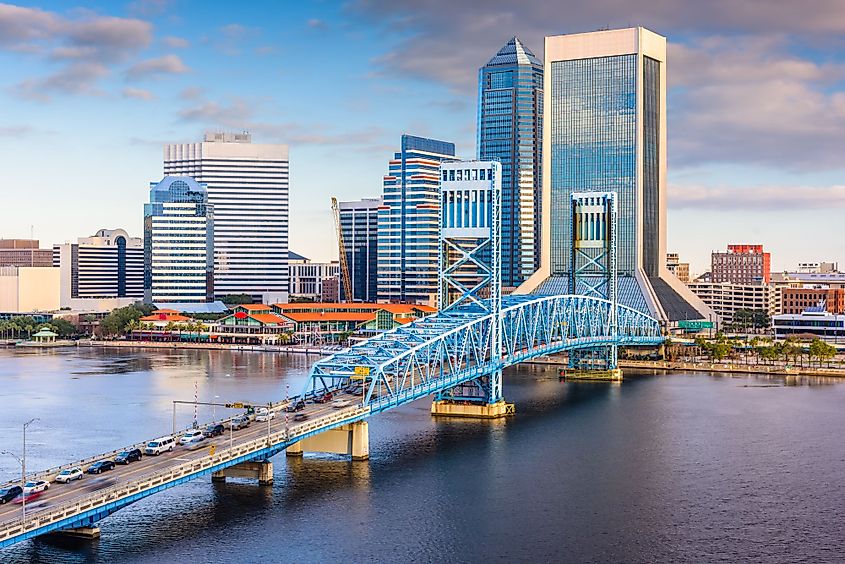 The country's largest city by area, Jacksonville, and its population of just under one million inhabitants has a vast sprawl that crosses three rivers, including the 500km long St. Johns River. Named for the seventh President Andrew Jackson, Jacksonville has hot summer weather and beautiful natural points of interest; visit the Timucuan Natural Preserve and its 46,000 acres of wetlands and waterways or the quaint and charming boardwalks of Hanna Park, among many others. In the historic downtown, tourists can enjoy a walk through neighborhoods like Five Points and San Marco or take in any of the great shops, restaurants, and splendid galleries and theatres.
Naples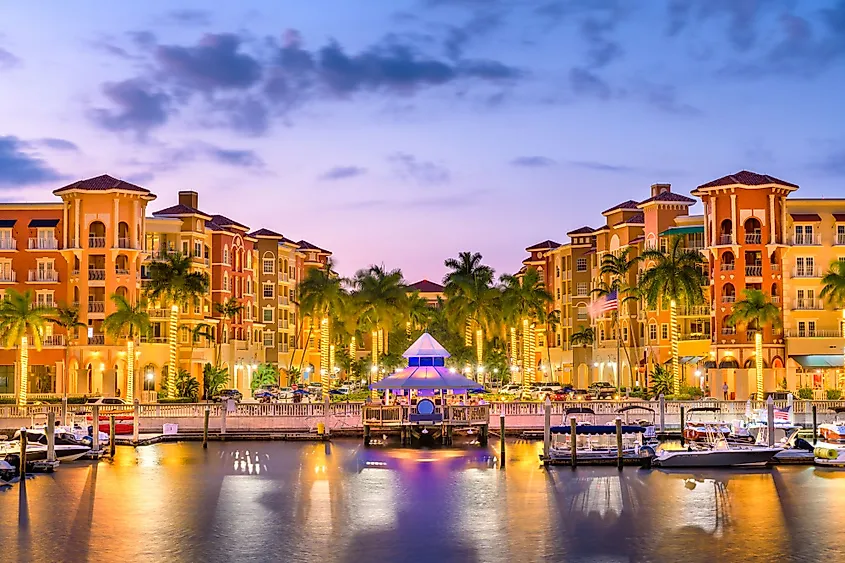 Named after the southern Italian city, Naples styles itself as the "Golf Capital of the World." Indeed, in addition to its world-class golf courses, this coastal Florida metropolis is celebrated for its laid-back atmosphere, hot sun, and luxurious neighborhoods. A popular destination for retirees, Naples is full of fine dining options, luxury hotels, pristine white sand beaches, and loads of shops and annual festivals. Nature-inclined tourists will also not want to miss the Corkscrew Swamp Sanctuary or the Florida Panther National Wildlife Refuge for some very rare and unique views of the endangered Florida Panther.
St. Augustine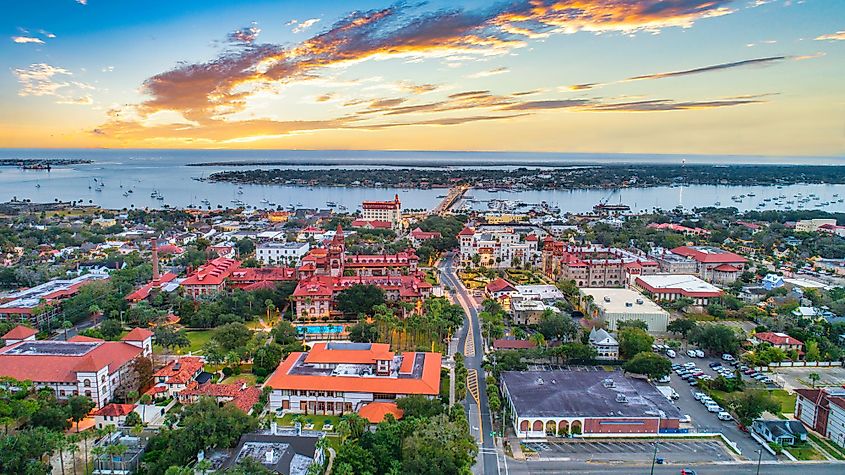 St. Augustine is North America's oldest inhabited European settlement. Linked to the Spanish colonial era, a visit to this town of 14,000 inhabitants is like entering a living museum. There is never a shortage of firsthand experiences with history here, with the scope of visiting several historical places. The Ripley's Believe it Or Not Museum is located on San Marco Avenue, while the Pirate & Treasure Museum houses a huge collection of authentic pirate artifacts.
Boca Raton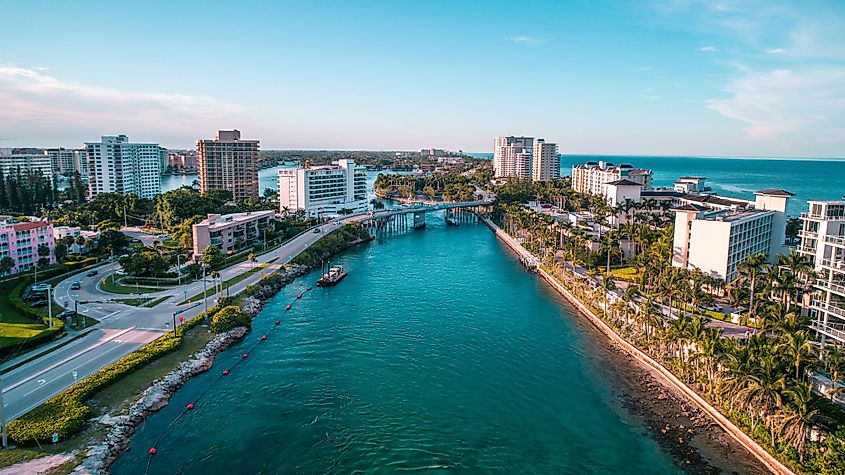 Located just 80 km north of Miami, Boca Raton occupies an area known as the Palm Beaches, a 75 km stretch of coastline on the Atlantic Ocean. Initially a Spanish colonial settlement, Boca Raton was designed to be a premier resort town in the 20th century and today is well-known for its stunning beaches and beautiful park areas. Visitors continue to marvel at the unique architectural structures in town, including the Old Town Hall and the always popular Mizner Park. The tourists can enjoy a good collection of high-end restaurants, shops, and unique luxury apartments along a boulevard lined with palm trees. Meanwhile, a stopover at the Gumbo Limbo Environmental Complex will give a person of any age a truly special encounter with Florida nature in all its splendidness.
Florida's nickname of "The Sunshine State" is not just for its famous hot weather and bright sun but for being a light of great culture, art, and cuisine. A visit to this southern State is indeed a must for anyone traveling to the United States, and its cities are the rightful jewel of this greatly diverse playground. From beaches to museums and fine dining to sailing, Florida's cities have everything a vacationer could hope for.