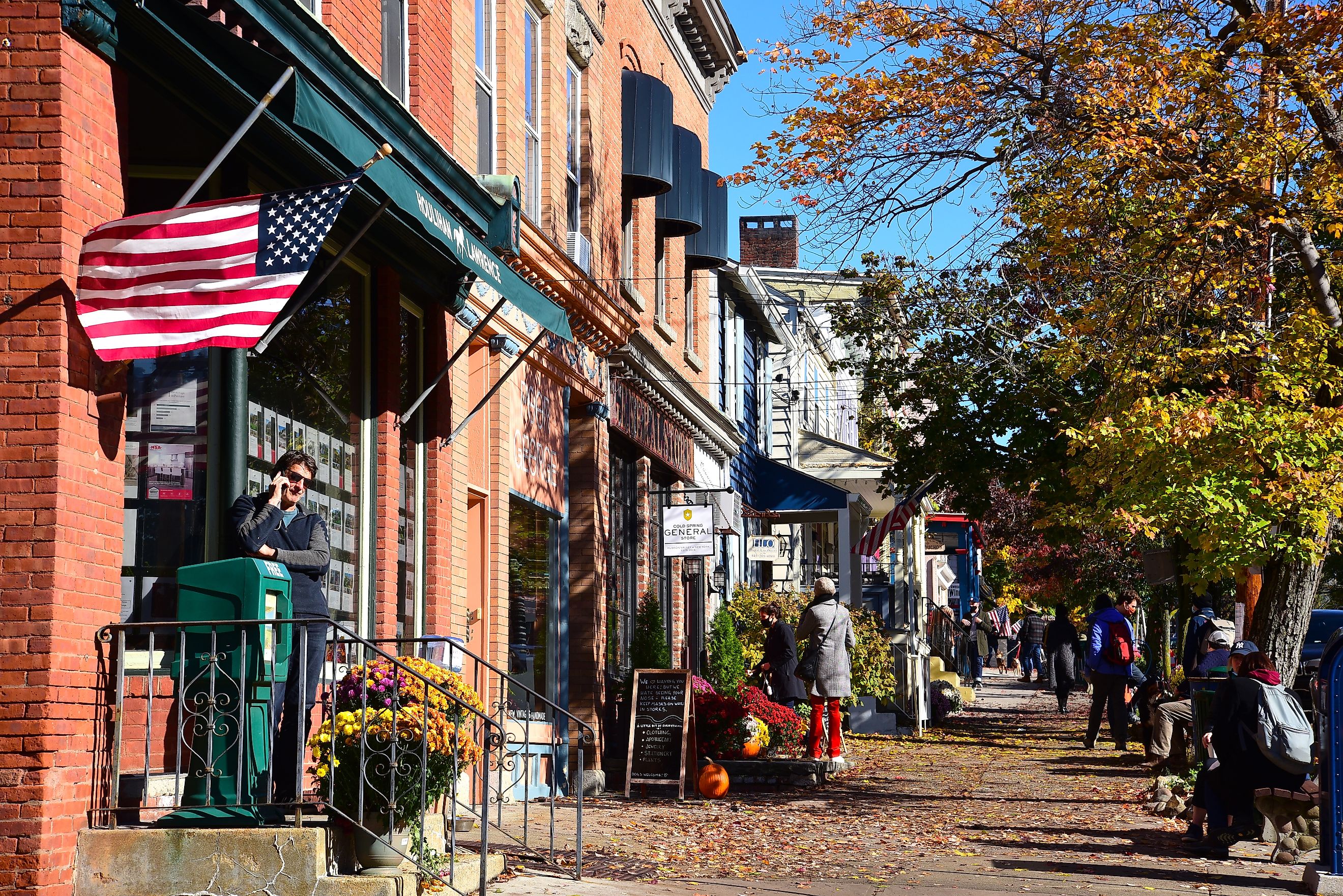 12 Small Towns In New York were ranked among US favorites
New York really is what dreams are made of, but it is not just the Big Apple's lights that will inspire you. Seek endless good vibes in the small towns of the spectacular Empire State, with scenery ranging from rich history to vibrant culture and gorgeous nature. From mountain ranges to lake configurations, you will find your natural outlet with activities and relaxation for every level and group.
Venture outside of the Big Apple to see the whole Empire of the beautiful, rural landscape, winding roads, rolling hills, state parks, and waterfalls. From towns in the Adirondacks to the Upstate, the Finger Lakes Region, and the Hudson Valley around the Hudson River, just choose what you want to conquer.
Beacon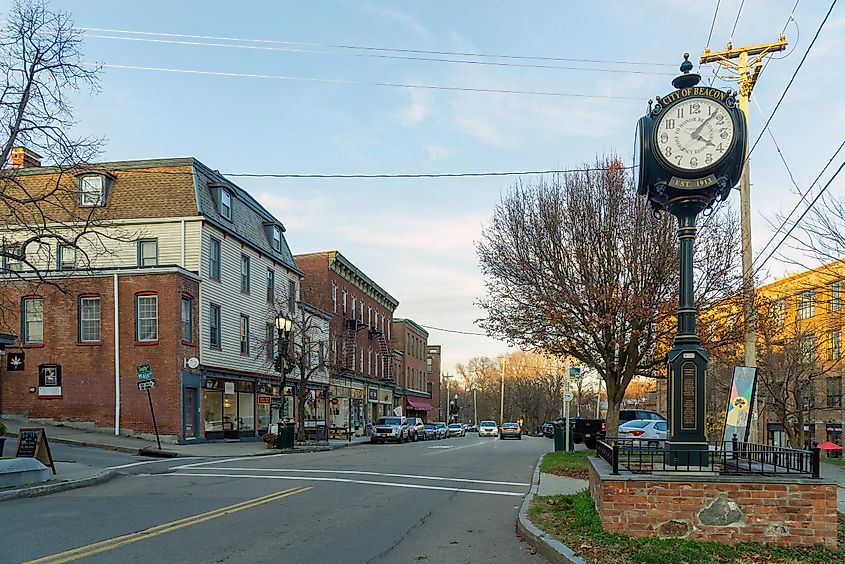 Beacon, an art-filled, fun-loving town just an hour-and-a-half drive from NYC, will leave you with unforgettable emotions after a day trip, a weekend getaway, and enough excitement to enjoy a whole vacation. The small charmer's big attraction is its enormous, 300,000-square-foot contemporary and modern art-filled museum in an old Nabisco box printing factory on the shore of the Hudson River. Dia Beacon features art and installations from modernists like Louise Bourgeois and Michael Heizer, while RM, BTS' art-loving leader, filmed a concert for his debut solo album, Indigo, here.
Explore the Beacon's gorgeously preserved Victorian homes and venture down the quaint Main Street with unique shops, quality restaurants, and more art galleries. Check out The Pandorica, with a pronounced Dr. Who theme for the fans, and grab one of the cool craft cocktails at Wonderbar. The perfect town for family visits has something for everyone to go wild about, like local craft brewery 2 Way Brewing Company and the addictive Hudson Valley Marshmallow Co. with all kinds of sweets for the kids. Enjoy a couple's retreat at the romantic Hotel at Roundhouse Beacon, with rooms overlooking the waterfall.
Catskill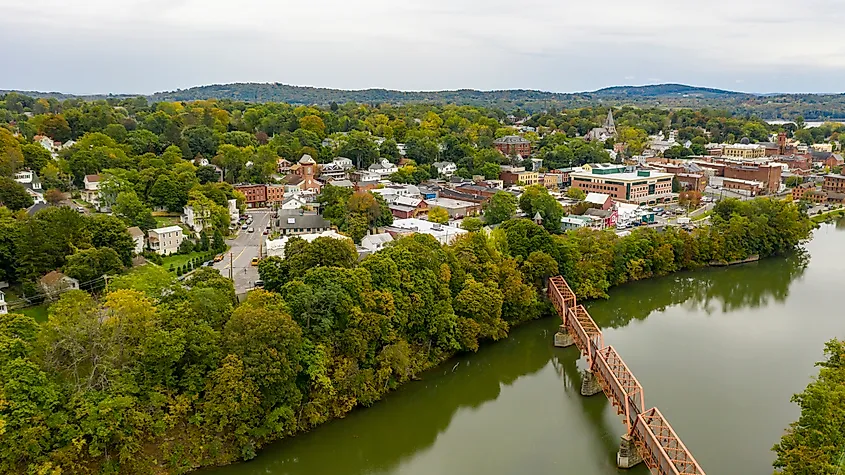 This wondrous little town in the famous Catskills region of New York is a favorite Upstate getaway for 19th-century history buffs and anyone seeking an escape to the Hudson River shores. With something for everyone, Catskill is rich in nature, culture, and history, boasting deep roots in what is now Greene County's past. Its Hudson River Skywalk is an attraction in itself, offering a dizzying experience to traverse the mile-long pedestrian bridge across the Hudson with peaks at the stunning river down and around. Take a food tour through many curious finds, like the Norman Bates sandwich at HiLo or the Tour of Poland platter at New York Restaurant.
Catskill's accolades include being the set for Washington Irving's "Rip Van Winkle" and the home of Thomas Cole, a renowned English-born artist. Enjoy a cup of coffee from a cozy cafe with the same unparalleled vistas that inspired his many works, and seek your own through nature's wonders just 15 miles from the center of town at Kaaterskill Falls, one of New York's tallest cascades. Find regular events in town and artistic attractions like the Thomas Cole National Historic Site in his former home. Check out the fun boutiques like Mahalo Gift Shop with cheeky souvenirs on Main Street before a family dinner of Buffalo Chicken Pizza and Sunset Pale Ale at Rip Van Winkle Brewing Company.
Cold Spring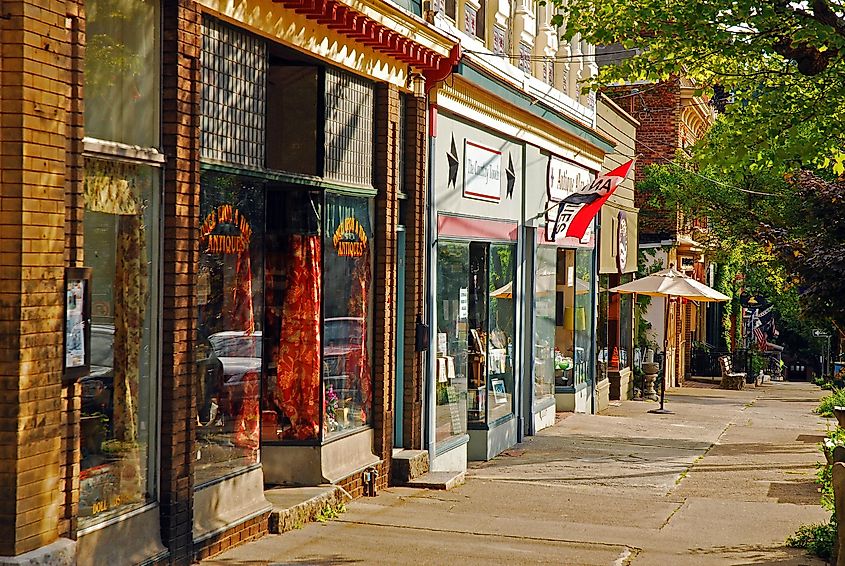 Cold Spring, a destination town for history buffs with vintage architecture, is a wonderful getaway for groups in search of epic sights and natural scenery. Check out the beautiful Bannerman Castle, veiled in old royal charm, and take a relaxing nature stroll through the serene West Point Foundry Preserve. Enjoy a simple hour-long drive, just 50 miles north of Manhattan, into the easygoing atmosphere with plentiful hiking in the surrounding Hudson Highlands.
You can explore the strange old ruins of a crumbling mansion on a hill or hike to Breakneck Ridge with a post-trek swim to cool off in the Hudson River. Quaint from one side, Cold Spring has a lot of cuteness going for it, like delicious cafes, antiquing, and romantic hand-in-hand walks along the Hudson River. Come to the banks for an afternoon stroll on a family picnic with historical buildings in view.
Cooperstown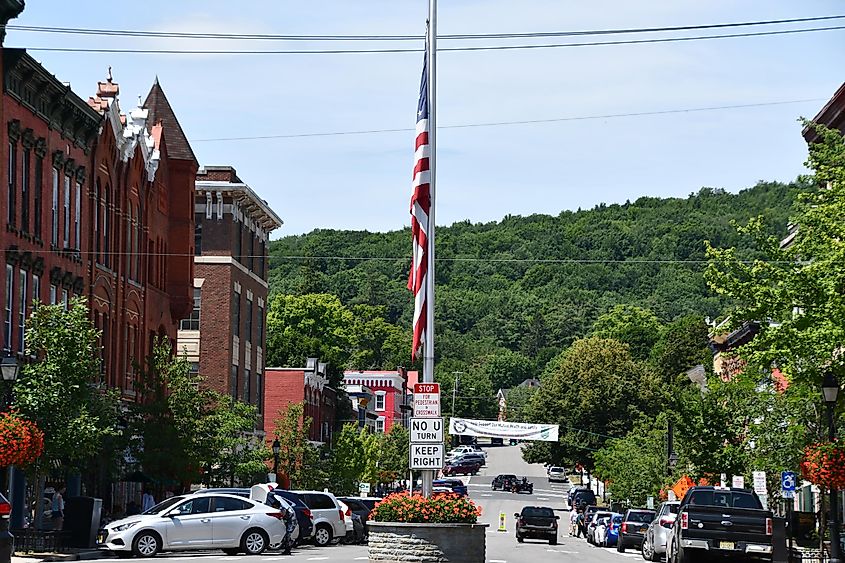 The small town with a big claim to fame in baseball is not just for sports fans but also for families seeking a laid-back atmosphere and friends in search of fun times. Visit the National Baseball Hall of Fame, even if you have tepid feelings about the nation's favorite pastime, in time for the annual Induction Weekend at the Hall, which takes over town like no other with an exciting atmosphere for everyone. Cooperstown is stunning for nature lovers to explore around Otsego Lake with relevant summer pursuits to cool off along the banks or take a beautiful boat tour at sunset.
The nearby Glimmerglass Park, one of the state's best for hiking, offers lovely trails for strolls, bike rides, and even horseback riding. With museums like the Fenimore Art Museum for the artsy and the Farmers' Museum, there's also the Glimmerglass Opera for the musically inclined, antiquing, golf, and architecture galore, including some cool accommodations. Choose the old-school charmer of the Otesaga Resort Hotel to stay by the lake in the Nationally Registered Historical Place, or choose The Inn at Cooperstown with a distinctly Victorian vibe.
Greenport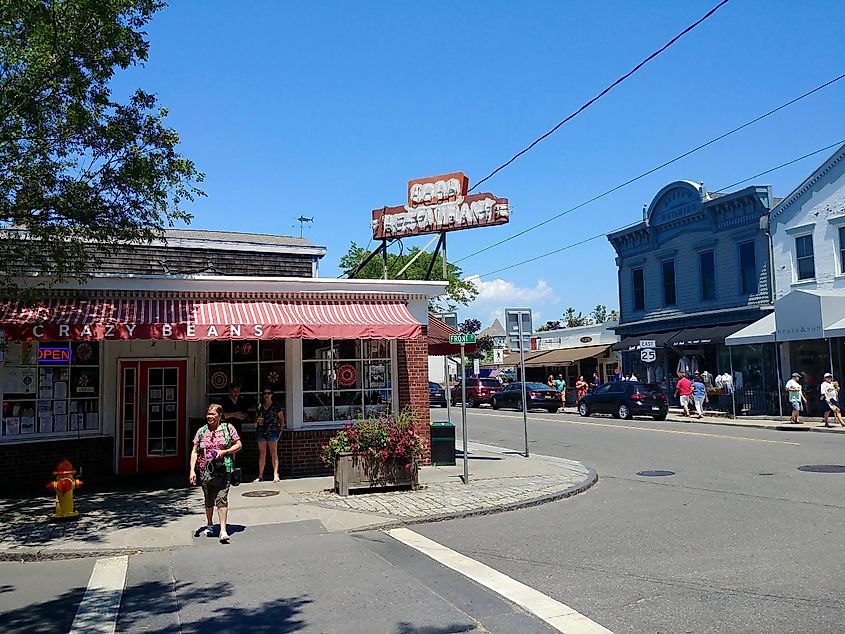 Greenport, a long-time fishing village on the Peconic River on the northern fork of Long Island, is an easy-going town with delectable seafood, especially oysters. Enjoy a day trip or a seaside weekend escape right next to the Big Apple into a whole other atmosphere with quick access by train from Manhattan. Gorge on sea delicacies with pretty views in between museum visits, and wash it down with your favorite glass from wineries or breweries. One of the most beautiful villages in the state, with serenity that feels alien to the city, is abuzz during the summer months.
Immerse yourself in its old-timey feel through lively diners, ice cream shops, and quaint boutiques, including waterfront shopping and dining. It is a real harborside fairytale come to life, where the beaches beckon you as much as the glorious vineyards or the famed lavender field, Lavender by the Bay. Take a ride on the antique carousel and let the harborfront architecture pull you away to yet another harborfront stroll in a daze. Choose from a wonderful collection of boarding houses overlooking Long Island Sound with amenities like a pool and private beach, and catch every sunset because the Sound View Greenport sunset can't be beat.
Lake George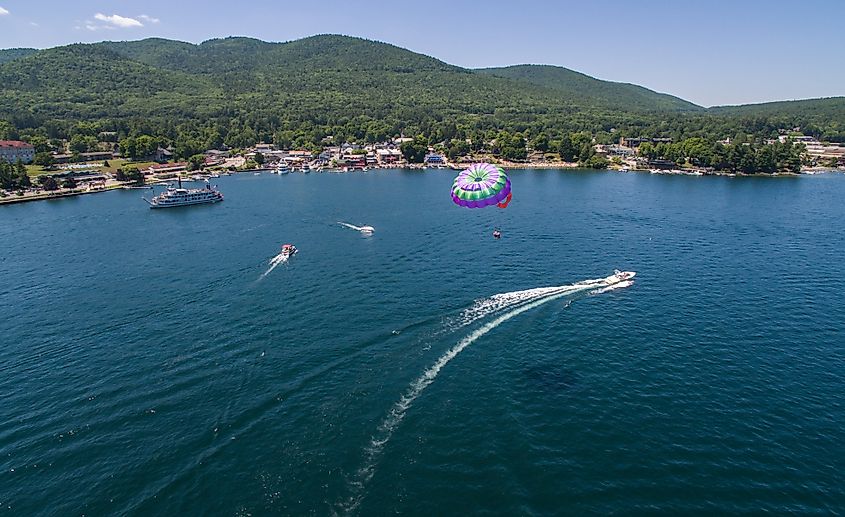 You must have heard of Lake George, the "place to be" for over a century when seeking a perfect lakeside vacation in upstate New York. From tubing, boating, kayaking, wakeboarding, parasailing, waterskiing, and diving, no water activity is off the table here. It really is a sweet paradise worth craving for New York's largest amusement park, Splashwater Kingdom, and the two old-timey attractions of Fort Ticonderoga and William Henry Fort, with a museum nearby.
With an abundance of accommodations and recreation options, Lake George excites beachgoers and history fans alike with its sandy shores and historic town's heart. Take a hike to the summit of Prospect Mountain for panoramic views that offer the whole gorgeous area as if in the palm of your hand. Looking to relax in the outdoors? The "Queen of American Lakes" offers plenty of leisurely pursuits like fishing, beach crawls, and lounging at the lakeside, as well as golfing and horseback riding.
Lake Placid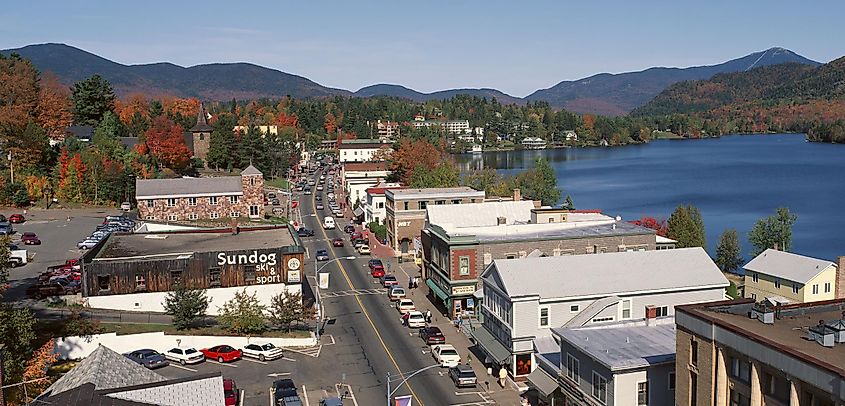 The village of Lake Placid stays humble despite its worldwide claim to fame as the two-time host of the Winter Olympics. Visit the Olympic Ski Jump Complex for old-school charm, some pretty epic vestiges from days gone by, and year-round training of bold athletes. As the real hub for everything outdoors, you can enjoy world-class skiing, spectacular fall foliage, summertime hikes, and fresh-faced nature in the spring. Be a firsthand witness to it all and see why Lake Placid was just voted the world's twelfth most beautiful small town!
Come for the winter wonderland feel in town and down the slopes at Whiteface Mountain, the state's fifth-highest peak. Follow the locals to Lake Placid, its main natural attraction in the summer, or choose the peaceful vibe around the beautiful waterfront called Mirror Lake, one of New York's best, to call your scenic spot in the serenity for an afternoon. From Mount Jo to the Brewster Peninsula Nature Trails and other hillsides along the range, you will be at the mercy of the state's best nature.
New Paltz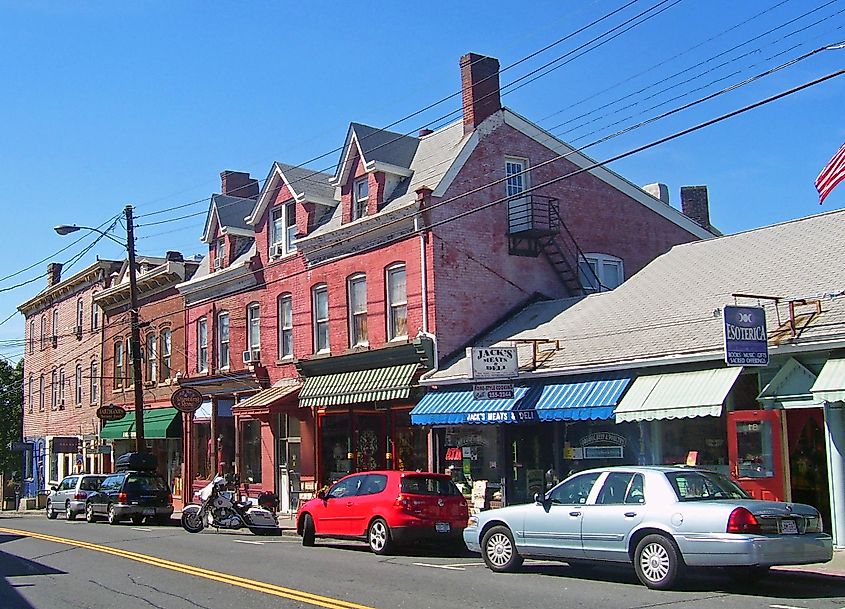 New Paltz is a New Yorker's favorite to escape in nature with modern comforts and has some fun on top of that. Disconnect your mind from the real world on one of the Catskills' prettiest getaways, with a whole range of stays for any budget and style. New outdoor adventures will knock at your door, like kayaking, biking, and the most popular rock climbing in the Shawangunk Mountains for experts and beginners alike. Recharge at Main Course or Lola's Cafe for a deliciously satisfying dinner and breakfast for the next day's ventures.
The Smiley Family-found Mohonk Mountain House in 1869 is a beautiful, Victorian-style resort like a castle overlooking the waters. Hop on a kayak from the gateway or hit the trails running on a hike before an afternoon high tea. Enjoy its spa later or hop to the lively nightlife bar scene on the town—to each their own. The Robibero Winery or Kettleborough Cider House offers a low-key experience, while Historic Huguenot Street is a must-stroll for everyone along this "New Netherland" through preserved history, including the 17th century.
Rhinebeck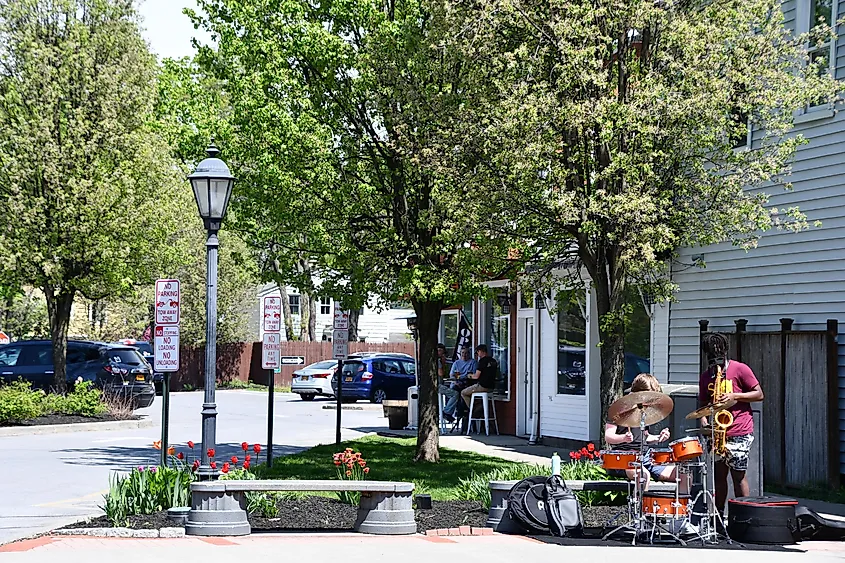 Rhinebeck is a favorite small town for a cool getaway into the old-timey feel, with many interesting museums and sights to discover amid the beautiful architecture. Visit the epic Old Rhinebeck Aerodrome, Wilderstein Historic Center, and Delameter House, while modernists will love the artsy spirit through galleries, independent film showings, and performing venues. Best of all, with Rhinebeck at the heart of an indie-shopping scene like no other, you get it all and more at the gorgeous Dutchess County views of the Catskill Mountains.
Grab a sweet for your morning java from Paul Rudd-owned Samuel's Sweet Shop and take a stroll along some real vintages, like the oldest operating inn in the US, the Beekman Arms. The little, quaint town with a dash of luxury is host to the annual Sheep and Wool Festival, where artists from all around the world gather to mingle, gawk, and stock up. Check out one of the prettiest hotels you have seen in your life, the Parisian-inspired Mirbeau Inn & Spa, and get back to browsing the tree-lined high street's chockfull of specialty shops before dinner at Terrapin or Cinnamon Indian Cuisine.
Saranac Lake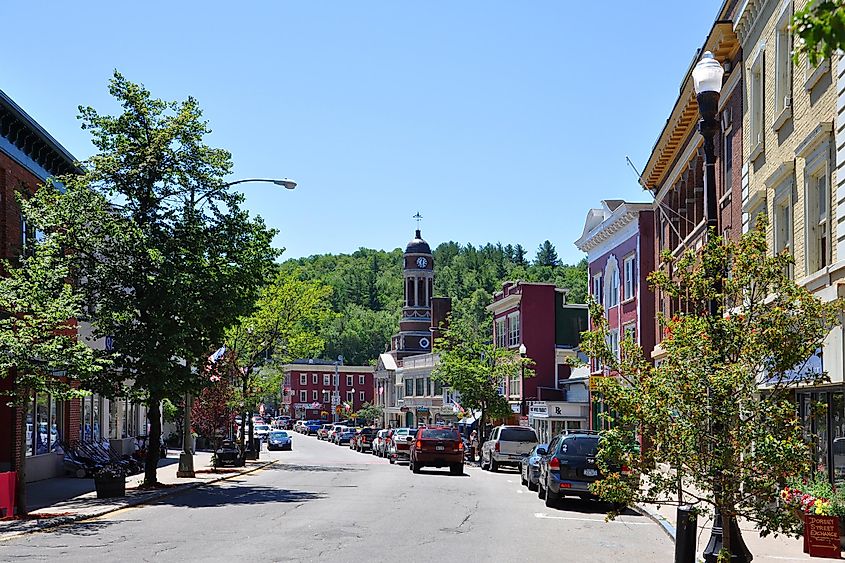 Saranac Lake is a cozy, beloved mountain town and was officially the 11th-best small town in all of America in the 1990s. Its reputation for "cute cottage" architecture around the lake is a must-see and photograph on a stroll around with the spectacular Adirondack Mountains as a backdrop. Immerse in the alpine magic views over the best skiing and tubing of your life at Mount Pisgah in winter and a year-round fantastic local shopping scene with "only here" hot items and gifts from a wide range of local brands and antique stores.
This gorgeous lakeside vacation town, under an unmistakable air of old charm, is like escaping to the "Dirty Dancing" set. The same charm today is leveled up with exciting outdoor adventures and year-round engagements, like regular events and the 1.1-mile Moose Pond Trail, which is smooth enough for the little ones. Check out live music concerts in the fresh air and enjoy more of the alpine fusion on your daily treks around the hilly banks of Saranac Lake during the summer.
Saratoga Springs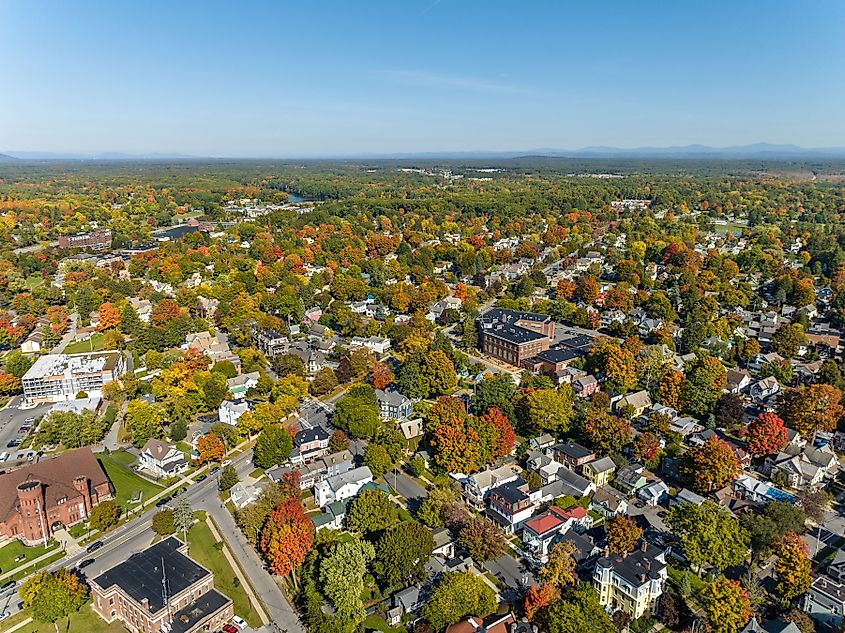 The small town with a year-round lively vibe is a famous getaway destination for its hot springs and just-as-hot resort, the Saratoga Casino Hotel. Check out its live music performances and an array of restaurants if you are not staying the night. Under an hour from the capital city of Albany, many visit Saratoga Springs for its deep roots tied to horseback riding and racing. Come in mid-July to early September to see the world-class Saratoga Racing Course with a vibrant atmosphere for spectating or even betting on a race.
Aside from horse racing and resorts, Saratoga Springs is a spectacular town for an ideal weekend getaway, like shopping through a bounty of boutiques in a laidback small-town atmosphere with architecture galore. Just take a stroll along the tree-lined streets amid the Victorians to see why so many New Yorkers make it a priority to soak in the relaxing vibes of the spectacular town. Ditto at the Lincoln Mineral Baths—the natural springs for your benefit.
Skaneateles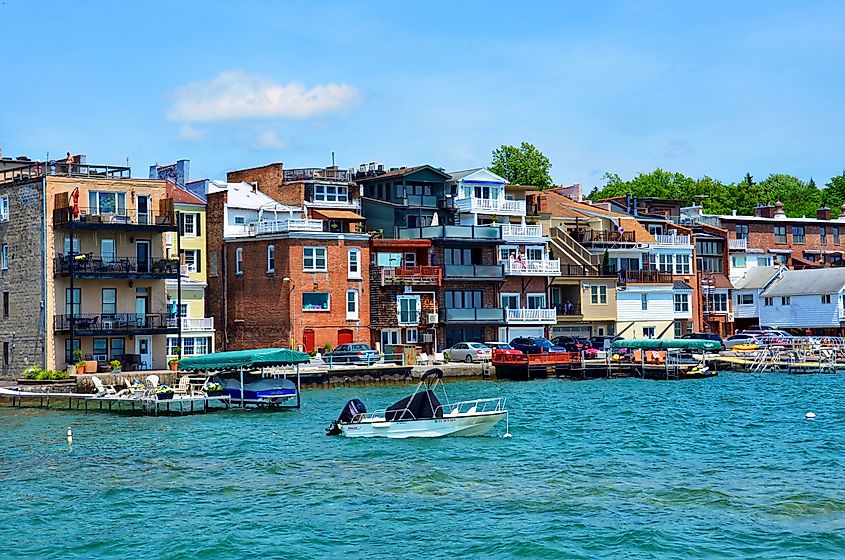 Skaneateles, the small hillside town overlooking the namesake lake in the Finger Lakes region, is blessed with natural beauty like no other. From wildlife trails to waterfalls and vineyards, you will fall in love with Mother Nature's hands through all of your favorite outdoor pursuits and relaxation. Founded by Revolutionary War Veterans with land grants for their service, the small town is a wedding destination and gateway to simply relaxing on a stroll in the laidback, walkable downtown, with tons of hotspots and due accolades.
The Finger Lakes region delivers "small-town charm" like no other in the state, and Slaneatletes, in Onondaga County, tops the list. Sightsee the stylish Mirbeau Inn & Spa Skaneateles in all its French countryside estate glory with landscaped ponds a la Monet's Giverny paintings. Skaneateles' quaint downtown area sprawls along the picturesque lake's banks, with everything within a hand's reach, like the beaches, great restaurants, and shopping. Find plentiful lodging options with all of the Finger Lakes' natural beauty right outside your window.
Choose your own idyllic town from this list of twelve for an immersive getaway with fun engagements and scenic relaxation for everyone. The inviting nature around you envelops you as much as the old charm along the main streets, with museums, sites, and shopping galore, including a real antiquing scene.
Find the best dining, including waterfront dining for post-hike, or choose a cooling dip with a picnic lakeside or by the river. Nothing is off the table here, from explorative hikes, vineyard trails, horseback riding, and more, to loads of watersports.