The English countryside is replete with beautiful small towns you can easily reach upon landing in London. From Ambleside to Whitby, each one shines with a unique ambiance along a picturesque landscape that envelops through sights and pursuits. Set untouched by the pompous city's glitz, these traditional townscapes boast idyllic scenery along rivers, hillsides, lakes, and mountains. A mere stroll down the scenically winding streets under an un-replicable ye Olde vibe will leave a lifetime of impressions, not to mention castles overlooking the coastline, for one memorable vacation. Spoil yourself and feel refreshed with natural beauty, culture, and un-replicable charm. These 13 most picturesque small towns in the UK will energize, inspire, and recharge while providing lifelong memories.
Ambleside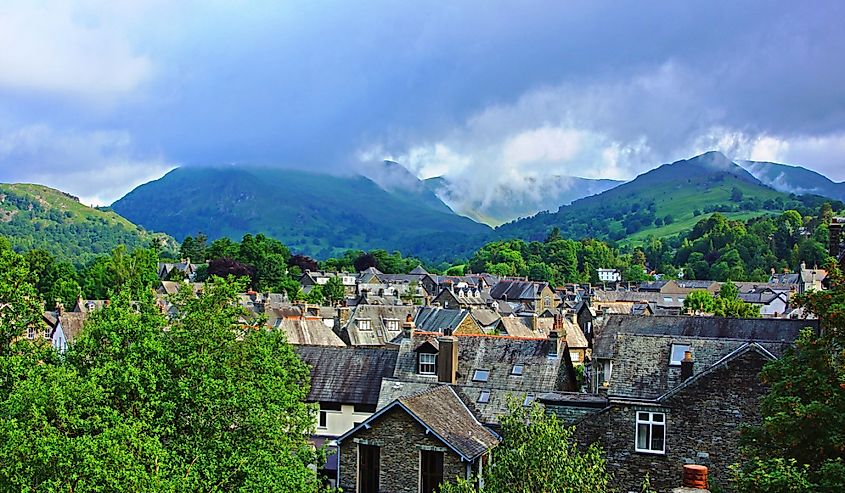 The ambient town of Ambleside, spread along the vast Lake Windermere's shore, is a popular sight-seeking and recreation destination in England. The country's largest lake boasts vast waters and stunning views of the surrounding area, with Ambleside at the heart of the action. Take a boat trip from town across Windermere to Bowness-on-Windermere and Lakeside for the best panoramic vistas. Explore the Lake District through many scenic activities and snag a cozy place for the night to continue exploring the next day.
Take a morning stroll and grab breakfast amidst the wealth of delightful cafes and restaurants, before heading to the iconic Bridge House, enveloped by the striking Lake District landscape. The beautiful lake and town sit surrounded by dramatic mountains and lush forests with trails to cascading waterfalls. Ambleside's wealth of natural sights inspired countless writers and Romantic poets for their best work. Stay at the Old Stones Cottage, a stone's throw away from local amenities and the water's edge.
Berwick-upon-Tweed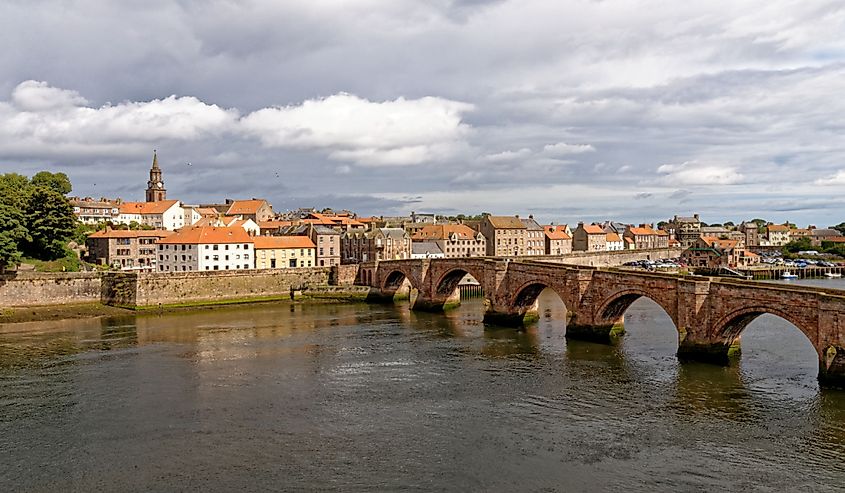 The most fought-over place in European history proves its beauty and worth by pulling in tourists on a day trip and extending their vacation with so much to see and do. The beautiful town changed hands thirteen times in just three centuries between England and Scotland from 1174 to 1482, before ending up under English rule. Mingle with locals on the streets or chat one-up at a bar to hear that unique local dialect, similar to Scots'. The Berwick Rangers Football Club calls Berwick-upon-Tweed home, but curiously they play in the Scottish League, confusing fans of the sport everywhere.
The medieval town boasts a lively, aesthetic including many murals that attract sight-seekers, artists, and photographers. Feel the ancient energy around the Elizabethan ramparts and 13th-century castle ruins, and stroll over the 17th-century Old Bridge for a great lookout over town. Stop by the town hall, and sightsee Britain's earliest army barracks, before calling it a night at England's northernmost hotel.
Bibury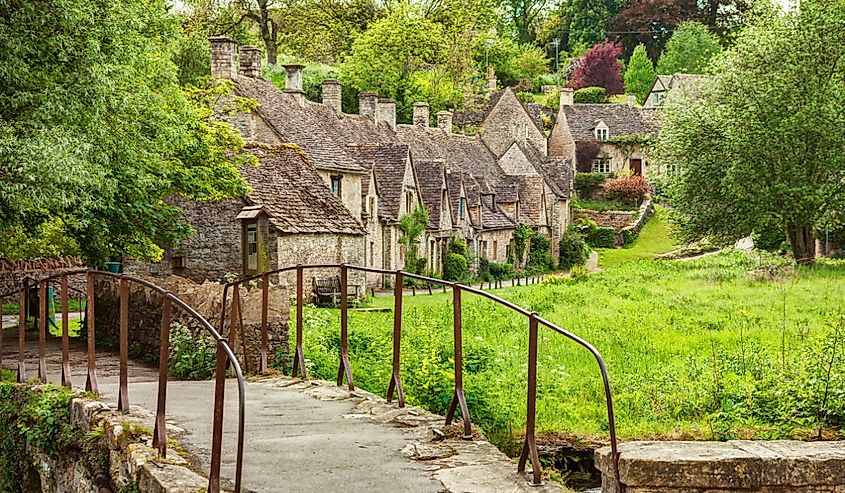 Bibury, the "Capital of the Cotswolds" is only about 10 miles northeast of Cirencester. The town sees a constant string of admirers for its 14th-century cottages along the River Coln. Just as impeccable today, Arlington Row is one of the country's most recognizable and professionally-photographed streets, decorating a page of the UK passport. The beautiful town with un-replicable beauty is quite busy during spring and summer, so visit early in the season to capture that warranted shot.
There are tons of varied activities for all tastes, like Bibury Trout Farm, the catch-your-own fishery, church visits, and the ancient Arlington Mill. Sight-see the Saxon Church, the Church of St. Mary with a stained window on the north Chancel wall designed by Karl Parsons in 1927 that graced the Royal Mail's 1992 Christmas stamp set. Stroll along the thru-running River Coln in-between main village street and the boggy water meadow, the Rack Isle. Choose a water-side spot back-dropped by Arlington Row for a scenic picnic.
Castle Combe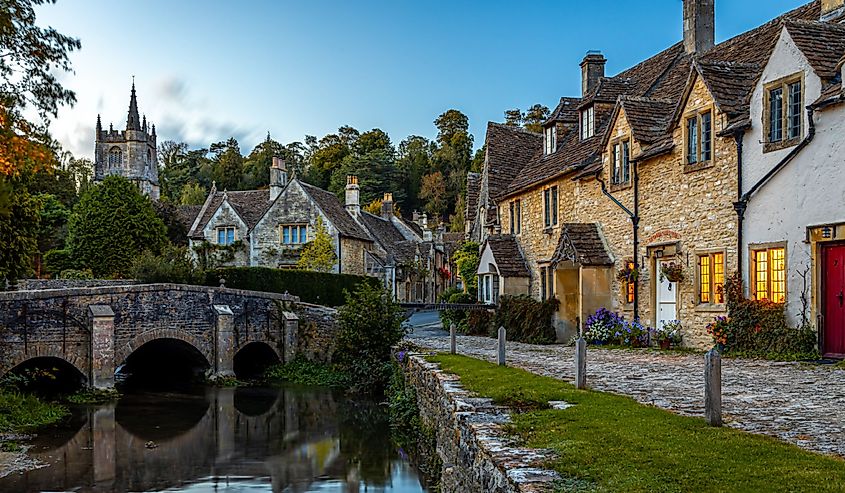 Castle Combe of the Cotswolds is Wiltshire's chocolate-box village, home to a row of stone and honey-hued cottages. Wander the high street with roofs peeking over each other, along the overflowing windowsills with flower boxes and kettle decorations above tea rooms. The endlessly photogenic town boasts center-stage on postcards and the country's travel magazines.
Catch the handsome landscape when re-watching old series or a favorite movie, like Downton Abbey, Hollywood's "Stardust," and Steven Spielberg's "War Horse." While you are there, grab some fresh produce from an honesty box along many of the porches, and head down a spiraling footpath to the surrounding countryside for a spectacular picnic under the sun.
Knaresborough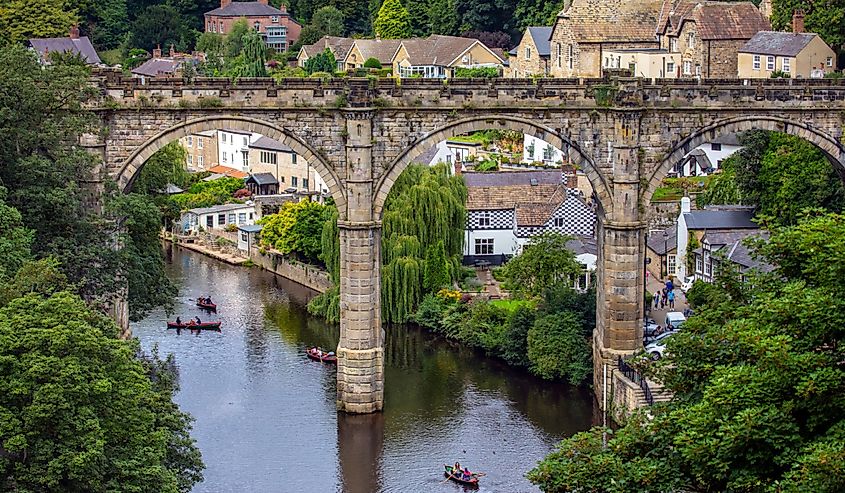 With history veiled in mystery, this tongue-twister market town welcomes you warmly with ancient, cobbled, and secret alleyways to decipher its past for yourself. Feel empowered near Knaresborough's once-royal Tudor prophetess and magnificent viaduct, while overlooking the breathtaking countryside spliced by River Nidd. The proud town with prominent character is a pleasant place with a pretty landscape to explore, and a scenic base for getaways around like Harrogate.
Knaresborough's north orientation in England lends to distinct sights in architecture, nature, and even lifestyle from this part of the country. The gorgeous town sees most action on Wednesdays, when local and visiting vendors from around the region pour the streets with their tastiest and prettiest offerings. Make sure to mingle amidst the lively scenery for culture while picking up some freshly-cut flowers and trying local delicacies.
Robin Hood's Bay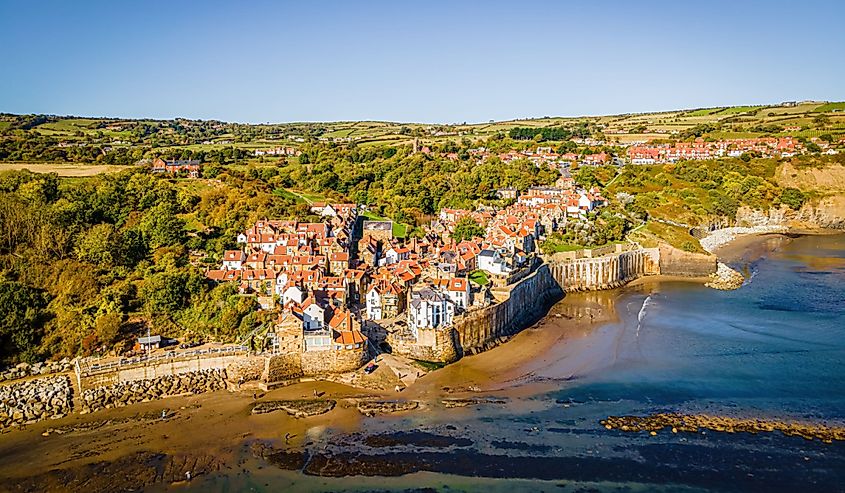 Nestled in a cozy enclave along Yorkshire's scenic coast, Robin Hood's Bay is a charming old smugglers' settlement. The town's narrow passageways wind up the hillside with coastal scenery and beautiful beaches. Explore the joyful jumble of houses and pubs, and discover Hood's quirky past of how the local townsfolk would smuggle contraband.
Among Yorkshire's prettiest villages, the town boasts cobbled wander-worthy streets with new sights around each turn. Oversee the coastline over the conglomeration of roofs and immerse in the culture at the Old Post Office with authentic grub and more details about this fascinating town. Chat up with the locals over a beer to learn about the village's intriguing past, like hidden tunnels running underneath the area and around.
Rye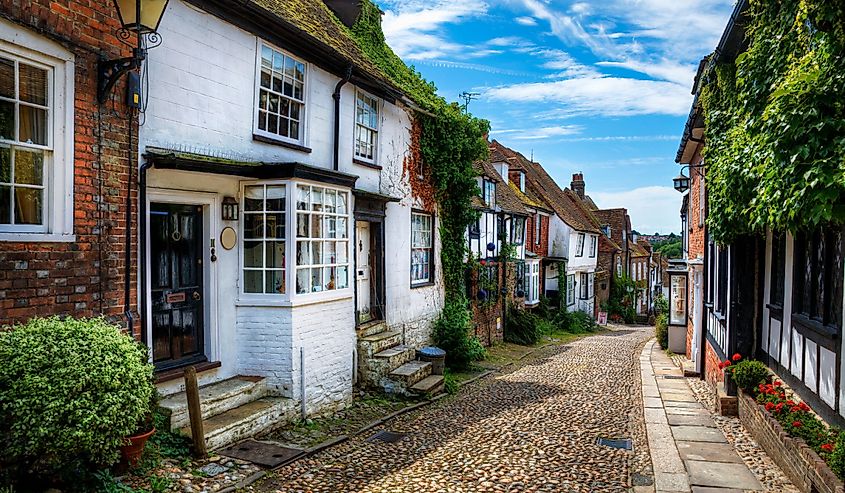 The charming village is home to a galore of pursuits, interest points, and unique sights, about a 90-minute drive east of Brighton's tourist trap attractions. Visit Henry James's house and garden, a castle guarded against the marauding French, and Camber Sands beach nearby for a great outdoor escape. The ancient Rye of Sussex is perched at the confluence of three rivers, two miles from the sea, with deep maritime roots in Roman times. Rye is both peaceful and picturesque, with cobblestone streets aligned with charming, crooked buildings. It is a time machine to the medieval past, complete with ghost stories around a notorious smuggling den in the 18th century-turned a charming local pub serving the best Sunday roast.
A fortified hilltop town with twisting streets overlooks the scenic countryside and vast river views from countless vista points like St. Mary's church tower, overlooking the terra-cotta roofs below. Stroll down the magic Mermaid Street, lined by 15th-century timber-framed homes that enchant for a hypnotic scavenger hunt for unique names like "The House with Two Front Doors." Check-out countless secret passageways, and stop by Simon the Pieman for a scone to die for topped with cream and jam. Choose the famously-historic Mermaid Inn to kick up your feet for the night, among England's oldest inns established in 1156. Rebuilt in 1420, it is one of Rye's best hotels with a cozy restaurant and modern amenities, next to many vintage and eclectic shops with books, antiques, and more.
Stratford-upon-Avon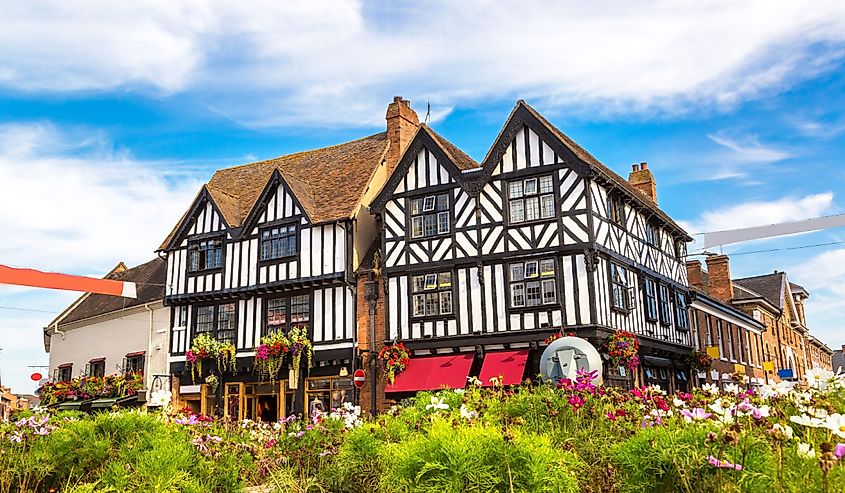 You cannot visit England without paying due respect to the greatest of all Williams in history, at least in the literary world. Stratford-upon-Avon along the banks of Avon River sits richly steeped in culture and knees-deep in history against the beautiful rural Warwickshire countryside. Shakespeare's home is written about in as many works as he composed himself. It is a sought-after locale for all romantics, lone souls, historians, and "I must see it" hunters around the world. Shakespeare's shire with his soul still palpable in the air is replete with places to immerse in the culture, or simply relax by the waters.
Stratford is one of the most important tourist destinations in the world, with excellent amenities, including conferences and small business venues, and easy road, rail, and airport access for a full-blown vacation. Come wander the scenic streets for a taste of Olde England by leafing through hundreds of pages of history, attractions, and one-of-a-kind sights. The romantic town includes parks and gardens, eateries for all styles and tastes, bars and pubs, theatres, and numerous Shakespeare houses. There are more delights around like the Blenheim Palace to the south, Worcester to the west, and Warwick Castle to the north, all within one hour.
St. Ives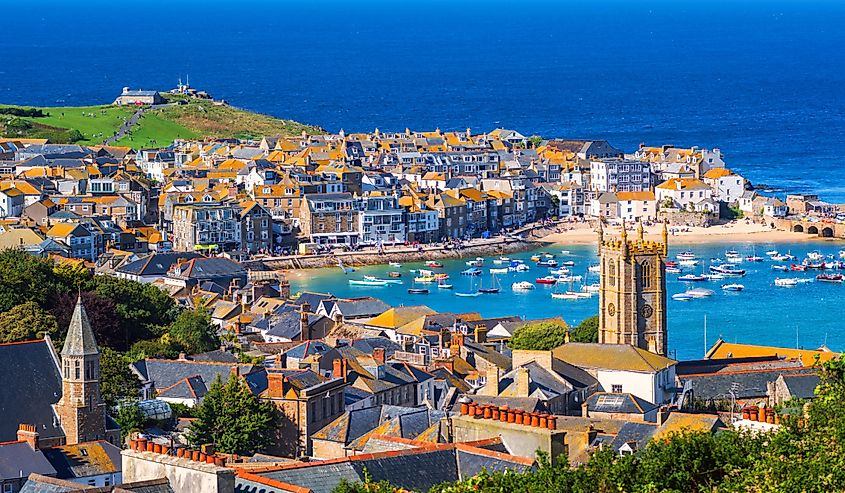 The traditional fishing village is a sought-after seaside respite tucked along the rugged Celtic Sea's coastline. St. Ives evolved as a gorgeous coastal town with soft-sanded beaches and a galore of attractions for every taste that regularly wins awards. Tourists stream in for surfing, excellent seafood dining, and serious arts culture. Seek outstanding galleries at the seafront Tate St. Ives from 1993, with rotating modern art exhibits on British artists, with sculpturess Barbara Hepworth's home studio tucked behind.
The Cornish jewel feels alien after city sights, with the headland encased by buttery sands and tropical-blue waves lapping the shores. Come for the sea but stay for the alleyways lined by fishermen's cottages amidst an excess of galleries to peruse for unusual ceramics, wooden sculptures, and seaside scenes. Stop by St. Ives Bakery on Fore Street with pasties like steak and stilton, before heading to the sandy sweep of Porthmeor Beach for a picnic amidst scenic rock pools.
Tintagel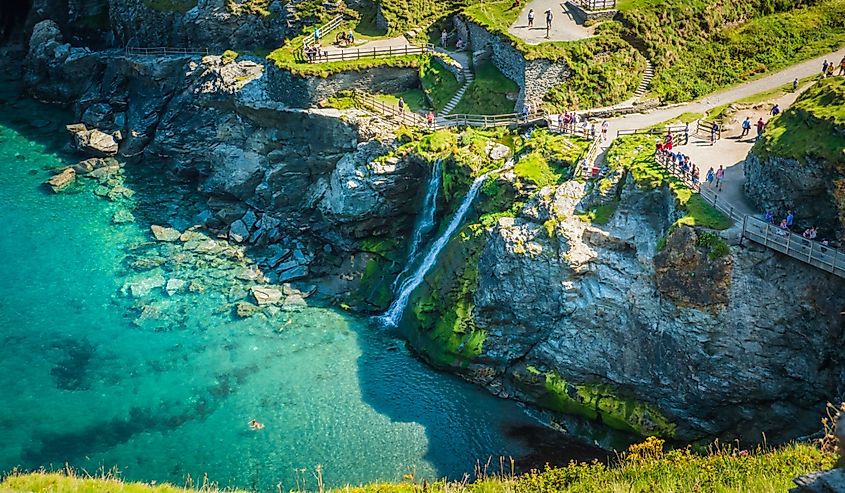 The Cornish "delight" dates back to King Arthur's days of glory, with his stronghold at the Tintagel Castle. Visit these scenic ruins near town and feel transported into the days when arrows were swishing by. While there, wander the craggy hill-tops overlooking the dramatic coastline of the Atlantic, cinematically typical of the Cornish cliffs. There is also a natural cavern at the base entwined with the legend as the alleged home to the great Wizard, named Merlin's Cave.
The landscape softens beneath, with tiny Tintagel set amidst the hilly landscape. The town is replete with local businesses like pubs, fish n chips shops, and more. Visit the famous fudge shop, Roly's Fudge Pantry, and stop by the exquisite Old Post Office from the 14th century. Grab a hot Cornish pasty from the Cornish Bakery or cream tea from King Arthur's Café, both perfect to warm up and re-energize on those days leading into the warmer season. 
Warwick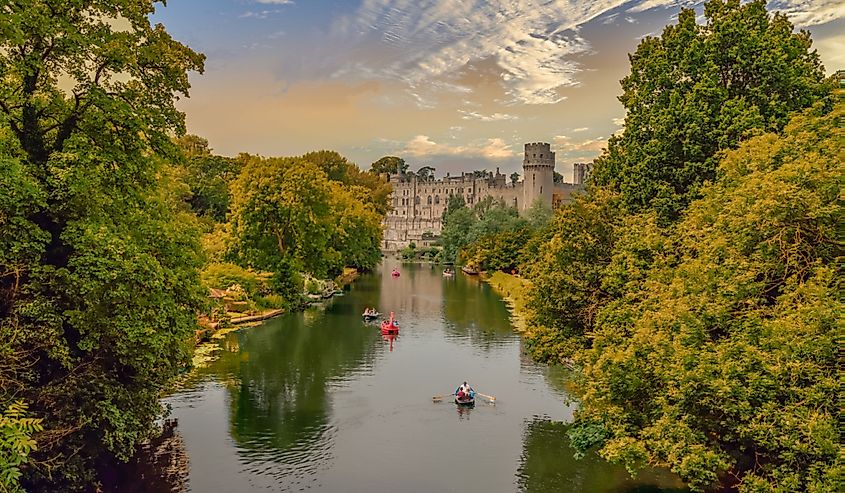 Warwick bursts at the seams with historic charm from countless interest points like the magnificent namesake castle, and numerous buildings still impeccable from over 1,000 years ago. Warwick Castle, one of the UK's best, dominates the market town demanding a close-up visit with lots of activities around the attraction. There is jousting, birds of prey and the trebuchet, walking trails amidst medieval buildings, or a day trip to the nearby Shakespeare's hometown, easily-reachable by car or train. Start the morning by St. Mary's Church in the Old Square to admire ancient artifacts, and spend the afternoon on a stroll or picnic along River Avon.
Keep with the natural theme and visit one of the beautiful parks and gardens near the town center like Priory Park, Hill Close Gardens, Mill Garden, or St. Mary's Lands. Families rejoice at the close-by amusement park, outdoor pool, and play area at St. Nicholas Park. There are countless places for a quick bite in-between sights or a sit-down dinner spread, from old-fashioned tea rooms to Lebanese, Thai, and Italian cuisines. Peruse the local markets to absorb Warwick's mellow lifestyle, and culture at regular vibrant events, festivals, and over-the-top parades.
Whitby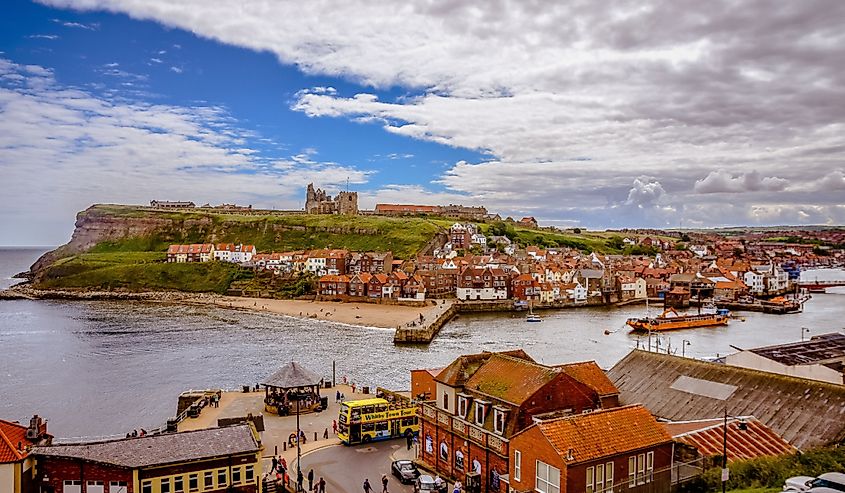 The Middle Ages port town and fishing village accentuate the wild heritage coastline of east Yorkshire. Experience the coastal history, and take a bit of Whitby home in the form of Jet jewelry mined in the nearby moors and treasured by Romans and Victorians. Visit in time for the bi-annual Whitby Goth Weekend or hike any day to the ruined Whitby Abbey with great views of the town and harbor. Caedmon, a monk during Abbey's heyday, was the world's first known Anglo-Saxon poet.
The Gothic Christian abbey in the 7th century was converted into a Benedictine monastery that famously inspired Bram Stoker's Dracula. There is also Captain Cook's historic house, now housing the Captain Cook Memorial Museum. No visit would be complete without the famous fish n chips in town that does it better than any other according to the locals. Head to the Magpie Cafe, to try this delicacy, but beware, there is bound to be a line.
Whether you choose Shakespeare's hometown, King Arthur's den, an ancient Rome spa town, or any enclave in between, you will immerse in history surrounded by a fairytale setting. These towns sit scenically embraced with nature, from rugged shores to beautiful beaches, rolling hills, and craggy clifftops. Feel encompassed in local culture along vibrant markets, sites, and attractions like pubs, gardens, and museums.