Environment
Longest Rivers In The United Kingdom (Great Britain)
Great Britain's Severn River flows for 220 miles between its source in the Welsh highlands and its mouth near Bristol, England.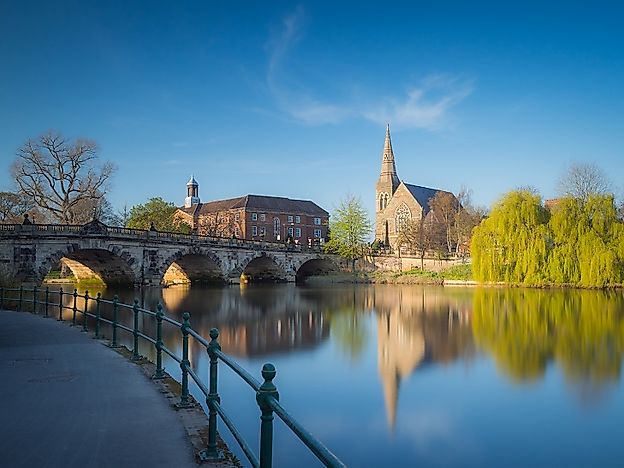 The United Kingdom has several major rivers passing through its cities, towns, and rural landscapes. Most of these rivers drain watersheds from these areas and join several estuaries which empty into the North Sea, Irish Sea, Bristol Channel, and the English Channel. Rivers play important roles in the UK including transportation of human and goods across cities and towns, major sources of water for households and industries, a source of hydroelectric power, and an important habitat for some of the UK's indigenous wildlife. The rivers are also famous for the sporting activities including canoeing, boat racing, and sailing. The longest rivers in Great Britain are looked at below.

Longest Rivers in the United Kingdom
Severn
The Severn River is the longest river in the United Kingdom, covering a distance of 220 miles. The river rises to an altitude of 2,000 feet on Plynlimon and flows through Shropshire, Powys, and Worcestershire. The river discharges at 107 cubic meters per second at Apperley into the Bristol Channel which finally discharges into the Celtic Sea. River Severn has a drainage basin area of 4,400 square miles while the major tributaries include Vyrnwy, Stour, and Teme. The river has several bridges and rails constructed along its path which are efficient means of transport. River Severn is an important feeding ground for wader and spot ladybird. River Severn has claimed up to 300 lives while the 2007 flooding destroyed properties worth thousands of dollars in the area of Tewkesbury.
Thames
The Thames River is England's second longest river, and the United Kingdom's second longest as well, after the Severn with a length of 215 miles. It flows through Southern England passing through several cities including London, Reading, Windsor, Oxford, and Henley-on-Thames. The Thames drains the entire of Greater London and flows into the North Sea via the Thames Estuary. It has its source at Themes Head and Seven Spring. The river contains around 80 islands including the large estuary marshlands and small islets covered with trees. Several wildlife species including birds, fish, and aquatic mammals inhabit the River Themes. Tourists flock the river for sightseeing tours and boat ride. The river also has many bridges including the Swinford Bridge, Folly Bridge, and London Bridge which facilitate crossing from one side to another.
Trent
The River Trent is the United Kingdom's third longest river with a total length of 185 miles. It has its source at Staffordshire and drains parts of the Midlands and eastern Birmingham. The river goes through Nottingham, Burton upon Trent, and Stock-on-Trent and joins River Ouse at Trent Falls forming Humber Estuary that finally empties its waters into the North Sea. It is known for periodic flooding, especially after storms and snow melt sometimes making the river change its course. River Trent provides habitat for some birds' species including wading birds and wildfowl. The river is used for recreation with several activities offered on the water and the river banks including rowing, sailing, and canoeing among several water sports.
Conservation of Rivers in the United Kingdom
Rivers in the United Kingdom have long been under intense pressures from pollution, climate change, water extraction, and other detrimental human activities. Due to these negative factors, several conservation measures have been put in place to safeguard the rivers. These measures include the UK Rivers Network which aims to mobilize the communities to identify with the rivers and take part in the conservation efforts. Companies have also been challenged to treat and safely dispose waste away from water bodies.

Longest Rivers In The United Kingdom (Great Britain)
| Rank | Longest Rivers in the United Kingdom | Length |
| --- | --- | --- |
| 1 | Severn | 220 miles |
| 2 | Thames | 215 miles |
| 3 | Trent | 185 miles |
| 4 | Great Ouse | 143 miles |
| 5 | Wye | 134 miles |
| 6 | Ure-Ouse | 129 miles |
| 7 | Tay | 117 miles |
| 8 | Clyde | 109 miles |
| 9 | Spey | 107 miles |
| 10 | Nene | 100 miles |
| 11 | Bann (Lough Neagh) | 99 miles |
| 12 | Tweed | 96 miles |
This page was last updated on April 25, 2017.
Citations
Your MLA Citation
Your APA Citation
Your Chicago Citation
Your Harvard Citation
Remember to italicize the title of this article in your Harvard citation.