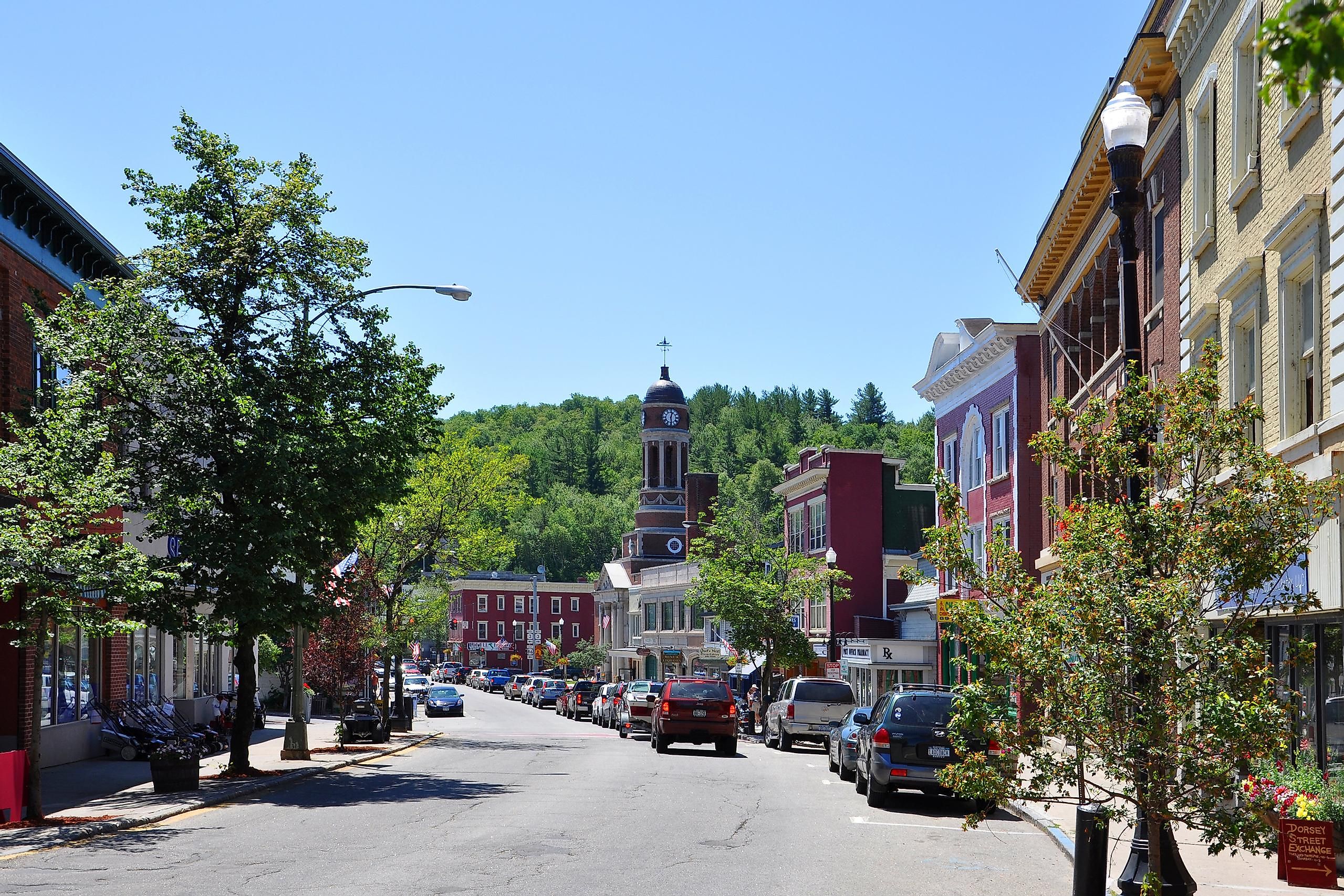 11 Small Towns in the Adirondack Mountains that were Ranked Among US Favorites
One of the most painful misconceptions about the Empire State is that it is all about New York City. While it may seem pretty basic and not worth mentioning, it is good to remember that New City and New York State are different animals. Here's the thing.  New York City is not even the capital of New York State. Then again, it occupies only a dot of space on the state map. This may come as a complete surprise, but the Empire State's geography is largely defined by mountains, rivers, forests, and farmlands — not glitzy cities. Regarding mountains, while you may place your bet on the Catskills, the Adirondacks are evidently larger, more spectacular, and more varied. 
Suppose you want to explore the Adirondack Mountains or visit picturesque towns where they loom large in the backdrop; in that case, the following are 11 small towns in the Adirondack Mountains often ranked among U.S. favorites.
Tupper Lake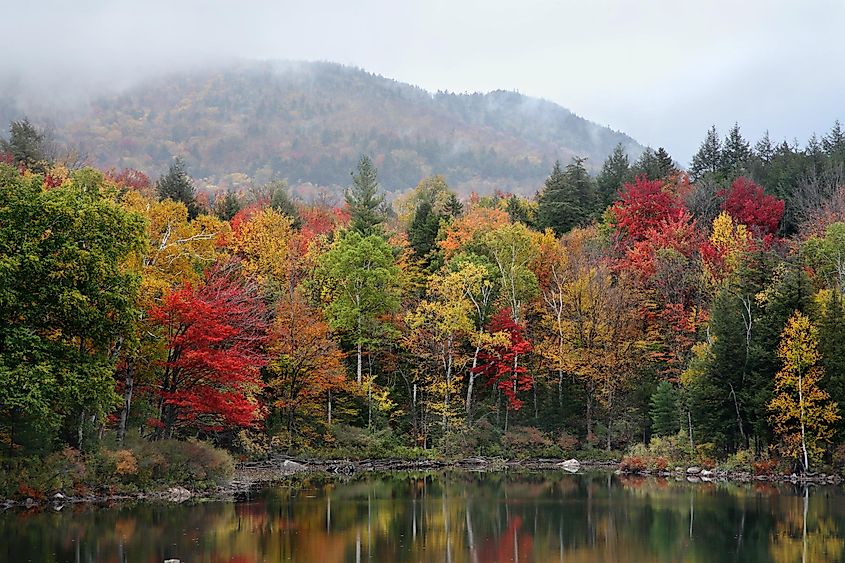 Tupper Lake is a nature-wrapped marvel that sits at the scenic periphery of Raquette Pond almost 300 miles north of the Big Apple. While the town plays host to a population of only about 3,200, it punches above its weight when it comes to the variety of outdoor activities it offers. Encircled by the majestic splendor of mountains, a first-time visitor to Tupper Lake will want to start his or her adventure at The Wild Center. Formerly known as the Natural History Museum of the Adirondacks, The Wild Center is home to more than 900 live Adirondack animals, including porcupines, ravens, and otters. At The Wild Center's appropriately named Forest Music Walk, your senses will lead the way as you savor the symphony of music crafted by both man and nature.
Lake Placid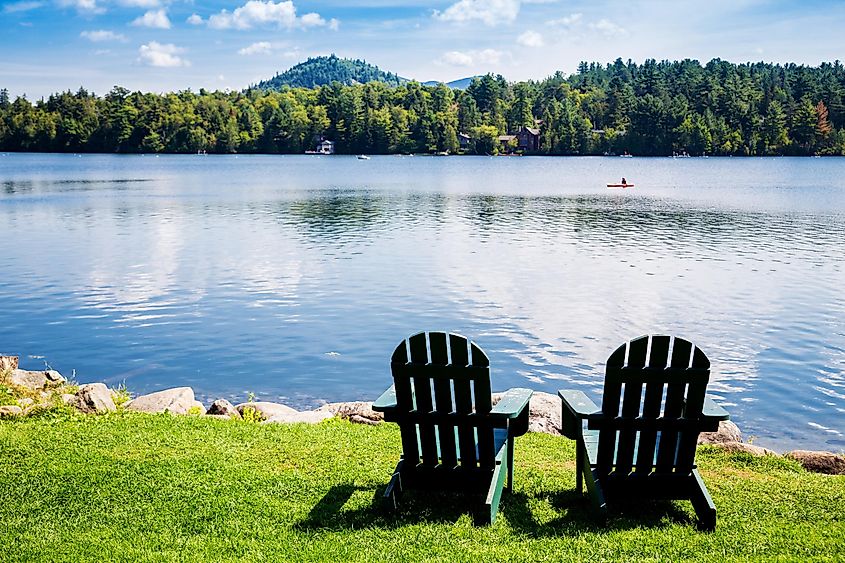 Lake Placid is a New York treasure whose credentials as a vacation show-stopper are well-established. Travel + Leisure, for instance, named this storybook town among the 11 best small towns in the U.S. to see fall foliage. And it is not the first time. Tucked away in the High Peaks Region of the Adirondack Park, a distance of about 290 miles from the Big Apple, Lake Placid often makes for an idyllic upstate escape. You cannot expect less from a charmer that plays host to The Cliffside Coaster — the longest mountain Roller coaster in North America. Once the vacation retreat of such elite families as the Rockefellers and the Vanderbilts, Lake Placid is only about a 10-minute drive to Mount Marcy, New York State's highest peak. 
Champlain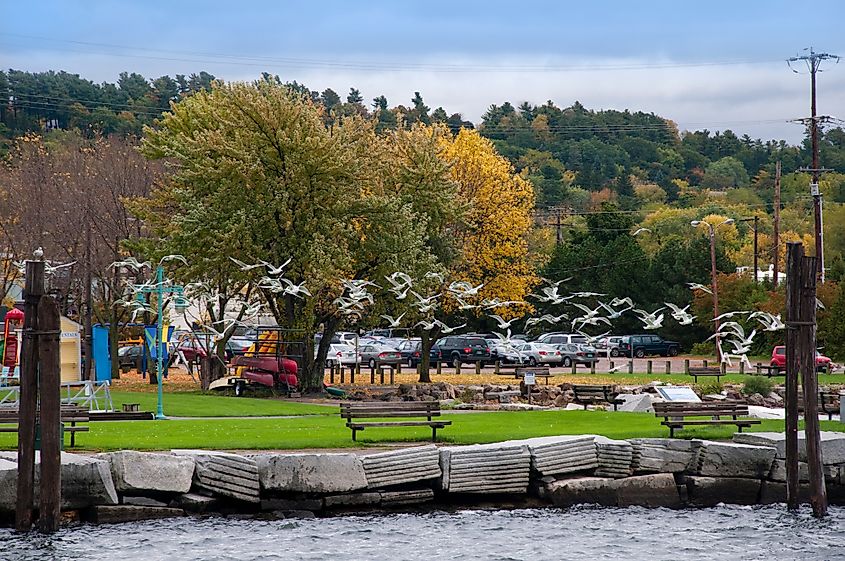 While it will take about 5 hours to drive from New York City to Champlain, it will only take about an hour if driving from Montreal, arguably Canada's cultural capital. Home to about 1,100 residents, Champlain shares a border with Canada and is Clinton County's most northeastern town. A famous water-themed escape, Champlain is home to the eponymous lake — as well as the picturesque Great Chazy River, a languid river that runs from Chazy Lake to Lake Champlain. Champlain's other claim to fame is the presence of the Port of Entry on Interstate 87, one of the most important commercial arteries on the northern border. This strategic gateway connects Montreal to the north to New York City to the south via Quebec Autoroute 15.
Saranac Lake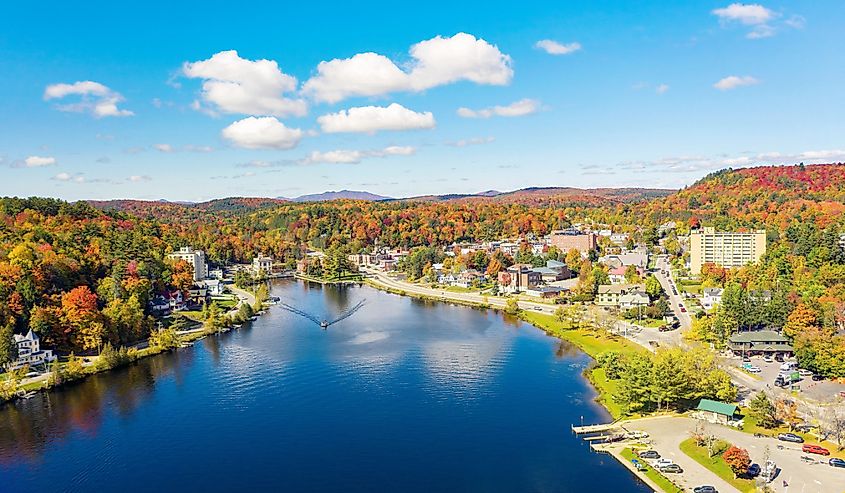 If you were to pick a town from the more than 100 that dot the Adirondacks, it would be difficult to shun Saranac Lake. Saranac has been a tiny lumber mill. It has also served as a major center for tuberculosis treatment. Today, however, Saranac Lake is mostly known for outdoor recreation and heritage tourism. It is located about 300 miles from New York City via Interstate 87 but only about an hour's drive from the Canadian border. For starters, this underrated New York treasure bagged the top spot in Evolve's best places to buy a lake house investment property in the United States. Then again, National Geographic Adventure Magazine named it The Best Place To Live In the country. While we can continue, Saranac's appeal does not need to be squeezed out. 
Lake George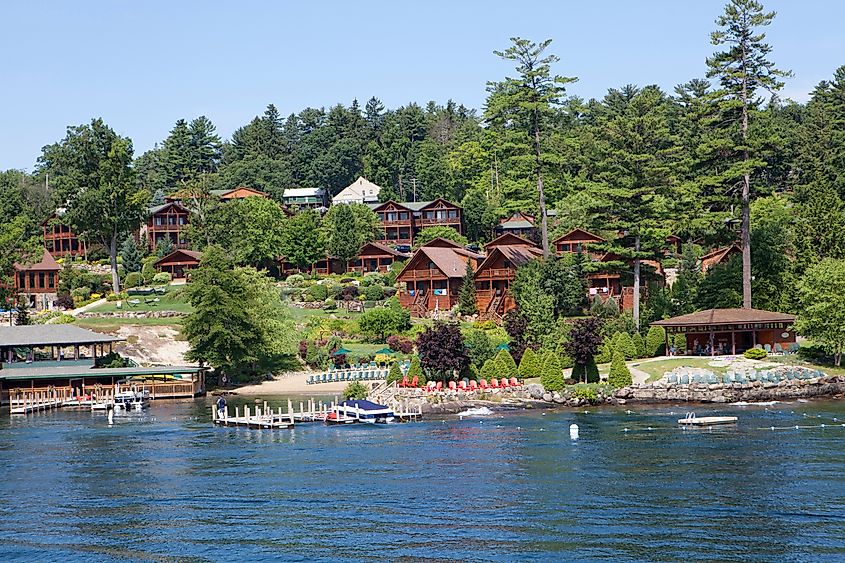 Even if you have never heard of Lake George, the town — there is just no way you have not heard of Lake George — the waterbody. There is a reason Lake George has been called "the Queen of American Lakes." Boasting about 109 miles of shoreline, this amazing blue-space gem has won high-sounding accolades from enchanted onlookers. Thomas Jefferson, for instance, called it " the most beautiful water I ever saw." Here is the truth. Several towns encircle this famous water wonder. However, the town (or village) of Lake George is in a class of its own. For a beach experience, you may want to lounge at the evocatively named Million Dollar Beach. But if you do not mind a slightly faster heart, Six Flags Great Escape, situated a short drive away, features more than 135 rides and attractions.
Old Forge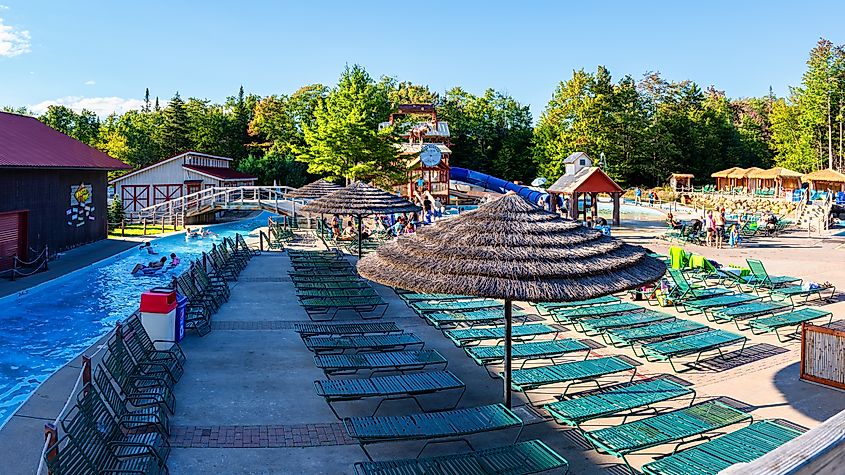 If you are tired of all the steel and soot and are craving some crisp, mountain-fresh air in a year-round Adirondack paradise that also plays host to what is among the largest water theme parks in the Empire State — Old Forge is your answer. The Old Forge area has previously enamored Olympic athletes, World Cup skiers, even President Benjamin Harrison, the 23rd president of the United States. So what exactly makes this tiny mountain town tick? We can talk of the Enchanted Forest Water Safari, a famous amusement park that features up to 32 heated outdoor water rides. However, we can also talk of the spectacular natural beauty that encircles the town and its amazing outdoor opportunities.
Speculator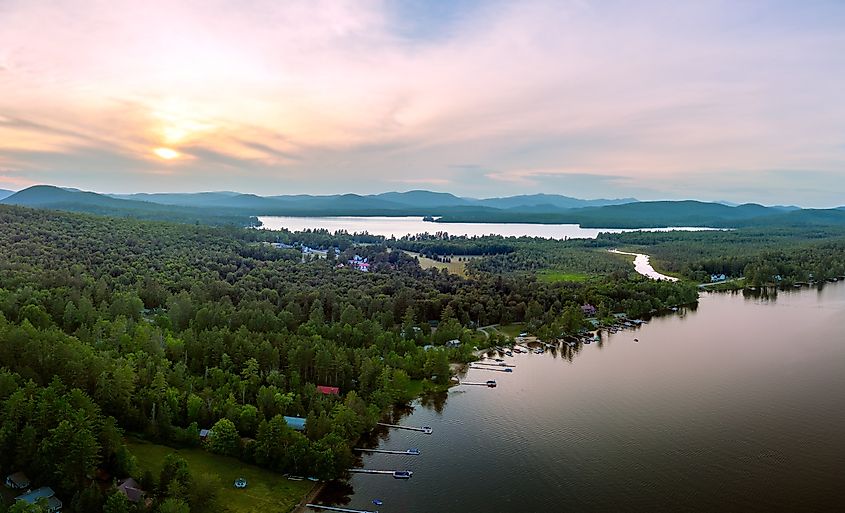 Speculator is a New York secret that offers a serene escape from the nerve-wracking nightmare many cities have become. Located about 230 miles north of the Big Apple, Speculator is highly ranked for its picture-perfect beauty, serene settings, and water wonders, including Sacandaga Lake and Lake Pleasant. On a visit, you will understand why this underrated gem styles itself as the "All Season Vacationland".  But that said, you should never draw the curtain on your Speculator visit without checking out its "Mini Route 66." This is a replica of the real Route 66, the most famous American road —- and the first proper highway from Chicago, Illinois to Los Angeles, California. Featuring antique objects and thoughtful details, "Mini Route 66" is directly across from the Speculator Public Beach on NYS Route 30.
Ticonderoga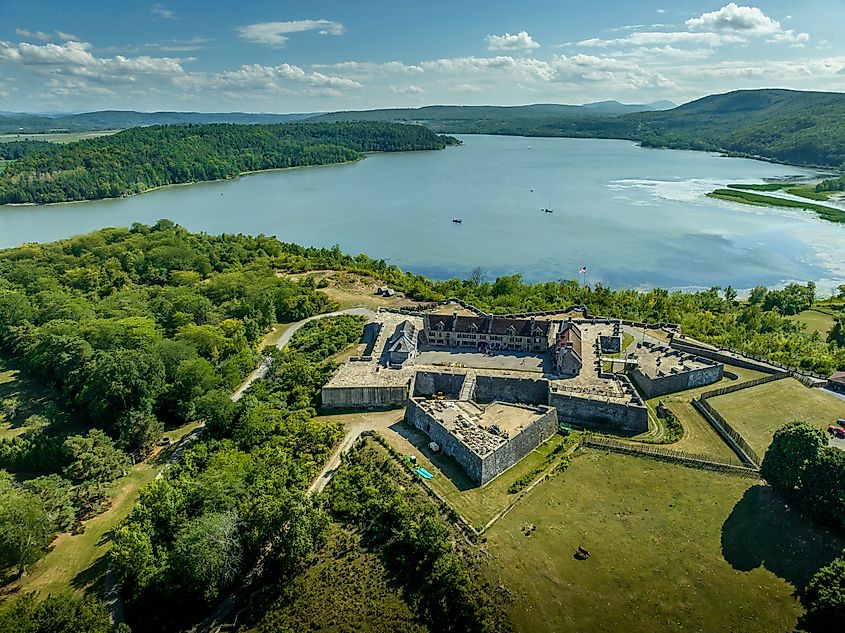 Ticonderoga, a city of about 3,200 nestled at the confluence of Lake George and Lake Champlain in the southeastern corner of New York State's Essex County, is another U.S. favorite Adirondack small town that will plant a smile on the face of a first-time visitor. The town's mouthful name comes from the Iroquois word translated as "between two waters" in English. Striking a sweet spot between a delicious old-town atmosphere and a slick contemporary look, this town is a history lover's dream. It is especially spot-on if you want to relive the history of the French and Indian War at Fort Ticonderoga, a popular fort that offers walking tours, information-heavy educational programs, and insightful historical reenactments. Whatever will occupy your time, spare some minutes at Ticonderoga "Kissing" Bridge, situated at the northern periphery of town.
Lake Pleasant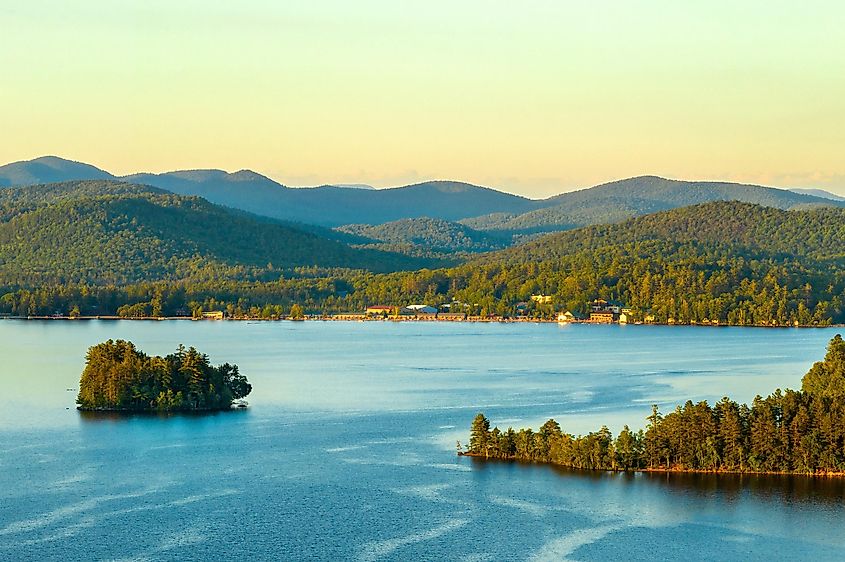 Here is the truth. A town with the word "pleasant" as part of its name will pique the interest of any adventurer. And while many towns do not live up to their descriptive appellations, Lake Pleasant is an exception. Encircled by large swathes of the six-million-acre Adirondack Forest Preserve — and secreted within the Adirondack Park — Lake Pleasant boasts a setting other towns can only wish for. Other natural landmarks that imbue this New York jewel with its distinctive Sylvan splendor include the Silver Lake Wilderness Area, the West Canada Lake Wilderness Area, and the Siamese Ponds Wilderness Area. Then again, the heart-ravishing greenery at the Jessup River Wild Forest will come in handy, especially for one who needs a quiet escape into the woods.
Wilmington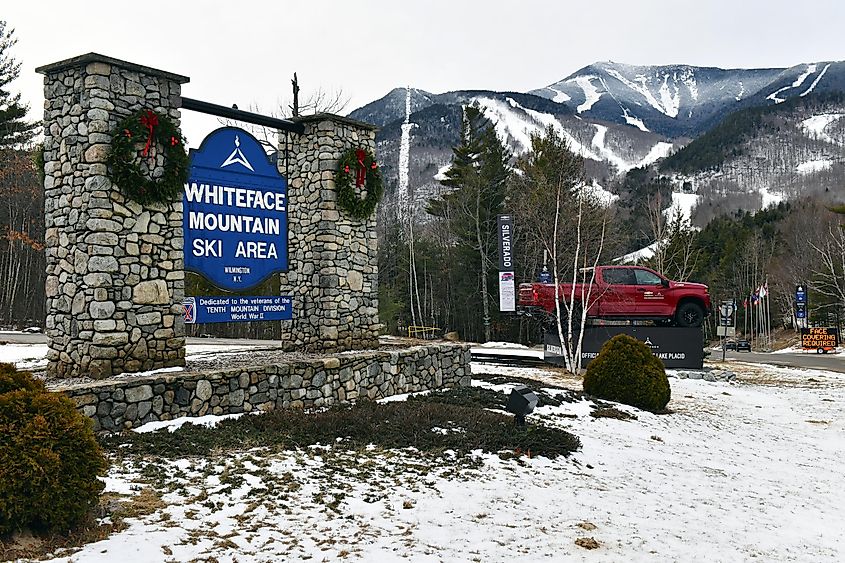 Home to only 800 residents, Wilmington is a tiny but refreshing neverland almost hidden in the valley of the West Branch of the AuSable River — nearly 290 miles from the Big Apple.  You will need about four and a half hours on the road —- from America's largest city — to reach this rustic oasis. Here is a less appreciated element of Wilmington: Approximately 60% of the town is State Forest Preserve. You can imagine what awaits an adventurer here, the one bitten by the bug of wanderlust.  But that said, one of Wilmington's most defining landmarks is Whiteface Mountain, the area's premier site for downhill skiing and snowboarding — and which boasts the greatest vertical of any lift-serviced mountain in this part of the United States.
Queensbury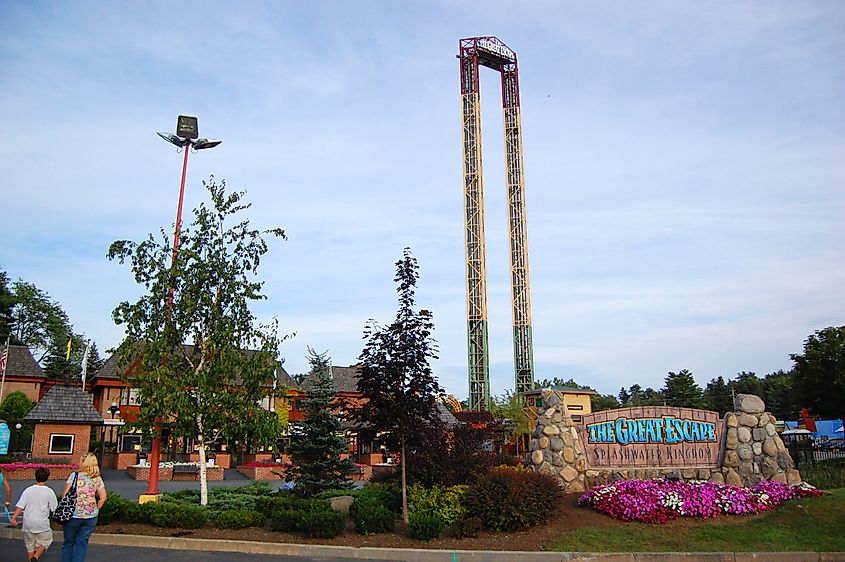 An all-season stunner, Queensbury sits between the Hudson River to the south and Lake George to the north, about 210 miles from New York City via Interstate 87. While you will gasp at several eye candies in the southeastern Adirondacks, none will be as etched in your mind as Queensbury. Since it is home to SUNY Adirondack, a public community college that offers more than 30 academic programs, Queensbury is a vibrant college town perfect for those who want to roll with a youthful crowd. Then again, while the Six Flags Great Escape amusement park will be an exquisite venue for outdoor lovers, expert or amateur antiquaries should check out Glenwood Manor Antiques & More. This popular stop boasts three floors of antiques and a world of collectibles.
The Takeaway
While many Americans often associate the State of New York with the city of New York, the latter is a mere dot on the map, not even the capital. The Empire State is more about mountains and rivers than cities and skyscrapers. If in doubt, plan an adventure trip to the Adirondack Mountains, the state's most varied and spectacular mountain range. If you are up for this lifetime adventure, consider checking out towns such as Lake Pleasant, Wilmington, and Lake Placid, many times ranked among U.S. favorite small towns in the Adirondacks.