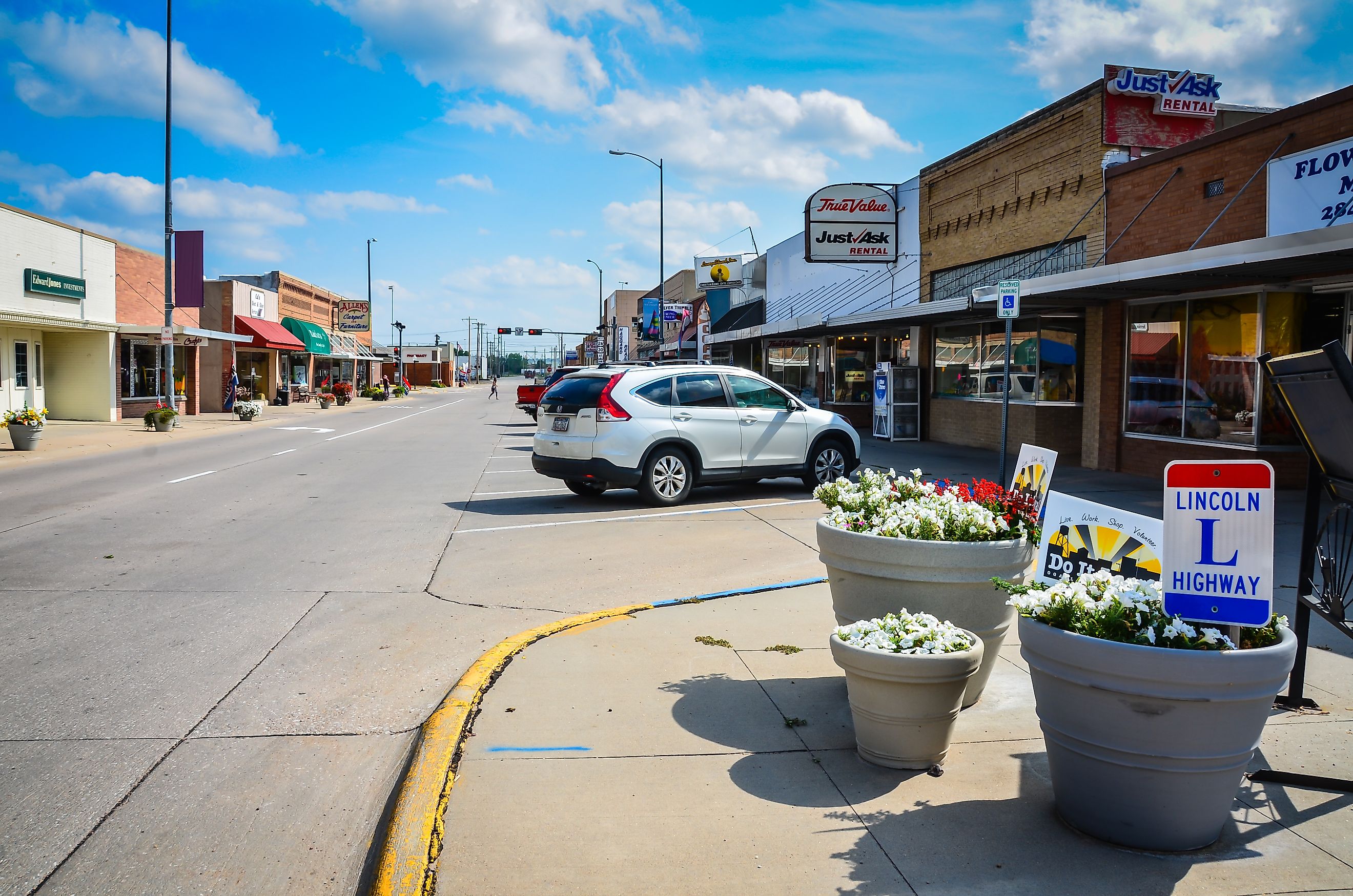 11 Most Scenic Towns in Nebraska
Yearning for a tranquil retreat in a charming small town? Nebraska, the land of windmills and boundless prairies, is an ideal destination.
While the spotlight often shines on larger cities like Omaha, the Cornhusker State also boasts a treasure trove of small, pristine towns, each exuding its unique allure. 
From the enchanting Chadron to the idyllic York, we curated a list of Nebraska's 13 most scenic towns where untamed natural beauty, serenity, and adventure harmoniously intertwine. We covered must-check-out spots in these best Nebraska towns to ensure you have a blast during your trip. 
Chadron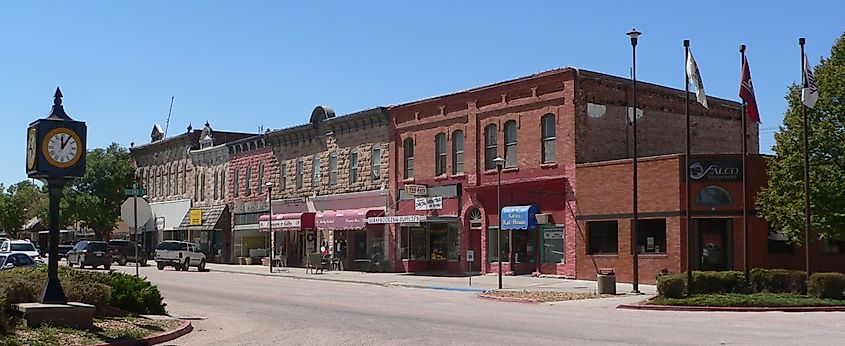 Chadron is a small, quaint town nestled in Dawes County. As a town between Nebraska's rugged Pine Ridge Region and the expansive High Plains, with a history dating back to the 1800s, Chadron offers an intriguing blend of breathtaking natural beauty and a rich history to explore. 
Nature lovers will appreciate being in Chadron State Park, Nebraska's first-ever state park. Nestled within the embrace of the Pine Ridge Region, this park is characterized by iconic natural features like majestic buttes and winding canyons. Visitors often explore these breathtaking natural wonders through hiking, camping, or guided leisurely horseback rides. 
Camping in the park is an even more intriguing experience because it transforms into a celestial wonderland once the sun dips into the horizon; the bright blue sky gives way to a star-studded canvas, with the Milky Way above the towering Ponderosa Pines adding to the enchantment. 
For the history aficionado, the Museum of the Fur Trade is a great place to learn about Chadron's history and uncover the fascinating secrets of the fur trading era.
Alliance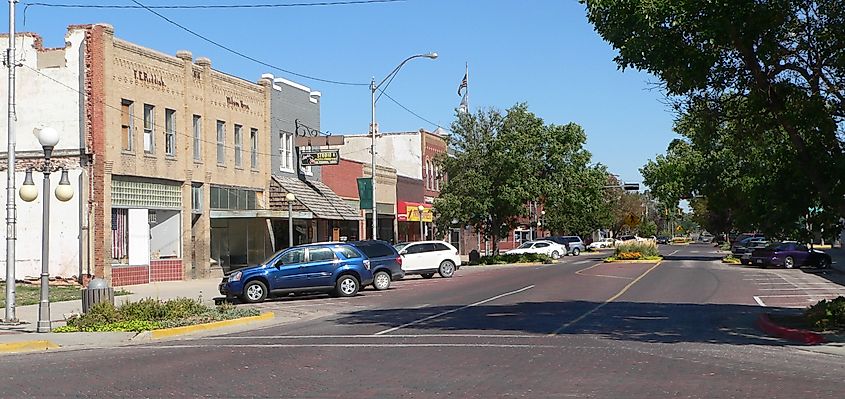 Formerly known as Grand Lake, Alliance, a small, enchanting town, rests gracefully in the rolling grasslands of Nebraska's picturesque sand hills in Box Butte County. This automatically grants it natural, pristine beauty.
Despite its modest size, this hidden gem boasts some of the most distinct attractions you'll find in Nebraska. For instance, the Carhenge, one of the most acclaimed attractions in Alliance, is a playful replica of England's iconic Stonehenge, which, instead of traditional stones, features whimsical vintage American automobiles creatively coated in a gray spray paint finish.
Another must-see in Alliance is the Alliance Central Park Fountain, a historical gem dating back to 1935. It transforms into a mesmerizing spectacle at night, enchanting the young and the old with its ever-changing pattern and colorful light shows.
Harbor a fondness for epic tales? You'll relish being in the Alliance Knight Museum, where tangible medieval relics such as medieval knights and armor are on display. A stroll through Dobby, Alliance's main town, promises insights into small-town living, while the Sunken Gardens within Alliance's Central Park are a splendid sanctuary to explore.  
Scottsbluff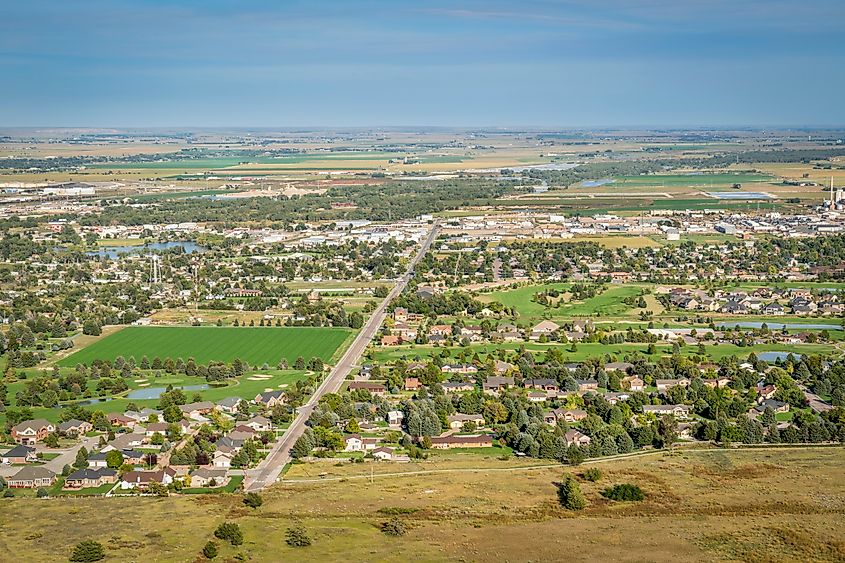 Scottsbluff in Western Nebraska, the inaugural town on the Lincoln Land Company railroad, was founded in 1899 and is currently the agricultural hub of Western Nebraska. This Nebraska town boasts an array of museums and historical landmarks to celebrate its past, such as Fort Mitchell.
However, its crown jewel is the Scotts Bluff National Monument, an 800-foot-high natural rock formation offering stunning North Platte River vistas, immersive country, and cityscapes, including the equally iconic Chimney Rock.
Besides the rock formation, Scottsbluff beckons nature lovers with the Riverside Discovery Center, a zoo and botanical garden home to various flora and fauna, including exotic animal species. 
The North Platte River walkway is another picturesque retreat for those yearning for a serene escape while in town. The well-maintained trails will guide you along the river's gentle flow, while the picnic spots that grace the path allow you to savor nature's beauty, all while the tranquil river vistas serenade your senses.
North Platte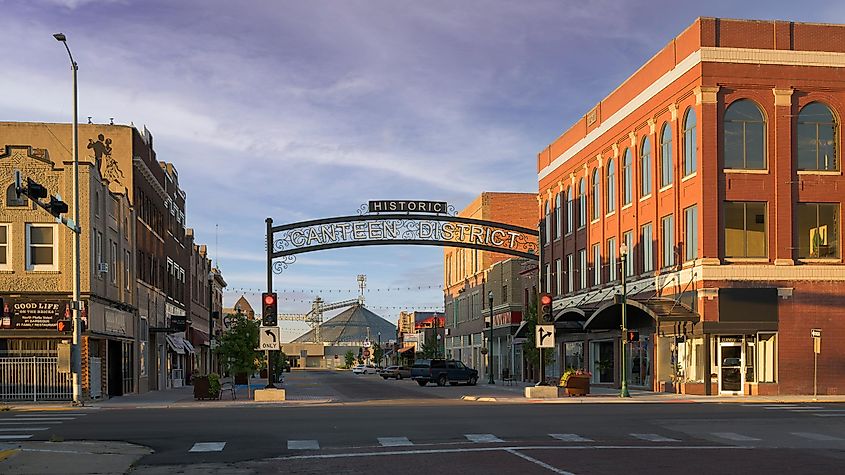 Once a bustling railroad town, North Platte is a small, sleepy Nebraska town predominantly served by freight trains. Nestled at the confluence of North and South Platte rivers, this town in Lincoln County is a treasure trove of natural attractions such as the Lake Maloney State Recreation area, home to a sprawling 1000-acre lake perfect for swimming, boating, fishing, and camping.
During spring, the North Platte River Valley becomes an awe-inspiring sight as over 400,000 Sandhill Cranes stop over during migration in preparation for their breeding season.
History lovers also have endless attractions in this scenic small Nebraska town, including the Fort Cody Trading Post and the Cody Park Railroad Museum, where vintage locomotives are on display.
Bringing your kids along? North Platte offers diverse kid-friendly attractions like the North Platte Children's Museum and Wild Bill's Fun Center.
Valentine

Valentine, located in Cherry County,is a scenic small town immediately north of the Niobrara River and on the northern end of Nebraska's Sandhills. This laidback locale is surrounded by some of the most scenic ones in the state. These include the Snake River Falls, Nebraska's largest waterfall, and the Smith Falls, the Cornhusker State's tallest waterfall.
For thrill-seekers, adventure awaits on the 76-mile, wild Niobrara River, where floating, canoeing, kayaking, or tubing down the meandering course are usually the order of the day. 
Not a water sports fan? You'll love being within the embrace of the Samuel R. Mckelvie National Forest, another tranquil, natural escape in Valentine. Camping beneath the forest's unpolluted sky is an experience like no other, while bird watching and hiking allow you to be one with nature.
Wayne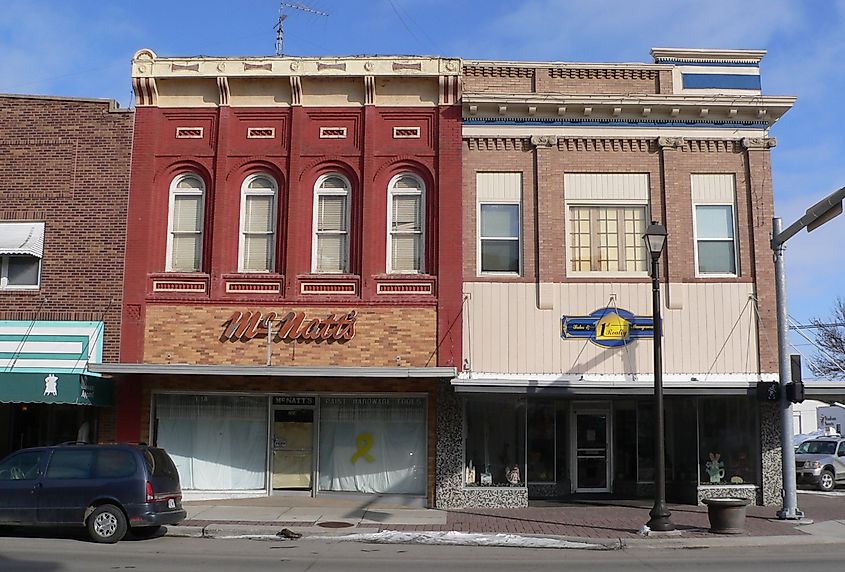 If you find space captivating, the Fred G. Dale Planetarium at Wayne State College will blow your mind away. The planetarium is home to the Spitz SciDome, a cutting-edge projection system that allows visitors to observe space from any point in the solar system and glimpse into its past and future.
The Wayne Chicken Show is the perfect weekend night plan for those seeking cultural delights. It's a quirky, annual show that, despite its culinary name, has nothing to do with food. It's more of an art show blending live music, lots of dancing, and various delicacies.
Ogallala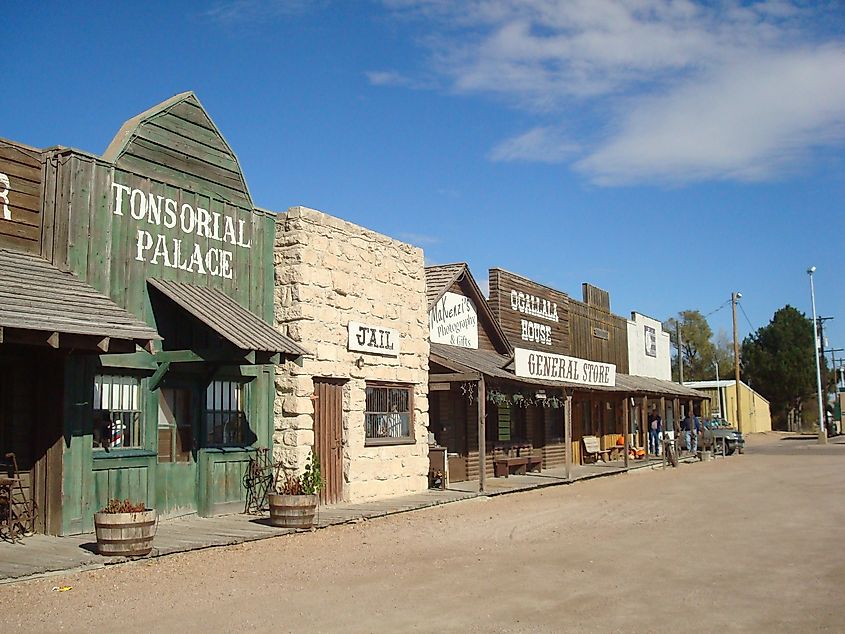 Ogallala, meaning "scatter," began as a transit hub fondly dubbed the "Gateway of the Northern Plains" thanks to its location at the junction of major transit routes.
It enjoys a serene and laid-back ambiance and offers direct access to the sprawling Lake McConaughy, alias Big Mac. This reservoir, boasting 100 miles of shoreline, is Nebraska's largest man-made lake. 
Its vastness offers numerous recreational options, from boating and swimming to windsurfing and fishing. The South Platte River also runs through the town, further expanding one's aquatic adventure options.
Broken Bow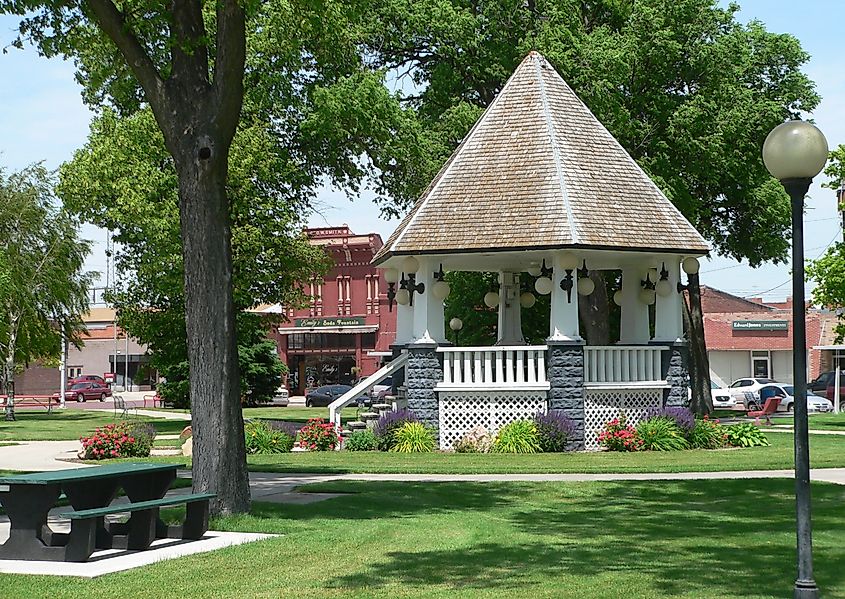 Broken Bow is a charming town in Custer County named after a broken bow found at a former Native American camping site. The town's central attraction is Broken Bow Lake, a 20,000-acre reservoir surrounded by lush forests and picturesque landscapes. It's a haven for outdoor lovers, offering recreational opportunities like boating, fishing, hiking, and camping.
The Merrit Reservoir State Recreation area is nearby, allowing even more water sporting activities. This Reservoir also offers wildlife sighting opportunities. 
Additionally, Broken Bow is a gateway to the beautiful Sandhills region, where rolling dunes, unique flora, and fauna provide the picture-perfect backdrop for your Insta posts.
Broken Bow's town area is dotted with historic buildings, quaint shops, and cozy cafes you'll love exploring. The Custer County Museum is also within the town center and offers eye-opening insights into the town's heritage. Additionally, the Kinkaider microbrewery runs a beautiful taproom and restaurant within Broken Bow, where you can taste local brews.
Gering

Sitting at the base of the remarkable Scotts Bluff National Monument, Gerring is a 19th-century town now part of the monument's area. This makes the Scotts Bluff Monument, with its towering natural rock formations and hiking trails, the area's most prominent attraction.
Wildcat Hills, a short drive from the main town center, is a great place to add to your itinerary if you enjoy hiking, camping, and bird-watching.  
McCook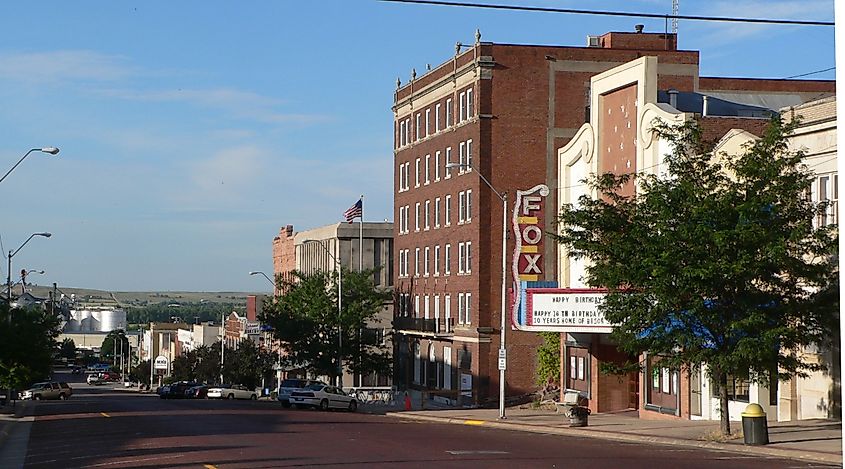 McCook, named in tribute to Civil War Brigadier General Alexander McCook, is among the smallest Nebraska towns, covering a mere 5.4 square miles. Strolling along its brick-paved streets is the perfect way to explore its 10-block heritage square, boasting charming specialty shops and timeless dining establishments such as Sehnert's Bakery and Bieroc Café.
This historic square is also adorned with historical gems everywhere you look. These include the Museum of the High Plains showcasing WWII exhibits, Sutton House, and a prairie school-style residence designed by Frank Lloyd Wright in 1908.
Nature lovers can savor the scenic beauty of the Red Willow Reservoir State recreation area, featuring picturesque water views and hiking opportunities. Golf enthusiasts will enjoy teeing off at the Heritage Hills Golf Course, a well-maintained golf course with expansive greens. Simply put, a day in McCook is anything but dull.
York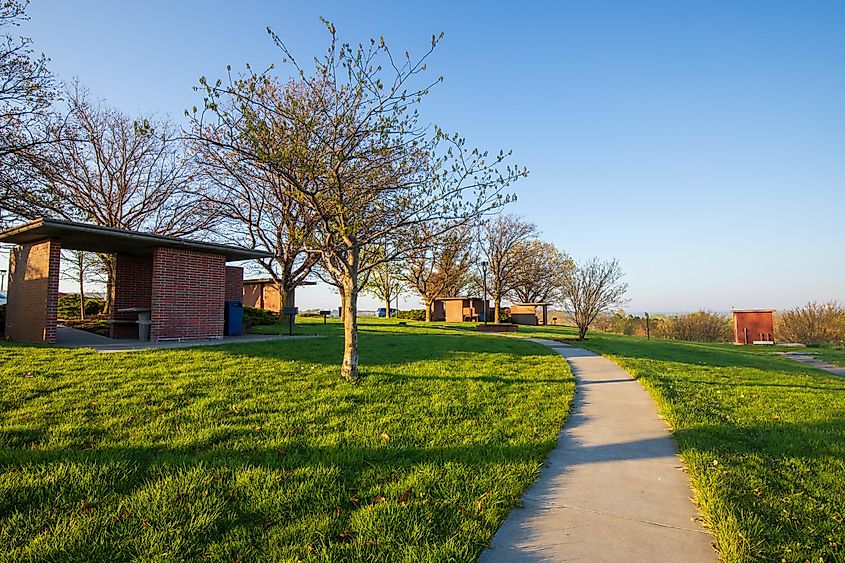 York is a small town perched at the junction of Interstate 80 and US Route 81.  As with most scenic small towns in Nebraska, it's steeped in 18th-century charm and offers plenty for exploration. 
For instance, Wessels Living History Farm is a 19th-century farm offering a vast, breathtaking prairie and features a well-preserved 1905 church. Here, visitors of all ages can partake in hands-on farm activities, allowing a connection with the agricultural heritage of days gone by.
The Clayton Museum of Ancient History stands as an inviting attraction for history buffs. It features a rich collection of Roman soldier artifacts and biblical exhibits, including a 15th-century Geneva Bible. A tour of Lee's Legendary Marbles and Collectibles, on the other hand, will evoke a sense of nostalgia with its vast collection of marbles, coins, and antique items.
Chances "R" restaurant, a former top tour bus stop, is the best place to cap off your day. It's famous for tantalizing homemade delights like pastries, char-grilled steaks, and pan-fried chicken.
In Conclusion
Based on our list of most scenic Nebraska towns, it's clear that the Cornhusker State has more to offer than just vast, open grasslands. Whether you're yearning for adventure, a laidback retreat, or on a mission to uncover history, there's a small Nebraska town that offers exactly what you need. So, the next time you're headed toward Nebraska, consider veering off the beaten path to explore the smaller, lesser-known territories.