The US State of Maryland is filled with great seaside views, sprawling countryside, and beautiful coastlines. A place full of colonial history, Maryland is a state ready for discovery. But like in other states in America, it is easy to overlook the small towns in favor of the major cities. In small towns of Maryland, visitors will find charming and beautiful coastal settlements where American history comes to life and great local food in a unique and splendid way. This article looks at the 11 Most Beautiful Small Towns in Maryland.
Berlin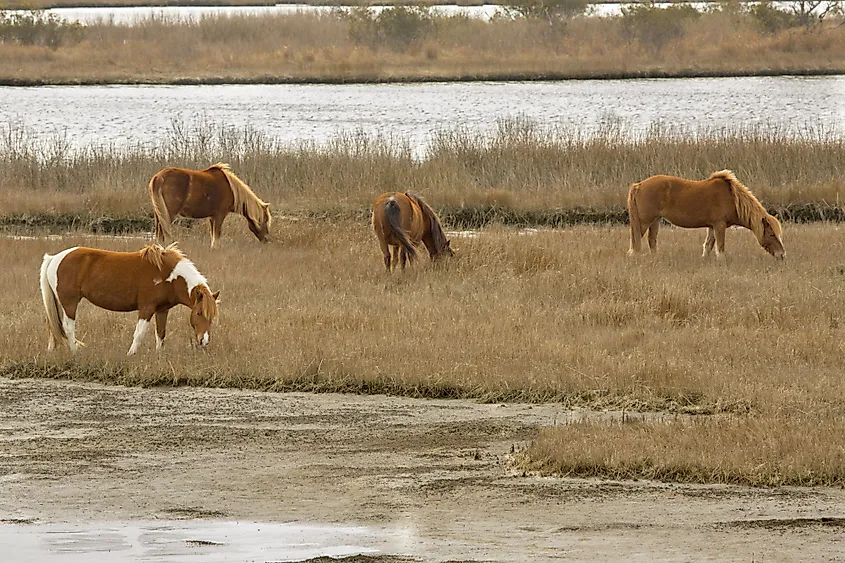 Located in Worcester County, this town of just under 5,000 inhabitants may sound like the German capital, but in fact, it has its own unique American history. Founded just after the Civil War in 1868, it is believed the name of the town is derived from an old tavern, the Burleigh Inn, which was eventually transformed into the word "Berlin." A popular site for those looking for fishing and hunting, Berlin is a charming community always ready to welcome newcomers. Tourists may also enjoy the Assateague State Park or a casual stroll through Main Street to see firsthand the historic buildings and shops that populate the landscape. On the way out, visitors will not want to miss a pint at the Burley Oak Brewing Company for some tasty locally made State spirits. 
Crisfield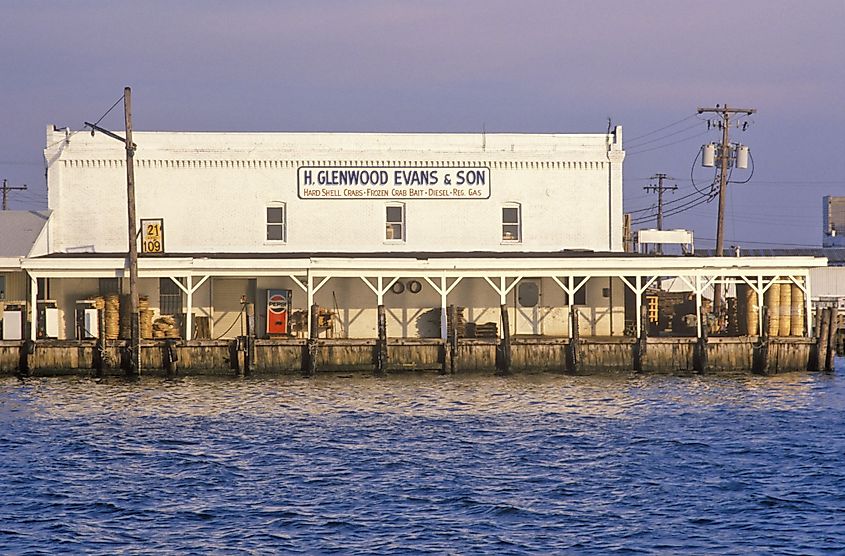 Unofficially known as the "Seafood Capital of the World," Crisfield is situated on the Tangier Sound on the Chesapeake Bay. The town was initially established as a small fishing village under the name of Somers Cove. Today, Crisfield is a popular tourist destination, where tourists can certainly expect their fill of seafood, and indeed the offerings on the menu of any restaurant are eclectic, to say the least. One must try some authentic crab and clambake diners for a great variety of fish, crabs, lobsters, and other seafood selections. At the Janes Island State Park, visitors can enjoy natural wildlife up close with great views of birds and other marine animals. One can also visit annual fishing tournaments and some quaint shopping boutiques. A stopover in Crisfield will not just satisfy the appetite but one's curiosity as well.
Ocean City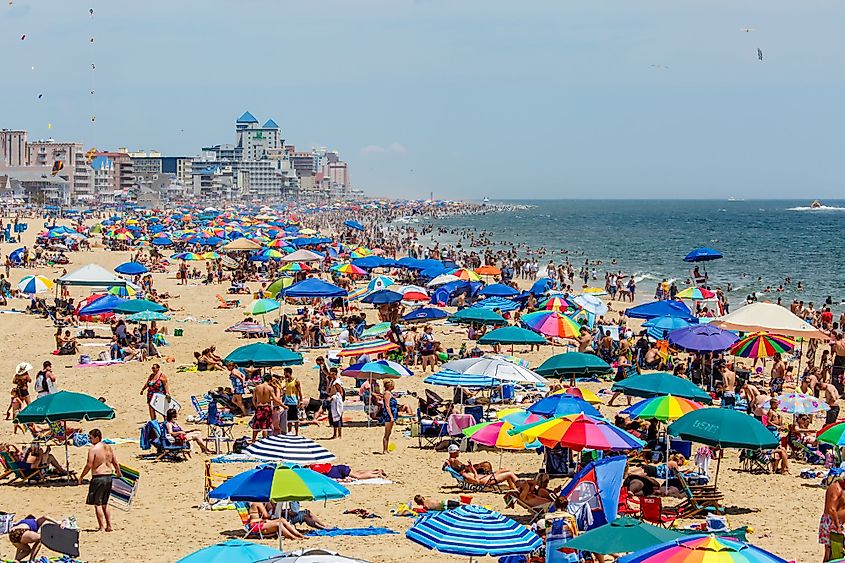 Popular among tourists visiting the Mid-Atlantic region, the resort town of Ocean City is a hub of summertime activity. Up to 345,000 visitors descend on this town of 7,000 inhabitants during summer, making it a pretty busy place from June to September. Tourists can enjoy prime waterfront views, pristine beaches, a plethora of historical sites from the Thirteen Colonies, and perhaps even see a shark or two! A stroll on the Ocean City Boardwalk with its shops and restaurants is another great way to spend a day or evening, while a boat rental is a charming way to explore the waters.
Havre de Grace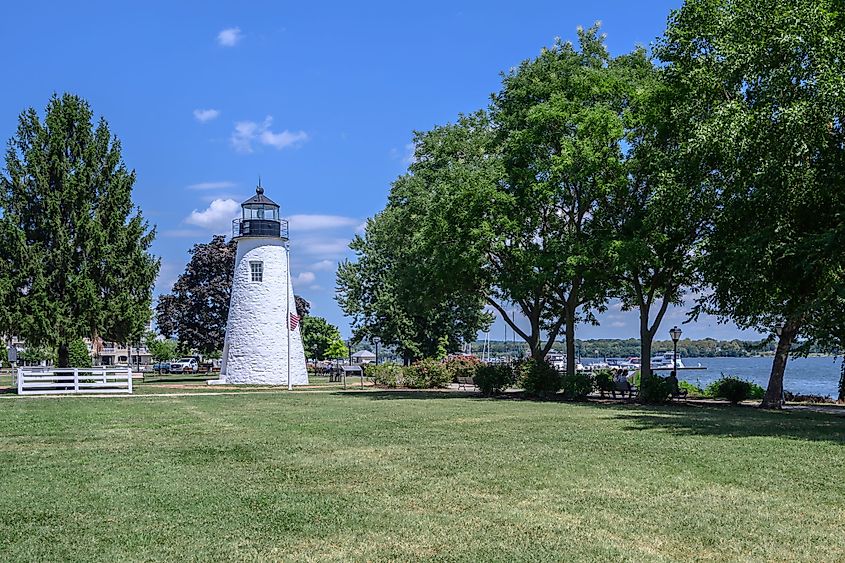 From the French for "Harbor of Grace," this town on the Susquehanna River and the head of Chesapeake Bay has frequently been named one of the best small towns in America. A charming seaside town, visitors will love a walk along the water at the Havre de Grace Promenade or a beautiful view from the top of the Concord Point Lighthouse, built in 1827. A stay at Spencer Silver Mansion may give tourists a real sense of life during the Revolutionary War, while the outdoors enthusiasts will certainly relish the opportunity to walk the trails at Susquehanna State Park. Another popular activity is playing a round of golf at Bulle Rock Golf Club. 
Oakland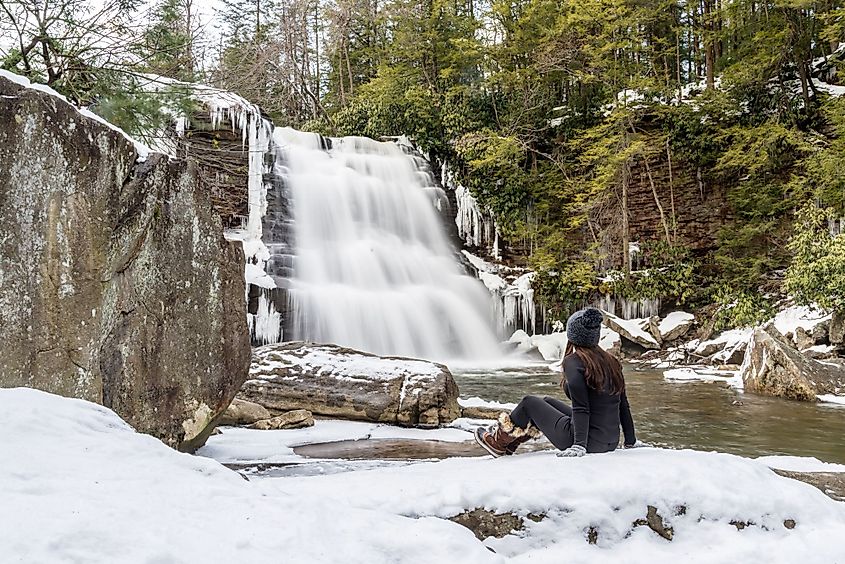 A former railroad town in Maryland's western Garrett County, Oakland is only a few kilometers away from the Potomac River. Outdoor adventurers will surely want to visit the Wisp Resort, a major ski destination very popular with Marylanders and others alike. A boat rental on the waters of the River and the Chesapeake Bay or a hike at Swallow Falls State Park is another excellent way to enjoy nature and spend a relaxing time in this rustic and beautiful town.
 St. Mary's City
Established in 1634, St. Mary's City is the first European colonial settlement in Maryland and the fourth oldest settlement in the entire United States. For its truly historical heritage and importance, any visitor interested in American history will not want to miss a stopover in this town of under 1,000 inhabitants. For a firsthand experience with history, tourists will marvel at the many living history museums around, complete with recreations of events and workers dressed in period clothing. One can also explore a replica of The Dove Sailing Ship or the reconstructed colonial village for a perfect taste of daily life in the 17th and 18th centuries. If one is looking for a time capsule back to the times of America's infancy, this charming town with centuries of history in its DNA is a special place to add to one's list of Maryland's treasures.
Vienna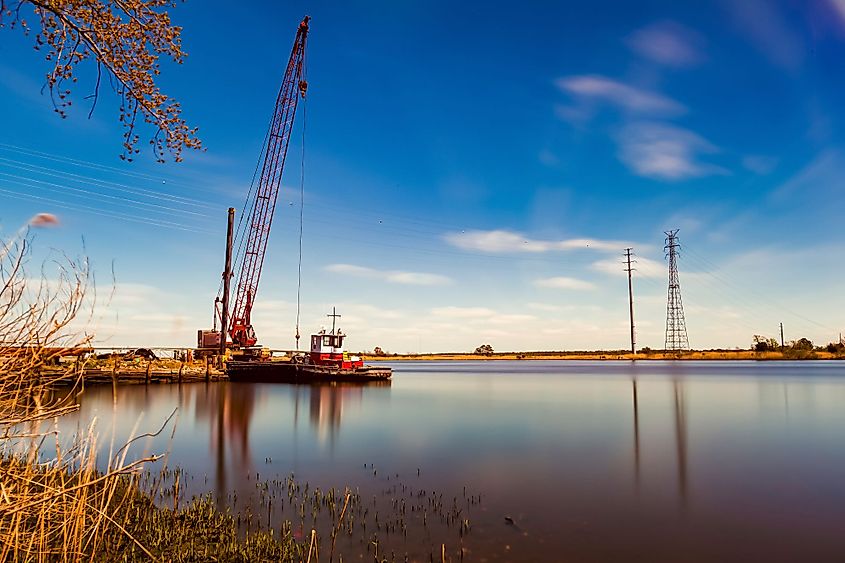 Surrounded by lush vegetation and situated on the shores of the Nanticoke River, Vienna is today a quiet community of under 300 inhabitants. Once a hub of shipbuilding and tobacco farming, the town in modern times is a quaint place for some peaceful nature outings and a slice of small-town life. Visitors can enjoy activities on the Nanticoke riverbank, like canoeing and fishing or catching a splendid sunset or two. For some excellent quality local wines, head on over to Layton's Chance Vineyard and Winery. Meanwhile, history lovers will enjoy the 18th-century Georgian-style mansion Handsell, featured on the National Register of Historic Places.
Leonardtown
Leonardtown is a true mecca for all who love the sea. In addition to the National Oyster Shucking Championship, tourists can find many restaurants, shops, and other unique marine-themed events. Stroll along the Wharf and enjoy some great waterfront views or rent a boat and sail out into the breeze! In the town's historic district, visit some of the buildings listed on the National Register of Historic Places, like Tudor Hall Mansion, built in 1798; and of course, visitors should not forget to take in a great seafood meal at any pub or family restaurant, for some tasty dishes and great views of the sea.
Hampstead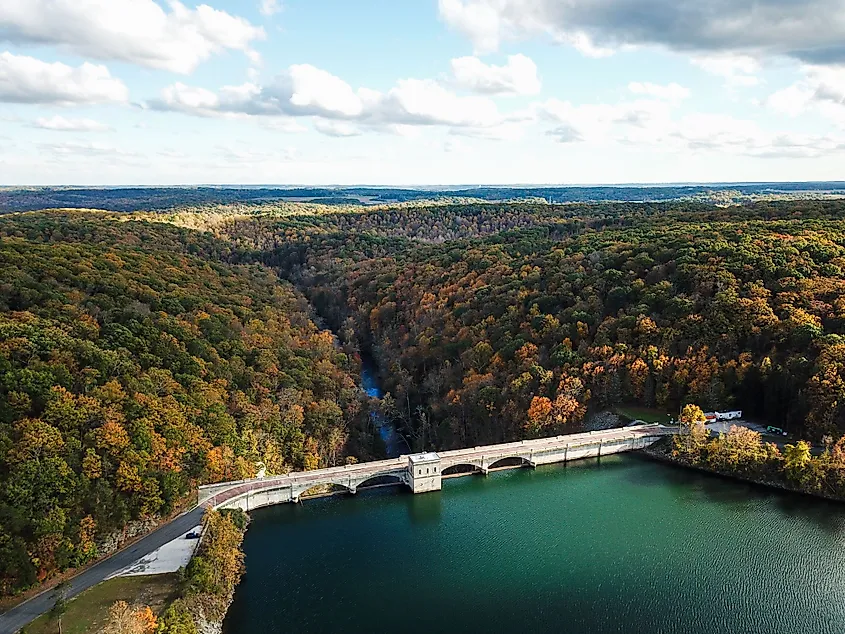 Situated in Carroll County, the town of Hampstead is rich in fertile lands. This once sleepy farming community, however, is today a charming modern town, yet still with plenty of old-fashioned feeling. Take a leisurely stroll or go hiking at Leister Park, or for the swimmers out there, a dive into Cascade Lake is a fun and beautiful way to enjoy the outdoors. Back in town, visitors can enjoy local diners and boutique shops, often with a great dose of small-town hospitality. Away from the major sounds of the big cities, a visit to Hampstead will give anyone a memorable and beautiful experience with rural Maryland.
Bel Air
Just 45 minutes north of Baltimore, the town of Bel Air was once a stop on the famed Underground Railroad. Today, its Main Street is full of cute boutique shops, small restaurants, and plenty of charm quintessential to the small-town USA. Tour a local brewery or take a leisurely stroll through Bel Air's historic district or visit a fine art gallery or two. The town, founded in 1780, is also home to several sites on the National Register of Historic Places, including the Bel Air Courthouse, Graystone Lodge, and the Bel Air Armory.
Mount Airy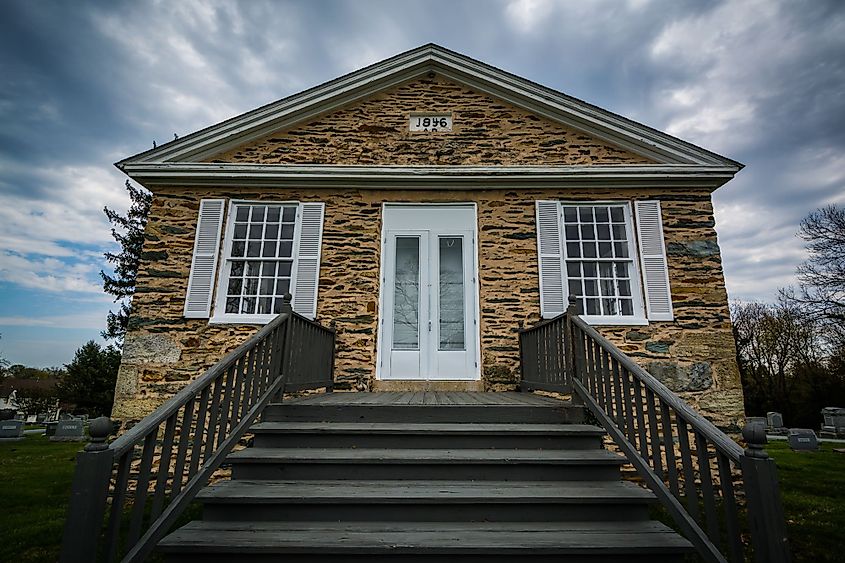 Conveniently located at the midpoint between both Baltimore and the nation's capital, Washington DC, Mount Airy is a picturesque rural town. A walk along its Main Street and visitors will find an abundance of small art galleries, quaint specialty boutiques, and some great cafes, restaurants, and bakeries. Local wineries are located close to the downtown, where patrons can enjoy tours of the facilities and sample some great locally made alcohol. A great stopover for anyone on a road trip between Washington DC and Baltimore, Mount Airy is a lovely town perfect for a taste of rural Maryland and its natural beauty.
The State of Maryland is filled with stunning natural beauty, inspiring views of the sea and the Chesapeake Bay, and fascinating episodes of colonial history. In its small towns, each unique and special in its own way, the spirit of Maryland comes to life in the most intimate ways. Beyond the major cities like Annapolis or Baltimore, small-town Maryland is a treasure trove always ready to be discovered or rediscovered.