The Chesapeake Bay in the Mid-Atlantic region is the US's largest estuary. It receives water from ten major rivers and several other smaller rivers, streams, and creeks flowing out of West Virginia, New York, Pennsylvania, Virginia, Maryland, and Washington DC. One of the bay's largest and most productive rivers is the 103.5-km long Nanticoke River. This river originated in southern Delaware and gently flows southwest through forests, marshlands, and farmlands to Tangier Sound. The river's upper part is Delaware's largest watershed, with almost half the Nanticoke watershed located in Delaware. About 20% of the river's watershed is protected as a nature conservation area and contains a variety of animals and plant species.
Important Features Of Nanticoke River
Nanticoke River is the largest river flowing into the Chesapeake Bay. It is Delaware's 4th longest river after Delaware, Choptank, and Pocomoke Rivers, flowing for approximately 103.5 kilometers from its source in Middleford to its mouth in the Chesapeake Bay, Maryland. It is also Maryland's longest river draining its lower Eastern Shore. The towns located along the Nanticoke River include Sharptown, Vienna, Nanticoke, Delaware, and Seaford. Nanticoke River basin is approximately 215,000 hectares and is one of the most biologically diverse basins on the Delmarva Peninsula, hosting the largest bald eagle population in the northeastern US. The river is navigable only after Seaford. It has been dredged in the past to allow for shipping travel on its course. Native American tribes used the Nanticoke River as a critical waterway, with the river facilitating trade before and after European arrival.
Course And Watershed Of Nanticoke River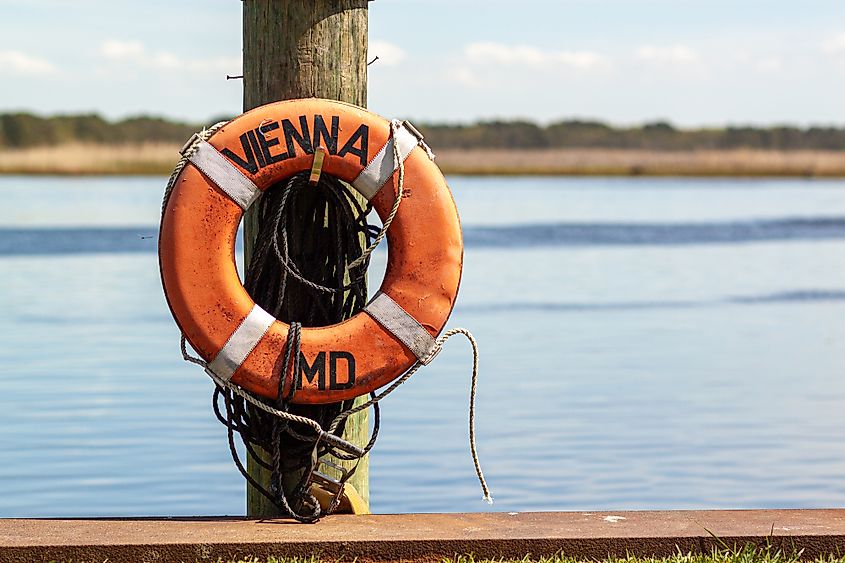 Nanticoke River begins in Kent County in southern Delaware and flows southwest through Sussex County. It receives several tributary rivers, including Gravelly Fork and Broad Creek, before crossing into Maryland. In Maryland, it forms the boundary between Wicomico County and Dorchester County. The river continuous southwest and empties into the Chesapeake Bay through the Tangier Sound. It receives several inflows, including Beaverdam Branch, Plum Creek, Cod Creek, Reconow Creek, Windsor Creek, Polk Branch, Clear Brook, Wright Creek, and Marshyhope Creek.    
Nanticoke River is 40 kilometers long, from Kent County to the Maryland-Delaware border, more than half of its total length. The river occupies about 215,000 hectares, with the upper river as the largest watershed. The river's upper portion is also Delaware's largest watershed, covering approximately 102,000 hectares in Sussex and Kent Counties and accounting for about one-third of the state's land area. The remaining watershed is in Wicomico and Dorchester counties in Maryland. Extensive and untouched forest covers about 35% of the Nanticoke watershed, including the peninsula's largest pine forest. Over 20,000 hectares of the watershed is tidal wetland, representing about one-third of Maryland's total tidal wetlands.
Brief History
Captain John Smith, English explorer, soldier, and colonial governor traveled from Virginia to explore the Chesapeake Bay and its many rivers in 1608. John Smith hoped that one of the bay's rivers would lead him to mythical wealth in the far east. While on his discovery journey, Smith came across the gently flowing Nanticoke River on the Delmarva Peninsula. He named the river after the Native American group that lived on the river bank. The gentle and peace-loving Nanticoke tribe thrived mainly on fishing and hunting. They also traded various commodities, including beads and animal pelts. 
Wildlife 
The Nanticoke watershed contains diverse plant and animal life. The habitats range from estuarine salt marsh to upland forest, with Woodlands comprising loblolly pine, red maple, sweetgum, oaks, and Atlantic white cedar. The river's watershed contains the rarest plants on the Delmarva Peninsula. Some rare and endangered plant species include reversed bladderwort, seaside alder, and box huckleberry. Besides plants, the watershed is also home to numerous animals, including bald eagles, Delmarva fox squirrel, peregrine falcons, otters, muskrat, beavers, raccoons, and white-tailed deer. Nanticoke and Blackwater Rivers 35% of wintering waterfowls. Nanticoke River contains several fish species, including pickerel, perch, largemouth bass, catfish, bluefish, rockfish, weakfish, and sea trout.