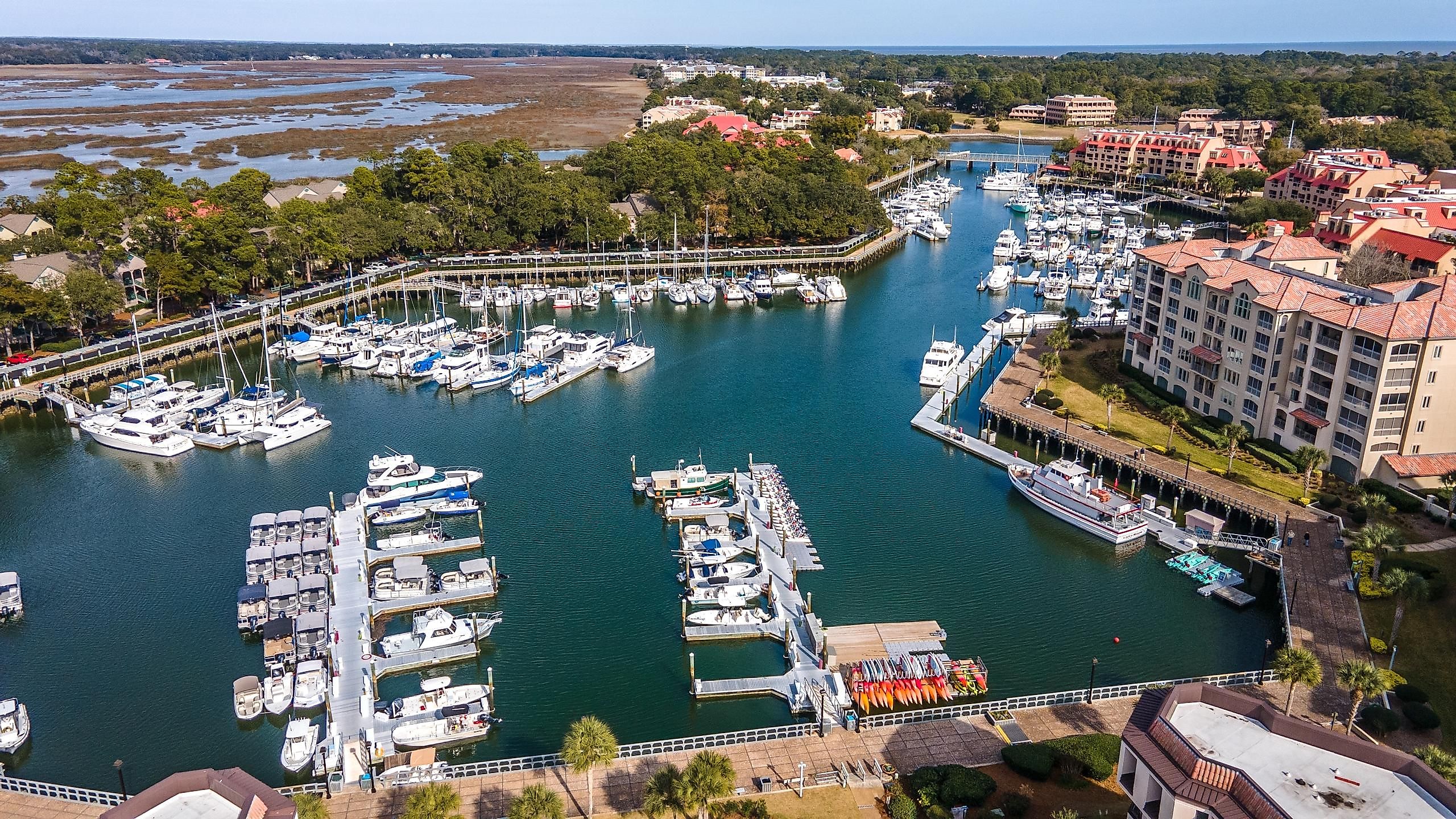 11 Gorgeous South Carolina Towns To Visit In 2023
South Carolina was once part of the original Thirteen Colonies, and the state's fascinating history is everywhere to be seen within its borders. Also known as the Palmetto State because of the gorgeous Palmetto trees that grow everywhere, South Carolina is famous for having the only commercial tea plantation within the adjoining states. Over the years, South Carolina has gained a reputation for offering world-class white sand beaches, magnificent parks, unmatched cuisine, and warm southern hospitality. And the best places to experience this firsthand are the towns beautifying this popular state. Whether you want to learn more about the birthplace of James Brown and Chubby Checker, enjoy a literary festival, or lounge on the beach, the following towns have got you covered.  
Cheraw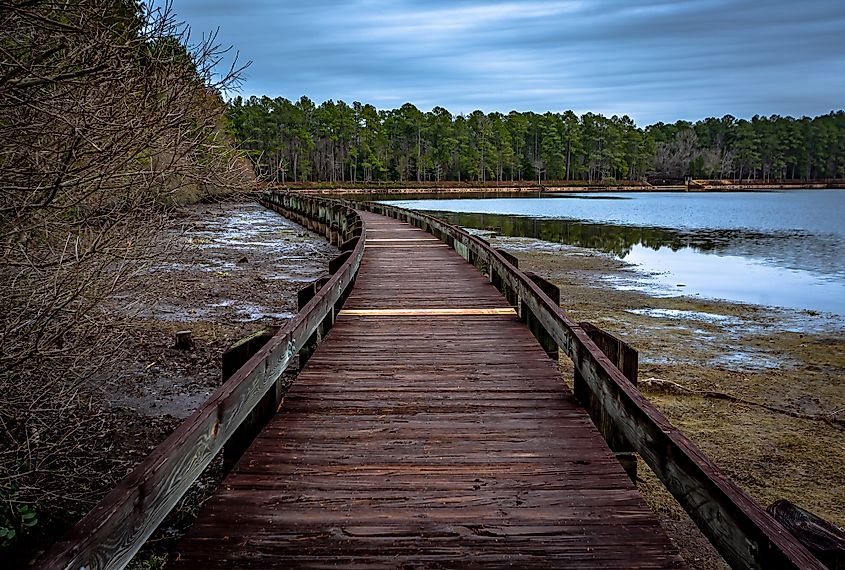 Often called "The Prettiest Town in Dixie," Cheraw is named after the Cheraw people who inhabited the nearby area along with the Pee Dee American Indian tribes. This pre-Revolutionary town is home to a 213-acre National Register Historic District and the H. Cooper Black Jr. Memorial Field Trial & Recreation Area. You can get a key to the Lyceum Museum, where several artifacts are on display, and immerse yourself in the history of this gorgeous place.  
Cheraw's beauty extends to Cheraw State Park, where you can take a leisurely boat ride on the 300-acre Lake Juniper or throw in a line and wait for a catfish or bass to bite. The park is also famous for its championship 18-hole golf course, so if you're an avid golfer, you can perfect your putting here. If you visit Cheraw during July, you should join the annual Independence Day celebration, with the kick-off event starting on July 3rd. While you're at it, you can enjoy some of the best southern food in the US at The Shed Restaurant or chow down on some chicken fried steak at River's Edge.   
Bishopville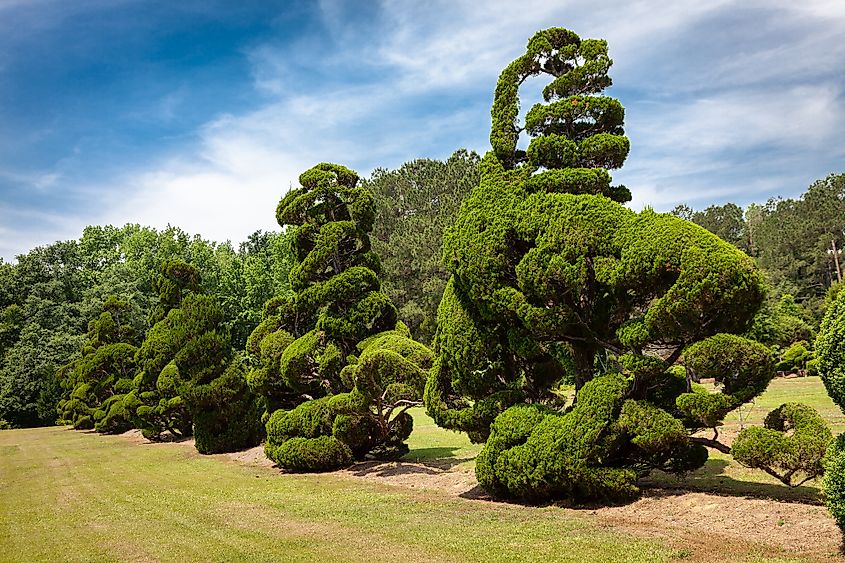 The next town on our list is quirky Bishopville. Here, you can visit the Button Museum, established by Dalton Stevens. Stevens suffered through decades of insomnia and started sewing buttons to one of his suits when he couldn't sleep. One suit and 16,000 buttons later, and the concept for a button museum was born.   
If you're not a fan of buttons, you can check out the beautiful Pearl Fryar Topiary Garden. The garden stretches over three acres of stunning topiary shapes that resemble a fairytale landscape. If you want to explore a bigger landscape, the evergreen Lee State Park offers picnicking, fishing, geocaching, and camping. Bishopville also isn't lacking in great places to eat, with Smoke Pit BBQ offering pull pork and pull turkey to line your tummy after an adventurous day. 
Pendleton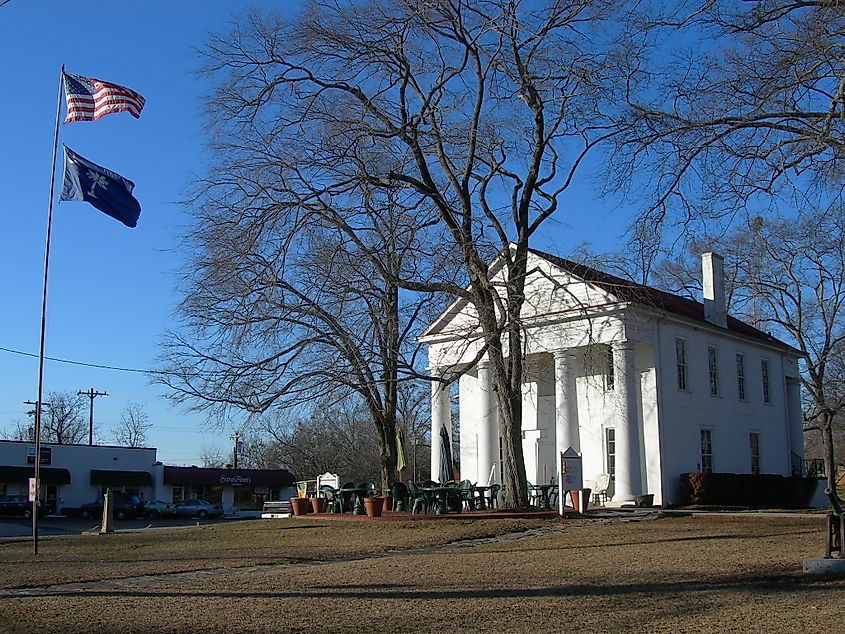 Another gorgeous and historic South Carolina town you simply must visit before 2023 bows out is the mountain town of Pendleton. Here, you'll find more than 50 magnificent buildings that have stood their ground since the 18th and 19th centuries. The town was laid out in 1790 and looks much the same today as it did back then. It has a sister city called Stornoway in Scotland's Outer Hebrides, and the entire Pendleton is listed as a National Historic Place.  
As you take in the incredible, historic atmosphere, stop for a treat at Mama Rae's Ice Cream Shoppe or take in a show at the Clemson Little Theater-Pendleton Playhouse. There are even several hiking trails to explore in Fant's Grove while enjoying the fresh mountain air. You'll enjoy great views from these trails, including the picturesque Lake Hartwell and lush pastureland.  
Sullivan's Island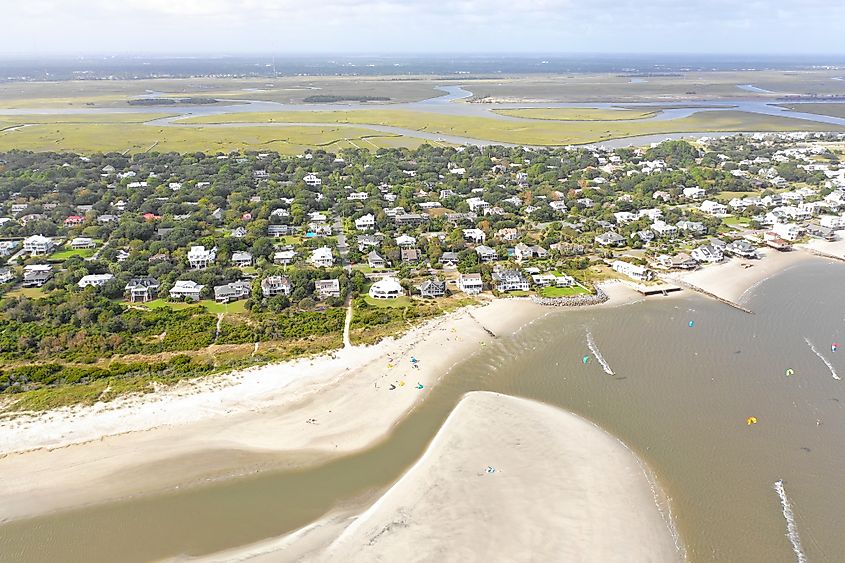 If you're hoping to run into a celebrity or two while visiting small towns in South Carolina, your wish may come true on Sullivan's Island. Here, you may spot legendary actor Bill Murray, A-list actress Reese Witherspoon, or late-night talk show host Stephen Colbert. Besides famous faces, this pretty town offers inviting beaches, tranquillity, and a few spooky folktales. Walk along the shoreline as the golden sunrise illuminates the sky, or get lost in a book with your toes buried in the sand. 
In the afternoon, head over to Mex 1 for a margarita and spicy tacos before taking some time to explore the palmetto-log Fort Moultrie. Don't forget to check out the UFO House at Station 28 1/2 or try the delicious gelato at Beardcats. If you're up for an evening with a difference, head back to the beach at sundown for ghost crab hunting.  
McClellanville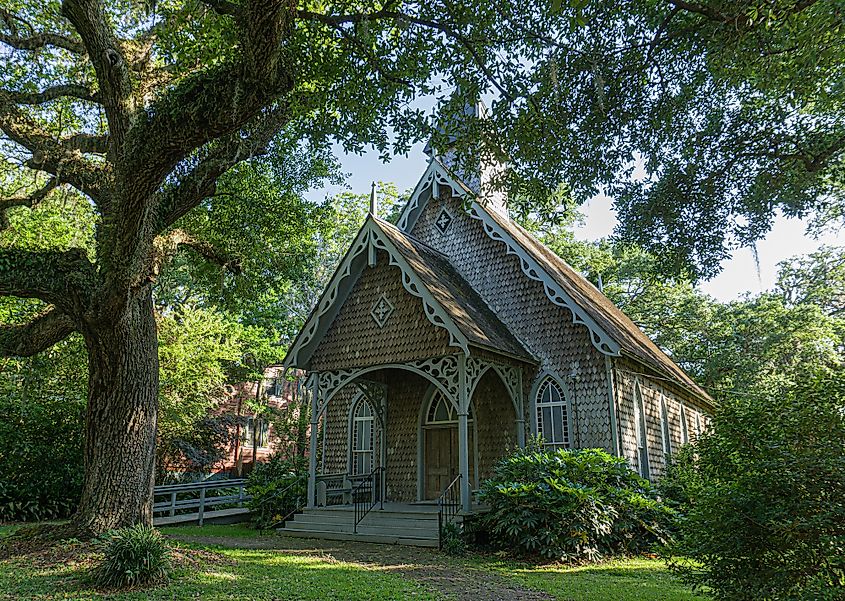 If you've ever pictured the Gingerbread House in the Hansel and Gretel story, you probably imagined it to look something like the charming St. James-Santee Episcopal Church in the tiny fishing town of McClellanville. This exquisite little building looks like its windows were made from sparkling sugar and its roof from rich ginger cake.  
Other than bewitching architecture, McClellanville, with its 500-strong population, also possesses the soul of the sea and history. The trees here are ancient and stand guard over the pre-Civil War Era homes. You'll find intricate glasswork and stunning nature photography at the McClellanville Arts Council and Pickney Street Gallery. On the outskirts of the village, blackwater swamps and protected forests await. When you've conquered the swamps you can take a well-deserved break and enjoy a picnic in the shade of the infamous 1000-year-old Deerhead Oak.  
Hilton Head Island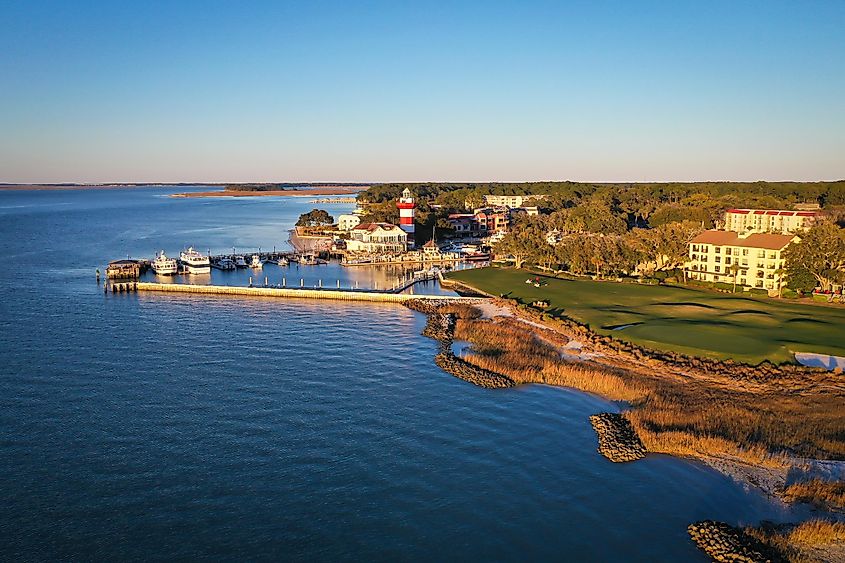 Halfway on our list of gorgeous South Carolina towns is the spectacular Hilton Head Island. This place is the largest barrier island on the Southeastern coast. It is also a Lowcountry resort town that resembles the shape of a shoe and has been ranked one of the best islands in America. Hilton Head has everything you could want to explore in a small town and much more. Here, you can play spot the alligator in the vast salt marsh or book a kayak tour of the tidal creeks and sea estuaries. Hilton Head is overrun with nature trails where you can find inner peace in the outer quiet. Or you could go on a boat ride and watch as dolphins frolic in the waves. 
For an outing with a thrill and chill, head to the Stoney-Baynard Plantation, where you may just run into a ghost or two. You can also get your party on in Hilton Head, where the nightlife scene rivals that of big cities. After a night out on the town, you can grab a table and enjoy some of the freshest local seafood at Hudson's Seafood House on the Docks.  
Edisto Island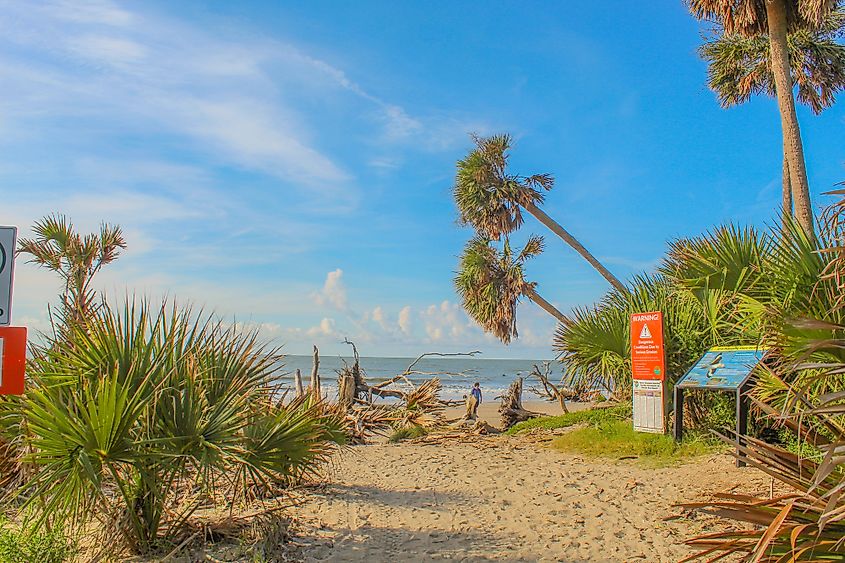 Hilton Head isn't the only beautiful island to visit in South Carolina. Edisto Island, one of the Sea Islands in this state, is a simply magnificent place. Named after the historic Edistow people who once inhabited the island, Edisto Island is one of the most popular destinations in the state. 
Apart from enjoying the beach life in Edisto Island, you should visit the Botany Bay Plantation and pick up shells on Botany Bay Beach. For an educational day out, you can walk through the Edisto Museum to learn more about the island's history. And if you want to know even more history, you can book a tour of Edisto, which goes past cemeteries, churches, and plantation homes. If you want a dining experience as unique as Edisto itself, be sure to fall in at the SeaCow eatery. They specialize in home-cooked fare as well as seafood and grills.  
Folly Beach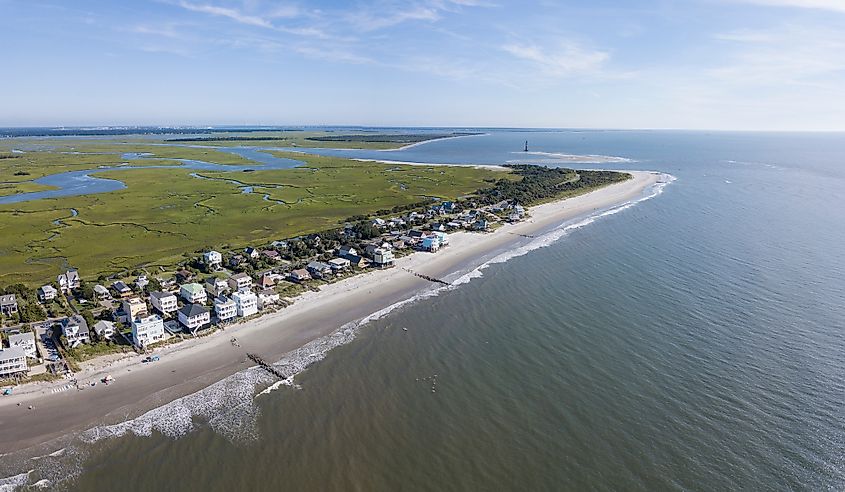 Folly Beach may have a quirky name, but there is nothing foolish about spending some quality time in this amazing South Carolina town. You can stroll along the Folly Beach Pier or visit the Folly Beach County Park.
This coastal beach town offers dolphin sightings and ample fishing opportunities. It is also a loggerhead turtle nesting area. So if you find yourself in this pretty town between May and October and you stay over near the beach, make sure your room light does not illuminate the sand. This way, the cute little baby loggerheads can use the moonlight to find their way to the water. After oohing and aahing about the cuteness of the turtles, you can enjoy seafood, burgers, and cocktails at the aptly named Loggerheads Beach Grill. Or go for a shrimp po'boy sandwich at The Lost Dog Café. 
Bluffton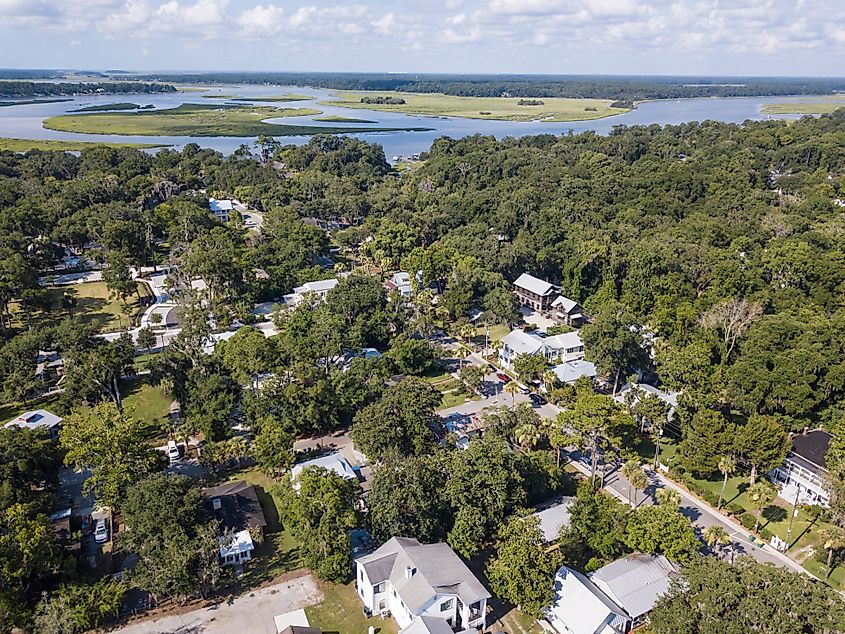 Bluffton is another strikingly beautiful South Carolina town that offers unmatched water views, this time of the May River. Lying across the bridge from Hilton Head Island, Bluffton is all about oyster eating, bike riding, and paddleboarding on the May. If you're not a fan of water sports and activities, you can watch the action from one of the waterfront parks while keeping an eye out for dolphins.  
Within the town limits there are historic houses to see, and the significant Church of the Cross, built in 1857. You could also sign up for the Hidden Treasures Tour and learn all there is to know about Bluffton's history and the Gullah people. The education continues at Burnt Church Distillery, where you'll enjoy divine food while learning more about the distilling process. For a vibe of a different kind, stop by the Red Stripes Caribbean Cuisine & Lounge for traditional Jamaican food with Caribbean flair.   
Pawleys Island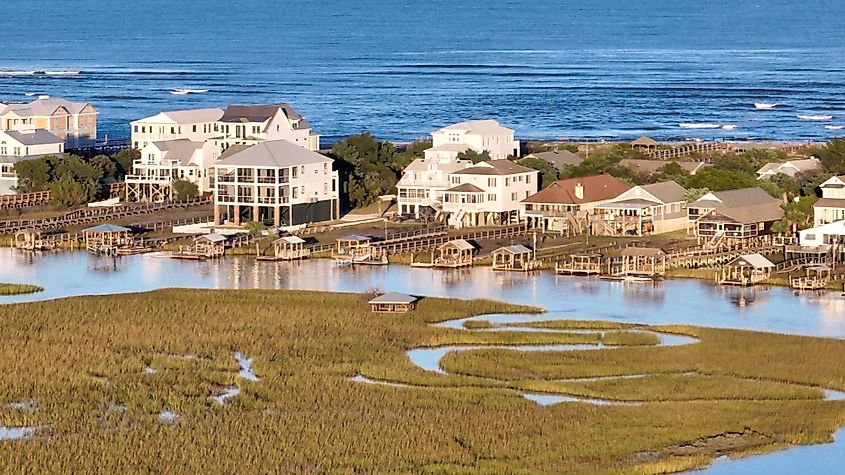 Heading over to another beach town, Pawleys Island is one long stretch of sand and dunes dotted with houses and walkways leading to the surf. The island is one of the oldest summer resorts on the East Coast and is well known for its tranquil lifestyle that sees people fishing and crabbing the days away. When you've fished and run after crabs, you can take a leisurely drive to Huntington Beach State Park, where you'll find a variety of wildlife, nature trails, beaches, and wetlands. While you're at it you can walk through Atalaya Castle, a Moorish mansion built in the early 1930s. If you have some souvenir shopping to do while on Pawleys Island, you'll find what you need at the charming Hammock Shops Village. When it comes time for dinner, and the sun turns the sky red as it sinks below the horizon, you can enjoy a beer and bite at Austin's Cabana Café. 
Seabrook Island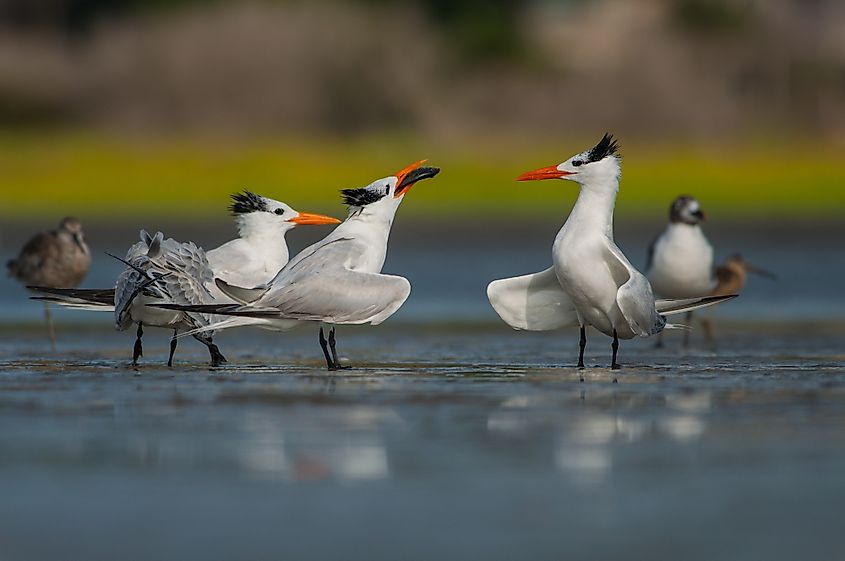 And here we are, at the final stop of our tour through gorgeous South Carolina towns. Our journey ends in Seabrook Island, a dream South Carolina destination. Seabrook Island is a natural wonder, home to marshes, beaches, and a massive maritime forest. You can go horseback riding on the beach, explore the tidal creeks, rivers, and salt marshes, or play a round of tennis at The Racquet Club. If you're more of a golf person, you can get in a few rounds at Ocean Winds' par-72 course. You can also catch yet another marvelous sunset from Pelican Beach as you sip on white wine while inhaling the tangy sea air and feeling the salty breeze in your hair.  
South Carolina is the epitome of Southern charm and hospitality. It shines through in every gorgeous town and every stunning city. The people here are warm and friendly, the beaches fantastic, and the sights something to behold. Don't miss out on experiencing the Southern way of life, one pretty town at a time.