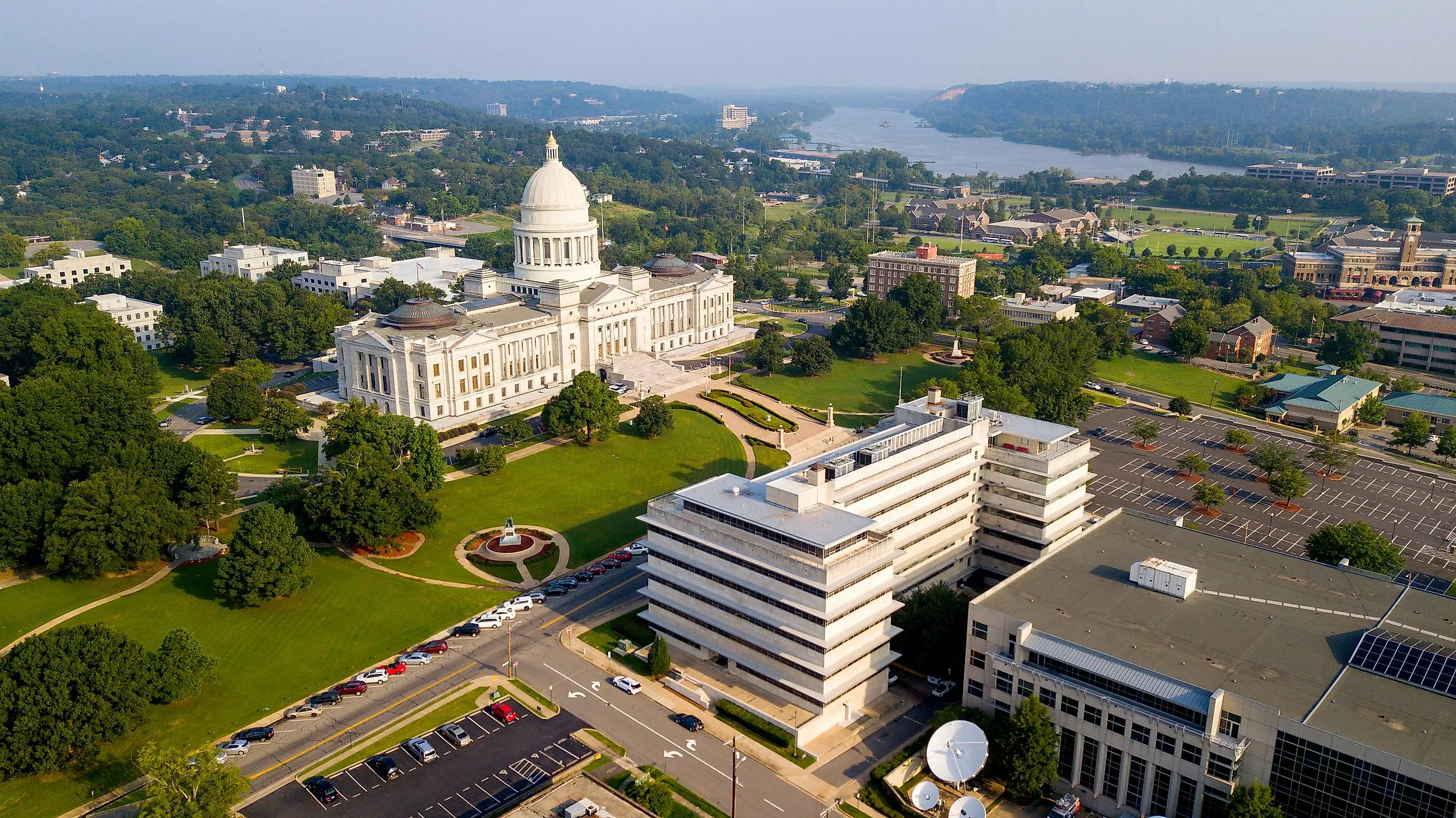 10 Largest Cities In Arkansas
Welcome to the "natural state," better known as Arkansas, a state situated in the south-central part of the United States. But a word of caution for those who struggle with names; this state is annunciated (AR-ken-saw) and not (AR-kan-sas). On a national scale, Arkansas is the 29th largest state, encompassing an astonishing 1,37,732 square kilometers. Arkansas' location is also a nod to its nickname of being the "natural state." With epic geographical features and rich natural resources such as the Ouachita and Ozark Mountains, Arkansas Timberlands, the Mississippi River, and the Arkansas River, it is not surprising that over three million citizens call Arkansas home; and here are its biggest cities:
1. Little Rock – 204,405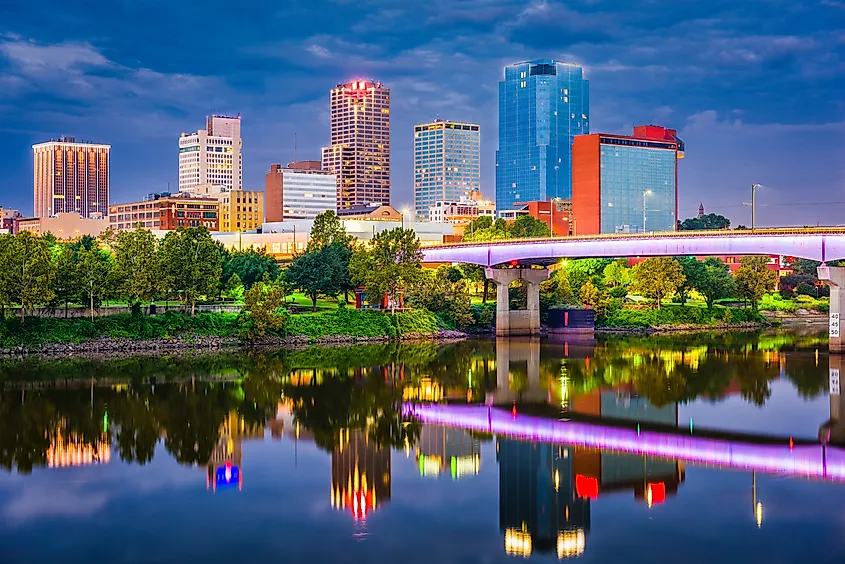 Making the first entry on this list is the capital city of Arkansas, Little Rock. Perched in Pulaski County and centrally located in the state, Little Rock possesses a robust transportation system and government services. Are you one for local culture? Take a look at the Arkansas Museum of Fine arts, the Arkansas Repertory Theatre, and the Arkansas Symphony Orchestra, all of which are a few spaces to take in local Arkansan art.
On the other hand, Little Rock was first incorporated in 1831 and is an impressive destination for local and state history. You won't want to miss out on an opportunity to take in the sights of the well-preserved historic neighborhood of Little Rock and the Quapaw Quarter, a distinctive time capsule of the past. But, perhaps why over 200,000 residents choose to call Little Rock home are the spectacular sights of the Arkansas River and the many parks and recreational areas like Pinnacle Mountain State Park, the Arkansas Arboretum, and the Arkansas River Trail. All of this has elevated Little Rock's population by 0.90% since 2020.
2. Fayetteville – 98,203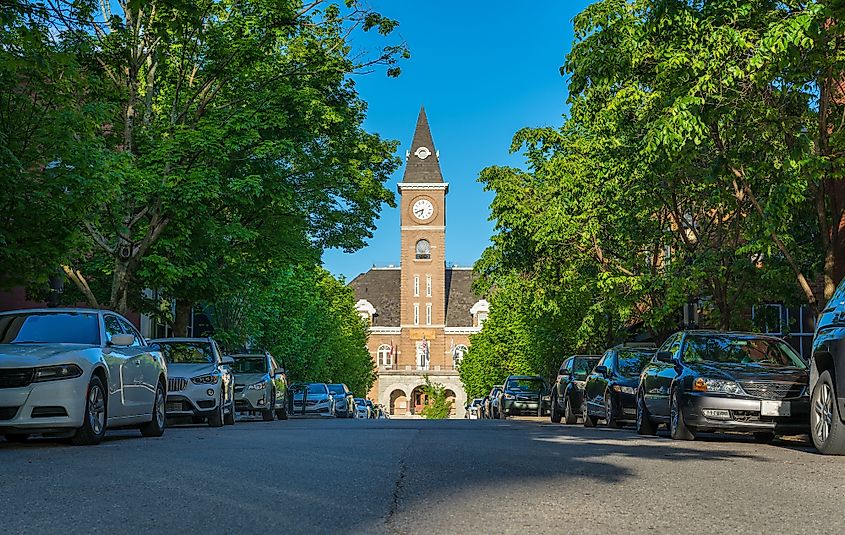 Dipping below the 100,000 mark, Fayetteville is the most prominent city in northwest Arkansas. Nestled in the stunning Boston Mountains of the Ozark Mountain Range, Fayetteville is best known as the "Track Capital of the World." And if you were wondering if this title has anything to do with Fayetteville's top-notch university, you guessed right! The flagship location of the University of Arkansas can be found here. And in addition to having many coveted cross-country and track and field programs, it is also home to the Arkansas Razorbacks, who put on a spectacle through football, basketball, and baseball games.
Fayetteville's passion for sports is well known, placing it at #7 on the Forbes list of Top College Sports Towns in 2010. More recently, Fayetteville made headlines in real estate news when it ranked as the seventh-best place to live for 2022-2023 by US News. So, it's no wonder this prideful university city in the mountains has seen a yearly population increase of 2.12%.
3. Fort Smith – 89,728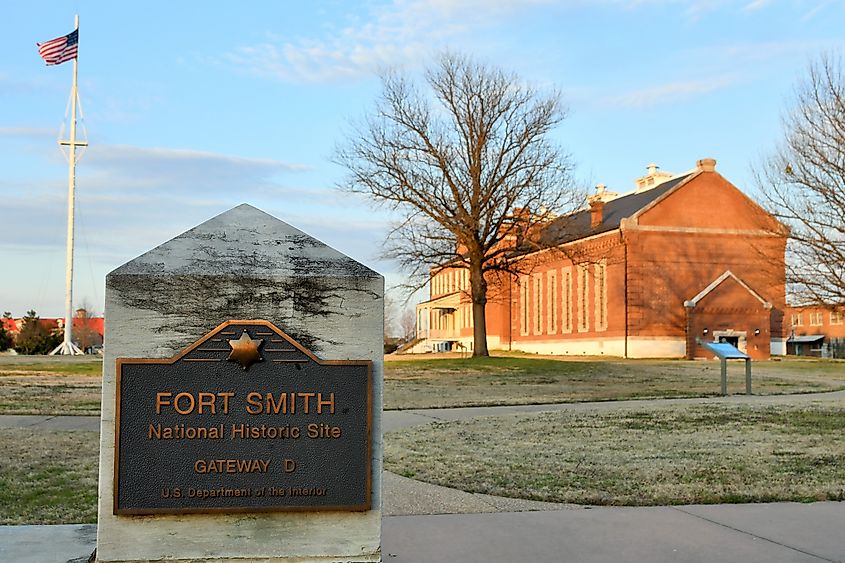 Huddled on the Arkansas-Oklahoma border is the city of Fort Smith in Sebastian County. It also takes up residence at stunning Belle Point, which is better known as the confluence of the Poteau and Arkansas Rivers. When compared to other cities, Fort Smith is revered for its bustling economy. Attracting large corporations such as Rheem, Trane, Gerber, and Kraft Heinz Company-Planters Peanuts, to name a few. But Fort Smith isn't all work and no play, with a wide selection of museums, the Fort Smith Symphony, and Riverfront Amphitheater all adding to the rich culture of this community.
Center Mall is one of the largest shopping centers in the area and is a haven for those who enjoy retail therapy. But some of Fort Smith's little known secrets is the cache of landmarks. And any history buff will appreciate the Fort Smith National Historic Site or the Belle Grove Historic District; just don't forget a camera! All these features add to the attractiveness of Fort Smith, which has seen an uptick in its population of 0.66% since 2020.
4. Springdale – 87,033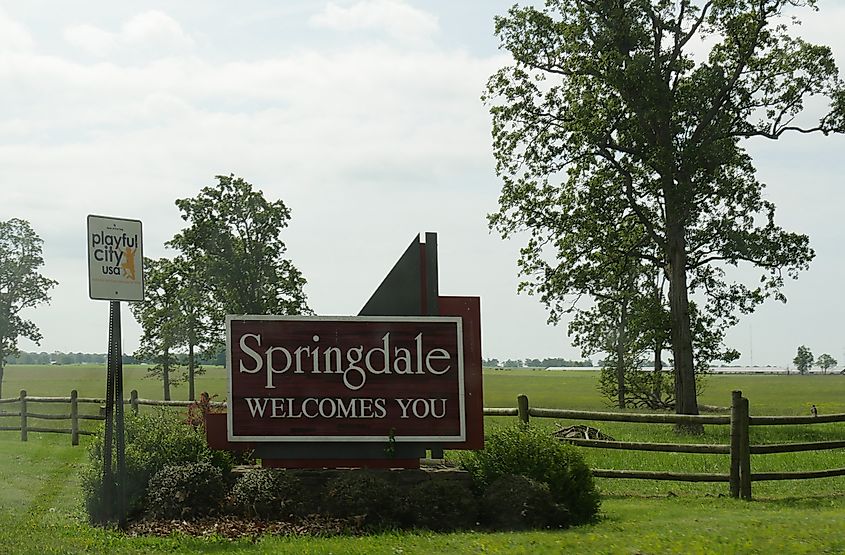 Stationed in both Washington and Benton Counties, Springdale can be found on the Springfield Plateau of northwest Arkansas. Initially named Shiloh, modern-day Springdale is renowned as a major industrial city in Arkansas. So much so, it houses the headquarters of the world's largest meat-producing company, Tyson Foods. A corporation with such a significant impact that in 2014, Springdale was designated the "The Poultry Capital of the World." In terms of demographics, Springdale has a large population of Marshallese, who came to the US to work for Tyson Foods from the Marshall Islands. As a result, you can find the Marshallese Consulate General right here, in Springdale. However, if you find yourself in town, don't miss out on a chance to see the local minor baseball team, the Northwest Arkansas Naturals, play at Arvest Park. Or take a day trip to the Shiloh Museum of History and learn about the fascinating regional heritage. Yet, like most cities on this list, Springdale has witnessed a population increase with an annual bump of 1.68%.
5. Jonesboro – 80,838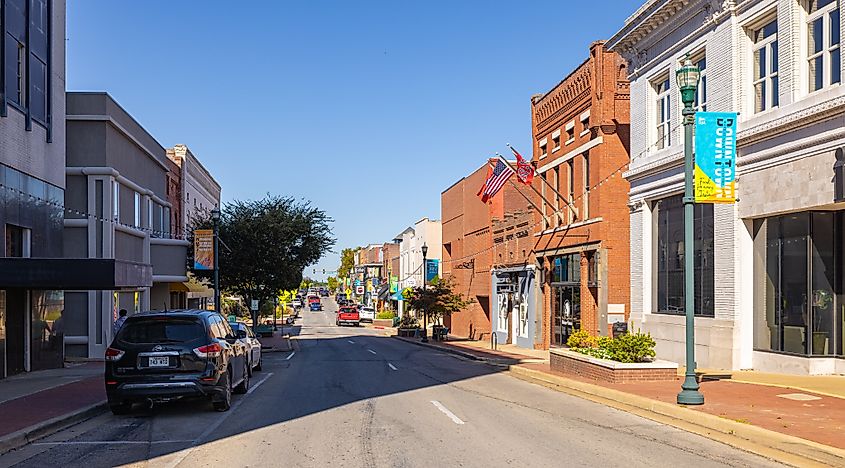 Tucked in the northeast corner of Arkansas in Craighead County, you can find Jonesboro planted on the marvelous geological area known as Crowley's Ridge. Each year, students are drawn here for nationally recognized post-secondary programs. Arkansas State University contains the well-distinguished New York Institute of Technology College of Osteopathic Medicine at Wilson Hall. Yet, Jonesboro's biggest hidden gems can be found uncovered in this charming community.
For those who enjoy the outdoors, don't miss the chance to visit Craighead Forest Park, which features 60 acres of green space, including a fishing lake, campsites, and hiking trails. Although, if jaw-dropping scenic sights are more to your taste, go for a drive on the unforgettable Crowley Ridge Parkway. Moreover, this quaint community has been discovered by many, with more falling in love with Jonesboro's delightful characteristics each year, with an annual increase of 1.42%.
6. Rogers – 72,696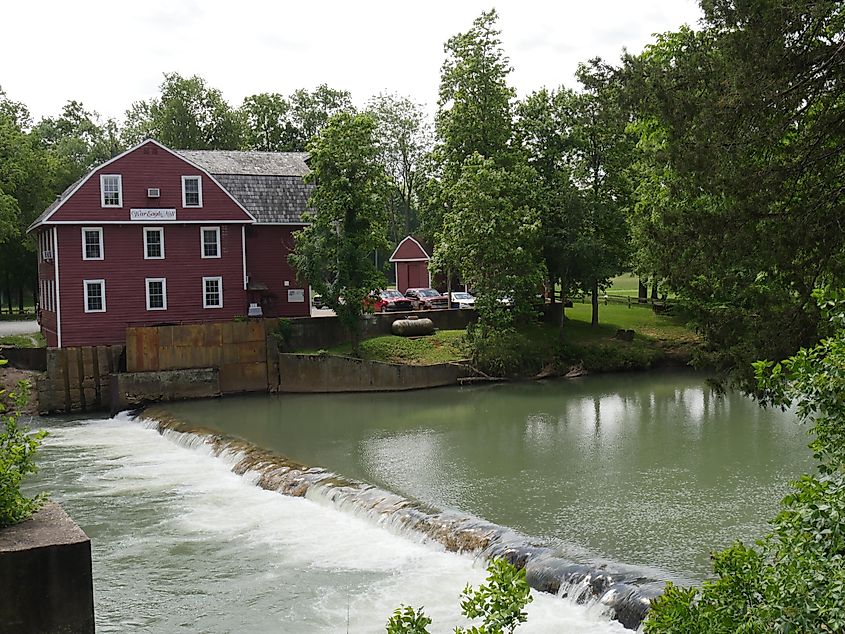 Did you know that the first Walmart popped up in Arkansas? Yep, that's true, and it was right here in Rogers in the year 1962. But that is not the only historical business to call Rogers home, with the popular air rifle company Daisy Outdoor Products also headquartered in Rogers. Furthermore, Daisy Outdoor Products were so beloved that the Air gun Museum also features some of their products and is an intriguing local spot to spend the day.
Nonetheless, Rogers is a surprise jewel in the crown regarding local history, containing many National Registers of Historic Places, such as the Rogers Commercial Historic District and the Pea Ridge National Military Park. While Rogers is cherished for its historic commerce, it is also a treasure trove for post-secondary education, with four universities revered statewide and nationally. Here you will find the University of Phoenix, Harding University, John Brown University, and Bryan College. With a median age of 33 among residents, this younger city has seen a year-over-year increase of 1.96%.
7. Conway – 65,180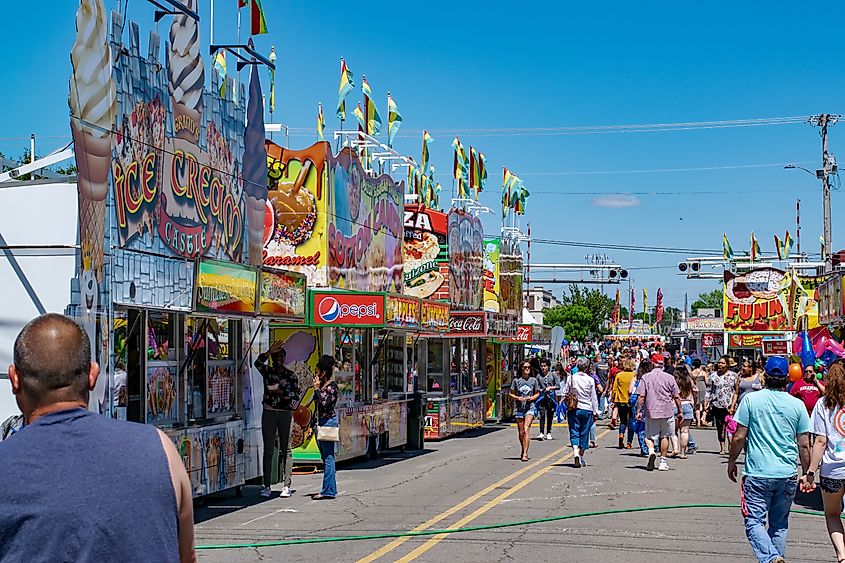 Technically, a suburb of Little Rock, Conway makes up the seventh spot on this list per the populace. On a map, Conway can be located to the northwest of Little Rock in Faulkner County. Here, residents and locals alike enjoy Conway's prosperous culture at the Conway Orchestra, the Faulkner County Museum, and Lantern Theatre. Yet, one of Conway's best-kept secrets can be found in the northeast at Lake Conway, a large stocked fishing lake. Each year, this 6,700-acre lake hosts the Arkansas Crappie Masters. But if fishing isn't your preference, that's not all! With other outdoor festivities like Toad Suck Daze. Yup, you heard the name right! This festival is a multi-day celebration that exhibits live music and good eats. As well as friendly locals. Thus, more and more residents are stumbling upon this city outside the capital. With the population increasing by 0.80% annually.
8. North Little Rock – 65,409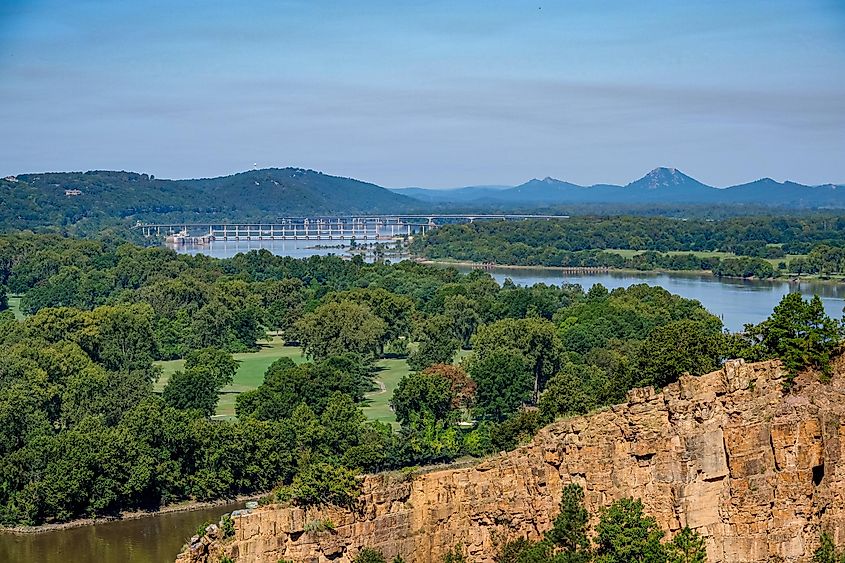 Believe it or not, North Little Rock is a different city than the capital of Little Rock. And what separates the two is the mighty Arkansas River; itself. This city is one of six counties that constitute the Little Rock – North Little Rock – Conway Metropolitan area, with North Little Rock represented in Pulaski County. Here's an interesting fact! Originally called Argenta, the incorporation of the city took place in 1901 and was noted as the "town North of Little Rock." The name of Argenta and North Little Rock exchanged official uses as the wards were dissolved. But ultimately, North Little Rock was decided upon in 1917.
Currently, clues to the indecisiveness regarding North Little Rock's name can be found in the plaques at North Little Rock's City Hall. However, City Hall is a mere glimmer of the compelling history that graces North Little Rock. With points of interest like the Argenta Historic District, the James Peter Faucette House, the Hodge-Cook House, and the Baker House, Bed and Breakfast are sure to pique any history enthusiast's interest in this city. Although teeming with an alluring past, residents have found refuge in this muted city near the capital. Despite the growth not being as steadfast as other cities on this list, it is growing at a rate of 0.35% per year.
9. Bentonville – 57,936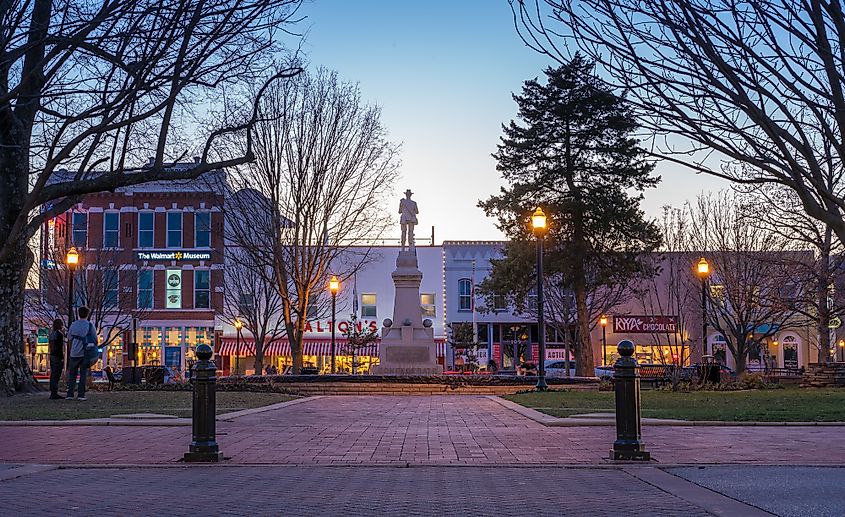 While Rogers may claim to have the first Walmart, Bentonville contains the headquarters of this 384-billion-dollar-a-year business (2022). A pride of the city since it was largely a poultry-based economy before the arrival of Walmart. Nevertheless, Bentonville's economy changed forever, with Walmart having a massive impact on the community. Want to know more? These and more enticing facts can be learned more in-depth at the Walmart Museum. Besides, Bentonville contains a small cluster of museums that target all ages and tastes. From the Scott Family Amazeum for children to the Crystal Bridges of the Museum of Art and even the Museum of Native History, Bentonville has it all.
Additionally, Bentonville houses a whopping 30 noteworthy National Register of Historic Places for exploration. But if being outdoors is more to your preference, there are 22 parks featuring over 50 miles of hiking trails. Perhaps, one of the most underappreciated characteristics of Bentonville is its extensive bike network, which gained recognition in 2017 in Outside Magazine. Bentonville has its quirks, but it could also be why so many a drawn to it. Impressively, it is gaining an annual population of 3.36% or about 1,886 residents.
10. Pine Bluff – 39,687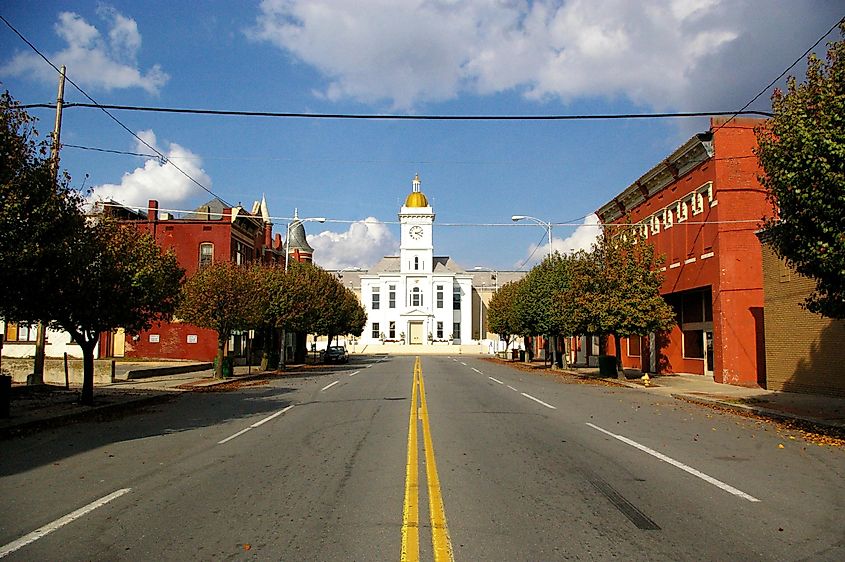 Dipping below the 40,000 mark, Pine Bluff, Arkansas, concludes this list of the 10 ten largest cities. Based in Jefferson County, Pine Bluff occupies the Arkansas Delta and teeters on the edge of the Arkansas Timberlands. This has contributed to this city's awe-worthy natural appeal, which has countless creeks, streams, lakes, and bayous. Did you know that the world's longest bayou can be found in Pine Bluff? Yes, it's true. Bayou Bartholomew is every nature lover's dream. It offers over 360 miles of untapped scenery with over 100 known aquatic species. But that's not the only notable body of water, with the Arkansas River skirting the city's northeastern edge.
The unique eco-diversity has made Pine Bluff an agricultural powerhouse. The fertile soil and endless water supply have given the agricultural sector the edge in growing cotton, soybeans, cattle, rice, poultry, timber, and even catfish. Yes, catfish! With a bounty of timber, there are also numerous paper mills, which further adds to the magnetism of this enormous city. Yet, unlike all the cities on this list, Pine Bluff faces challenges as citizens opt to relocate to other cities. Consequently, Pine Bluff is primed to lose a yearly rate of 1.93% of its population and, since 2020, has lost 6.23% or about (2,636 people).
Over 3 million choose to live in Arkansas, making it the 34th (2022) most populated state. Yet, this has a lot to do with the geological features of Arkansas, with 158,000 acres being publicly owned wilderness. Of which there are 12 federal wilderness areas. Making Arkansas "the natural state," and, like, so many have already encountered, you too can discover Arkansas and its largest cities against an out-of-this-world dramatic backdrop.
The 30 Biggest Cities In Arkansas
| Rank | Name | Population |
| --- | --- | --- |
| 1 | Little Rock | 204,405 |
| 2 | Fayetteville | 98,023 |
| 3 | Fort Smith | 89,728 |
| 4 | Springdale | 87,033 |
| 5 | Jonesboro | 80,838 |
| 6 | Rogers | 72,696 |
| 7 | Conway | 65,180 |
| 8 | North Little Rock | 65,049 |
| 9 | Bentonville | 57,936 |
| 10 | Pine Bluff | 39,687 |
| 11 | Hot Springs | 38,478 |
| 12 | Benton | 35,880 |
| 13 | Sherwood | 33,373 |
| 14 | Paragould | 30,221 |
| 15 | Jacksonville | 29,699 |
| 16 | Texarkana | 29,281 |
| 17 | Russellville | 29,144 |
| 18 | Cabot | 27,127 |
| 19 | West Memphis | 24,176 |
| 20 | Van Buren | 23,304 |
| 21 | Searcy | 22,953 |
| 22 | Bryant | 21,459 |
| 23 | Maumelle | 19,669 |
| 24 | Centerton | 19,448 |
| 25 | Siloam Springs | 17,737 |
| 26 | El Dorado | 17,530 |
| 27 | Hot Springs Village | 16,471 |
| 28 | Marion | 14,034 |
| 29 | Harrison | 13,095 |
| 30 | Blytheville | 12,964 |