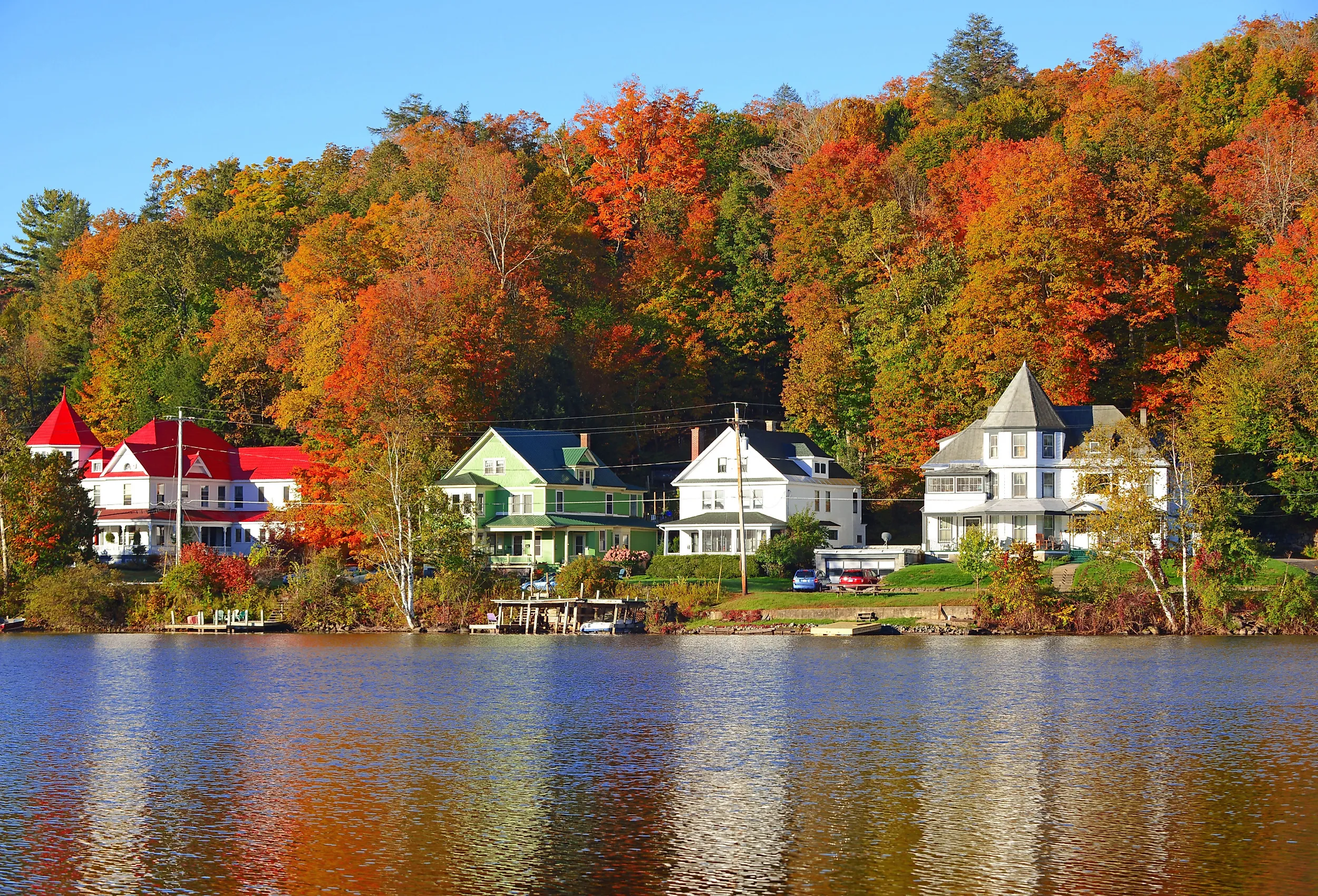 10 Cutest Small Towns in New York
The Northeastern State of New York is famous for many destinations, especially the international destination of New York City. New York City is notable for plenty of the country's top attractions, from the Statue of Liberty, the Brooklyn Bridge, Times Square, Central Park, and the Empire State Building. The Big Apple is a dazzling place full of lights, attractions, and good eats, but this US state also has other places of interest. Around notable areas like Niagara Falls, the Finger Lakes, the Adirondacks, and much more, New York is home to quiet towns away from the bustling city. Many of the small towns across New York have their own unique charm, paired with their distinct histories.
Saranac Lake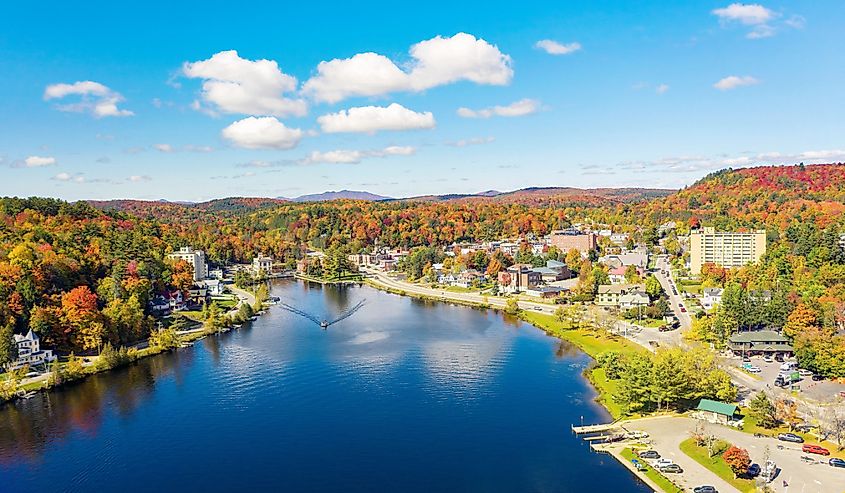 Saranac Lake is a village located in Upstate New York. This stunning village also sits near Lake Placid and the McKenzie Mountain Wilderness. Jacob Smith Moody, who was the area's first permanent settler, founded Saranac Lake in 1819. This village was not always a cheery vacation destination; it was once famous as a hub for health and scientific research.
Today, Saranac Lake allures vacationers with its scenic landscapes of lakes, rivers, mountains, and lush forests. This village is a popular vacation destination year-round. During the winter months, Saranac Lake is a great locale for ice fishing and snowshoeing. This Upstate New York destination is also a great place to witness the color-changing leaves in the autumn.
Canandaigua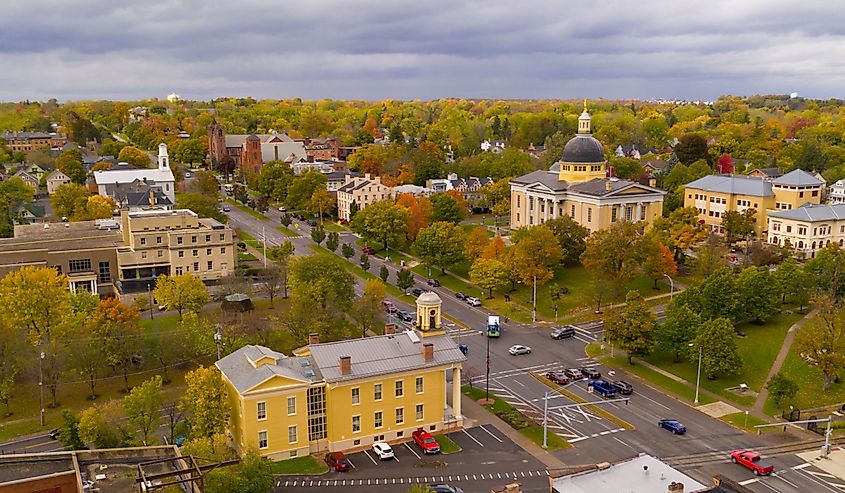 Canandaigua is a small town that is south of Rochester in Ontario County. It also overlooks Canandaigua Lake. Canandaigua became a New York town in 1791, in order to distinguish itself from the village with the same name. Today, this quaint town is nicknamed "The Chosen Spot," and is brimming with local boutiques, restaurants, and accommodations. Visitors of the town also enjoy the Canandaigua Lake through water recreational activities like fishing or swimming. Otherwise, the town boasts a collection of tourist attractions, including the Roseland Waterpark and the Sonnenberg Gardens & Mansion State Historic Park.
Skaneateles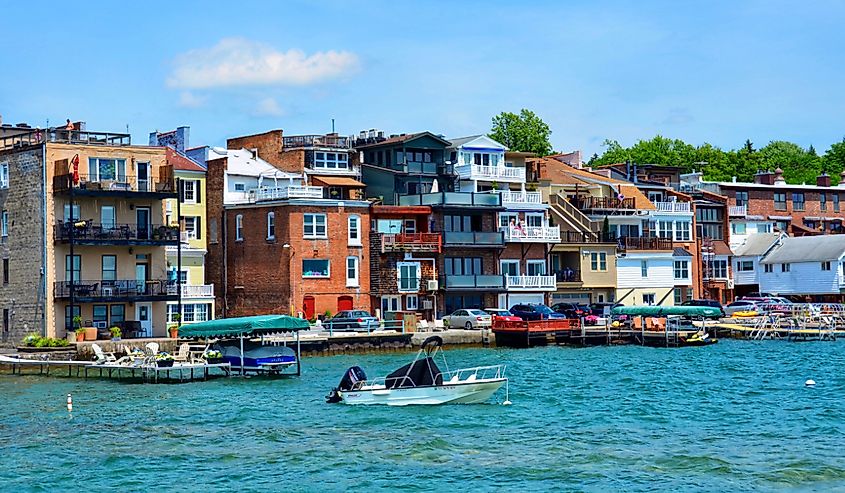 The town of Skaneateles sits in New York's Onondaga County and is about 20 miles away from Syracuse. This cozy town also sits in the state's Finger Lakes area. This town, established on February 26, 1830, derives its name from the nearby water body, Skaneateles Lake (meaning "finger lake" in Iroquois).
Today, tourists can enjoy a host of outdoor activities by Skaneateles Lake, but can also learn about the town's history through its historic buildings. This New York town also hosts annual events like a Dickens Christmas, Winterfest, and the Skaneateles Festival.
Saratoga Springs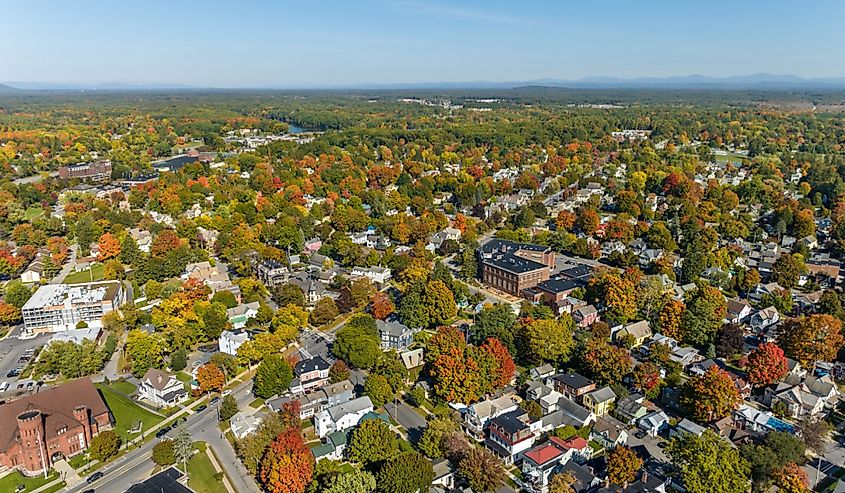 Saratoga Springs is north of Albany, close to the New York-Vermont border. Though the town of Saratoga Springs was incorporated in 1826, the area had an earlier history. Specifically, the region was a sacred site to Native Americans, who nicknamed the area Serachtague (or, "place of swift water").
There is a reason why Saratoga Springs is nicknamed "the Queen of Spas." Besides its reputation as a hub for horse racing, it also has a storied past in the health and wellness industry (due to its abundance of mineral-rich spring waters). A popular locale to explore the town's history is Saratoga Spa State Park. Visitors can also participate in the horse racing culture in this small town with a visit to the historic Saratoga Race Course.
Trumansburg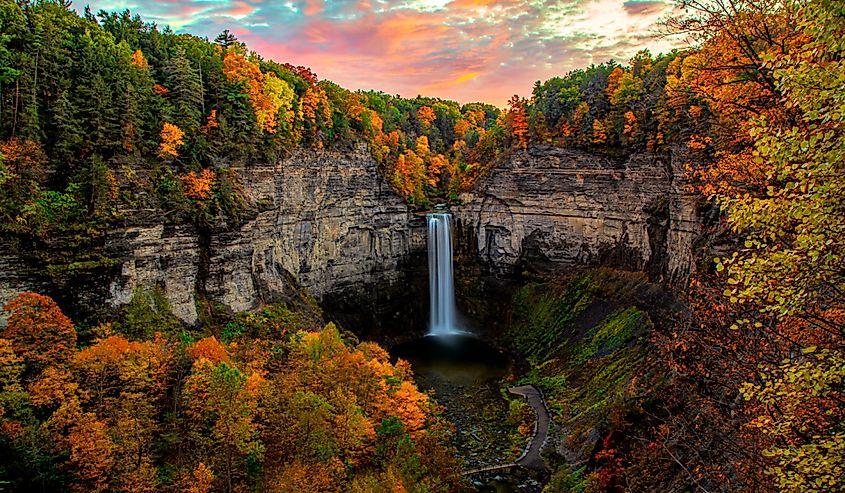 Trumansburg sits in New York's Finger Lake area, close to Cayuga Lake and north of Ithaca. The town was formerly named "Treman's Village" and was only renamed Trumansburg as a spelling error by the US Post Office. Before its incorporation as a town in 1793, the Cayuga (who were the inspiration behind the town's street roads and hiking trails) inhabited the area.
Travelers seeking luxurious comforts can book a stay at the Taughannock Inn, while more adventurous visitors can camp at the Taughannock Falls State Park. Regardless of where one stays, tourists must remember to take time to see Taughannock Falls, a notable Finger Lakes landmark that hovers 400 feet above the rocky gorge.
Lewiston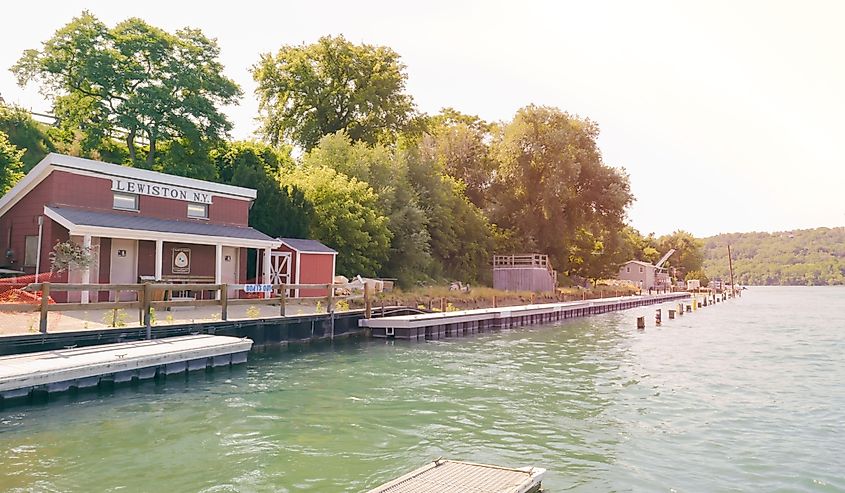 Lewiston resides in Niagara County, across the Canadian side of Niagara Falls and north of Buffalo. Lewiston was the first European settlement established in Western New York. Its formation also encouraged other settlement development around the Great Lakes Region.
This cozy small town in New York boasts a collection of historical sites but is also famous for its local boutiques and eateries close to the Niagara River. Lewiston also hosts yearly festivals, including the Peach Festival, the Jazz Festival, and the Smelt Festival!
Cold Spring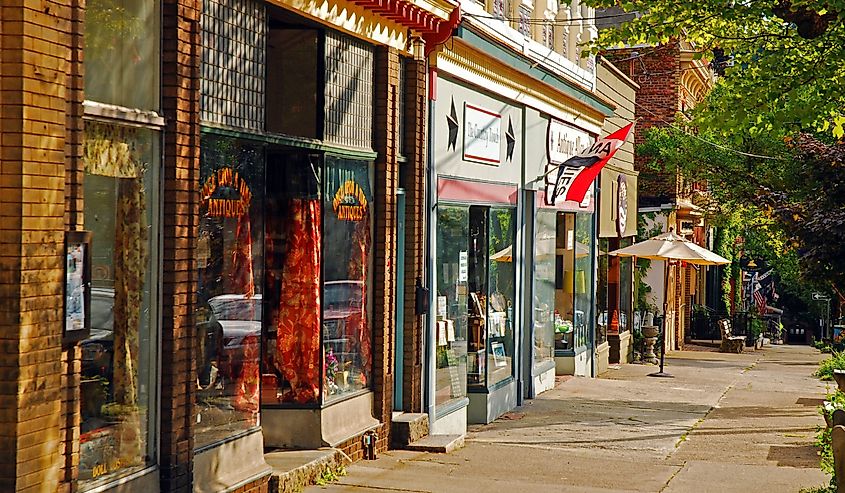 Cold Spring sits in New York's Putnam County overlooking the Hudson River. The first inhabitants of the village arrived in 1730, but the town was not incorporated until 1846. Through the centuries, Cold Spring functioned as an industrial destination, from munitions for the Civil War's Union Army to a functioning tourist destination in the present day.
Cold Spring is not just a village blessed with picturesque views of the Hudson River; there are also tons of historic attractions for the avid history buff, including the West Point Foundry Preserve, the Boscobel House and Gardens, and the Putnam History Museum.
Lake George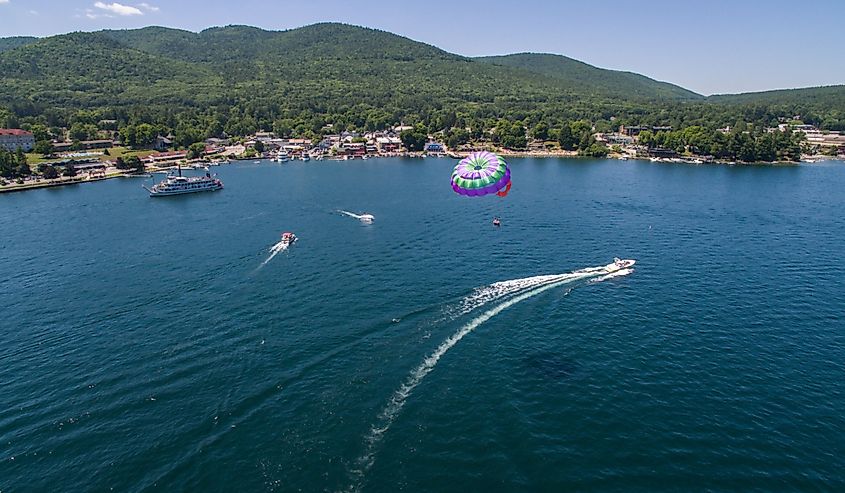 Nestled in the Southern Adirondacks, Lake George is north of Albany in Warren County. Lake George played a crucial role during the Seven Years' War, acting as a battleground and a site for three historic forts: Forts Gage, George, and William Henry. Though the smallest town in its county, Lake George is one of New York's popular vacation destinations, earning its nickname as "the Queen of American Lakes." Many travelers and road trippers consider Lake George a gem when it comes to visiting the Adirondacks.
Westfield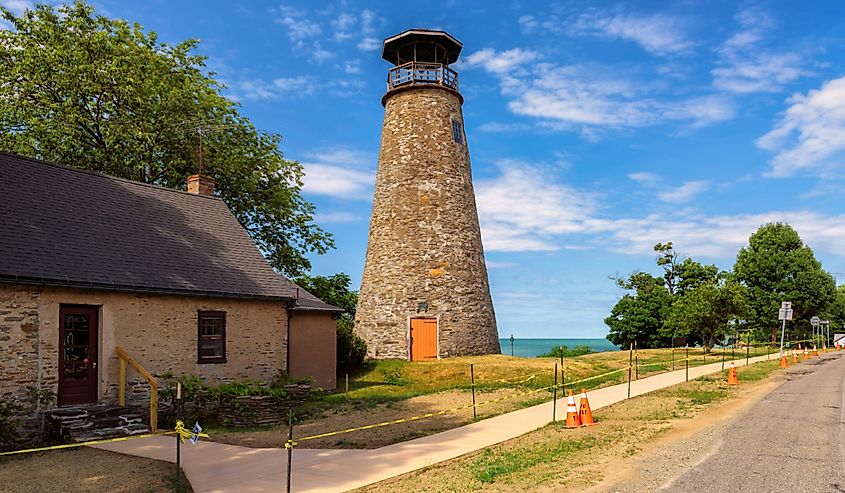 This small town resides in Chautauqua County, close to Lake Erie. Settled by European immigrants in 1802, Westfield was formerly known as the "Cross Roads" due to its proximity to a road that connected Buffalo, New York, and Erie (Pennsylvania).
Westfield is open year-round to visitors, boasting a collection of cultural activities while offering recreational excursions like sailing, golfing, and skiing. This small New York town also sits in the Concord Grape Belt, the world's largest growing area for Concord grapes in western New York (and northwestern Pennsylvania).
New Paltz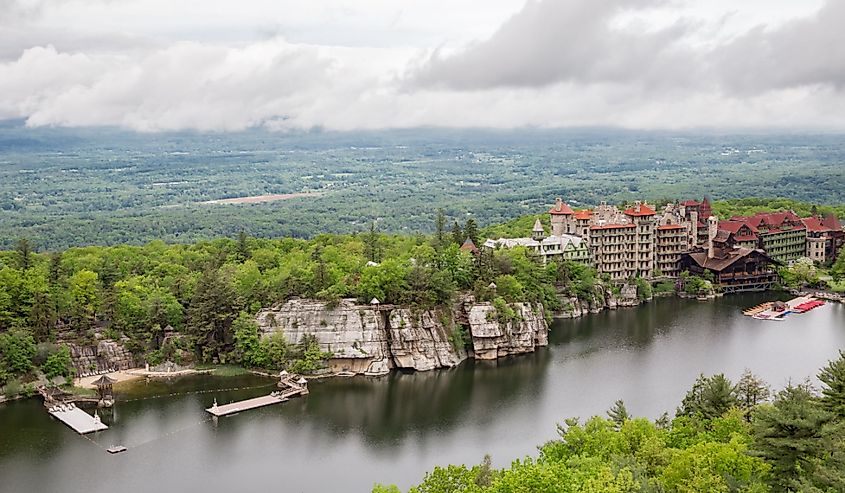 New Paltz sits in Ulster County, north of New York City and close to the Hudson River. Founded in 1677, the town initially enjoyed a small population of farmers and stretched over 40,000 acres of space. As its population grew throughout the centuries, New Paltz eventually transformed into a village.
Today, New Paltz fuses its history with small-town charm, alluring visitors to peruse its quaint downtown area and community parks. Curious visitors can even stop by the National Historic Landmark District to admire the stone houses built by the families of the town's founders.
New York is a state full of America's greatest attractions and world-class cities. Though cities like New York City, Ithaca, Buffalo, and Albany are all great destinations with unique characters, this northeastern state has a lot of charm through its small towns. These small New York towns may not have as many attractions or landmarks compared to their bigger municipal counterparts. Still, they emanate their own appeal to draw curious travelers and passersby alike.