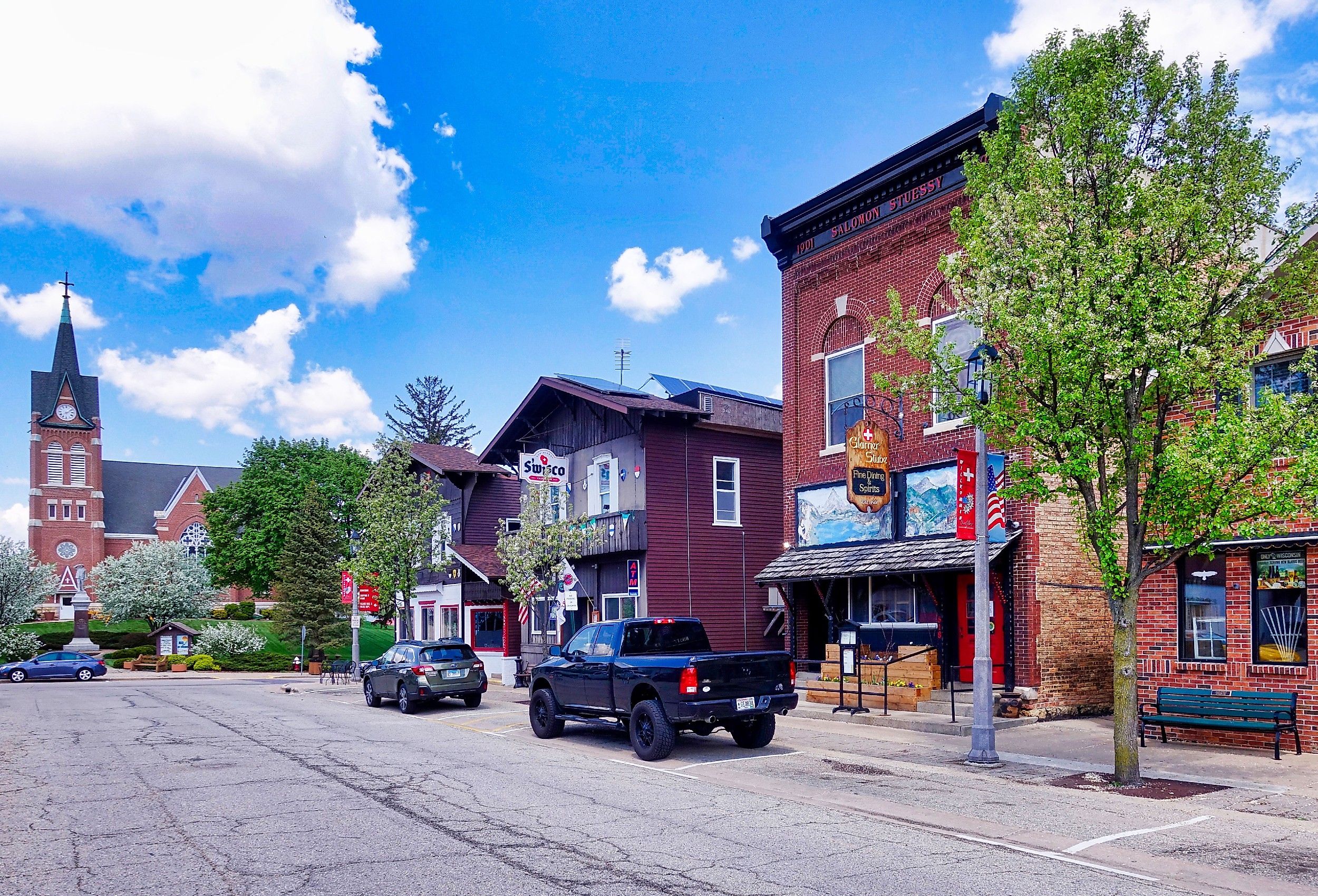 10 Coolest Small Towns in Wisconsin for a Summer Vacation
Wisconsin is famous for many things, some more in your face than others, like cheese curds and a vast beer culture that is more respected than rowdy. Its small towns are living extensions of the state's diverse natural beauty and deep heritage, including seafaring and shipbuilding. From the scenery-abounding Door County peninsula to the dense forests in the Northwoods, limestone cliffs, and Lake Michigan, Wisconsin is a real dream vacationland. These small towns, for all tastes of coolness, include tranquil, old-fashioned resort villages like Elkhart Lake to the Door County Maritime Museum in Sturgeon Bay. Connect to more adventures, like access to big cities like Madison and Green Bay, and explore the waters that abound for the best summer vacation.
Bayfield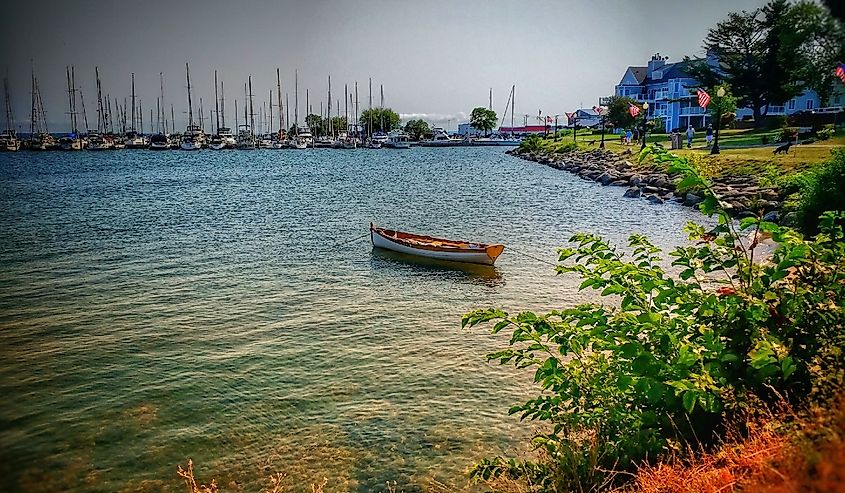 Bayfield is one of the state's smallest towns, with a powerful, peace-inducing atmosphere like no other. Find its tranquil harbor near the northernmost point of the state in the scenic natural embrace of the sparkling bay and lake waters and hiking trails through the surrounding forested landscape. The family-friendly town calls for year-round vacations.
Bayfield will fill up every day of a family vacation along Rittenhouse Avenue alone, like the Copper Trout for fresh-caught fish and midwestern dishes. Peruse this vibrant stretch overlooking the lake through unique shops, quality eats, and lovely cafe terraces to relax with views. Enjoy easy access to some of the grandest adventure spots in Wisconsin, like the gateway to Madeline Island and the Apostille Islands National Lakeshore and its striking sandstone cliffs and caves. With a whole chain of islands stretching into Lake Superior, you are guaranteed scenic solitude through your favorite activities, like fantastic sea kayaking and backcountry camping.
Elkhart Lake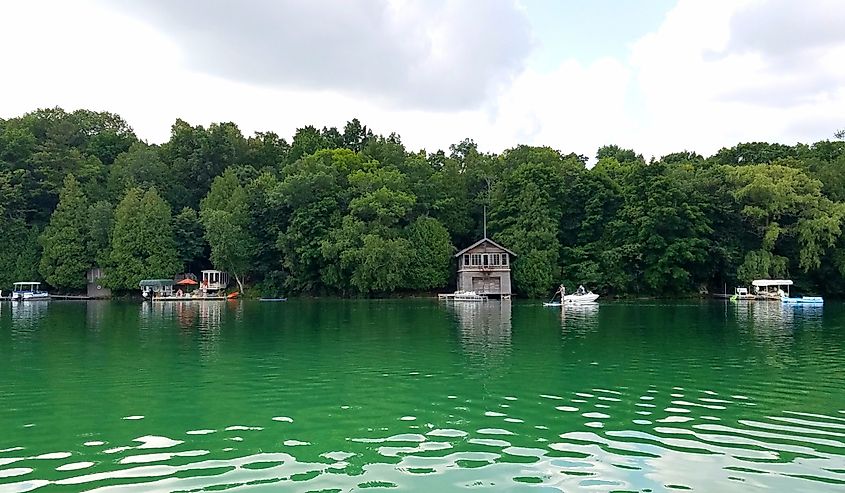 Elkhart Lake, a famous village for its racing history, is a popular vacation place for all tastes, with easy access in eastern Wisconsin. The Road America's historic, super-fast, permanent racing track and 600-acre complex impress even the most indifferent visitors. Find the state's cleanest namesake lake right here, a favorite among summertime-loving water enthusiasts who want to experience the refreshing, signature aqua-colored waters like nowhere else.
If the prettiness doesn't have you running for the lake, the resemblance to a slice of Caribbean heaven in the Midwest will have you packing for a perfect getaway. Start your day at Lake Street Cafe and enjoy the wholesome Midwest hospitality at the famous Osthoff Resort. The Paddock Club will suit every palate for dining, while the Tiki Bar at The Shore Club will inspire tropical vibes to catch the sunset and down a fruity beverage like you're far out at sea.
Fish Creek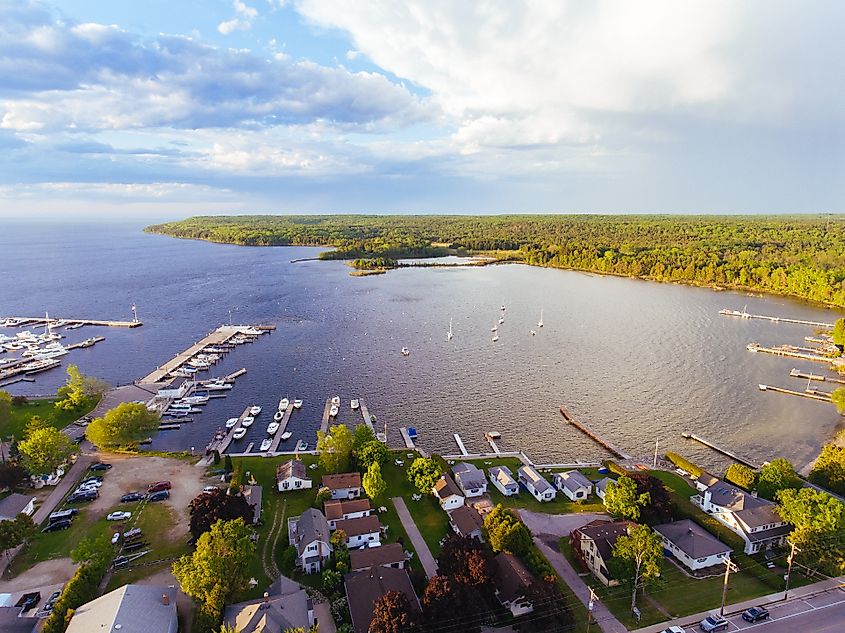 This historic village in Wisconsin, nestled between the sparkling Green Bay and the dramatic limestone bluffs, is a great holiday destination for a scenic relaxation vacation. Dive into the historic and natural charms in the small-town feel, so refreshing after all the city vibes. The streetscape, laden with vintage sights, is a treasure trove for antique lovers on a stroll, while the surrounding natural heaven leaves the outdoorsy in awe.
Take up hiking and biking beneath the limestone walls, along the water's edge, and to the scenic Sunset Beach Park, with some of the best sunbathing spots and swimming for the whole family. Relax under the sun with gentle surf and stroll to the nearby historic Eagle Bluff Lighthouse and museum, among more attractions for every taste just a hop away from the shore. Visit the beautiful Peninsula State Park for an immersive day in nature and tour the local wineries. Stop by the quaint Alexander Noble House Museum for more history and absorb the tranquility in town, which stays calm even during the summer.
Hayward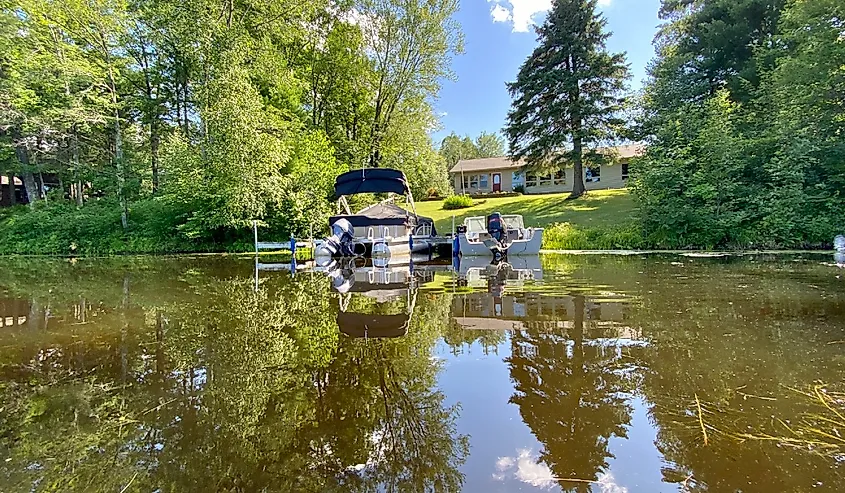 Hayward is a perfect summertime vacation destination that welcomes thousands of visitors, even from out of state, making the small town's population of 2,600 explode. Appreciate the scenery with adventures, like fishing, watersports, and world-class golf.
Hayward is a favorite town among active families with curious kids. Enjoy bonding time with each other and the animals at the Wilderness Walk Zoo, and head on a spree through the downtown boutiques and many family-friendly restaurants. Visit the wineries with your honey, and let the boys play at the Freshwater Fishing Hall of Fame or at the upscale Sevenwinds Casino, Lodge, and Conference Center. There is also supreme fishing at Windigo Lake and Lac Courte Oreilles, and refreshing trails at Kissick Alkaline Bog Lake State Natural Area for strolls, hikes, and relaxing picnics.
Minocqua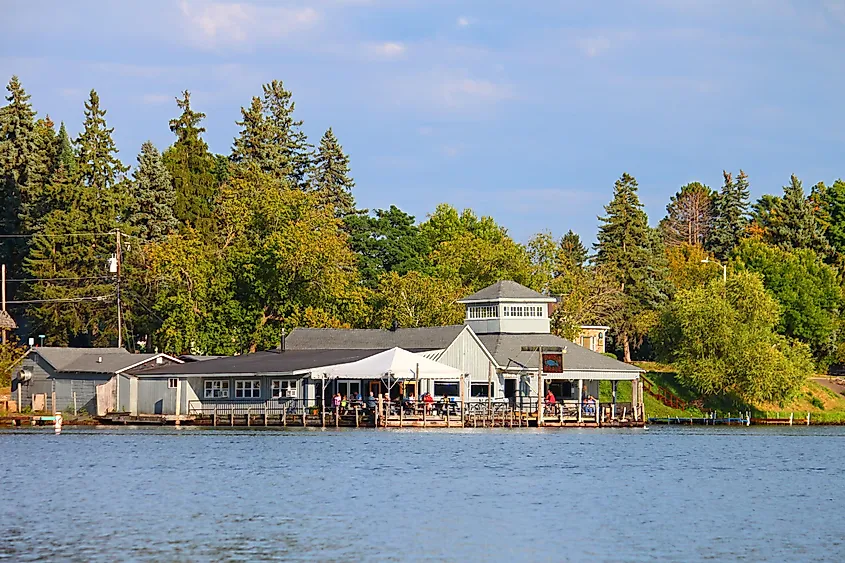 The "Island City" of Minocqua is a tiny town on the pristine Lake Minocqua in northern Wisconsin. It is a big deal among winter enthusiasts, but water recreation also abounds for tourists and families on summer vacation.
Choose the best rest from one of the great rustic, lodge-style accommodations, and don't miss the renowned Rocky Reef Brewing Company, just to the north of town. With beer being the way of life in Wisconsin, you will have firsthand access to the most impressive selection of cool craft beers, like the classic light "Staycation" or the popular "Musky Bite" IPA. Relax lakeside with a beverage from the over-a-century-old Thirsty Whale and catch sunsets over dining at Boathouse before the next day's active water pursuits.
New Glarus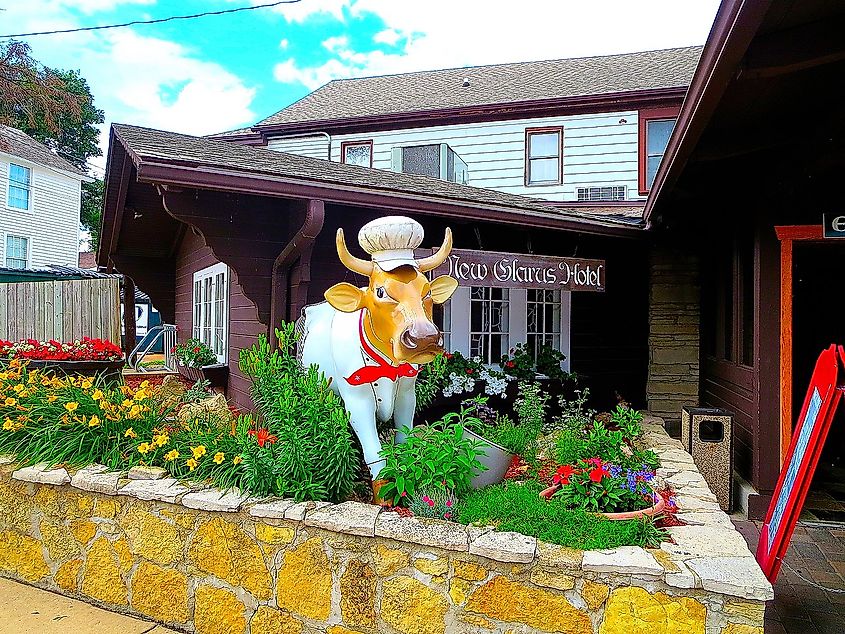 With beer aplenty in Wisconsin, New Glarus holds the top spot in the hearts of vacationing, die-hard beer fans. Stop by the deeply beloved New Glarus Brewery with Spotted Cow craft beer for an "only here" experience. Wine enthusiasts rejoice likewise with Bailey's Run Vineyard and Hawk's Mill WineHaus, serving top-notch selections in a nonchalant atmosphere. Find sights and adventures for the whole clan, like the Swiss Historical Village Museum for strolls and Glarner Stube for a great bite of European culinary delights.
The charming village, just 35 minutes south of the state capitol, Madison, retains its Swedish roots from the late 1800s through historic architecture and modern culture, which proudly celebrate Swiss heritage. Visit "Little Switzerland" for the best mix of European sights and Wisconsin's finest cheese, fudge, ice cream, and more at places like Maple Leaf Cheese and Chocolate Haus.
Sister Bay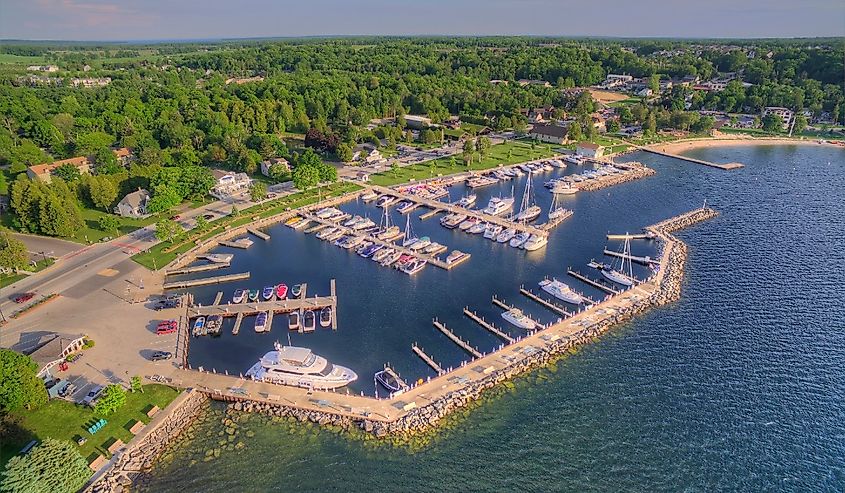 Try to find a village more centered on coolness in Door County than Sister Bay, along the jagged thumb of a peninsula that juts into Lake Michigan on the state's eastern side. Revel in the bucolic charm and rural lifestyle on a mere stroll through the vibrant thoroughfare replete with shops and cultural sights. The tiny village of under 1,000 individuals is home to a gorgeous marina with tranquil vibes and views of boats docking and departing at most marvelous sunsets.
Spend a day relaxing along the calm beachscape with great swimming during the summer, and head to the outdoor beer garden for more cool vibes over brews. Sister Bay is a real treasure trove of cool attractions like goats on the roof at Al Johnson's, weekly concerts along the waterfront, movies at the park, and the new, central Scandinavian-inspired hotel, Dörr. Don't miss the supreme lingonberry Swedish Swirl, a summertime staple ice cream at Al's.
Spring Green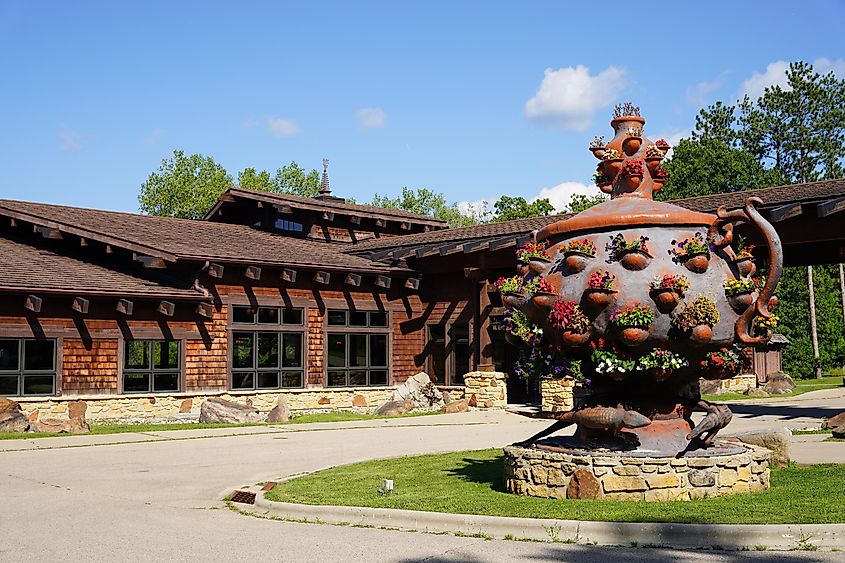 This small Wisconsin village, only one hour from the capital city of Madison, is big on charm, with plenty of activities to discover intriguing facts on vacation. While architecture buffs know Spring Green as Frank Lloyd Wright Central, it is also a popular warm-weather destination for fresh-air outings in and around town, like its outdoor amphitheater. Find Frank Lloyd Wright's UNESCO-recognized, 800-acre Taliesin estate just south of town, with highlights of the Taliesin home and Hillside Studio.
Sightsee the Quirky House on the Rock, a postcard-like setting for selfies, photoshoots, and picnics. Take a stroll through the refreshing nature preserve and visit the nearby Tower Hill State Park for hiking, birding, and water access for paddling. There is also camping at a historical state park and tons of charming small-town pursuits to enjoy the arts and culture, like the opal jewelry shop, a prime rib buffet, and a cool local tea shop.
Stockholm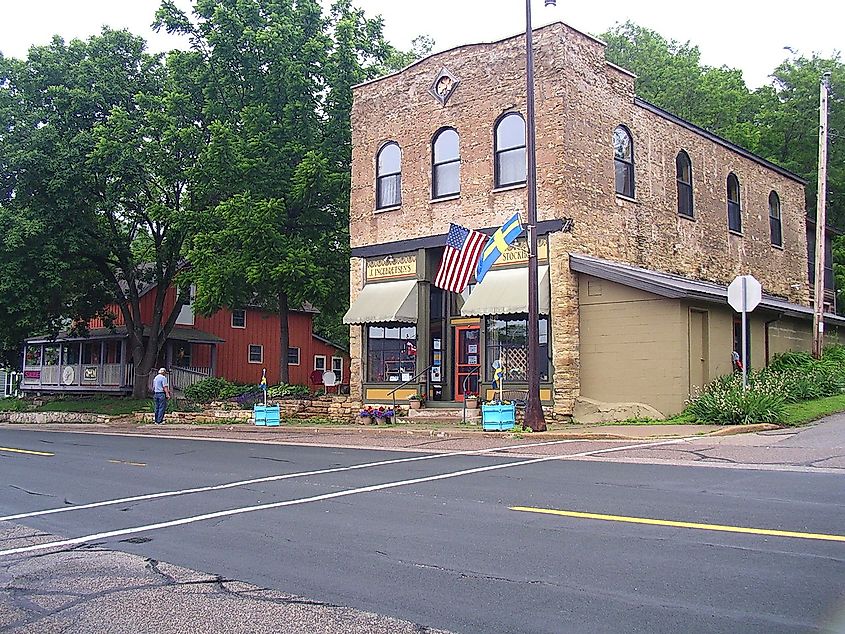 This cool town, named charmingly after the Swedish capital, screams coolness through eclectic sights and experiences along the scenic shores of Lake Pepin and a vibrant thoroughfare. Stockholm bursts with creativity in everything it touches, like history, art, and culinary delights, with an impressive collection of unique boutiques, quality eateries, and charming terraced cafes for views of local culture and nature. Peruse local hotspots through the day, like galleries and artisan shops with unique treasures, and find great nightlife with populated bars serving drinks over live music. Take in a performance at the WideSpot Performing Arts Centre or seek nature along the Maiden Rock Bluff, a stunning waterfront for views and wildlife.
Find Stockholm along the newly designated National Scenic Byway, the Great River Road, settled a long time ago by Scandinavians. See their creative hand through the plethora of architecture veiling modern-day attractions that epitomize the culture and small-town charm. Stop by Hop Dish & Vine for a locally grown meal from an ever-rotating menu from the nearby farms. Don't miss the Stockholm Pie for a sweet pick-me-up and the notable Palate that delights foodies at dinnertime. Stock up on sustainable Nordic-inspired wares from Scandihoo, and check out Iris & Oak for regional artists' work and the area's favorite Stockholm Pottery.
Sturgeon Bay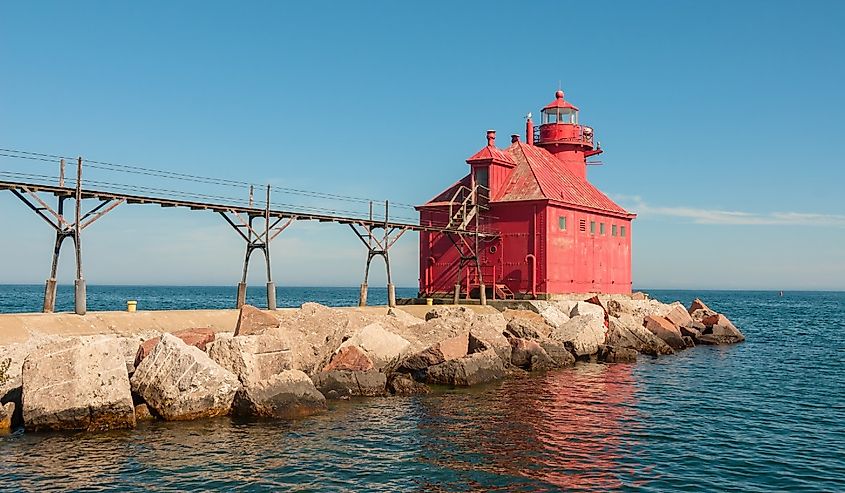 Sturgeon Bay's rich shipbuilding history in Wisconsin is on full display through charming sights and nostalgic vibes. Chase after old lighthouses and other notable landmarks, like the must-visit Maritime Museum. Browse through the local culture and fresh cheese curds at the Saturday Farmers Market, and have a glass of wine from the Door Peninsula Winery.
Recharge post-hike through Whitefish Dunes at the family-owned Scaturo's Baking Company and Cafe, and take in more coastal views at Potawatomi State Park at sunset. The vibrant small town crowning the center of Wisconsin's scenic Door County Peninsula offers supreme water access to Lake Michigan and Green Bay. Expand your horizons via a boat ride through the bay or land adventures to the lovely Door County neighbors of Fish Creek and Egg Harbor.
Have a vacation full of unique, once-in-a-lifetime experiences in one of these coolest small towns in Wisconsin. With hundreds of small towns to explore, you will have perfect access to big cities and other states. Experience a taste of Sweden in Stockholm or check out the seafaring town of Sturgeon Bay, or stop into Bayfield, for striking coastal views. Take a blind pick, and you will land surrounded by untamed Wisconsin wilderness and an all-encompassing small-town atmosphere. Find yourself nearby cheese curds and bars, with modern-day culture, vibrant art, and rich history abounding.