Florida's population continued growing despite the recent pandemic, with many moving to the state from the Northeast for lower taxes, a warmer climate, and relaxed COVID-19 restrictions. The trend persists, with Florida poised to reach 22.5 million in the coming years as the fastest-growing state for the first time since 1957. Its cities continue to expand with businesses, amenities, and opportunities to meet the growing demand for living under the sun. From gently lapping waters of the Gulf Coast shores with some of America's best beaches to world hubs and their quaint suburbs, these are the ten best places to live in the Sunshine State. 
Cape Coral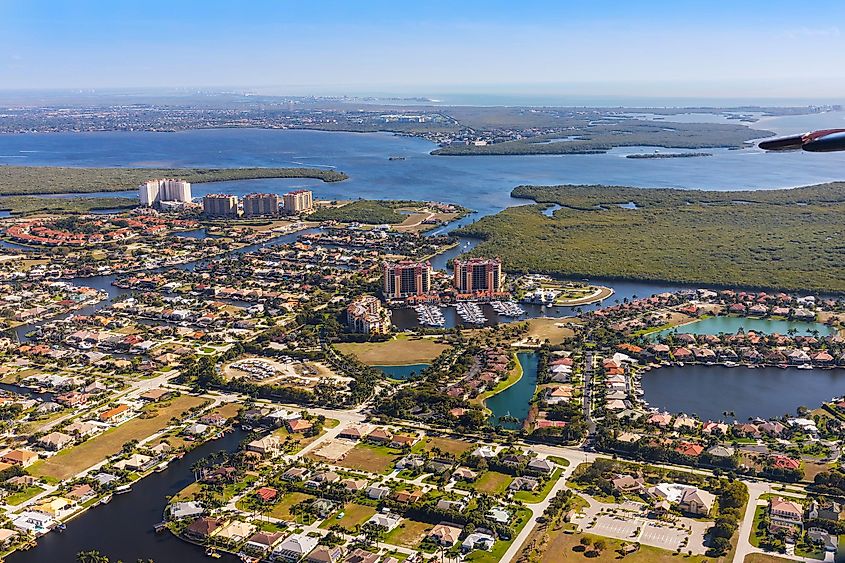 The city of some 204,500 residents boasts a small-town atmosphere, complete with beaches at Fort Myers and Sanibel Island, just 15 miles away. There's golf and plenty of other attractions to join the fun atmosphere along Florida's southwest coast. Although median home value went up 27.7% from 2021 to $431,137, the houses along the 400 miles of canals sure sound attractive. There's ample boating, fishing, and water sports, while other activities include visiting nature preserves filled with the state's fascinating wildlife, like manatees and birds.
The eighth-largest city in Florida and largest between Tampa and Miami, Cape Coral boasts a quieter, slower pace than both, along with a growing younger crowd. Among its expanding education system, there's the highly-ranked Lee County Public School District, the Florida Gulf Coast University, Southwest Florida College, and Cape Coral Technical College nearby. Residents enjoy easy access to big city life and beaches, home-based affordable amenities, and a low crime rate.
Coconut Grove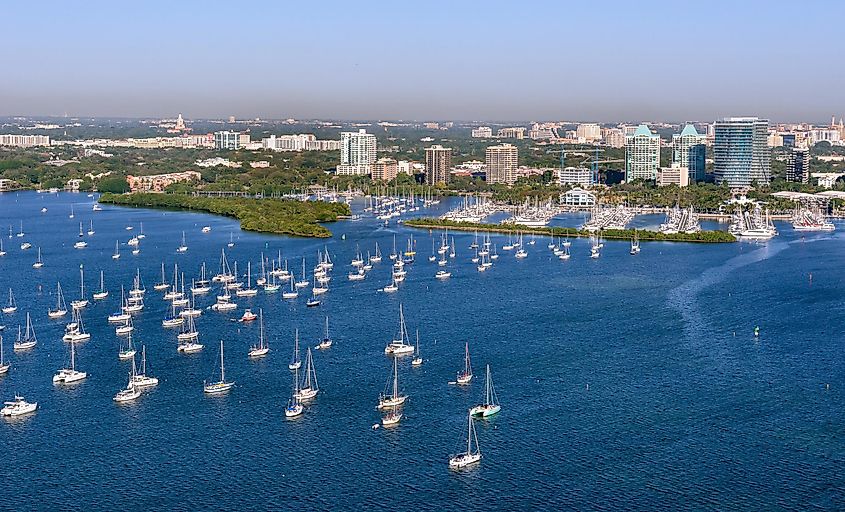 Void of a typical city feel, this Miami suburb is a real gem-find with wide open spaces and tree-lined streets. Nature lovers head to settle in Miami's oldest, former neighborhood, the adorable Coconut Grove, for quick city access and plentiful amenities on-site. There are locally-owned restaurants, charming coffee shops, and parks for close gatherings or strolls in solitude. The family-friendly place is abundant with quiet houses, quality schools, and varied kid-geared activities.
Coconut Grove dates back to the 19th century, established by a worldly group of pioneers, sailors, artists, naturalists, millionaires, and intellectuals. It retains its historical charm and continues to attract a creative crowd, along with expanding services and amenities. The village by the bay, with a laid-back vibe, boasts an enticing mix of shops, boutiques, and lively outdoor cafes for every taste of pursuit. Moreover, there are free yoga classes at Peacock Park, along with the popular Fashion + Art + Music Night every first Saturday. The free historic bike tours every second Saturday are a perfect way to taste the lovely enclave.
Coral Gables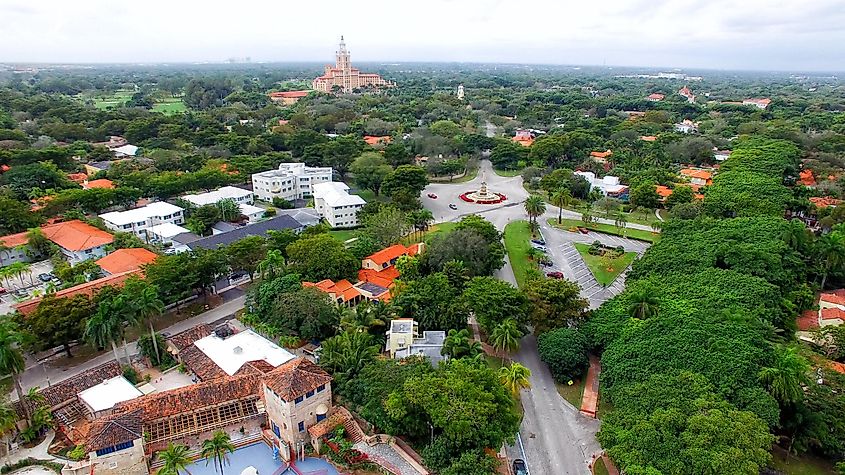 Coral Gables is a perfect place to live for young and old historians, with streets full of exclusively Mediterranean Revivalist buildings. The urban planning was inspired by the "City Beautiful" movement, with an elegant layout and pedestrian-friendly roads amidst tropical foliage. It is a real definition of Venetian beauty comprising charming boutiques intermitted by historic landmarks like the famous Biltmore Hotel. The Merrick House documents the story behind the movement that created the present-day architectural grandeur.
Coral Gables ranks A+ for schools and neighborhoods and amenities like the crystalline Venetian Pool calling to relax amidst exquisite beauty. The city is a great place to settle for families with easy access to the University of Miami and other small cities like Coconut Grove for a day trip with other views and amenities. There are many housing options to suit all tastes and budgets, from snazzy mansions to low-key apartments. The streets await with high-end shopping centers, chic outdoor hangouts, family-friendly restaurants, and large parks for easy nature access.
Fort Myers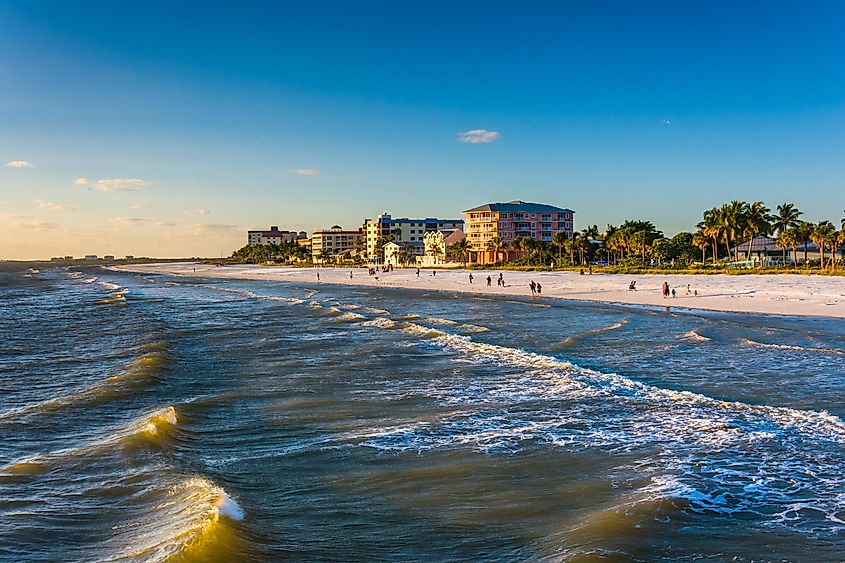 Fort Myers is the perfect beach-bound place for couples and established families in the city with a median age of 48. It was recently ranked second-best to retire in America with pastimes like basking on the beaches, scenic strolls, prime fishing, and golf courses. The city also sees many young professionals and business leaders with gated communities, yacht clubs, fine dining, and luxurious shopping. Fort Myers attains a young feel for a nice change in pace when spring breakers stampede its fabulous seven-mile beach facing the Gulf of Mexico.
The historic locale was a vacation base for Thomas Edison, the inventor of the lightbulb, and industrialist Henry Ford. There are plentiful notable sites to visit, like the Edison Ford Winter Estates, the combined former homes of Thomas Edison and Henry Ford. The city is full of laid-back amenities, like the local-favorite Love Boat selling homemade ice cream. When the crowds at the Fort Myers beach become too much, residents seek the relaxed shores at Sanibel Island and Captiva, just a short drive away, for some solitude time amidst unforgettable sunsets, wildlife sightings, and the nation's best shelling.
Jacksonville
The state's most populous city is even larger and more dense than Miami. Jacksonville boasts high livability with all imaginable big-city amenities like a skyscraper-filled downtown, an international airport, the NFL's Jacksonville Jaguars, and the nation's largest urban park system. There are attractions to suit all tastes after a hard day's work, including impressive beaches, nature trails, museums, and performing arts venues of symphony, the Florida Ballet, and an annual jazz festival.
The enviable combination of lively energy and natural beauty, with something for everyone, attracts net migration of +1.6% in population-growth year-over-year, along with new businesses, amenities, and opportunities. Jacksonville ranks well for well-being and average for diversity while proving most-worthy with +5.3% total employees year after year, an average salary of $55,125, and a 3.2% unemployment rate as a stable place to call home. With a significantly lower home value than the national median of $379,100 as of October 2022, one can finally buy a place to own at the median price of $301,000. It is also cheaper to live in Jacksonville, rating 93.5 out of the national 100-rating for the cost of living.
Melbourne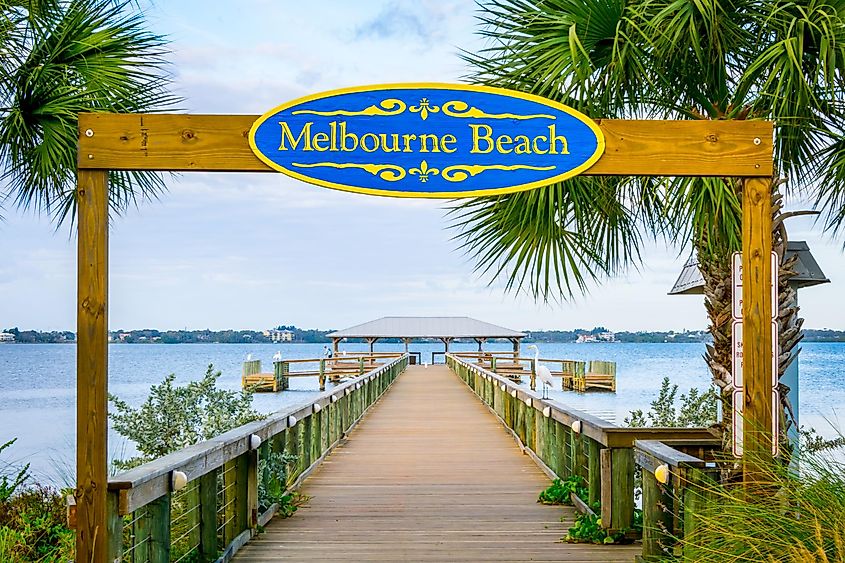 The beautiful city just southeast of Orlando along the Atlantic Ocean is quickly gaining recognition as a top place to live for families, young professionals, and retirees. Its proximity to Cape Canaveral, with the Kennedy Space Center, means that one can see satellite and rocket launches from the doorstep. The Space Coast is abundant in natural beauty, art, and science for all the creative to get inspired while sitting in a cafe, strolling the streets, or commuting to work. Melbourne is the optimal mix of a coastal community and a busy metropolitan area that combine into an easy-going atmosphere. 
The friendly city with the front-row view of the ocean, average salary of $51,180, and 52" annual rainfall ranks high for livability. Its population of 576,808 residents enjoys a lack of state income tax and one of the lowest housing prices among similar locales, with a median home value of $217,400 and rent of only around $1,068. Moreover, there are prized amenities and attractions at every corner and natural outings like the fantastic Viera Wetlands for hikes and bird watching. The spectacular Melbourne Beach seals the deal, while the opportunity to volunteer at the Archie Carr National Wildlife Refuge to save the Loggerhead and Green Sea Turtles is a great after-work hobby. 
Miami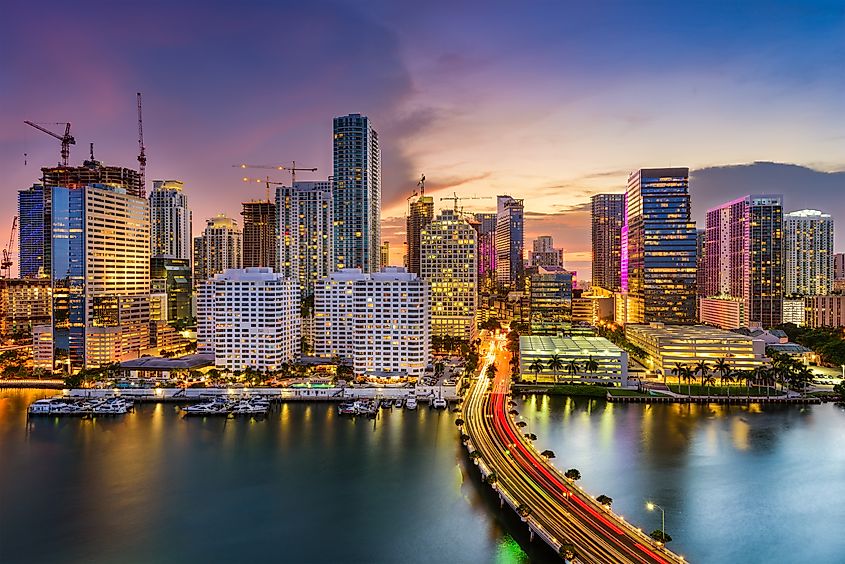 One of the most vibrant cities in the nation recently claimed the spot among the top places to live in the state. The coastal metropolis really packs a punch with a typical home valued at $474,701 along the coast. However, different neighborhoods within the bustling hub offer a wide choice of options to suit other budgets, with significant differences in prices from South Beach to inland communities. Miami is a unique city with an optimal blend of seaside living and business opportunities. It is the global hub of finance, culture, arts, and international trade with one of the nation's highest $64,849 per capita personal income, compared to the $55,477 average in the US.
Forbes ranked Miami among the top 10 cities to live in Florida in 2023 out of the state's some 400 cities for affordability, employment, population growth, crime, and diversity. It ranked sixth for its Caribbean and Latin American influences, colorful architecture, and diverse job market with top vacancies in aviation, healthcare, and hospitality. The "Magic City" boasts the second-highest population in the state and economic opportunity with an unemployment rate of only 1.7%. "Little Cuba" residents enjoy the vibrant Florida-Cuban culture, sizzling nightlife, and fascinating history, on top of the beaches lined by award-winning restaurants.
Naples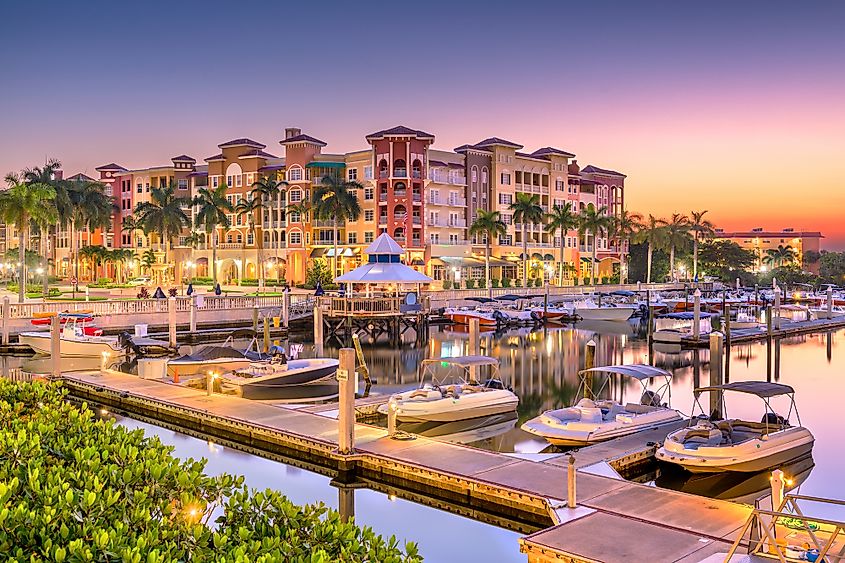 The central, family-friendly city is known as a wealthy locale where many would give a hand and a foot just to experience its out-of-this-world sunsets on a stroll or over dinner. Despite being one of the nation's richest, Naples' housing is relatively affordable, with a median cost of a house at $345,000 and rent at $1,317. The options also vary from gated neighborhoods to high-rise condos and golf club communities. Out of the metro area's 371,453 population, the lucky residents in the "City of Love" or the American Napoli get serene beaches and top-notch dining. 
Naples is a hands-down beautiful place to live in Florida's southwest corner along the Gulf of Mexico with easy, two-hour access to both Tampa and Miami, known for a more typical city feel. Residents are always happy to come back home to $47,980 average annual income and only 39" average rainfall. The fine-weather paradise downtown, with its architectural marvels, will suit any taste of fine dining and boutique shopping. Meanwhile, the shores await visitors with gentle waters, sugary sands, and dolphin viewings.
Orlando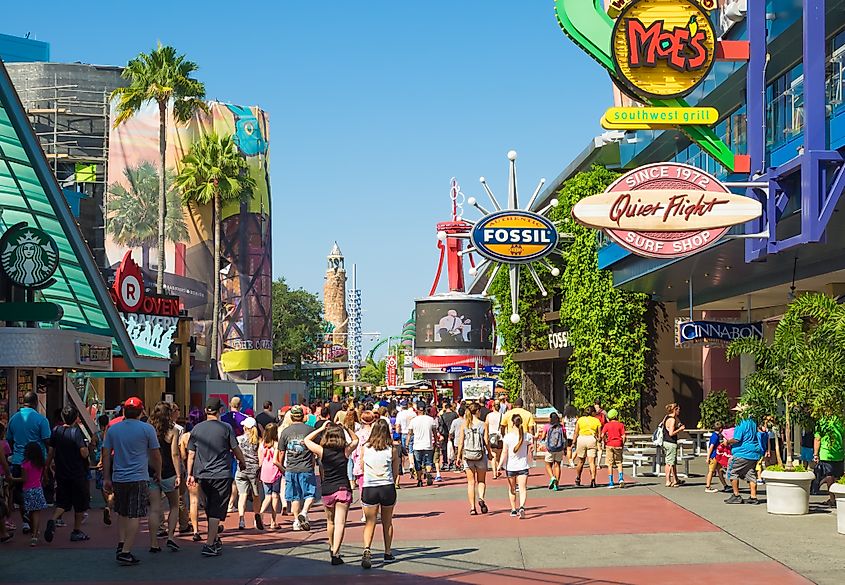 Orlando is the worldwide destination for Disney and Universal Studios, but despite its tourist-trap reputation, also remains one of the most desirable places to live. It has a surprisingly low median housing cost of only $308,493 in the Orlando-Kissimmee-Sanford metro area and estimated monthly expenses of $7,077. Orlando boasts a high median income of $58,968 and a low unemployment rate for the area of 2.7%. The prominent city boasts a thriving economy with many work conferences on-site and booming sectors like Biotech, information technology, and health care.
It is a popular living destination among graduated young adults for the opportunities, along with vast cultural and performing arts scenes, including many venues and regular events throughout the year. There's easy access to the shores of the Atlantic beach cities for a change in scenery, with an hour-worth drive to both Cocoa Beach and Daytona Beach. Despite being a busy city, all stats favor living in Orlando as an all-inclusive home-based vacation with a fantastic economy, cultural diversity, and ever-expanding amenities. There are tons of varied attractions and living styles to suit any taste or budget, from a downtown condo to single-family homes in the suburbs.
Sarasota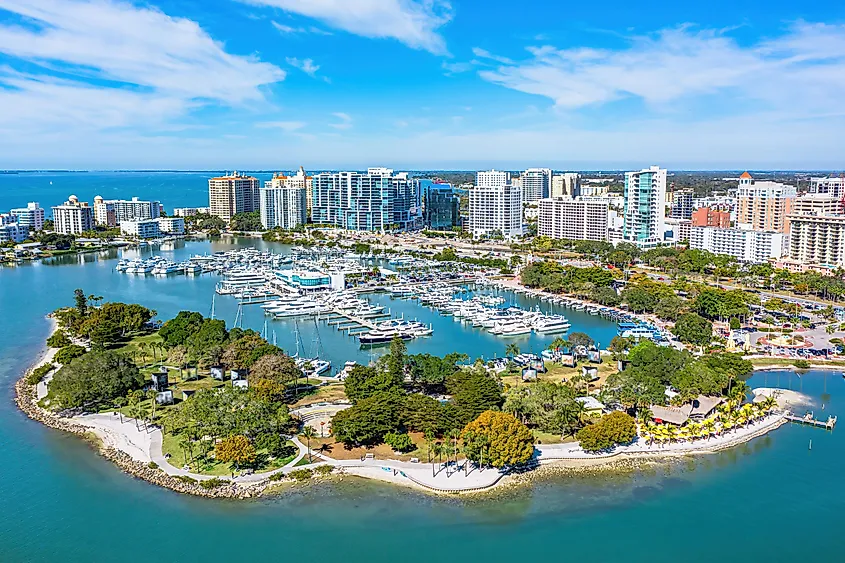 Sarasota trades big city noise for a laid-back lifestyle amidst beaches and vibrant cultural attractions, just one hour north of Tampa. It is home to the beautiful International Ballet of Florida at the nearby University Park and the renowned annual Sarasota Film Festival that brings nationwide fans to the Gulf Coast. There is also the Ringling Circus Museum dedicated to the former residents, John and Charles Ringling brothers, with many other places around the city sporting their name. Despite higher housing prices of $435,000 median home value, Sarasota remains a desirable place to live along the beach in a prosperous community. 
The high average salary of $61,988 makes up for the slightly higher cost of living than the national average, especially considering a low unemployment rate of only 2.2% and total employee growth year-over-year of 7.8%. The city ranks well for well-being and livability, seeing a 3.5% population increase year-over-year. Most come to live for one-of-a-kind beauty, unlike other hubs, with endless outdoor pursuits, including water sports and golf. Upon experiencing the white, soft sands and clear, gentle waters of Siesta Key Beach, one will never be able to forget the place. It inspires an immediate move to enrich the current metro area population of 803,709.
From suburbs to mega-economic hubs, Florida is one of the fastest-growing states in the country. These attractive cities with family theme parks, top-tier universities, and thriving economies are poised to grow, drawing thousands of new residents each year.