Who Led France Through World War I?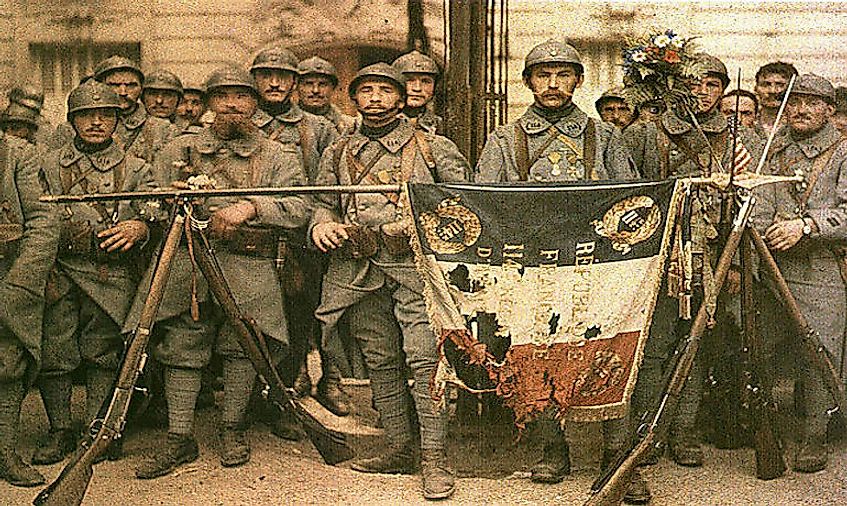 ---
At the beginning of the World War I, the 1.1 million conscripted soldiers of the French army suffered great setbacks in defending their country. The defense of Marne, Verdun, and offensive at Chemin des Dames all cost France huge losses. However, the French army continued to drive out the enemy. France served as one of the Triple Entente powers, allied against the Central Powers during the First World War. The aftermath of World War I brought great demands on the government and the population. France needed a change of attitude that would normalize the nation after the war, reflected in rebuilding infrastructure and economy.
Raymond Poincaré
Raymond Poincaré was the president of France from 1913 to 1920. He led his country through the horrible war years. As a statesman, he strengthened ties with Russia and Britain years before the war. During the war years, Poincare was the courageous presence that pulled France into the Post-war era. He campaigned heavily in making Germany pay reparations after the war. However, Poincare was the target of attacks from the Communist Party of France. In spite of this, Poincare stabilized the postwar economy of his country.
Rene Viviani
Rene Viviani was Prime Minister of France from 1914-1915 and during the first year of the war, he was asked by President Poincare to form a wartime coalition government. However, Viviani did not seem to work well with Joffre, Commander-in-Chief of the French armed forces. He was later blamed for the lack of ammo for the French army as a result of his determination to provide assistance to Serbia. Many historians think that Viviani's tenure was unmemorable despite his many government posts before, during, and after World War I.
Joseph Joffre
As Commander-in-Chief of the French Army and Marshal of France during World War I, Joseph Joffre's first major accomplishment was his victory over the invading German army in Marne. Joffre was known for his calm disposition in the middle of battles. His use of military offense rather than defenses was sometimes criticized by his critics, although at times, it worked in his favor that made him a national hero. His experience in many war theaters has proven useful during the first world war. This led him to be appointed as head of the French Military Mission to revamp the Romanian army. Later, Joffre went to the United States where he also assisted in the same official capacity.
Ferdinand Foch
Ferdinand Foch was the assistant to the Commander-in-Chief of the French Army and later became Marshal of France following in the footsteps of Joffre. His accomplishments rivaled those of Joffre. In his early days at the Staff College, Foch was known for his critique of the Franco-Prussian and Napoleonic military strategies. Years later, as commander, Foch was involved in several battles that gained him fame. Critics, however, were quick to blame him for losses in several battles and the 1914 failed offensive. Still, Prime Minister Georges Clemenceau was impressed by Foch's initiatives. As a gesture for his military prowess, Foch was appointed as an honorary Knight Grand Cross by King George V of Britain.
Robert Nivelle
Robert Nivelle was Commander-in-Chief of the French Army whose early military career brought him to China during the Boxer Rebellion. He also succeeded Petain as commander in Verdun. He was also one of the commanders responsible for the failed offensive at the Chemin des Dames. Rising to the highest rank, Nivelle replaced Joffre as commander in chief. Later, Nivelle was replaced as commander in chief by Petain. Critics have been harsh in calling Nivelle "careless of casualties." He was also blamed for the French army mutinies. All through these deserved and undeserved critiques, Nivelle has shown himself as a capable planner as well as an innovative commander.
Philippe Pétain
Philippe Pétain, known as Lion of Verdun was Commander-in-Chief of the French Army and later Marshal of France during the first world war. As a commander in the Battle of Verdun, Petain employed ingenious tactics to supply fresh troops and artillery ammo to the battlefield. He was later appointed as Army Chief of Staff. One criticism of him came from Prime Minister Clemenceau who though he overheard him talk about the English and French defeat by the Germans. To many who were informed, this proved to be a discouraging remark although later, after winning many battles for France, he was honored as a great military tactician and one of France's military heroes.
Who Led France Through World War I?
| Rank | Leader | Role |
| --- | --- | --- |
| 1 | Raymond Poincaré | President of France, 1913–1920 |
| 2 | Rene Viviani | Prime Minister of France 1914-1915 |
| 3 | Joseph Joffre | Commander-in-Chief of the French Army and Marshal of France |
| 4 | Ferdinand Foch | Commander-in-Chief of the French Army and Marshal of France |
| 5 | Robert Nivelle | Commander-in-Chief of the French Army |
| 6 | Philippe Pétain | Commander-in-Chief of the French Army and Marshal of Italy |