Which Provinces Border Quebec?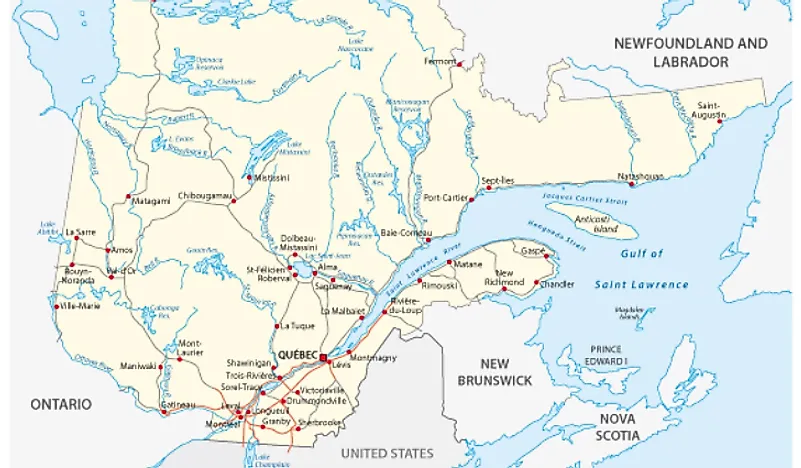 Quebec is a vast Canadian province whose land area of 595,391 square miles makes it nearly thrice the size of France. 90% of Quebec lies within the Canadian Shield. The population of the province is about 1.5 million while its capital is Quebec City. Quebec is rich in rivers, lakes, and coniferous forests. Consequently, its economy has four essential industries namely lumber, pulp, paper, and hydroelectricity. Quebec borders the provinces of Ontario, New Brunswick, and Newfoundland and Labrador and the states of Vermont, New York, New Hampshire, and Maine. Quebec has over 7,500 miles of varied types of borders, like marine limits (38%), river limits (12%), and land limits (50%).
Quebec – Newfoundland and Labrador Border
The marked boundary between the Newfoundland and Labrador and Quebec is the water bay between Hudson Bay and the Atlantic Ocean. This border dates back to the year 1927. However, the government of Quebec does not recognize the 2,174 miles boundary. 
Quebec – Ontario Border
Ontario borders Quebec to the west. Close large cities to the Quebec and Ontario border include Montreal and Ontario. Ontario is the second-largest province by land area the first largest by population. The two provinces share the bodies of water of James Bay and Hudson's Bay. 
Quebec – New Brunswick
New Brunswick borders Quebec to the south. The capital city of New Brunswick is Fredericton. The boundary between Quebec and New Brunswick is in the Madawaska region of New Brunswick. This border starts from the bottom of Beau Lake, heads north, then makes a 90˚ turn to accommodate the Rimouski River. It then heads east through the 48th parallel north to the Patapedia River