World Facts
Which Country's National Anthem Has No Words?
The Marcha Real of Spain has no official lyrics.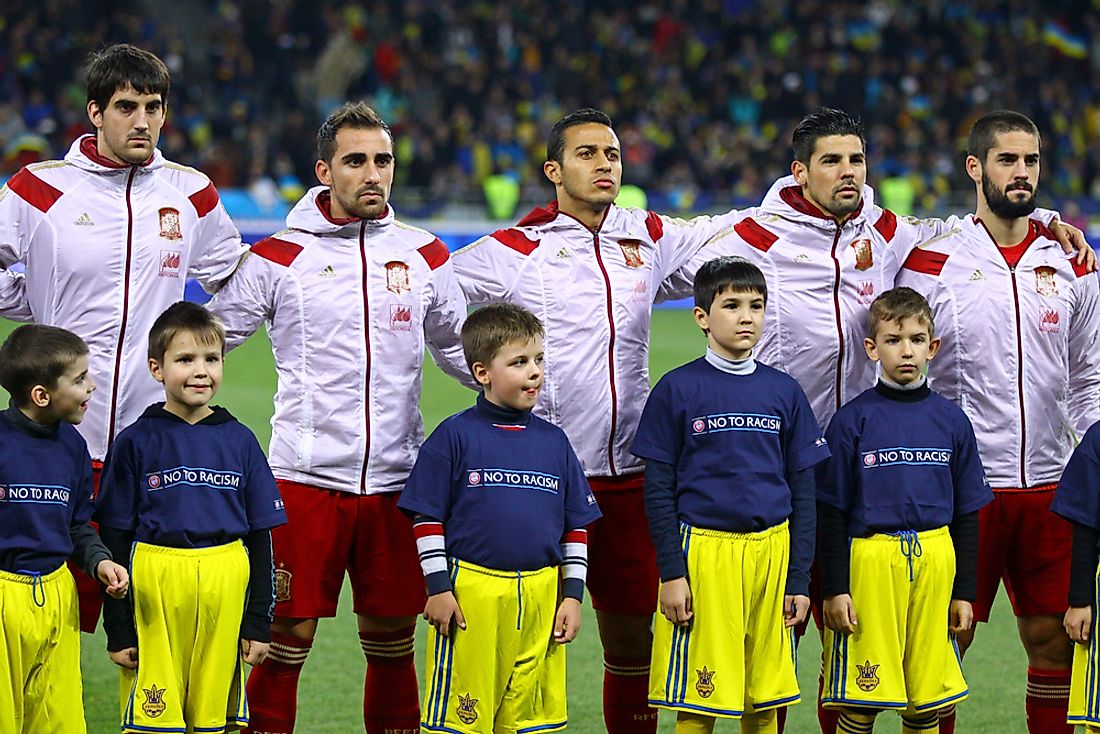 A country's national anthem plays an important role both within a country's borders as well as on the international stage. Like its official flag a country's anthem is meant to represent and reflect a nation's pride as well as its identity. This sense of national pride extends to honoring the accomplishments of fellow citizens as well as paying homage to their nation's unique culture, traditions, and history. Anthems are typically played at events such as sporting competitions; most notably one of the perks of winning a gold medal at the Olympics is an athlete being treated to the sight of his or her home country's flag being raised accompanied by the patriotic strains of their national anthem.
Other National Anthems Without Lyrics
Although the vast majority of nations around the globe have national anthems with lyrics, the Marcha Real of Spain is an exception due to the fact that it contains no words. Other countries that currently also have anthems without lyrics include Bosnia and Herzegovina, San Marino, and Kosovo.
The History of Spain's Marcha Real
The official national anthem of the European country of Spain is known as the "Marcha Real", which in English translates to "Royal March". It has also been referred to as "The Grenadier March". Like its country of origin, the Spanish national anthem has a lengthy history and is notably one of the world's oldest anthems.
The first historical record of the sheet music for the Marcha Real is dated 1761. Officially Manuel de Espinosa de los Monteros is cited as its composer but in the 1800s erroneous rumors circulated claiming that Frederick II of Prussia was actually the true author of the piece.
In 1770, King Charles III declared "The Grenadier March" to be used as the Honor March. During Queen Isabella II's reign from 1833 to 1868 the composition was officially adopted as Spain's national anthem.
In the past the composition of Marcha Real contained lyrics, specifically those written during the reign of Alfonso XIII and later during General Francisco Franco's rule. These versions failed to receive official status and it should be noted that the current non lyrical version of the anthem has been in place since 1978.
The current version of the Marcha Real replaced the original orchestration by Bartolomé Pérez Casas by one by composed by Francisco Grau. This version was purchased by the Spanish government in accordance with a Royal Decree on October 10th, 1997. This Royal Decree established that the 52 second long anthem must be played in B flat major with a tempo rate of 76 bpm. The modern Marcha Real is made up of a sixteen bar phrase that is divided into two sections which are both composed of four repeated bars (AABB).
Numerous Versions of the Anthem
In total there are presently two versions of Marcha Real, each meant to serve a specific purpose. While a lengthier version is used exclusively to honor the King, a shorter anthem is played at sporting events as well as for Spain's President and other dignitaries. Furthermore the anthem has three arrangements to be played by orchestras, military bands, and the organ.
Interestingly, in order to avoid copyright issues, the Spanish government bought all the rights to Marcha Real from the estate of Pérez Casas for a total of 130 million pesetas. During the early 20th century, it was Casas who was responsible for writing the anthem's harmonization. Presently Marcha Real is owned by Spain's Ministry of Culture which charges copyright fees for its usage.

About the Author
C.L. Illsley hods a BA degree in English and a BFA. in Film Studies. She has written for various publications & websites including Montreal Rampage where she currently contributes film reviews & entertainment related articles.
This page was last updated on August 10, 2018.
Citations
Your MLA Citation
Your APA Citation
Your Chicago Citation
Your Harvard Citation
Remember to italicize the title of this article in your Harvard citation.