Where Is The ICJ (International Court Of Justice) Located?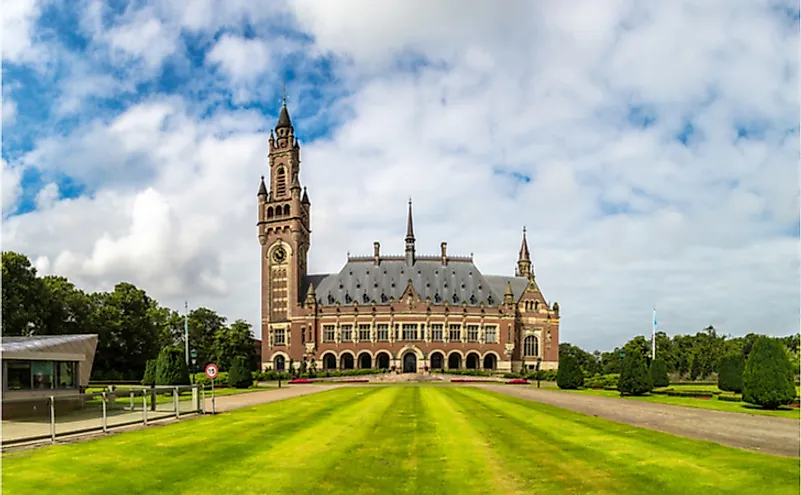 The International Court of Justice (ICJ), also known as the World Court, is the highest judicial organ of the United Nations. It was established in 1945 to succeed the Permanent Court of International Justice upon the establishment of the United Nations. The principal function of the ICJ is to settle international disputes among countries and advise the United Nations on legal issues. All member states of the United Nations are signatories of the ICJ statute. The Security Council and General Assembly elect the 15-judge panel to serve a nine-year term. The World Court is located at the Peace Palace in The Hague, Netherlands. It is the only principal United Nations organ not based in New York City.
Peace Palace
The Peace Palace is an administrative building at The Hague City. It hosts the International Court of Justice, the Permanent Court of Arbitration, the Peace Palace Library, and The Hague Academy of International Law. The building was constructed at the cost of US1.5 million and was opened in August 1913 to host the newly established Permanent Court of Arbitration. In 2014, the palace was named among the heritage buildings of Europe. Soon after it was established, the PCIJ moved into the building, and its successor, the ICJ maintained the premises as its headquarters.
The Hague
The Hague is the capital of South Holland and the third-largest city in the country after Amsterdam and Rotterdam. It is among the most important cities not only in the Netherlands but also in the world. It hosts the Cabinet of the Netherlands, the Council of State, the Supreme Court, the States-General, the International Court of Arbitration, the International Court of Justice, the International Criminal Court, the Europol, and more than 200 international organizations. The King of Netherlands works at Noordeinde Palace and resides in Huis ten Bosch, both of which are located at The Hague. The city is also home to several multinational headquarters, including Royal Dutch Shell and many foreign embassies.
Judges Of The Court
The ICJ is made up of 15 judges elected by the Security Council and the General Assembly. Each judge serves a nine-year term. Both organs vote separately, but simultaneously and a candidate must receive a majority vote in both. One-third of the panel is elected every three years to ensure the continuity of the court. A special election is held should a judge resign or die in office. Although the court is based at The Hague, elections are held in New York City.