Where Are the Altai Mountains?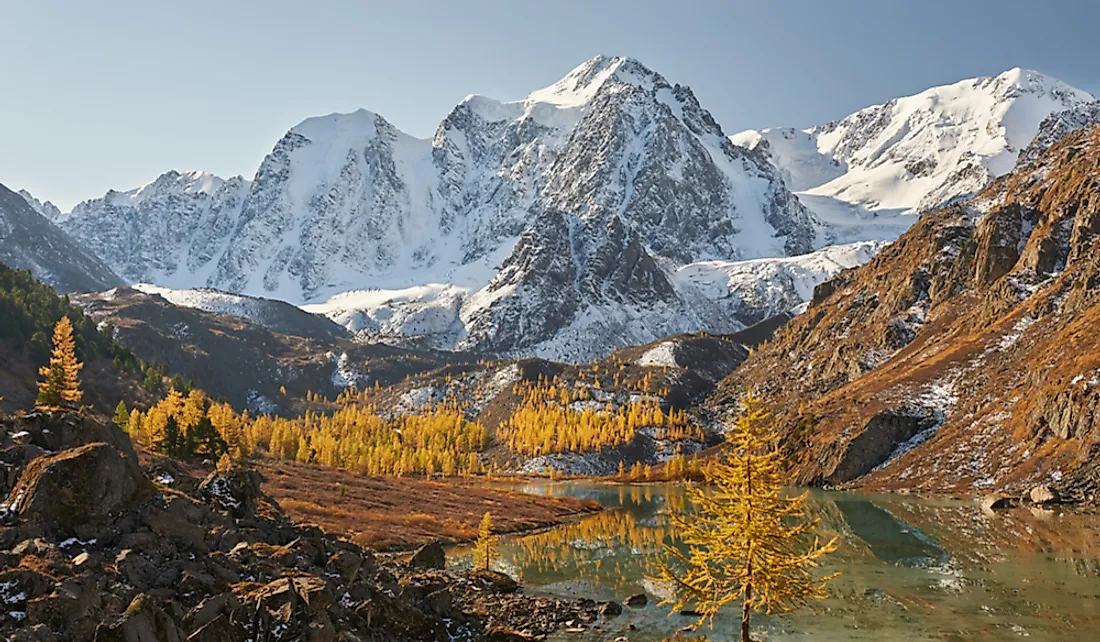 The Altay or Altai Mountains are a series of mountains in central Asia. The mountain range extends for about 1,200 miles from the Gobi Desert in the southeast to the Siberian plains in the northwest. The mountains traverse through China, Mongolia, Russia, and Kazakhstan. The north-west corner of the range merges with the Sayan Mountains and extends southeast where it declines in altitude and merges with the plateaus of the Gobi. The mountain range divides the rivers that flow to the Arctic from those flowing to Central Asia. The Altai Mountains are believed to be the original birthplace of the Turks.
Geography of the Altai Mountains
The Sailughem Mountains occupies the northern end of the mountain range while the Sayan Mountains cover the western extremity. The northern and northwestern slopes of the Sailughem are steep and difficult to ascend. The Beluhka (14,783 ft), Khüiten Peak, (14,350 ft), Mönkh Khairkhan (13,793 ft), Sutai Mountain (13,850 ft), and Tsambagarav (13,763 ft) are the five tallest peaks of the range.
Fauna of the Altai Mountains
A diverse fauna inhabits the mountain range. The Siberian ibex inhabits the steep slopes while the argali prefers the gentle slopes. The moose, forest reindeer, Siberian musk deer, Altai wapiti, and the Siberian roe deer are also found on the gentle slopes. The wild boar inhabits the foothills and the adjacent lowlands. The primary predators are the snow leopards, lynx, brown bears, and wolves. The Caspian tigers inhabited the southern edge of the mountain, but they were poached to extinction in the region. Individual members of the Amur tiger roam the foothills, but they are critically endangered. The wisent roamed the Altai Mountains until the wild population went extinct in the 18th century.
The Climate
The climate of the mountain range is continental with long, freezing winter. The lower slopes experience hot summers. The western portion receives heavy precipitation all year round which gradually decreases towards the eastern edge. Summer occurs between June and September with August being the driest month. During this period, snow can only be found in regions above 8,500 ft. In early November, snow begins precipitating the mountain, and by January the entire mountain is covered by heavy snow. The temperatures during this period range between -4 to 5 degrees Fahrenheit.
World Heritage Site
Mount Belukha, Lake Teletskoye, Ukok Plateau, and the Altai and Katun Natural Reserves jointly make up the UNESCO World Heritage Site as the Golden Mountains of Altai. This region consists of mixed forest, forest-steppe, and alpine and subalpine vegetation. The area plays a role in preserving endangered animals such as the Altai argali, Siberian ibex, and the snow leopard.