Politics
What is the Black Lives Matter Movement?
Black Lives Matter movement began on social media in 2013 through the hashtag #blacklivesmatter.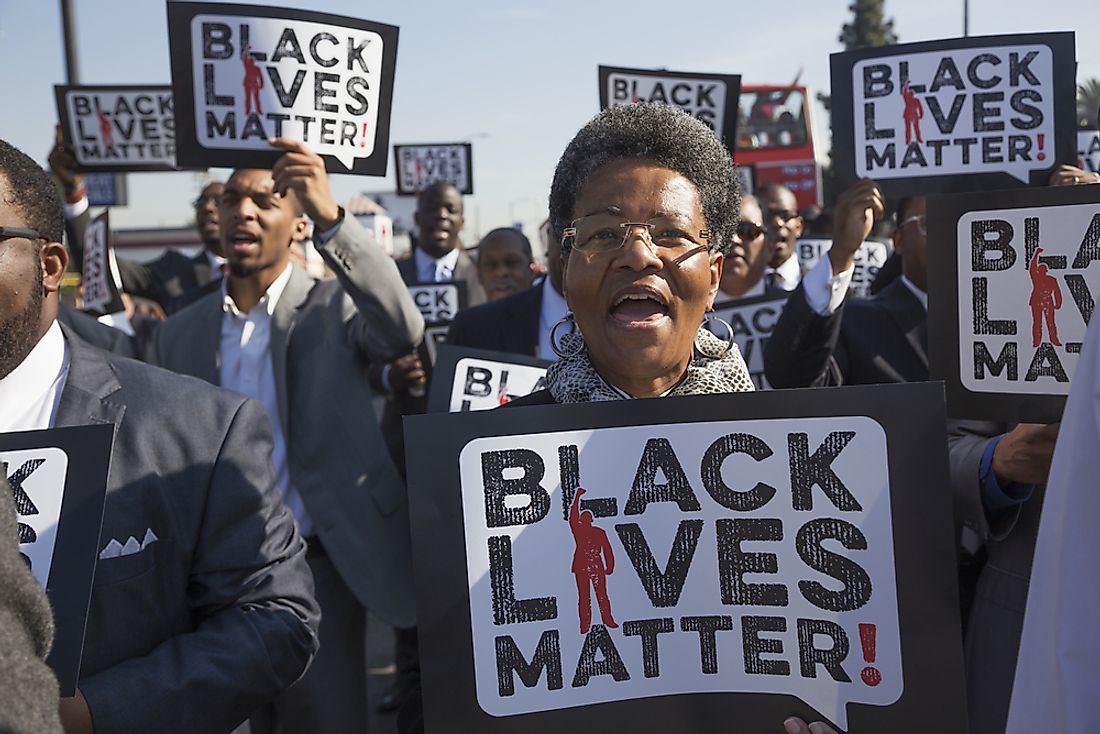 Black Lives Matter is a worldwide association that originates from the African-American community. Formed in 2013, the association campaigns against racism and violence aimed at the black people. It was inspired by other movements like Black Feminist from the 1980s, Black Power, the Civil Rights Movement, and the LGBTQ social movement.
Origin of Black Lives Matter
The Black Lives Matter movement was started in 2013 by three women; Alicia Garza, Patrisse Cullors, and Opal Tometi. These three women met through a national organization that trains individuals as community planners. They began questioning how they would counter the acquittal of George Zimmerman, who had been accused of killing Trayvon Martin, something they had seen as devaluing of black people's lives. Gaza posted on Facebook to which Cullors replied with "#BlackLivesMatter" while Tometi added her comment.
When they started it, they claimed it was an online platform whose main aim was to provide activists with a set of goals and principles. They operate without a hierarchy or central structure, and the local BLM chapters are asked to commit to the guiding principles. Some of the notable Black Lives Matter activists include a writer Shaun King, lawyer Marissa Johnson, and transgender woman Elle Hearns.
Focus of Black Lives Matter
BLM, as it is popularly referred to, holds protests regularly to speak out against police brutality and killings of blacks. This covers the broad subjects like racial profiling and inequality in the justice system of United States of America. On its website, however, it states that "Black Lives Matter is a unique contribution which goes beyond extra-judicial killings of black people by police and vigilantes." It also says that it embraces intersectionality, affirming the lives of disabled folks, black, queer and trans folks, women, undocumented black folks, folks with records, as well as black lives along the gender spectrum.
Impact of Black Lives Matter
Black Lives Matter activists planned their first physical, national demonstration on August 14th after the gunning down of Michael Brown, and more than five hundred people took part in the non-violent protests in Ferguson, Missouri. Many groups demonstrated against the shooting, but Black Lives Matter stood out as the most organized as well as most visible, something that made it be recognized nationally and worldwide.
Since the "Black Lives Matter Freedom Ride to Ferguson," the movement has successfully planned thousands of demonstrations and protests. The media too has been phenomenal as renowned entertainers have "Black Lives Matter" in some of their releases. Beyonce's "Lemonade" features the mothers of Trayvon Martin, Michael Rown, and Eric Garner holding their late sons' photographs. A documentary film about the movement named Stay Woke: The Black Lives Matter Movement starring Jesse Williams has also been released.
Accomplishments
Black Lives Matter has been credited with the protests that have gone beyond streets, notably the 2015-2016 University of Missouri protests. So popular has "Black Lives Matter" become, that in 2014 the American Dialect Society chose it as the word of the year. Yes! Magazine listed it among the 12 hashtags that changed the world in the same year. The hashtag #BlackLivesMatter had been tweeted over 30 million times by September 2016.
This page was last updated on May 31, 2019.
Citations
Your MLA Citation
Your APA Citation
Your Chicago Citation
Your Harvard Citation
Remember to italicize the title of this article in your Harvard citation.