Red pandas belong to the Carnivora order of mammals. Animals in this order are descendants of ancient creatures with a primarily meat-based diet. Many retained characteristics of carnivores including sharp teeth meant for shredding through flesh and tearing meat. Although some like the red pandas have adapted to a specialized plant-based diet composed mainly of bamboo.
Red Pandas Eat Bamboo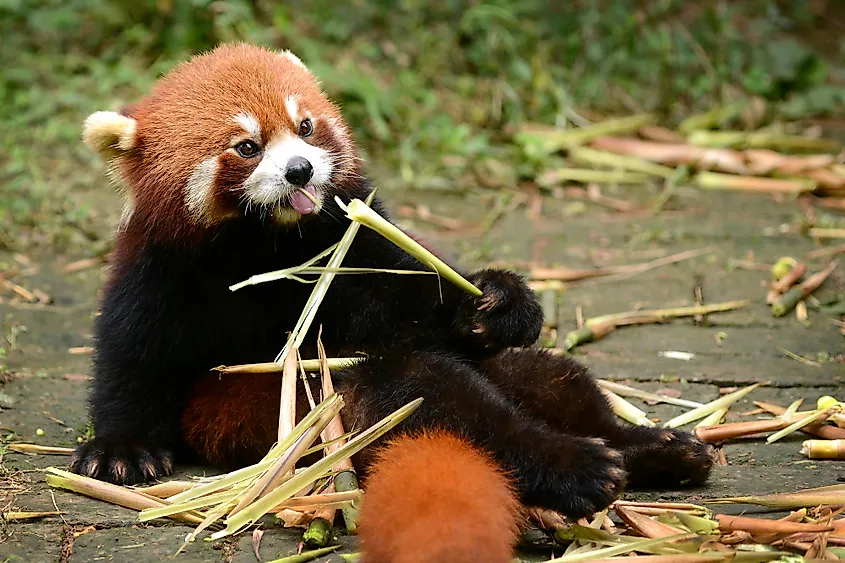 Red pandas are voracious bamboo eaters. Bamboo constitutes 95% of their diet. But unlike giant pandas that eat nearly every portion of the bamboo, red pandas eat bamboo shoots and leaf tips. They strip off the stem with their mouth and sharp teeth. Since bamboo is hard to digest, red pandas can digest only around 24 percent of the bamboo they consume. To make up for it, they consume a lot!
It might not seem like much but bamboo is actually a viable food source since these grow abundantly on the mountainside and foothills of China and Nepal.  and there are very few other species they need to compete with for this resource. Aside from red pandas only giant pandas, bamboo lemurs, and bamboo rats are adapted to this type of diet.
How Much Food Do They Consume?
Since pandas cannot fully digest their food they need to eat a lot of it to be able to absorb enough nutrients to survive. They eat food equivalent to up to 20 to 30 percent of their total body weight. They eat around two to four pounds or 1 to 2 kilograms of bamboo leaf tips and shoots every single day. A study has found that a female panda can even eat up to 20,000 bamboo leaves per day!
While their habitats can include around 40 species of bamboo, only 1 or 2 of these can be eaten by the red panda. About 90% of what they eat comes from the Bashania faberi bamboo species found in Qionglai Mountains and Wolong.
What Are Their Other Food Sources?
Bamboo has very low caloric and fat content so red pandas spend the majority of their time eating a lot and conserving their energy. Then they are not munching, they can often be found resting on the trees or sleeping.
While they consume bamboo leaves throughout winter, they mainly eat new bamboo shoots in spring. In fall they eat roots, grass, fruits, acorns, and other small insects, bird eggs, and grubs. Pregnant red pandas are known to also eat birds, lizards, and small rodents.
They drink at least once a day.
Red Panda Adaptations
Although they come from meat-eating ancestors, red pandas have special adaptations that are perfectly suited to their bamboo diet. They have large skulls and molars which makes chewing more efficient. They also have powerful jaws and strong chewing muscles that are adapted to chewing bamboo.
Their sharp front teeth are used for shredding through bamboo stems, and their strong molars at the back of the mouth are used for chewing through stems almost all-day.  They also have curved retractable claws that allow them to hold on to bamboo while eating and hanging on to branches. 
They have a pseudo-thumb feature or elongated radial sesamoid bone that they use to handle bamboo with precision and dexterity.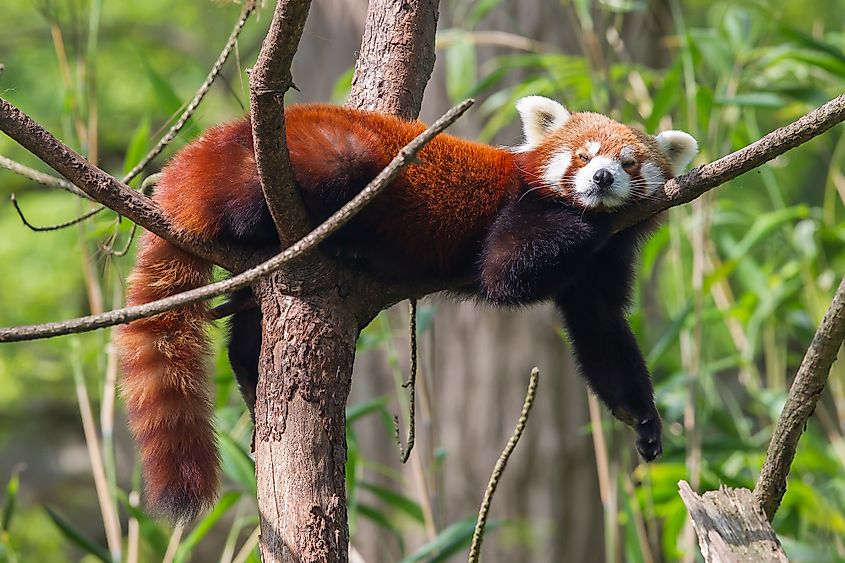 Since they subsist on a low-calorie diet, they use ways to save their energy. In cold temperatures, red pandas can become dormant. They do this by lowering their metabolic rate and only raising it a few times each day when it's time to look for food. They can also curve into a tight ball, and cover themselves with their thick bushy tail to keep their body warm. This temperature-regulating behavior allows the red panda to conserve heat thereby allowing them to spend very little energy.
What Do Red Pandas in Captivity Eat?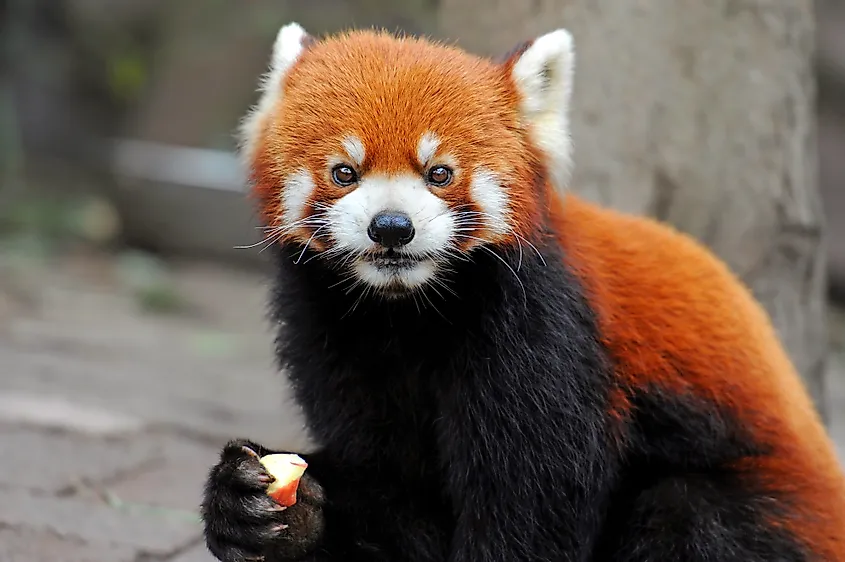 Red pandas in captivity or in zoos and habitats are given bamboo and bamboo shoots when these are in season. Aside from these, they are also given leafeater biscuits. These are special biscuits made by nutritionists for animals that typically eat leaves as part of their diet. They are specially formulated to provide fiber, protein, and essential nutrients in controlled amounts.
Aside from biscuits, red pandas in zoos are also given other enrichment treats like apples, grapes, bananas, berries, and other fresh produce.