Economics
What Are The Major Natural Resources Of Malta?
Limestone is a major natural resource of Malta.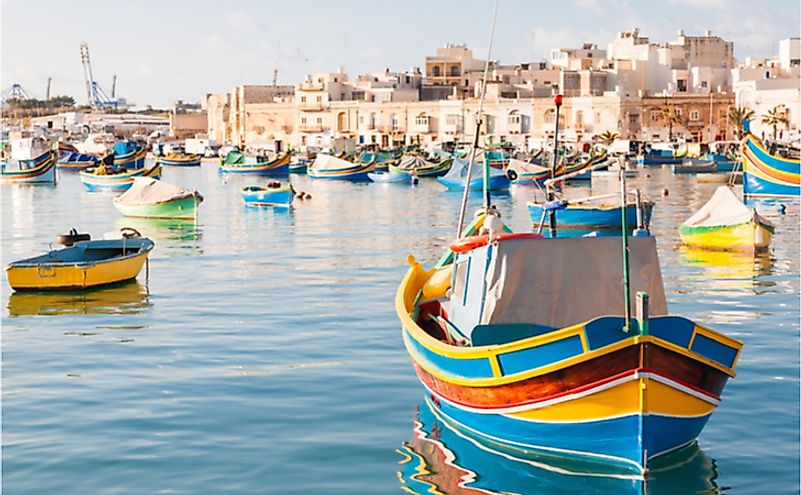 Malta is among the smallest nations in Europe with a total area of 122 square miles. The Maltese archipelago is comprised of several islands which include Malta with an area of 94 square miles, Gozo, 25 square miles, and Comino 1.08 square miles, and four other uninhabited islands. The nation has been occupied by Phoenicians, Greeks, Romans, Arabs, the Knights of Malta, and later France and Britain. Malta's strategic position has enabled its growth over the centuries as a vital trading hub to this day. It remains a competitive center for freight and container transshipment. The nation has a population of about 429,000 people. It is among the most densely populated nations in Europe. The capital city of the country is Valletta, and the official languages are Maltese and English. Malta's islands are not old in geological time scale. The earliest rock formations are from the Tertiary Period and are composed of marine sedimentary rocks. The country has limited natural resources. The only utilized minerals are salt and limestone. Family-owned enterprises mainly do mining.
Limestone
Limestone in Malta is mined mainly in open pit quarries. Limestone is known locally as Franka, and it is mined from lower Globigerina Limestone Formations and is primarily used for construction. Globigerina Limestone is porous and has a white and yellow color, and it is also used for sculpture making. Lower Coralline Limestone is thought to be the earliest rock formation of the nation's Islands. Lower Coralline Limestone is typically hard, porous, and has a gray and white color. Upper Coralline Limestone is known locally as hardstone and is mined from Upper Coralline limestone rock formations. Upper Coralline limestone produces Malta Marble and crushed aggregates. Malta Marble is typically polished and used for tiling. Upper Coralline Limestone may be found on plateaus and hills in Malta and Gozo, and it is a hard rock having a white and gray color. The rock formation is the earliest on the nation's islands, and it is porous.
Petroleum
Malta has an extensive exclusive economic zone that borders Libya and Tunisia. The three countries are in the same geologic province. The government has already issued licenses for areas 2 and 7, which cover about 6,949 square miles. The two potentially petroleum-rich areas are situated to the southeast of the Maltese shore at depths of about 656 to 1312 feet. The licenses for the blocks were initially not explored well. There had been only one oil well that was drilled by the year 1980. The drilling, however, did not reach the expected horizons. The two oil blocks are close to an oil-producing well in offshore Tunisia and Libya. Other areas being explored include offshore southern Malta in blocks 4, 5, 6, and 7.
Blue Clay
Blue Clay is one of the resources in Malta with a bluish shade and is also a soft rock that usually erodes fast. Blue Clay is mainly used for pottery making. The pottery industry has, however, diminished over the years.
Fishing
Malta has beautiful and spectacular coastlines lying in the Mediterranean, and it has been a prime location for fishing. The country is internationally renowned for its outstanding quality of seafood. Several popular fishing spots in Malta are famous worldwide, and they are found along the country's coastline. The clear waters near Malta are teeming with a wide variety of fish species, which include bream, sardines, amberjack, mullet, dorado, and swordfish. Besides, the clear water of Malta has a significant population of tuna fish. Typically, a permit is mandatory before engaging on a fishing trip. Tourists are usually encouraged to carry out the catch-and-release fishing practice. The government policy is aimed at preserving the population of tuna fish, which has suffered a drastic decrease in numbers over the years. There are only two main categories of fishing in the country, and they are charter fishing and shore fishing. Charter fishing involves sailing in a vessel, which covers some distance from the shore and dropping a line into the ocean. Shore fishing, on the other hand, involves fishing near the shoreline. Fish like the amberjack, snappers, sailfish, swordfish, grouper, and Dorado are normally found at a distance from shore hence catching them requires venturing further into the sea.
Arable Land
The utilized arable land in the country covers an area of 11,452.8 hectares. The land includes that rehabilitated for quarries and agricultural purposes. Productive vineyards are mainly found in the Northern and Western regions. The majority of farms are relatively small and owned privately while most crops cultivated are consumed locally. Crops produced include potatoes, tomatoes, cauliflower, wheat, grapes, green peppers, and citrus fruits. Potatoes remain the most cultivated crop in the nation. Potatoes account for 35,272 tons of the aggregated agricultural produce of 41,887 tons. Livestock reared in the country includes rabbit, chicken, lamb, beef, and turkey. Livestock exports are processed meat products.
Dependence On Mineral Resources
Malta depends mainly on the trade and storage of petroleum at the Malta Freeport. The Maltese economy faces major hurdles because of its relatively small domestic market. The country relies mainly on limestone and its strategic geographic location as well as a developed and competitive workforce. Malta produces only an estimated 20% of the nation's food needs. The nation also has inadequate freshwater supply due to the drought during summer. The nation also has no local sources of energy, apart from the potential for solar energy. The economy is dependent on foreign trade. Due to the scarcity of resources, the government focuses on developing its population into a competitive workforce in the region. Malta is also famous as a tourist destination, with 1.6 million tourists per year. Tourism infrastructure has improved significantly in recent years. Many world-class hotels have established their presence on the small island nation. The modern tourist facilities and hotels established in the country at the expense of old traditional houses have, however, led to criticism from experts who are concerned about the loss of historical heritage sites. Malta has also increased efforts to market medical-tourism in the nation.
This page was last updated on November 26, 2019.
Citations
Your MLA Citation
Your APA Citation
Your Chicago Citation
Your Harvard Citation
Remember to italicize the title of this article in your Harvard citation.