What Are The Biggest Industries In Oman?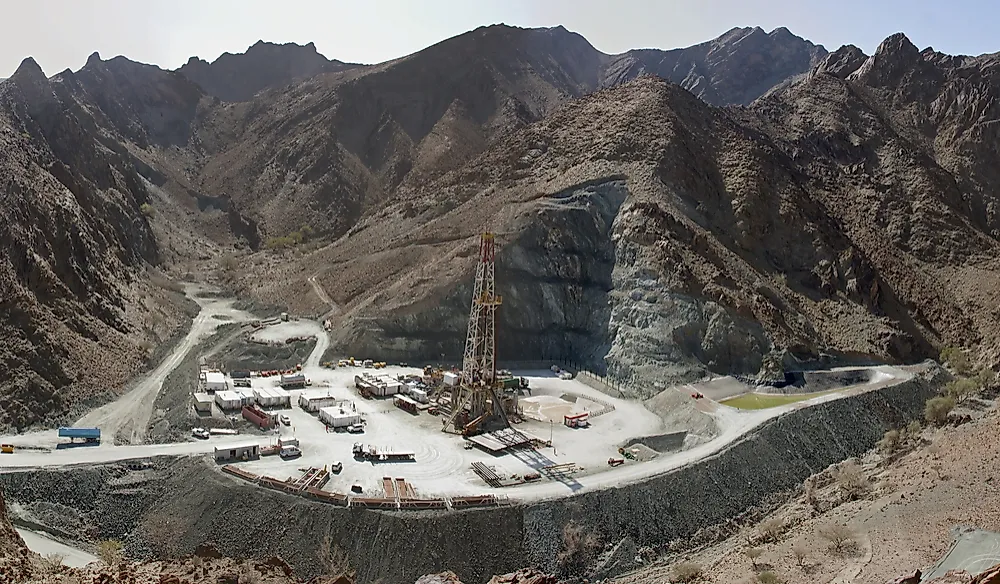 Oman, officially named the Sultanate of Oman, is a country in Western Asia's Middle East region. Located at the confluence of the Arabian Sea and the Persian Gulf, the country borders the United Arab Emirates (UAE) to the northwest, the Arabian Sea to the south and east, Yemen to the southwest, and Saudi Arabia to the west. The Arab country is governed as a unitary parliamentary and absolute monarchy. Oman has a gross domestic product (GDP) of approximately $69.83 billion, and oil and gas are among the key sectors of the nation's economy. However, the tourism industry has experienced rapid growth in recent years. Oman's manufacturing and agriculture sectors remain relatively underdeveloped and account for only about 1% of the nation's exports. Agriculture, which is often subsistence, is focused on the production of limes, dates, vegetables, and grains. The country will likely continue importing the bulk of its food in the near future. In recent years, the government has increased efforts to diversify into other sectors such as trade and tourism. 
Natural Resources of Oman
Oil and Petroleum
In 2013, oil revenues accounted for 66% of Oman's exports, and approximately 39% of GDP. The country's oil reserves, which are estimated at 5.5 billion barrels, are considered deep, and therefore are costly to extract. Reduced production from old oil fields, coupled with the challenges in decreasing reserves levels, resulted in a production decline to 710,000 barrels per day (bbl/d) in 2007. However, new investments in 2008 and the implementation of EOR, led to a production increase, which reached 919,000 bbl/d by 2012. The Mukhaizna Oil Field, which has an estimated 2.1 billion barrels and is operated by the Oxy Group, was vital in achieving this output increase. Other projects that contributed to renewed growth include Block 8, run by the Rak Petroleum Company and South Korea's LG International, which is set to achieve a production of 10,000 bbl/d. Petroleum Development Oman (PDO), 60% of which is controlled by the government, is responsible for more than 85% of the nation's production acreage. PDO obtained a concession agreement for 40 years beginning in 2004. In 2008, PDO invested about $70 million in appraisals and exploration. The Karim Project, which is under development by Medco Energi of Indonesia, is set to boost oil production in Oman as well. Once complete, the project is expected to increase production from about 12,000 bbl/d to an estimated 30,000 bbl/d. Rima Cluster, which is being developed by Petrogas, is also attempting to increase output from 2,000bbl/d to an estimated 7,000 bbl/d upon completion.
Natural Gas 
Petroleum Development Oman is responsible for the majority of the nation's output of natural gas. The country's gas pipeline network is controlled by the Oman Gas Company (OGC), although management of the gas network has been contracted to private companies. The gas network in Oman is about 1,100 miles in length and connects various stakeholders. Oman has invested substantially in developing its gas reserves, which are estimated to be 30 trillion cubic feet. However, these reserves are not sufficient to meet current and future local demands. As a result, Oman will need to import gas to meet future demand. PDO has made additional investments to increase natural gas production. Other projects to boost production include the exploration of Block 63 by Petronas, as well as the exploration of Block 60 and Block 64 by other investors.
Tourism
Oman features beautiful coastlines, mountain views, and numerous historic sites, and therefore receives about 1.96 million tourists each year. The tourism sector contributes about 3.3% of the nation's GDP and employs approximately 37,000 people. However, the industry has suffered from poor infrastructure and inadequate investment. The government has recently increased investment through projects such as the expansion of Muscat International Airport, which will accommodate 12,000,000 passengers annually once complete. Salalah International Airport is also set for expansion, alongside Ras al-Hadd, Sohar, Adam and, Duqm. Other tourism projects include resort-like developments in various parts of the country, as well as a 6000-seat convention centre near Muscat International Airport. The Port of Sultan Qaboos is also being transformed in order to accommodate cruise ships and increased tourists.
Agriculture
Subsistence agriculture and animal herding are still common in Oman, and the country has 2.2 million hectares of irrigated, cultivable land. Currently, approximately 5.7% of Oman's total land area is used for permanent crops, which yields about 1.57 million tons of various agricultural produce. This produce is both consumed locally and exported. Advancement of Oman's agricultural industry is hindered by several factors, including inadequate water resources. The fishing industry employs at least 15,000 people directly, and up to 100,000 people indirectly. Commercial fisheries have been established in areas near Muscat, and the total amount of fish caught in 2011, through both traditional and commercial fishing, totaled 158,723 tons.
Future of Oman's Economy
Oman's government has created a plan for sustainable development that is less dependent on an oil-based economy. In particular, the sectors that are being targeted for growth include manufacturing and tourism. Additionally, the agriculture and fishing industries will also be targeted through investments and incentives. This plan aims to ensure that the manufacturing and industrial sectors contribute at least 15% of the nation's GDP by the year 2020. Gas-based industries, like aluminum smelters, polyethylene, and aromatics projects, are also expected to receive investments worth billions of dollars. Additionally, the government plans for greater involvement of the private sector, which will have an integral role in the attainment of these economic goals. According to the Vision 2020 plan, the private sector is expected to increase the economy's self-reliance and competitiveness. The private sector is also expected to be a leader in income generation, job creation, and social responsibility. Electricity, water, and other commodities will also be privatized in the future.