Economics
What Are The Biggest Industries In Missouri?
Major industries in Missouri are agriculture, aerospace, transportation equipment, chemicals, financial services, electrical equipment, publishing and printing, and manufacturing.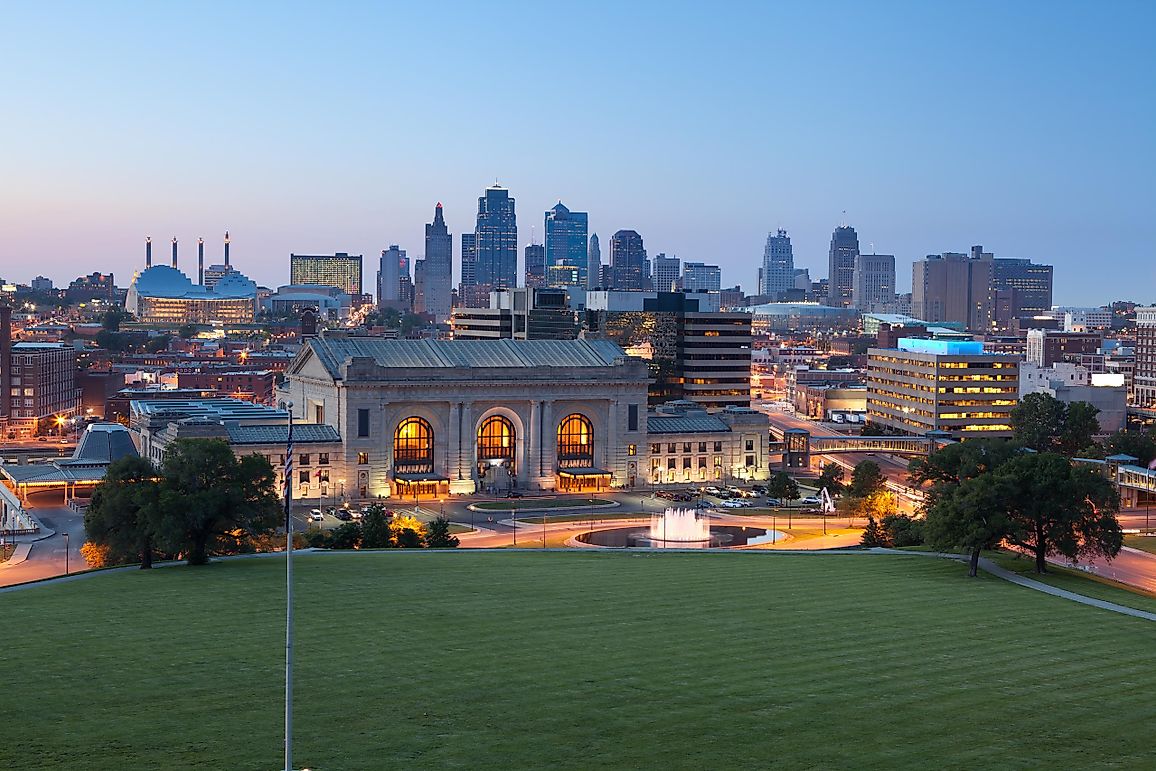 Missouri is the 22nd largest economy in the United States, with a GDP of about $323.2 billion. The state's economy has stagnated for the past two decades and shows no sign of significant growth. If the GDP had matched the national average for the past 20 years, then it would be $85 billion larger than it is. The per capita GDP in 1997 was 99% of the national average, but by 2018 it has dropped to 81%. Missouri's unemployment rate of 3.6% fares better than the national average of 3.8%. Despite the impressive figure, the state performs dismally in statewide output and labor force participation. Major industries are agriculture, aerospace, transportation equipment, chemicals, financial services, electrical equipment, publishing and printing, and manufacturing. Major agricultural products of Missouri are pork, soybeans, beef, cotton, rice, eggs, corn, and sorghum.
Agriculture And Forestry
Agriculture and related services contribute about $88.4 billion to Missouri's economy. The more than 100,000 farms cover about two-thirds of the state's land acreage. An average farm in Missouri covers 269 acres. About 90% of the farms are family-owned while the state or companies own the rest. The terrain and fertile soil across the state contribute to agricultural diversity. Vast forests, clear rivers, and large lakes cover the Ozark Plateau, while the Bootheel region is covered by extensive plantations of cotton, soybeans, and rice. Missouri ranks top in several agricultural productions including 2nd in beef, 6th in turkey, 7th in hog, 5th in cotton, 7th in soybeans, 10th in corn, and 4th in rice. Forestry contributes over $10 billion to the economy, with annual exports of about $170 million. Access to rail systems, waterways, foreign trade zones, and highway systems have helped the state register growths of about 8% annually.
Aerospace And Defense
Missouri is a top player in aerospace and defense. The industry employs about 80,000 Missourians in addition to more than 4,000 interns in engineering-related fields. Boeing's Defense Space and Security assemble F-15, F/A-18, MQ-25, EA-18G, and USAF T-7 along with munitions and replacement parts for the 777X. The company employs about 16,000 people within the state. GKN Aerospace has about 1,000 skilled employees, while LMI Aerospace announced plans to expand its assembly line. Seyer Industries specializes in the production of complex component parts while pas Technologies maintains and service aerospace components. The National Geospatial-Intelligence Agency in St Louis Supports US forces across the globe. Cybersecurity and geospatial analysis are emerging sectors in the state due to its solid foundation and skilled employees. Due to the significant impact, the industry has on the state economy, several programs have been developed to help improve the sector. They include Aviation Institute of Maintenance in Kansas City, Flight Safety International, and the Boeing Research and Technologies Collaborative Automation System Laboratory.
Manufacturing
Missouri has a developed advanced manufacturing industry and a suitable business environment that makes it attractive to entrepreneurs and investors. The industry accounts for about one in every ten employed Missourians. Manufacturing accounts for about 12.8% of the state's output \, translating into about $40.7 billion. In addition, the sector creates about 273,000 employment opportunities with an annual average income of about $69,640. Food beverage and tobacco products top the manufacturing industry followed by chemicals, motor vehicles and machinery, computer and electronics, electrical equipment and appliances, and rubber and plastic products. In 2018, Missouri exported $13.2 billion worth of manufactured goods. Despite the presence of multinationals and large corporations, small and medium businesses account for about 90% of exports.
Mining And Power
Missouri is among the top producers of lead and zinc in the country. In the recent past, deposits were discovered in the Viburnum Trend in the south-eastern region of the state. Iron ore was discovered in the early 19th century, and mining remained steady until it began declining in the late 20th century due to fluctuations in global prices and environmental concerns. About four-fifths of electricity in the state is generated by coal-fired plants, with Wyoming providing most of the coal. The rest of the energy is generated from nuclear power plants, hydroelectric dams, and natural gas.
Service And Taxation
Missouri's service sector is diverse and includes government, financial services, retail and wholesale trade, real estate, and social and health services. Local, state, and federal governments form the largest segment of the service sector. Tourism accounts for a small percentage of the GDP, but the industry has experienced significant growth in the recent past and is expected to perform better in the future. Employees in the state enjoy the benefits of the expanding economy, but the per capita income remains below the national average despite lobbying by unions. Missouri ranks low in tax revenue per capita as a result of an amendment adopted in 1980, which requires a tax refund if state revenues rise by 1% more than the taxpayer's income.
Transport And Logistics
Missouri is within a day of half of the United States' manufacturing establishments and households as well as the 20 fastest growing metropolitans. It also has rail access to the West Coast and Mexico. The state also has a well-developed transport infrastructure that gets goods to the market cheaper and faster. Rail connects the state to both coasts while the Mississippi and Missouri rivers provide over 1,000 miles of navigable waterways. Several multinationals have distribution warehouses in Missouri, including Dollar General, Walmart, General Mills, Toys R Us, Rawlings, and Kraft Foods. About 300,000 people are employed in the transport and logistics industry, providing enough labor to lure companies. The median hourly wage in the state is also lower than in 32 other states.
About the Author
Victor Kiprop is a writer from Kenya. When he's not writing he spends time watching soccer and documentaries, visiting friends, or working in the farm. 
This page was last updated on February 3, 2020.
Citations
Your MLA Citation
Your APA Citation
Your Chicago Citation
Your Harvard Citation
Remember to italicize the title of this article in your Harvard citation.