Economics
What Are The Biggest Industries In Bulgaria?
Bulgaria has a well-developed manufacturing industry.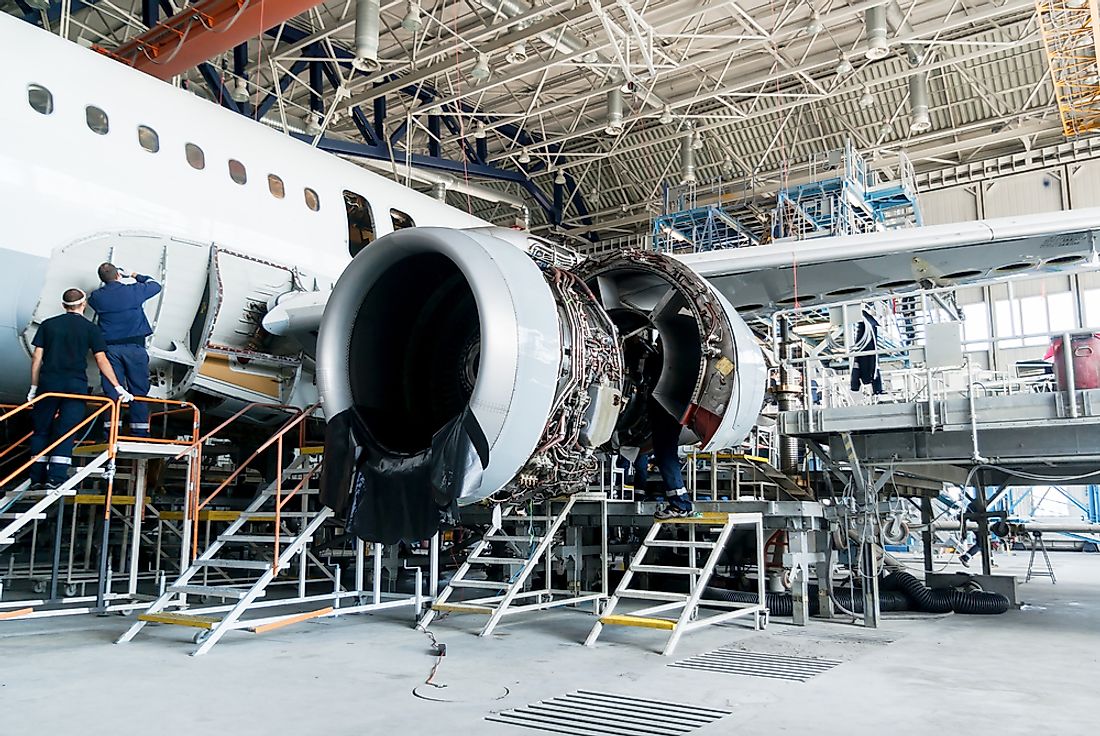 Bulgaria is a country located in southeastern Europe in the Balkan Mountains region. The country has a rich heritage characterized by music, crafts, traditional dances, and costumes. The country is the 16th largest in Europe and also a member of the European Union. Its capital city is Sofia.
The economy of Bulgaria operates within a free market whereby the private sector forms the bulk of the market. The country was not shielded from the effects of the 2007-2010 financial crisis which resulted in a 5.5% dip in its economic growth rate. However, it quickly recovered by achieving a 0.2% economic growth in 2010. Much as the country experienced another season of weak economic growth afterward, the country has been experiencing rapid economic growth in the recent past. It has also been attracting significant amounts of Foreign Direct Investments since 2001. In 2014, the GDP of Bulgaria was $123.9 billion (PPP).
The Biggest Industries In Bulgaria
Categorized as an upper-middle-income economy by the World Bank, the biggest industries in Bulgaria are mining, industry, agriculture, and tourism as discussed below:
Industry Sector
The industry sector in Bulgaria primary deals with metallurgy and machine building. In fact, the country contributes to the manufacture of about 10% of the hydraulic machinery used in the world. Regarding metallurgy, the metal processing of iron and steel began after World War II and has been operational to this day. However, over the years, Bulgaria has engaged in the processing of other metals as well. The processed metals include iron, lead, zinc, copper, sulfuric acid, and steel in different parts of the country such as Pirdop, Kremikovtsi, and Kurdzhali. Besides metal, other products manufactured include machine tools, caustic soda, nuclear energy, military hardware, munitions, food, beverage, tobacco, textiles, and sugar. Bulgaria's major industrial exports include iron, steel, machinery, clothes, and refined fuels. Another big part of the industry sector is the shipbuilding business located in areas like Varna, Sofia, Plovdiv, Ruse, and Pernik.
Mining Sector
The industry sector in Bulgaria largely depends on the mining sector. The country prides itself in having many mineral resources. Iron ore deposits are located in northwest Montana while mining deposits of copper, lead, and zinc occurs in Balkan, Rhodope, and Sredna mountains. Bulgaria is among the world's largest producers of zinc, copper, and lead. Black coking coal reserves have also been discovered in Kremikovtsi near Sofia. About 40 coal basins have been identified through exploration ventures; amounting to three billion tons worth of coal reserves that are mainly lignite. Lignite is a mineral resource which is widely utilized as a source of energy for most of the manufacturing industries in Bulgaria. It also facilitates the powering of thermal stations located in Sofia, Plovdiv, Burgas, and Pernik. The country also has small deposits of natural gas and oil. However, it mostly depends on Russia for its oil supply. Other less valuable minerals found in Bulgaria are dolomite, rock salt, kaolin, barite, asbestos, limestone, and gypsum.
Agriculture Sector
Bulgaria is among the leading exporters of tomatoes and grapes in the world. However, besides these products, the country also grows cereals such as maize, barley, rye, rice, oats, and soybeans. Sunflower, majorly grown in the north, is used for the production of oil whereas the pulp is used to manufacture cattle feed. In the south, farmers grow the Oriental type of tobacco which is high quality. Bulgarian farmers also rear animals such as sheep, poultry, and pigs. Besides, fishing and fish breeding is also quickly becoming a significant component of the agricultural sector in Bulgaria.
Tourism Sector
The tourism sector in Bulgaria has undergone tremendous growth since the 1960s. In 2005, government records indicated that the number of tourists who visited the country was 750,000. 12 years later in 2017, the World Bank's records indicated that the number of tourists had risen to 8.8 million. Majority of foreign tourists who visit Bulgaria are from Germany, Greece, Romania, Russia, and Turkey forming a total of about 50% of the total number of tourists that the country receives yearly. Bulgaria is internationally famous for its winter and seaside resorts. It also has about 10 UNESCO World Heritage sites that form part of the many tourist attractions in the country. Other tourist destinations include the Black Sea and Pirin National Park. In 2014, the tourism sector employed 150,000 workers and contributed 15% of Bulgaria's GDP.
Major Challenges Faced by Bulgaria's Economy
The economy of Bulgaria enjoys a track record of fiscal prudence as well as attractive markets for foreign investments. However, there are several challenges faced by the country which has slowed down the pace of economic growth. These limitations include inadequate research and development financing, lack of clear economic growth and development policy, persistent corruption, and continuous political instability.
About the Author
Sharon is a Kenyan native with a wide range of interests. An accountant and financial analyst by profession, Sharon enjoys writing about world facts, the environment, society, politics, and more.
This page was last updated on June 18, 2019.
Citations
Your MLA Citation
Your APA Citation
Your Chicago Citation
Your Harvard Citation
Remember to italicize the title of this article in your Harvard citation.