Walmart Locations by Country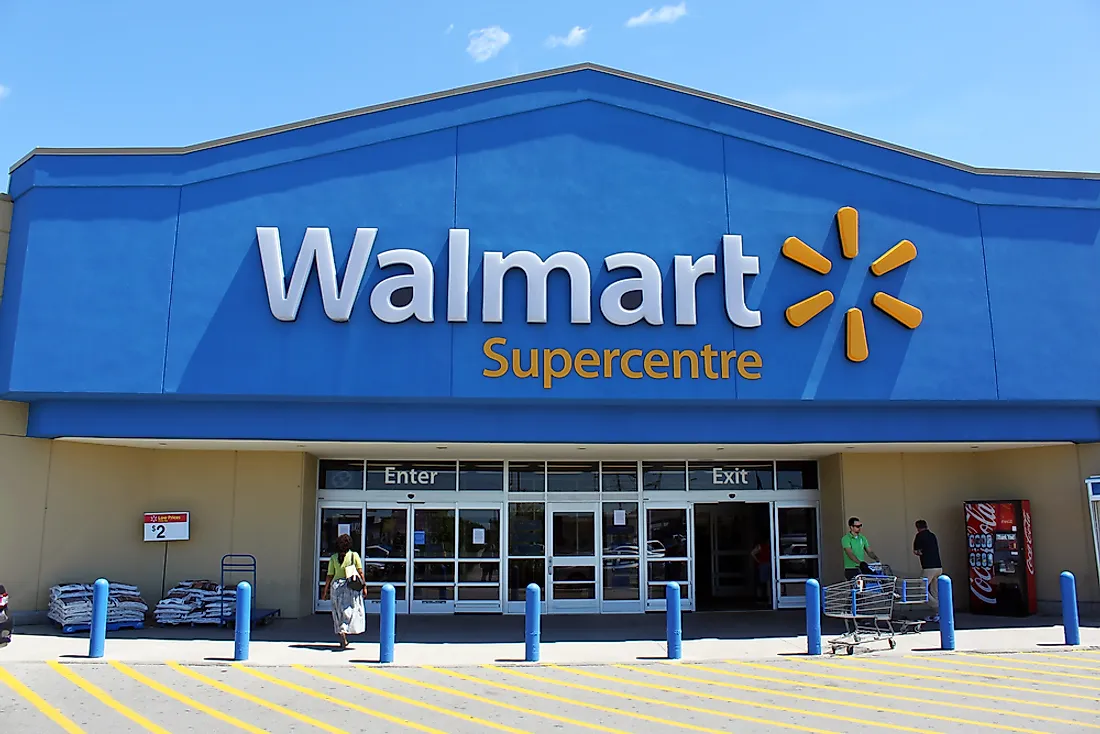 Walmart is a multinational retail company operating a chain of grocery stores, discount department stores, and hypermarkets. The company was founded in 1962 by Sam Walton and incorporated in 1969. It is headquartered in Bentonville, Arkansas, and has outlets in almost all parts of the world. From a humble beginning in Rogers, Arkansas, Walmart has expanded and currently runs 11,348 retail units under 58 banners in around 27 countries. Most of the retail stores operate under different names. Today, the retail company is the largest in the world by revenue and also the largest private employer with over 2 million employees worldwide.
Walmart Locations Around The World
The United States
The United States has the highest number of Walmart stores in the world, boasting of 5,358 retail units. Walmart US is the largest division of Walmart, accounting for about 65% of the company's sale (2019). This division consists of neighborhood markets, discount stores, and supercenters. As of July 2019, there were an impressive 4,759 Walmart US stores in the US. Apart from the stores, there are 599 Sam's Club stores in the country. These stores mainly sell groceries and general merchandise. Sam's Club accounts for about 11% of the company's total revenue (2019). About 90% of the population of the US lives within 10 miles of Sam's Club or Walmart store.
Mexico
Walmart's division in Mexico is the largest outside of the United with up to 2468 stores. The company's division in Mexico is known as Walmex or Walmart de Mexico y Centroamerica. Walmart stores in the country include 277 supercenter stores, Bodega Aurrera (located in 526 locations), 163 Sam's Club stores, 369 Mi Bodega Aurrera stores, 1,041 Bodega Aurrera Express stores, and 92 Superama stores. Walmax was founded in 1952 as Cifra and signed a joint venture with Walmart in 1991. Walmart increased its share in the company to 51% and the company was renamed Walmart de Mexico y Centroamerica in 2010.
The United Kingdom
Walmart retails in the UK as Asda (a company acquired by Walmart in 1999). The company is headquartered in Leeds and has 633 stores across the country. Asda stores were and remain grocery stores and have a strong focus on non-food items compared to other stores across the country. The 633 stores are divided into 341 superstores, 209 supermarkets, 33 Asda Living, 32 supercenters, and 18 petrol fueling stations.
African Countries
Walmart entered the African market following the acquisition of South Africa's Massmart Holding Limited in 2010. Today, there are 442 Walmart stores across Africa, of which 394 stores are in South Africa but under different banners. Botswana has 11 stores, also under different banners such as Game Foodco, CBW, and Builders Warehouse. Other countries in Africa with Walmart stores are Zimbabwe, Mozambique, Nigeria, Ghana, Namibia, Lesotho, Kenya, Malawi, Uganda, Tanzania, and Swaziland
Operating Divisions Of Walmart
Walmart is divided into four main operating divisions; Walmart US, Walmart International, Sam's Club, and Global eCommerce. These divisions have various retail formats including supercenters, hypermarkets, supermarkets, warehouse club, restaurants, digital retails, and apparel stores among others. Supercenters are large stores of up to 260,000 square feet and offer full supermarket services. Neighborhood markets are small Walmart stores that stock mainly groceries.
Walmart Locations by Country
| Rank | Country | Walmart Locations |
| --- | --- | --- |
| 1 | United States | 5,362 |
| 2 | Mexico | 2,448 |
| 3 | United Kingdom | 633 |
| 4 | China | 433 |
| 5 | Canada | 411 |
| 6 | South Africa | 390 |
| 7 | Chile | 375 |
| 8 | Japan | 331 |
| 9 | Costa Rica | 257 |
| 10 | Guatemala | 250 |
| 11 | Honduras | 106 |
| 12 | Nicaragua | 103 |
| 13 | El Salvador | 97 |
| 14 | Argentina | 92 |
| 15 | India | 25 |
| 16 | Botswana | 11 |
| 17 | Zambia | 7 |
| 18 | Mozambique | 6 |
| 19 | Nigeria | 5 |
| 20 | Ghana | 4 |
| 21 | Namibia | 4 |
| 22 | Lesotho | 3 |
| 23 | Kenya | 2 |
| 24 | Malawi | 2 |
| 25 | Swaziland | 1 |
| 26 | Tanzania | 1 |
| 27 | Uganda | 1 |