World Facts
US States With the Most Cattle
Texas has far more cows than any other US state.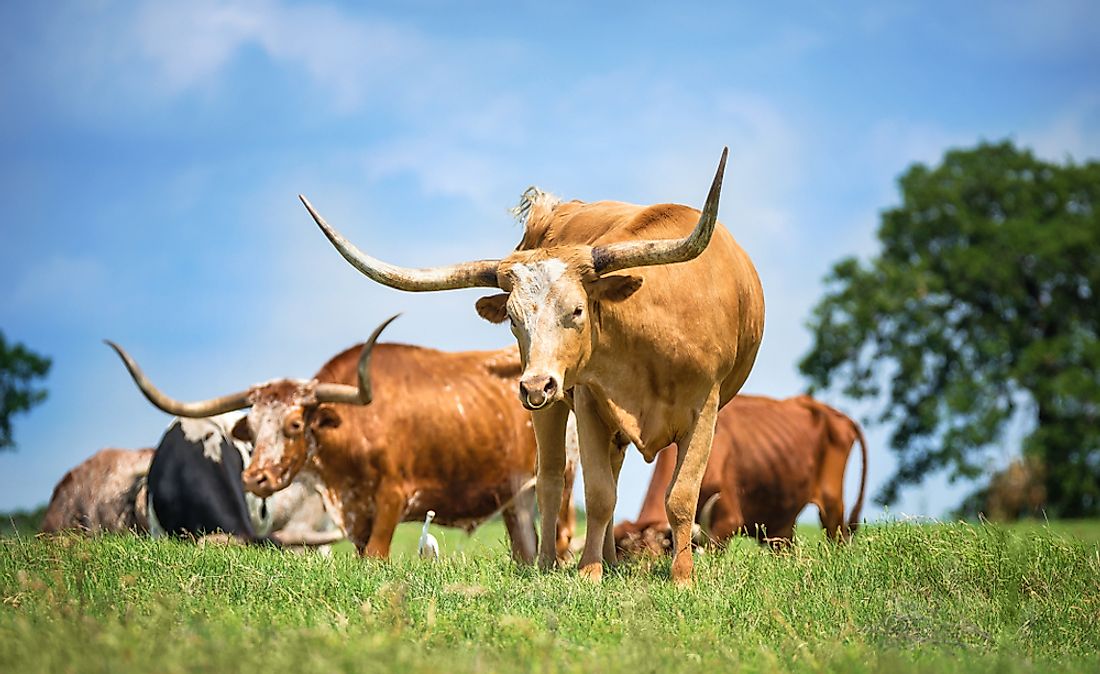 As of January 2019, there were approximately 94.8 million cattle and calves in the United States (US), up from 94.3 million head of cattle in January 2018. Of this total, 41.1 million are cows and heifers that have calved at least once, which is an increase from 40.6 million the previous year. After a steady decline in the number of cattle in the US between 2004 and 2014, the country's cattle population has experienced impressive growth in recent years. US states with the most cattle are highlighted below.
US States with the Most Head of Cattle
Texas
Texas has more cattle than any other US state, with a total of 13 million head in January 2019, which is an increase from 12.5 million head the previous year. The state is deeply rooted in cattle production, and according to the US Cattle Inventory, about 13% of all cattle in the US come from Texas. Additionally, the state has the 14th largest cattle inventory in the world. Since 1967, the state has had at least 11 million head of cattle each year. Given the state's extensive agriculture sector, Texas has over 120 million acres of farmland, which is more than any other state.
Nebraska
According to the 2019 Cattle Inventory, Nebraska's 6.8 million head of cattle ranks as the second-highest in the US. With a population of about 1.8 million people, cattle greatly outnumber people in the state. Although Nebraska has recorded minimal growth in its cattle inventory, it remains one of the most important states in terms of cattle production. Agriculture is the biggest industry in Nebraska, and cattle production represents the largest segment of the agriculture industry. The state has approximately 23 million acres of pastureland and rangeland, half of which is located in the Sandhills.
Kansas
Kansas had a total of 6.35 million head of cattle in January 2019, up from 6.3 million in January 2018, and ranking as the third most of any US state. The state's agricultural industry is known globally for raising healthy cattle, and its large herd is supported by abundant feed supply in the pastureland and an adequate water supply. The beef cattle sector is single largest part of the agriculture industry in Kansas, with cattle generating revenues of US$ 8.27 billion in 2017.
Oklahoma
There are approximately 5.3 million head of cattle on the farms, ranches, and feedlots across Oklahoma, ranking as the fourth largest cattle-rearing state. The number of cattle in the state grew by 4% from the previous year (2018). One of the most popular cattle-raising regions of Oklahoma is the Osage Hills in Osage County, as well as the neighboring Flint Hills region in Kansas, which also has a significant number of cattle.
Overview of the US Cattle Industry
The United States has the world's largest fed-cattle industry, and is also the largest producer of beef in the world. Cattle production is an important industry in the country, accounting for approximately US$78 billion in 2015. When the United States Department of Agriculture (USDA) started counting the nation's cattle in 1867, there were only about 28 million head. However, the inventory peaked to 132 million head in 1975. While this number had decreased to 94.8 million in January 2019, steady growth is expected in the coming years.
List of US States With the Most Cattle
| Rank | State | Estimated Cattle Count |
| --- | --- | --- |
| 1 | Texas | 13,000,000 |
| 2 | Nebraska | 6,800,000 |
| 3 | Kansas | 6,350,000 |
| 4 | Oklahoma | 5,300,000 |
| 5 | California | 5,150,000 |
| 6 | Missouri | 4,250,000 |
| 7 | South Dakota | 4,050,000 |
| 8 | Iowa | 3,950,000 |
| 9 | Wisconsin | 3,450,000 |
| 10 | Colorado | 2,850,000 |
About the Author
John Misachi is a seasoned writer with 5+ years of experience. His favorite topics include finance, history, geography, agriculture, legal, and sports. 
This page was last updated on October 24, 2019.
Citations
Your MLA Citation
Your APA Citation
Your Chicago Citation
Your Harvard Citation
Remember to italicize the title of this article in your Harvard citation.