Economics
What Are The Biggest Industries in Texas?
Texas has a large animal agriculture industry.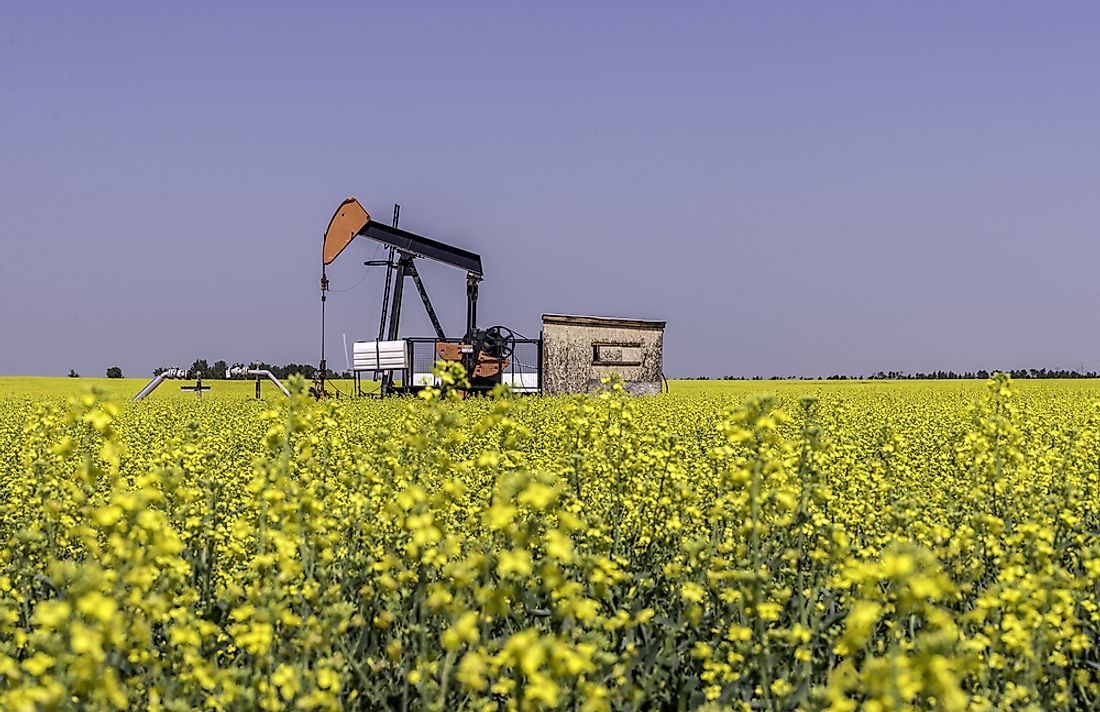 Texas is the second-largest state in the US in regarding both land area and population size. The state lies in the south-central part of the country sharing its borders with Oklahoma, New Mexico, Louisiana, and Arkansas. Texas also shares its border with the Mexican states of Tamaulipas, Chihuahua, Coahuila, and Nuevo Leon. The state capital of Texas is Austin. Houston is the state's most populous city and the fourth most populous in the whole of the US.
Texas has a large economy, which includes some of the following industries:
Agriculture
Agriculture plays a significant role in the state's economy. Texas has the largest number of cattle in the whole country, which are more than 16 million heads of cattle. The state is the country's leader in producing goat and sheep products, and it is also the leader in cotton production which is the leading crop product and the second most valuable farm output in Texas. Texas produces the most cereal crops than any other state. Other crops produced in large scale include grapefruits, watermelons, and cantaloupes. Agriculture is the second largest industry in Texas, and revenues from agriculture in 2011 were valued at $22.7 billion while earnings from export of agricultural products in the same year were more than $7.6 billion. About 12% of the 26 million people living in Texas are rural dwellers, and approximately one out of seven people in Texas rely on agriculture for their livelihood. Approximately 90.5% of farms and ranches, which are about 247,500 in numbers, are family-owned farms or corporations held by families.
Oil And Petroleum
It is estimated that petroleum deposits in the state are about eight billion barrels accounting for about 1/3rd of all the known petroleum supply in the US. The proven oil reserves in the state are approximately 4.6 billion barrels. Major oil corporations have their headquarters in the state of Texas, and they include Exxon Mobil in Irving, Marathon oil and Conocophillips in Houston, Valero and Tesoro in San Antonio, and BP in Houston. As of 2017, there were 187,139 wells in production, and this was an increase from 2007 when they were 153,223 wells.
Tourism
Tourism plays a significant role in the economy of Taxes, and it has experienced growth, particularly in the recent past. In 2012, Texas received more than 220 million domestic tourists, making it the third most favorite state in the US by domestic tourists. More than 20% of the tourists visiting Texas were for leisure, while 30% were visiting for business-related activities. In 2012, about 8.2 million international tourists visited Texas, out of the total 60 million who visited the US. Majority of tourists visiting the state originated from Canada, Mexico, Germany, the UK, Australia, Brazil, China, and Japan. Their spending was estimated to reach $5.3 billion. Revenues generated from tourism accounted for 13% of annual income in Texas or the GDP. Taxes from the tourism industry generated $65 billion from direct travel spending.
Entertainment
Texas has emerged as one of the top filmmaking states in the US. The city of Austin has become among the leading cities in filmmaking. Between 1995 and 2004, $2.7 billion was used in the production of films and television programs. Several Studios from Hollywood have relocated some of their units to cities in Texas such as Dallas, Houston, and Austin among others. The media giant iHeartMedia is located in Texas at San Antonio. Prominent developers of video games such as 3D Realms, Robot Entertainment, and Gearbox Software are all located in Fort Worth are in Dallas.
About the Author
Benjamin Elisha Sawe holds a Bachelor of Arts in Economics and Statistics and an MBA in Strategic Management. He is a frequent World Atlas contributor. 
This page was last updated on September 4, 2019.
Citations
Your MLA Citation
Your APA Citation
Your Chicago Citation
Your Harvard Citation
Remember to italicize the title of this article in your Harvard citation.