Every year, there is an average of six million automobile accidents in the US, ranging from minor fender benders to fatal collisions. There are many reasons why motor vehicle accidents occur, ranging from distracted driving to driving under the influence of drugs or alcohol. Car accidents are more common in some states than in others. Here are some brief details about some US states with many fatal car accidents in relation to their population.
Texas
The Lone Star State had the most fatal car accidents in 2018, but its high population means its rate of deaths is mid-range among all 50 states. Speeding is the leading cause of car accidents in the state, followed by distracted driving. Bad driving such as failures to yield and obey signage along with following cars too closely are also common causes for accidents in this state. In 2017, it was estimated that a person was killed in a collision in Texas every two hours, and 28% of all traffic deaths in the state were a result of drunk driving.
Florida
Omitting California because of its size and very low fatal accident rate, The Sunshine State has the unenviable distinction of being second-place on this list. Speeding is the number one factor causing collisions in Florida, followed by not obeying traffic signals, texting while driving, and DUI. Another factor very unique to Florida is the age of drivers. Seniors account for a large proportion of the state's population and are thought to be responsible for as many automobile collisions as teenagers.
North Carolina 
A third of North Carolina's automobile accidents involve speeding. Nearly 20% of car crashes in North Carolina involve distracted driving. Only about 4% of crashes in the state had alcohol as a factor, though it was also a factor more than 26% of the time that a car accident resulted in a fatality. The majority of people killed in accidents in North Carolina were in the driver's seat.
Tennessee
Drunk driving is cited as a major cause of collisions in Tennessee, but crashes caused by DUI are steadily declining, whereas the number of collisions caused by distracted driving is on the rise. July is a month with a high rate of collisions in the state, which is attributed to the fact that the 4th of July celebrations lead to a higher number of people driving while impaired.
South Carolina
In 2016, South Carolina was rated the third-worst for fatal collisions. Speeding is a factor in 22% of the state's collisions. South Carolina was also the eighth-worst state for drunk driving in 2017 and the third-worst for DUI fatalities.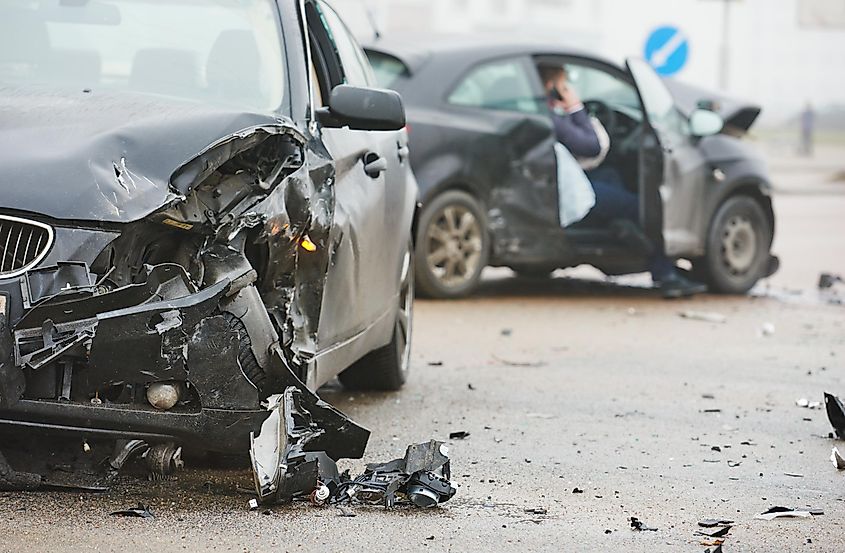 Arizona
The leading cause of car crashes in the desert state is speeding, which accounted for a third of all the state's motor vehicle accidents in 2018. Distracted driving is the second leading cause of crashes, and was factored into a quarter of collisions in 2018.
Alabama
Alabama collision fatalities are above the national average. Improper driving behaviors, like tailgating and failing to yield the right of way are the primary causes of collisions in the state, followed by speeding. Alabama is home to one of the most dangerous roads in the country, US 431, nicknamed the "Highway to Hell."
Louisiana
Speeding is the main factor in Louisiana automobile collisions, followed by distracted driving. Both the frequency of collisions and collision fatalities in Louisiana are well above the national average.
New Mexico
New Mexico drivers have been rated the second worst in the US, according to data from the National Highway Traffic Safety Administration (NHTS). Drunk driving is a major problem in New Mexico, and December is the month with the most car collisions in this state. In fact, the state has had more deaths per capita as a result of drunk driving than any other state.
Preventable Accidents Are the Bulk of All Collisions
One thing that all states share is that the majority of collisions causing fatalities are the result of preventable accidents involving distracted drivers, driving while impaired, or bad driving such as speeding or not obeying the road laws and signage. This shows that drivers can—and should—do more to keep the roads safe for everyone.