Top Source Countries For Tourists To China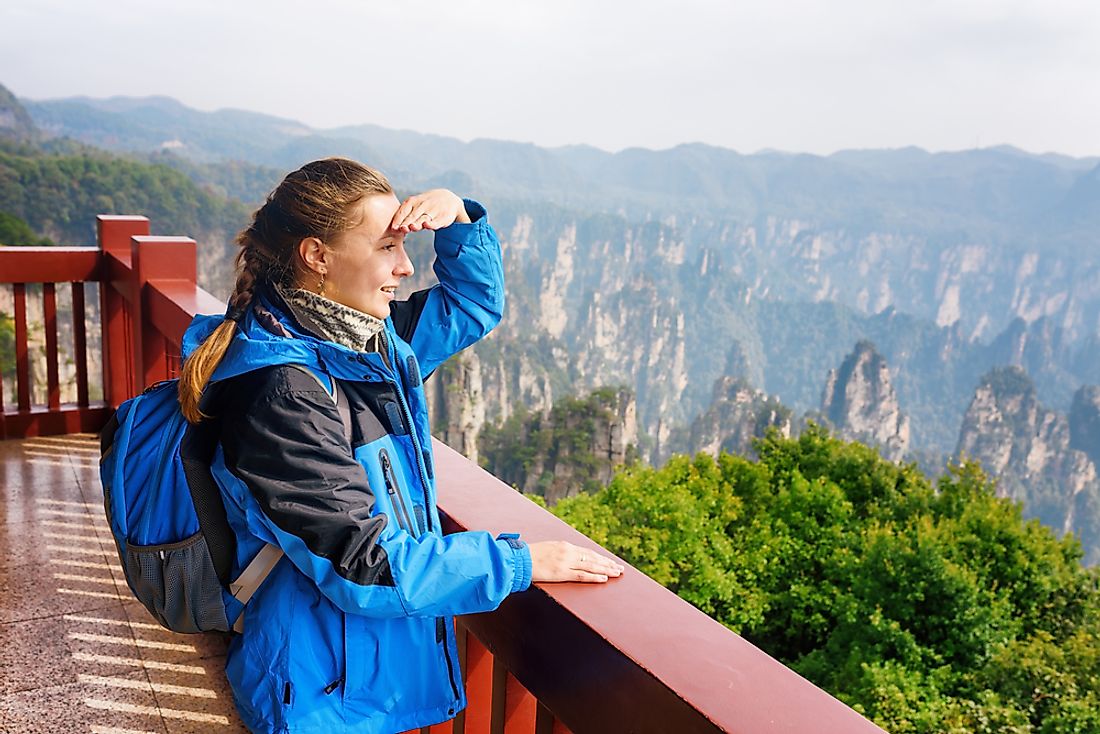 Tourism In China
From 1949 until 1974, China was closed to most tourists. This country only began developing its tourism industry in the late 1970s in order to generate foreign exchange. Since then, it has become the third most popular tourist destination in the world. The World Tourism Organization expects China to take first place as a global tourist destination by 2020. In 2010, China received 55.98 million international tourists, generating $45.8 billion in revenue. This article takes a closer look at where those tourists come from and where they visit in the country.
Tourist Destinations In China
China offers tourists a wide range of tourist destinations from natural wonders to urban landscapes and historical sites. Some of its most well-known natural sites include the Three Gorges area of the Yangtze river and the terraced rice paddies of Yunnan. The principal historical tourist attraction here is the Great Wall, which is the world's biggest national defence infrastructure built in the last 2,000 years. Additionally, tourists come to China in order to learn about the diverse cultures living here. Some popular cultural destinations include the Water Sprinkling Festival of the Dai and the Mosuo matriarchal society at Lugu Lake.
Top Source Countries For Tourists To China
South Korea
The largest percentage of international tourists to China come from South Korea. In 2016, over 14.56 million South Koreans visited this country. Although tourism in China is expected to grow, the number of South Korean travelers is likely to decline. This decline is due to a current dispute between the two countries over a US missile defense system implemented in South Korea. In response, China has initiated a travel ban against South Korea, which may affect the number of South Korean tourists traveling to China on vacation as well.
Vietnam
Vietnam sends the second largest group of international tourists to China. In 2016, approximately 8,735,821 Vietnamese traveled to this country. These two countries have a connected tourism industry, as China is the number 1 source of source of tourists to Vietnam. The reason for this high level of tourist travel between these countries is that they share a border. Because of this shared border, the governments of China and Vietnam have established a special type of border travel, which does not require passports or visas.
Japan
The third largest source country for travelers to China is Japan, which sent 5,622,777 tourists in 2016. This is a significant number despite the continued presence of some animosity in China over Japan's invasion during the 1930's. Japanese tourists enjoy visa free travel to this country as long as they come through the ports of entry designated for foreigners and stay for no more than 15 days..
Malaysia
Malaysia is the fourth largest source for tourists to China. Records indicate that 3,322,616 Malaysian tourists visited this country in 2016. Citizens of Malaysia may visit China without a visa if they are traveling with a group tour to Hainan Province for no more than 15 days. Additionally, the tour operator must be approved by the National Tourism Administration of China and registered with Hainan Province.
The chart published below offers a more extended list of the top source countries for tourists to China.
Top Source Countries For Tourists To China
| Rank | Country | Number Of Tourists |
| --- | --- | --- |
| 1 | South Korea | 14,560,566 |
| 2 | Vietnam | 8,735,821 |
| 3 | Japan | 5,622,777 |
| 4 | Malaysia | 3,322,616 |
| 5 | Russia | 1,750,800 |
| 6 | United States | 1,446,800 |
| 7 | Mongolia | 1,237,000 |
| 8 | Singapore | 1,185,800 |
| 9 | Philippines | 1,067,922 |
| 10 | Taiwan | 1,000,721 |
| 11 | India | 1,000,266 |
| 12 | Thailand | 909,000 |
| 13 | Canada | 514,322 |
| 14 | Indonesia | 369,109 |
| 15 | Australia | 254,434 |