Travel
The World's Most Powerful Passports
Have one of these passports? You're in luck, these passports are ranked as the world's most valuable.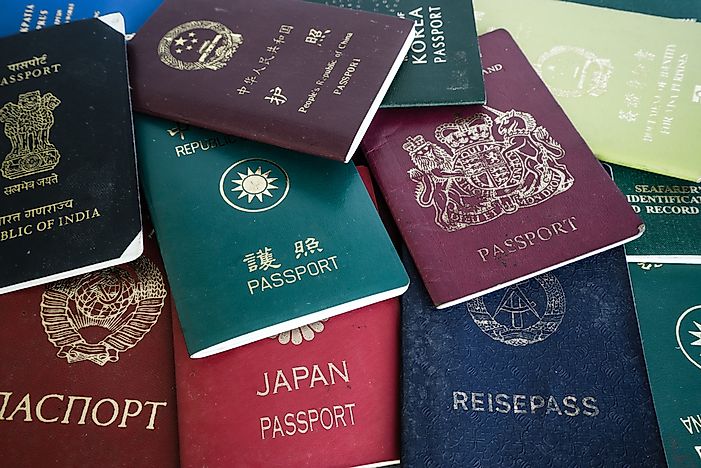 In the world of international travel, some passports are more valuable than others. Passports from some countries allow you to travel the globe relatively hassle-free, while others can effectively prohibit your movements. Although advances in mobility and technology have created a world that feels smaller and more interdependent than ever before, there is still a major disparity among different countries in regards to levels of travel freedom. The Passport Index ranks global passport power in each of the world's countries by assignment of a world openness or "visa-free" score: a comparison of how much travel freedom their citizens enjoy. The index compares passports from 193 countries, as well as six territories: Hong Kong, Taiwan, Macau, Kosovo, Palestine and the Vatican. Each country is ranked by the total number of nations its citizens can visit without having to apply for a visa in advance or upon arrival.
In a general sense, global openness ranking is based on a the health of that country's diplomatic and political ties to other countries, but is also influenced by factors such as security risk, reciprocal visa arrangements, and historical rates of visa or immigration regulation violations by its travelling citizens. Scores can also be affected by social or political events such as elections, revolutions or political or financial crises. Countries such as Somalia, Iraq, Pakistan and Afghanistan, are ranked lowest in global passport power. Citizens of these countries must apply for a visa before travelling to all but 30 countries. For those who possess these highly-restricted passports, international travel can be a costly and time-consuming bureaucratic nightmare. Conversely, citizens of the wealthiest and most politically-stable countries may enjoy a near-universal freedom of movement across the globe. Passports from these countries are considered valuable because citizens do not have to go through the financial cost and difficulty of applying for a visa before travelling.
10. Estonia
Estonia trails slightly behind its neighbouring eastern European countries with a visa-free score of 148. However, this country has risen steadily in rank since 2015.
9. Tie: Slovenia/Slovakia/Poland/Lithuania/Latvia
Five eastern European countries share a ranking of ninth, with a global openness score of 149: Slovenia, Slovakia, Poland, Latvia and Lithuania. Lithuania's score has been slowly increasing since 2015. Despite a fluctuating score, Latvia has also been increasing in the rankings over the past two years. Poland has remained ninth in the rankings for three years, despite slight losses and gains in its overall score. Slovenia and Slovakia have travelled in tandem since 2015: two years ranked tenth, with a drop of two points between 2015 and 2016, and climbing up to ninth in 2017.
8. Hungary
Hungary is ranked eighth, with visa-free access to 150 countries. Holding steady since 2016, the country's score has dropped two points since it was ranked seventh in 2015.
7. Tie: Malta/Czechia/Iceland
With a score of 152, Malta, Czechia and Iceland are tied for seventh in the rankings. Back after a slight dip in 2016, Czechian citizens still enjoy relatively comprehensive global travel freedoms. Iceland's score has risen by two points (and two ranking positions) since 2015. After dropping slightly in 2016, Malta's visa-free score increased by four points in 2017.
6. Tie: Greece/New Zealand/Australia
Greece, New Zealand and Austria are ranked sixth. Citizens of these countries may visit 153 countries without a visa requirement. Greece's score is slowly improving after a drop from fifth to seventh in the rankings in 2016. While New Zealand's score has fluctuated slightly, it has maintained its place in the rankings for the past three years. Australia's position has been steadily improving since 2015.
5. Tie: Malaysia/Ireland/Canada
Ranked fifth, with a visa-free score of 154, are the diverse countries of Malaysia, Ireland and Canada. Malaysia has risen to this status from a ranking of eighth in 2015. Ireland has returned to its position after a two-point drop in 2016. Canada's score has also risen two points since 2016.
4. Tie: Luxembourg/Switzerland/Netherlands/Belgium/Austria/Portugal
Luxembourg, Switzerland, the Netherlands, Belgium, Austria and Portugal have visa-free access to 155 countries. After seeing a dip in 2016, Portugal, Luxembourg and Austria are back up to fourth place. Ranked second two years ago, Switzerland's score has been slowly decreasing. The Netherlands have dropped slightly in ranking as well. Belgium has remained fourth in the rankings, but its score has increased by one point since last year.
3. Tie: Denmark/Finland/Italy/France/Spain/Norway/Japan/United Kingdom/United States
Tied for third are seven European countries: Denmark, Finland, Italy, France, Spain, Norway, the United Kingdom, as well as Japan and the United States. Denmark dropped to a ranking of fourth last year, but is now back up to a visa-free score of 156. Spain, Finland and France were ranked second in 2015, but after a drop of two points have now climbed back up in the rankings. Italy is back as well after a dip in 2016. Norway and the United States, and Japan have all seen increases in score over the past two years. Citizens of the United Kingdom must apply for visas before visiting Iran, Mongolia, and Turkey, countries in which their German neighbours enjoy visa-free access.
2. Tie: Sweden/South Korea
Sweden and South Korea come in second, with a visa-free score of 157. The Scandinavian nation was ranked number one in 2015, and after a slight fall in 2016 is now seeing a slight increase in global travel freedom. Although it is no longer the strongest Asian nation, South Korea's visa-free score has risen rapidly over the past year, moving the country up from a rank of sixth to second overall.
1. Tie: Germany/Singapore
Citizens of Germany and Singapore enjoy the most freedoms in their international travel, with visa-free access to 158 countries. After a slight dip in 2016, Germany returned to its spot at the top of the rankings. Germany's success may be attributed, in part to its current open-door policy to immigrants and asylum-seekers. After Ukraine extended its visa-on-arrival policy to Singaporean passport holders, the country is tied with Germany at the top of the rankings. Singapore's world openness score has been steadily increasing over the past several years, passing South Korea to become the strongest passport in Asia. Along with German citizens, they now hold the world's most powerful passports.