The World's Largest Fast Food Restaurant Chains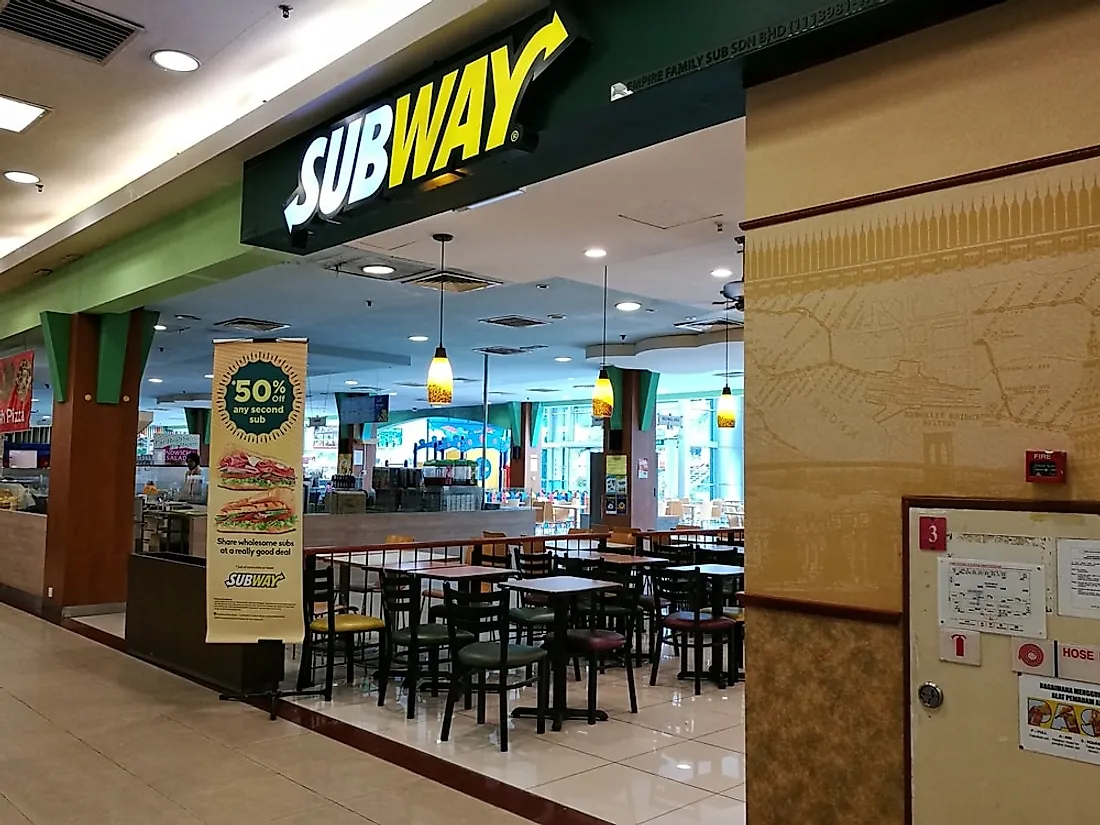 A fast-food restaurant is a specific type of restaurant that is defined by minimal table service and cuisine that is quickly prepared. Fast food restaurants are also known as quick-service restaurants. A restaurant chain is a group of related restaurants based in different locations that are operated either by franchise agreements or under shared corporate ownership such as McDonald's in the United States. Normally, restaurants within a chain are not only built to an architectural prototype of the required format but also offer customary services and menu. Fast food restaurants chains are popular and mostly found close to shopping malls, tourist areas, and highways.
Subway - 42,998 Locations
Subway is an American chain of fast-food restaurant franchise that predominantly sells submarine sandwiches commonly known as subs and salads. Subway is privately held, owned, and operated by Doctors Associates Inc. Subway is the largest and the fastest-growing restaurant chains in the world with 42,998 restaurants in 112 countries and territories. Subway fast-food restaurant in the US alone has about 25,549 outlets. Subway is also the largest operator in the world whose international headquarters are located in Milford, Connecticut.
McDonald's - 37,200 Locations
McDonald's is an American hamburger and fast food restaurant chain that was founded in 1940 by Richard and Maurice McDonald as a barbecue restaurant. In 1948, McDonald's reorganized their business as a hamburger stand and later in 1953, the first McDonald's franchise opened in Phoenix, Arizona. At present McDonald's is the second-largest restaurant chain in the world, available in 119 countries with approximately 36,900 outlets. McDonald's predominantly sells chicken products, milkshakes, hamburgers, breakfast items, desserts, and soft drinks. However, the company has recently expanded its menu to include fruits, fish, smoothies, salads, and wraps. McDonald's is one of the largest employers in the United States.
Starbucks - 30,000 Locations
Starbucks is an American coffee house chain, which was founded in 1971 in Seattle, Washington. Starbucks primarily serves espresso, whole-bean coffee, fresh juices, cafe latte, Frappuccinos, La Boulange pastries, and full-loose-leaf teas. Starbucks first become profitable in the early 1980s.
KFC - 20,404 Locations
Kentucky Fried Chicken, popularly known as KFC, is an American fast-food restaurant chain that mainly concentrates on fried chicken. KFC's headquarters are located in Louisville, Kentucky. As of December 2015, KFC was operational in 123 countries and territories with 20,404 outlets. KFC is a branch of Yum! Brands, which is a restaurant company that owns other restaurant chains such as Taco Bell and Pizza Hut. KFC was founded by Colonel Harland Sanders, an entrepreneur who started selling fried chicken from his roadside restaurant in Corbin, Kentucky. KFC initially only served chicken before extending their menu in the 1990s to offer other products such as salads, French fries, soft drinks, chicken burgers, coleslaw, wraps, and desserts.
Burger King - 16,859 Locations
Burger King is an American hamburger fast food restaurant chain whose main headquarters are in Miami-Dade County, Florida. Burger King was founded in 1953 as Insta-Burger King in Jacksonville, Florida. The Burger King menu has expanded from predominantly offering burgers, milkshakes, sodas, and French fries to a wide array of products. Burger King is estimated to have 16,859 outlets in 100 countries as of September 30th, 2016. Almost half of the outlets are found in the United States, and 99.5% are not only privately operated but also privately owned.
The World's Largest Fast Food Restaurant Chains
| Rank | Name | Number of Locations |
| --- | --- | --- |
| 1 | Subway | 42,998 |
| 2 | McDonald's | 37,200 |
| 3 | Starbucks | 30,000 |
| 4 | KFC | 20,404 |
| 5 | Burger King | 16,859 |
| 6 | Pizza Hut | 16,796 |
| 7 | Domino's | 15,000 |
| 8 | Dunkin' | 11,300 |
| 9 | Baskin-Robbins | 7,500 |
| 10 | Hunt Brothers Pizza | 7,300 |
| 11 | Taco Bell | 7,000 |
| 12 | Wendy's | 6,490 |
| 13 | Hardee's | 5,812 |
| 14 | Orange Julius | 5,700 |
| 15 | Papa John's Pizza | 5,318 |
| 16 | Dairy Queen | 4,800 |
| 17 | Little Caesars | 4,800 |
| 18 | Tim Hortons | 4,774 |
| 19 | CNHLS | 4,000 |
| 20 | Sonic Drive-In | 3,526 |