The United States Air Force (USAF)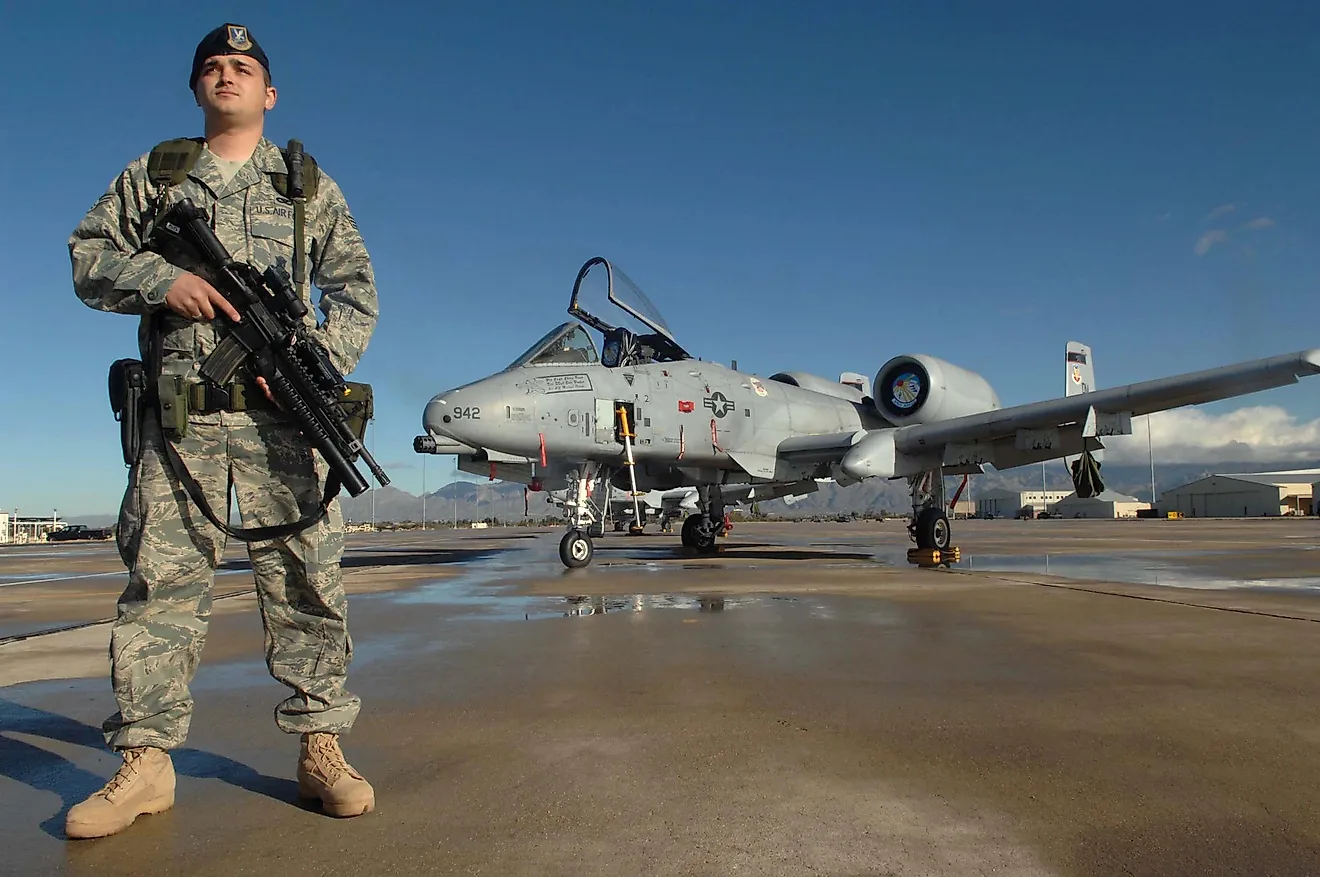 The United States Air Force (USAF) can trace its history back to its original inception date on September 18, 1947, following the signing of the National Security Act of 1947 by President Harry S. Truman. The creation of the National Security Act that led to the formation of the Air Force evolved from an agreement in 1946 between two Generals that the time was right to create a stronger, more capable military division. When General Dwight D. Eisenhower was serving as the Army Chief of Staff, he and General Carl A. Spaatz made the decision to transition the military unit of the Army Air Forces into that of the United States Air Force on January 29, 1946.
Roles of the U.S. Air Force in National Defense
As a major force in national defense, the primary roles of the US Air Force (USAF) as stated within its mission statement are to protect and defend the United States as well as its territories and regions occupied by the United States. The USAF supports the preservation of peace and security through combat and service. Areas of responsibility as noted within its core functions include, but are not limited to, cyberspace security, nuclear deterrence operations, global mobility and agile combat support, and precision engagement.
The USAF accomplishes it mission by extending its power to protect and serve in air and space as well as on the ground through various military support capacities. Additional important roles undertaken by the USAF include active reconnaissance missions and facilitating the transport of personnel along with supplies during strategic military campaigns. During times of engagement, the USAF provides ground troops with essential air support and assists in the field during the recovery of troops.
Major U.S. Air Force Bases
The U.S. Air Force (USAF) maintains numerous bases that are located around the world. Primary USAF leads joint bases within the United States include the following locations:
JB Andrews located in Camp Springs, Maryland
JB Charleston located in Charleston, South Carolina
JB Elmerdorf-Richardson located in Anchorage, Alaska
JB Langley-Eustis located in Hampton, Virginia
JB Lewis-McChord located in Tacoma, Washington
JB McGuire-Dix-Lakehurst located in Trenton, New Jersey
JB San Antonio located in San Antonio, Texas
Notable U.S. Air Force Battles
Prior to the official creation of the U.S. Air Force (USAF) in 1947, notable battles in history dating back before that period were undertaken by other military units, specifically that of the US Army Air Forces division. Moving forward in time, the US Air Force (USAF) has engaged its military forces in several battles that include, but are not limited to, the following wars:
Cold War: time period spans from 1945-1991
Korean War: time period spans from 1950-1953
Vietnam War: time period spans from 1954-1875
Persian Gulf War: Desert Storm and Operations Desert Shield: 1990-1991
Afghanistan War: 2001 to present; Operation Enduring Freedom
Iraq War: 2003-2011; Operations Iraqi Freedom and New Dawn
Famous U.S. Air Force Personnel
The U.S. Air Force (USAF) can proudly boast of several well-known individuals that served within their military unit before gaining celebrity status and becoming famous. Martial artist and Hollywood star Chuck Norris served in the USAF within the security police division before moving on to become a famous actor. Morgan Freeman, who is another well-known celebrity, pursued his initial dream of flying when he joined the USAF back in 1955. Additional notable personalities that joined the USAF include singer Johnny Cash and comedian George Carlin.
The United States Air Force (USAF)
| | |
| --- | --- |
| U.S. Air Force | Facts |
| Current Strength | 307,000 active duty; 69,000 reservists; 106,000 Air Guard personnel; 5,000+ aircraft; 450 Ballistic Missiles |
| Headquarters | Pentagon, Arlington, Virginia, U.S.A. |
| Role | Air-Based Warfare Capabilities |
| Founding | September 18th, 1947 |
| Governing Body | U.S. Department of Defense |