Environment
The Tallest Mountains In The South American Andes
Mount Aconcagua, the tallest Andean mountain, with a height of 6,962 meters, is one of the Seven Summits of the world.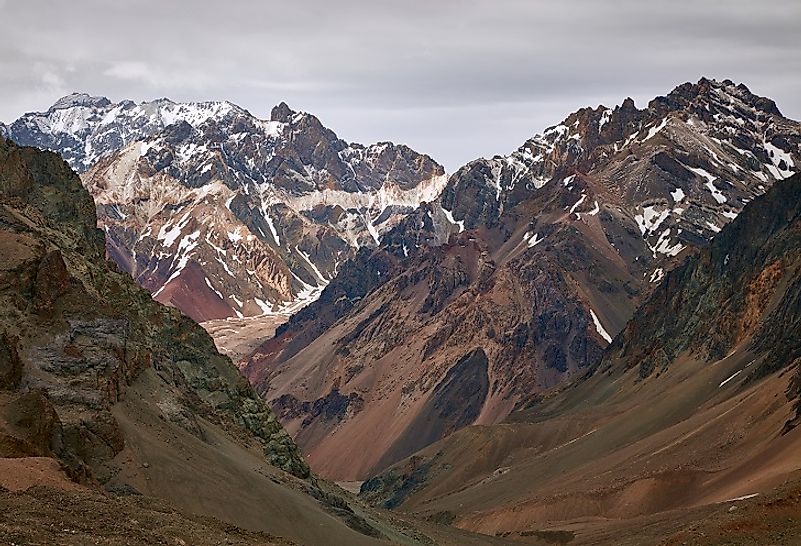 The Andes name comes from the Quechua word anti, meaning east. The Andes is a 4,300 mile-long mountain range located in South America that straddles seven countries, namely Argentina, Chile, Bolivia, Peru, Ecuador, Colombia, and Venezuela. South American cities of La Paz, Mérida, Sucre, Medellín, Arequipa, Bogotá, and Quito are some of the major cities on its many plateaus. The Andes is divided into three major divisions, the Wet Andes, Dry Andes, and Tropical Andes. It is considered the longest mountain range in South America. It forms a portion of the American Cordillera range that spans North America, Central America, South America, and the Antarctic continents.
Andes Mountain Range Biomes
The Andes mountain range was the result of tectonic plates pushing the land up to form mountains during the Mesozoic era and Tertiary period. The Andes is located on the Pacific rim of the Ring of Fire where volcanic activity is strongest. The Andean climate is divided into three regions. These are the colder southern region near the Antarctica, the milder central region situated between the Antarctica and equator, and the hot northern region near the equator. Plateaus, valleys, rainforests, deserts, rivers, rock glaciers, lakes, ice glaciers, and slopes are all distributed among the many habitats of the Andes. Flora and fauna in the region are marked by endemism.
Notable Andean Peaks
The Andes has many mountains surpassing the 20,000 foot mark. Topping the list is Mount Aconcagua in Argentina at a height of 22,841.207 feet. Second is Mount Ojos del Salado at 22,608.268 feet, which is a volcanic summit situated between Argentina and Chile. Third is Monte Pissis at 22,283.465 feet in Argentina. Fourth is Mount Huascarán at 22, 204.724 feet in Peru. Fifth is Mount Bonete at 22,175.197 feet in Argentina. Sixth is Mount Tres Cruces at 22,171.916 feet between Argentina and Chile. Seventh is Mount Llullaillaco at 22,109.58 feet between Argentina and Chile. Eighth is Mount Mercedario at 22,047.24 feet in Argentina. Ninth is Mount Cazadero (Walter Penck) at 21,843.832 feet in Argentina. Tenth is Mount Incahuasi at 21,778.215 feet between Argentina and Chile.
Mountaineering in the Andes
The Andes peaks presents a formidable challenge even to experienced mountaineers. The climate is marked by high temperatures and very low temperatures at different altitudes and locations. Mosquitoes and other bugs also present problems at dawn and dusk. Jaguars, bears, condors, and other large predators roam the different habitats of the Andes. Human mountaineers also traverse its many active volcanoes and its tallest mountain, to whom the Aconcagua presents an attractive climb. Ice glaciers and rock glaciers dominate the peaks of the Andes. Although hiring mountain climber guides is a must, a helmet is still necessary due to falling ice, gear, and rocks. Credentials from accredited mountaineering guide associations is also a must.
Many mountaineers expect to climb the Andes easy but are surprised to find a hostile climb instead. The blustery wind, icy cold, sheer altitude, and wide expanse of the mountains soon take hold and many are daunted. Mount Aconcagua was discovered by a German explorer named Paul Gussfeldt who climbed to about 21,522 feet but had to turn back due to a hurricane. On February 13, 1896, Lanti and Vines, two members of the expedition reached the top Aconcagua. One of the greatest mountaineers and Swedish guide of the 19th Century was Matthias Zurbriggen, who reached the top of Aconcagua's summit on January 14th, 1897.
What is the Tallest Mountain the Andes?
Mount Aconcagua is the tallest Andes mountain, with a height of 6,962 meters.
The Tallest Mountains In The South American Andes
| Rank | Elevation (in meters) | Name of Mountain | Country |
| --- | --- | --- | --- |
| 1 | 6,962 | Aconcagua | Argentina |
| 2 | 6,891 | Ojos del Salado | Argentina – Chile |
| 3 | 6,792 | Monte Pissis | Argentina |
| 4 | 6,768 | Huascarán | Peru |
| 5 | 6,759 | Bonete | Argentina |
| 6 | 6,758 | Tres Cruces | Argentina – Chile |
| 7 | 6,739 | Llullaillaco | Argentina – Chile |
| 8 | 6,720 | Mercedario | Argentina |
| 9 | 6,658 | Cazadero (Walter Penck) | Argentina |
| 10 | 6,638 | Incahuasi | Argentina – Chile |
This page was last updated on April 25, 2017.
Citations
Your MLA Citation
Your APA Citation
Your Chicago Citation
Your Harvard Citation
Remember to italicize the title of this article in your Harvard citation.