Environment
Tallest Mountains In South Korea
Hallasan, a volcanic peak on the island of Jeju, is South Korea's tallest at 6,400 feet, and one of the most sacred sites to Koreans.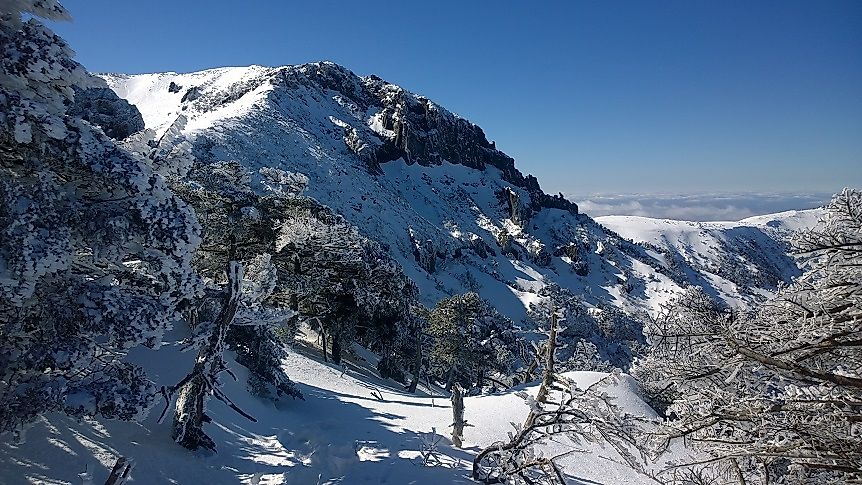 South Korea is a country in Eastern Asia covering an area of 99,720 square kilometers, bordering only one other country, North Korea. The country experiences temperate climate and heavy rainfall during summer while winter is cold with light rainfall. The terrain in the country is generally hilly and mountainous and wide coastal plains in the western and southern parts of the country. South Korea has a mean elevation of 925 feet above sea level and the lowest point is on the Sea of Japan at 0 feet high above sea level. Hallasan, a volcanic peak on the island of Jeju, is South Korea's tallest at 6,400 feet, and one of the most sacred. Other tall mountains in order of diminishing height are Jirisan, Banyabong, Seoraksan, Deogyusan, and Gwittaegibong, all are above 5,000 feet high. Around 70% of the country's land mass is covered by highlands or mountainous terrain. Only 30% of the land can be used for farming. Of the 21 highest mountain peaks in South Korea, four are found in parks Jirisan, Seoraksan, Deogyusan, and Taebeksan. Fourteen of these peaks are all in Jirisan National Park.

Hallasan
Mount Hallasan on Jeju Island is the tallest mountain in the country, standing at 6,400 feet above sea level in elevation. The mountain is considered sacred, with people worshipping or praying to it. They believe that gods and spirits live on the mountain. Gwaneumsa, the oldest Buddhist temple on Jeju Island, is located on Mount Hallasan. The mountain is home to 160 bird species, 3,315 insect species, 254 spider species, six tick species, and more than 50 unique plant species. Mount Hallasan attracts tourists who come to Jeju Island because of the mountain's hiking trails.
Jirisan
The second tallest mountain in South Korea, Mount Jirisan, is 6,283 feet tall. Found in the southern of reaches of the Korean Peninsula, Mount Jirisan is the largest mountain on the country's mainland, spanning three provinces. It has seven Buddhist temples. It is home to several national treasures, mostly ancient stone artworks. More than 280,000 tourists visit Mount Jirisan every year. It is located in Jirisan National Park, which emphasizes on biodiversity conversation. Forest habitat in the park has considerably reduced due to timber harvesting.
Seoraksan
At 5,603 feet, Seoraksan is the tallest of the mountains that form the Taebbek Mountain Range in Gangwon Province East in South Korea. It is the third highest mountain in the whole country. It attracts both national and international tourists in big numbers, especially in autumn. The autumn colors of Seoraksan, when the forest is red and yellow, are said to be the most beautiful in Korea. It is located in Seoraksan Natural Reserve, a national monument which protects the flora and fauna in the area. There are twelve Buddhist temples in the park. Its forests contain deciduous trees, evergreen trees, 939 plant species, 25 mammal species, 11 reptile species, nine amphibian species, 360 insect species, and 40 freshwater fish species. A proposed cable car project on the mountain was opposed by environmental activists who claimed it would threaten the endangered mountain goats who live on the mountain.
Deogyusan
Mount Deogyusan's summit is 5,295 feet above sea level. Standing upon the Baekdudaegan, the mountainous spine of the Korean Peninsula, Deogyusan consists of many peaks. The tallest peak of Deogyusan is Hyangjeokbong. It attracts tourists every year to Deogyusan National Park to see the mountain, as well as the Chiryeon Waterfall, the Cheoksan mountain fortress, and the winter ski resort of Muju. Deogyusan contains 250 animal species and 600 plant species. There are several Buddhist temples on Deogyusan.
Tourism and Environmental Protection
Mountains attract tourists from all around the globe to South Korea. Most of these mountains have Buddhist temples built upon them. Though the country is mostly Christian, there is a revival of Buddhism religion. Buddhism, which has deeper cultural roots in the country than Christianity, was suppressed for many years. Shamanism has also survived, and Shaman's still practicing their rites in Korea. Some people believe that spirits and deities live on mountains, and to these people, the mountains are holy places. The mountains are habitats for a broad range of plant and animal species. They are under threats of deforestation and the extinction of endangered species, among other environmental issues. There is a territorial dispute between South Korea and Japan over the Liancourt Rocks, which are a group of islets in the Sea of Japan.
What is the Tallest Mountain in South Korea?
Hallasan, a volcanic peak on the island of Jeju, is South Korea's tallest at 6,400 feet, and one of the most sacred sites to Koreans.
Tallest Mountains In South Korea
| | |
| --- | --- |
| Tallest Mountains In South Korea | Elevation |
| Hallasan | 6,400 feet |
| Jirisan | 6,283 feet |
| Banyabong | 5,687 feet |
| Seoraksan | 5,603 feet |
| Deogyusan | 5,295 feet |
| Gwittaegibong | 5,176 feet |
| Gyebangsan | 5,174 feet |
| Hambaeksan | 5,161 feet |
| Hambaeksan | 5,160 feet |
| Taebaeksan | 5,140 feet |
| Odaesan | 5,129 feet |
| Horyeongbong | 5,121 feet |
| Gariwangsan | 5,120 feet |
About the Author
Benjamin Elisha Sawe holds a Bachelor of Arts in Economics and Statistics and an MBA in Strategic Management. He is a frequent World Atlas contributor. 
This page was last updated on April 25, 2017.
Citations
Your MLA Citation
Your APA Citation
Your Chicago Citation
Your Harvard Citation
Remember to italicize the title of this article in your Harvard citation.