Economics
Bank Financing Of Working Capital Varies Around The World
Caribbean companies are around 2.5 times as likely to source working capital from bank financing than East Asian firms.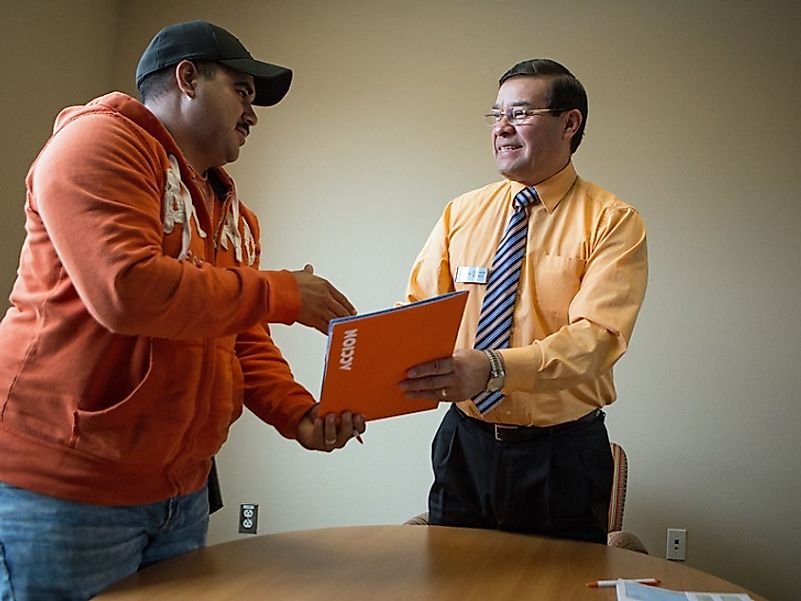 Working capital financing by banks is a primary source of credit for both small and medium business enterprises in any economy. Working capital is the money that a business uses for its day-to-day business activities and operations. The capital is typically offered by commercial banks to the small businesses that are not in a position to get the traditional loans from banks. Working capital varies widely and may include short-term loans, long-term loans, overdraft, and Treasury line. Working capital is designed by commercial banks to suit the business requirements. Companies' reliance on working capital varies from country to country depending on the business requirements and the general perception of the banking sector.

Caribbean
The financial sector in the Caribbean has been growing steadily as of late, especially in one of the region's current rising stars, Trinidad and Tobago. The financial system in the region plays an important role in economic development, accounting for more than 10% of Gross Domestic Product (GDP) in most countries therein. Commercial banks in particular account for 49.7% of asset and business financing in the Caribbean. The accommodating monetary policies and the low interest rates have encouraged a great deal of borrowing in the Caribbean with the demand for credit rising primarily by the business community. Most companies borrowing are generally for the daily running of the businesses.
Latin America
The banking sector in Latin America has rebounded positively from the aftermath of the 2008 global financial crisis. The growth in the sector has been attributed to the growing middle class, expanding loan portfolio, access to the bank by the previously non-bank using population and the efficiency of the banking sector. Most banks in Latin America, especially in Brazil, have focused on expanding their loan portfolio by financing micro business enterprises with working capital at lower interest rates. Even within the region's better developed economies such, as Chile, Argentina, and Mexico, the demand for working capital is still high. 42.4% of firms and organizations have accessed working capital from some of the commercial banks in Latin America according to the survey by Economist Intelligence Unit.
Western Europe
Working capital is a key objective in most Western European economies, including those of such global leaders as Germany, France, Belgium, the Netherlands, and Austria. The working capital is an objective in Western Europe to maintaining competitive advantage and sustaining growth. Absolute levels or working capital has continued to grow with large multinationals accessing massive credits to finance their working capital rather than invest in growth according to the Global Working Capital Survey, 2014. Working capital demands are higher in Germany than in other Western European countries due to the country's conservative approach to cash and liquidity management. With 35.3% of firms demand for working capital across Western Europe from the banks, commercial banks have taken a personalized approach to addressing the different business needs.
Financing a Competitive Advantage
Working capital is also in high demand in Central Europe and the Baltic States, with 32.9% of the region's firms using banks to finance their working capital. This is followed by Eastern Europe and Central Asia, where the same utilization of banks for such is 30.8%, and then South Asia (25.0%), the Middle East (24.6%), the Maghreb and North Africa (22.2%), Sub-Saharan Africa (21.8%), and East Asia and the Pacific (20.7%). The working capital is mainly required by the firms so that they can maintain their competitive advantages in their relevant local, national, regional, and global marketplaces.
The Role Of Bank Financing Of Working Capital Varies Around The World
| Rank | Region | Share of Firms Using Banks to Finance Working Capital |
| --- | --- | --- |
| 1 | Caribbean | 49.7% |
| 2 | Latin America | 42.4% |
| 3 | Western Europe | 35.3% |
| 4 | Central Europe and Baltic States | 32.9% |
| 5 | Eastern Europe and Central Asia | 30.8% |
| 6 | South Asia | 25.0% |
| 7 | Middle East | 24.6% |
| 8 | Maghreb and North Africa | 22.2% |
| 9 | Sub-Saharan Africa | 21.8% |
| 10 | East Asia and the Pacific | 20.7% |
About the Author
Benjamin Elisha Sawe holds a Bachelor of Arts in Economics and Statistics and an MBA in Strategic Management. He is a frequent World Atlas contributor. 
This page was last updated on April 25, 2017.
Citations
Your MLA Citation
Your APA Citation
Your Chicago Citation
Your Harvard Citation
Remember to italicize the title of this article in your Harvard citation.