The Most Visited Canadian Provinces And Territories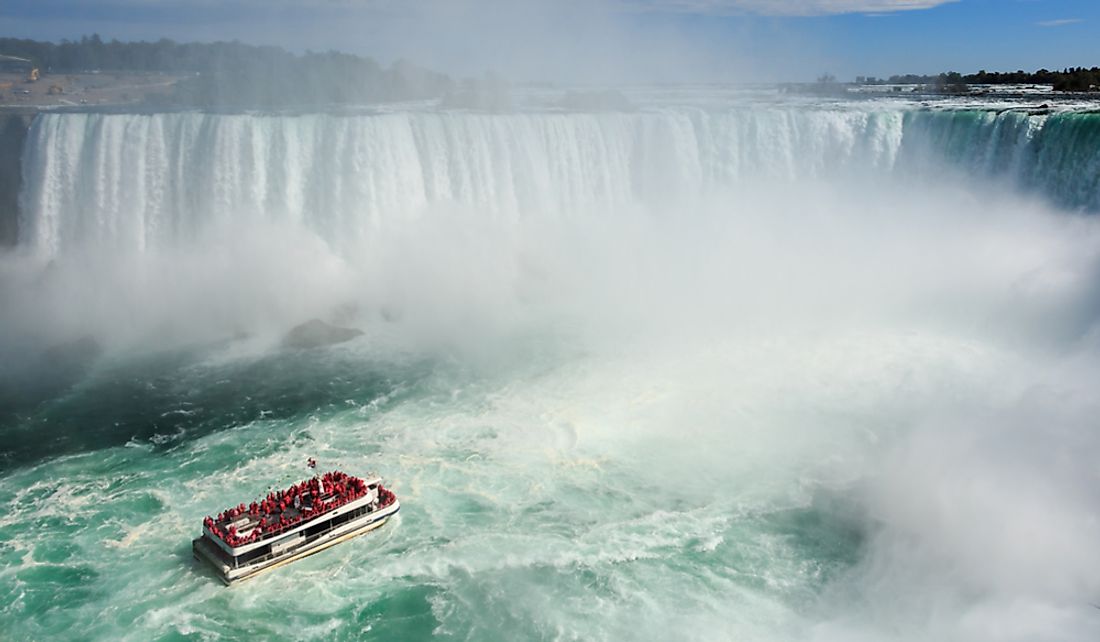 Canada has a thriving tourism industry catering to both domestic and foreign tourists. The massive size of the country endows it with incredible geographical diversity that attracts tourists from far and wide. It has many world-class cities like Toronto, Montreal, Vancouver, and Calgary that have numerous cultural attractions and great shopping areas. The country also has large national parks, thousands of lakes, and many other natural attractions. In 2012, over 16 million tourists visited this beautiful North American country and contributed international tourism receipts worth $17.4 billion USD to the Canadian economy. With its numerous cultural and natural attractions, Ontario is Canada's most touristed province.
5. Ontario
Ontario, Canada's most populous province, and the second largest by area is also its most visited province. Located in east-central Canada, Ontario houses around 250,000 lakes. About one-third of the world's fresh water is part of Ontario. The province has many attractions for tourists, including both natural and human-made ones. The Royal Ontario Museum, Art Gallery of Ontario, Ontario Science Centre, and other museums and art galleries throughout the province offer tourists an in-depth insight into the province's rich history, culture, and natural wealth. Several excellent amusement parks like the Wildwater Kingdom and Canada's Wonderland offer adventure and thrill to the visitors. The Toronto Zoo is home to wildlife from across the world. The Canadian side of the Niagara Falls is also part of Ontario. The large number of lakes, provincial parks, national parks, and conservation areas of Ontario allow tourists to enjoy numerous recreational activities like camping, hiking, canoeing, paddling, sightseeing, swimming, etc.

4. British Columbia
On the other end of Canada, the westernmost province of British Columbia is the country's second most visited province. It also has a wealth of both natural and human-made wonders. Most tourists to British Columbia make it a point to visit Vancouver, a city that is always bustling with life. The city has several museums and art galleries. International cuisines can be enjoyed at its top-class restaurants. Vancouver also has many fashionable shopping areas like Robson Street. Metropolis at Metrotown, British Columbia's largest mall, is also located here. The nightlife scene of Vancouver also attracts many tourists to it. The Granville Street is the main club and bar district of the city. British Columbia is also the perfect place for nature lovers and outdoor enthusiasts. Vast areas of the province are covered by mountains, lakes, and forests that create stunning landscapes. Winter sports can be enjoyed at its ski resorts in the mountains. Wildlife watching, camping, trekking, hiking, canoeing, etc., are some of the outdoor activities that will keep the tourists engaged while visiting the province.

3. Quebec
Located in eastern Canada, Quebec is associated with a fascinating French-language culture that attracts tourists from far and wide. Quebec City, the capital of the province, is famous for its old-world charm and distinct French-influenced culture. The winter carnaval is an annual festival held in Quebec City. It celebrates winter with parades, winter sports, snow sculptures, and more. Montreal, another city in Quebec, is an attractive destination for those interested in fine dining, music, and art. The Notre-Dame Basilica, Olympic Stadium, Old Montreal, Palace of Justice, etc., are some other tourist destinations in the city. Mount-Tremblant, another city in Quebec, is located in the Laurentian Mountain region of the province. It has many ski resorts that are always brimming with tourists.

2. Alberta
Alberta is Canada's fourth most visited province. It has several national parks, National Historic Sites, outdoor locales for recreational activities, shopping destinations, cultural facilities, and more. The Banff National Park and Jasper National Park of Alberta are internationally famous for spectacular landscapes and rich diversity of flora and fauna. In total, Alberta has 5 national parks, 69 provincial parks, 248 provincial recreational areas, 149 natural areas, 5 UNESCO World Heritage Sites, and more. Calgary in Alberta is a beautiful cosmopolitan city with many attractions of urban life. Edmonton, another city in the province is known as Canada's Festival City. The Edmonton Folk Music Festival held in Edmonton celebrates Canadian folk music and dance. Climbing and hiking are popular outdoor activities in the Canadian Rockies in Alberta's south-west region. Several world-class ski resorts are also present in Alberta's mountainous regions.

1. New Brunswick
Located on the east coast of Canada, New Brunswick is the country's fifth most visited province. The province hosts two national parks, the Kouchibouguac National Park and the Fundy National Park. New Brunswick also has many warm salt water beaches on the Northumberland Strait. Champlain Place, the second largest mall in Atlantic Canada, is located in New Brunswick. The province is home to numerous other natural and cultural attractions and is the country's only officially bilingual province.

Top Source Countries for Foreign Visitors to Canada
Most international visitors to Canada come from the United States. In 2015, 22,057,860 people from the US visited Canada. The United Kingdom and China are the second and third top sources of foreign visitors to Canada.
The Most Visited Canadian Provinces And Territories
| Rank | Provinces and Territories Of Canada | Number of international tourist trips to Canada in 2017, by province/territory of entry (in thousands) |
| --- | --- | --- |
| 1 | Ontario | 9,774.19 |
| 2 | British Columbia | 5,713.93 |
| 3 | Quebec | 3,141.26 |
| 4 | Alberta | 1,076.4 |
| 5 | New Brunswick | 353.25 |
| 6 | Nova Scotia | 249.92 |
| 7 | Manitoba | 221.23 |
| 8 | Yukon Territory | 163.93 |
| 9 | Saskatchewan | 78.96 |
| 10 | Newfoundland And Labrador | 68.82 |
| 11 | Prince Edward Island | 2.52 |
| 12 | Nunavut | 1.7 |