UNESCO World Heritage Sites In Canada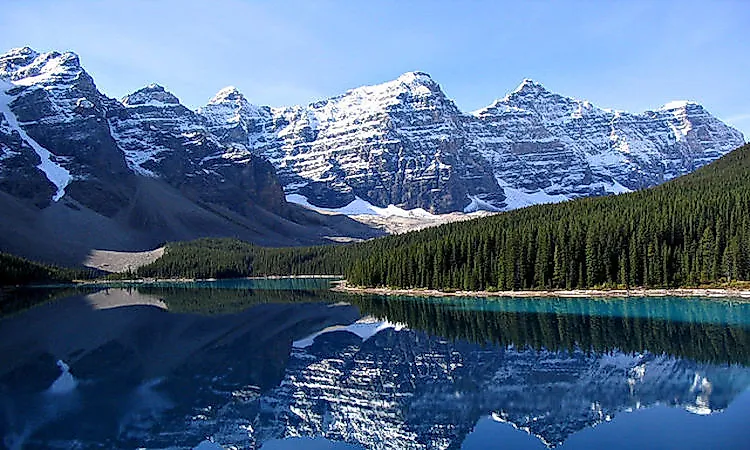 Canada is in North America and is slightly larger than the US; it is the world's largest country that is bordering only one country. The country is also the second largest in the world after Russia. Canada has more fresh water than any other country in the world and about 9% of the country's territory is water, it has at least two million and possibly more lakes, that is more than all countries combined. Canada's 18 UNESCO World Heritage Sites include First Nations sites, colonial towns, whaling and fur trade posts, national parks and much more. Canada has preserved its cultural, natural, and archaeological sites, and has some of the world's renowned heritage sites.
UNESCO World Heritage Sites In Canada
Canadian Rocky Mountains Parks
The Canadian Rocky Mountains Parks were inscribed in 1984 as a natural UNESCO World Heritage Site. The site encompasses three national parks, namely Banff, Kootenay, Jasper and Yoho and three British Columbia provincial parks, namely Mount Robson, Mount Assiniboine and Hamber. The parks boast a fascinating landscape of mountain peaks, glaciers, waterfalls, canyons, lakes and limestone caves. The site is home to the notable Burgess Shale fossil site, which harbors the remains of soft-bodied marine fauna. The parks are environmentally significant as they illustrate glacial geological processes including erosion and deposition. Over nine million tourists visit the seven parks annually. Wildlife identified in the area includes 280 bird species and 56 mammal species.
Dinosaur Provincial Park
The Dinosaur Provincial Park in Canada was inscribed as a natural UNESCO World Heritage Site in 1979. The park is located in the province of Alberta and was founded in 1955. 40 species of dinosaurs have been discovered in the park, with some fossils dating back to about 75 million years. The Park has a variety of high-quality fossils, which represent every identified group of Cretaceous dinosaurs. The park offers an unmatched opportunity for the Late Cretaceous paleo-ecosystem research.
Snake species such as red-sided garter snake and prairie rattlesnake and Canada geese and curlew bird species have been observed in the park. The park is a major tourist destination, and it is legally protected.
Gros Morne National Park
Inscribed in 1987 as a natural heritage site, is the Gros Morne National Park in Newfoundland and Labrador Province. The park is characterized by numerous pristine lakes, fjords, glacial valleys, sheer cliffs, alpine plateaus, and waterfalls. The park represents some of the world's best illustrations of plate tectonics and glaciations in an ocean setting. Fauna in the park includes moose, red fox, beaver, black bear, lynx, red squirrels and river otters. The scenic beauty of the park alongside the fauna serves to attract thousands of tourists to the park annually.
Head-Smashed-In- Buffalo Jump
The Head-Smashed-In-Buffalo Jump in Alberta, Canada was inscribed as a cultural UNESCO World Heritage Site in 1981. The jump was used by Aboriginal people of the Northern Plains for more than 6,000 years to trap the American bison. Large quantities of the buffalo's skeletons are found below the cliff.
The site boasts archaeological, historical, and cultural significance in modern day Canada and gives insights on traditional hunting methods as they were in medieval age. The site is among the best preserved of its kind in the world and draws thousands of tourists from all over the world.
Other World Heritage Sites In Canada
Other UNESCO World Heritage Sites in Canada are Historic District of Old Québec; Joggins Fossil Cliffs; Kluane, Wrangell-St. Elias and Tatshenshini-Alsek; L'Anse aux Meadows National Historic Site; Landscape of Grand Pré; Miguasha National Park; Mistaken Point; Nahanni National Park; Old Town Lunenburg; Red Bay Basque Whaling Station; Rideau Canal; SGang Gwaay; Waterton-Glacier International Peace Park and Wood Buffalo National Park. Canada's heritage sites are well preserved and contribute majorly to the country's tourism.
UNESCO World Heritage Sites In Canada
| UNESCO World Heritage Sites in Canada | Year of Inscription; Type |
| --- | --- |
| Canadian Rocky Mountain Parks | 1984; Natural |
| Dinosaur Provincial Park | 1979; Natural |
| Gros Morne National Park | 1987; Natural |
| Head-Smashed-In Buffalo Jump | 1981; Cultural |
| Historic District of Old Québec | 1985; Cultural |
| Joggins Fossil Cliffs | 2008; Natural |
| Kluane, Wrangell-St. Elias, and Tatshenshini-Alsek | 1979; Natural |
| L'Anse aux Meadows National Historic Site | 1978; Cultural |
| Landscape of Grand Pré | 2012; Cultural |
| Miguasha National Park | 1999; Natural |
| Mistaken Point | 2016; Natural |
| Nahanni National Park | 1978; Natural |
| Old Town Lunenburg | 1995; Cultural |
| Pimachiowin Aki | 2018; Mixed |
| Red Bay Basque Whaling Station | 2013; Cultural |
| Rideau Canal | 2007; Cultural |
| SGang Gwaay | 1981; Cultural |
| Waterton Glacier International Peace Park | 1995; Natural |
| Wood Buffalo National Park | 1983; Natural |